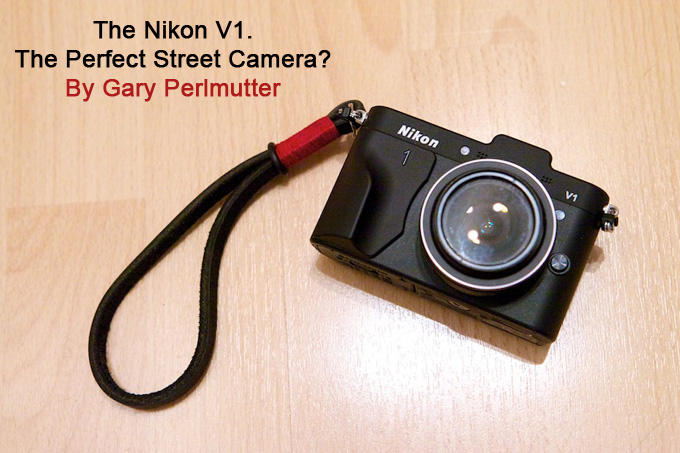 The Nikon V1. The perfect street camera? By Gary Perlmutter
I have been doing street photography for around 12 years. During that time I have used various film and more recently digital cameras, in fact too many to list or even remember! One of my favourites some years ago was the Nikon Coolpix 990 with its unique twisting swivel body which was brilliant for getting those candid photos. More recently I owned the Fuji X100 but like Steve found the auto focus too slow and hit and miss for street photography. ( although I am led to believe that more recent firmware updates have improved the X 100 in this area) A shame as the image quality is superb. I realised that for me my priority was a camera with super fast AF and a built-in viewfinder ( I am old school and prefer to hold the camera to my eye not at arm's length). It was Steve in his Nikon V1 review that brought this camera to my attention and more importantly his comments on the AF. So I sold my X100 and invested in the Nikon V1 system, that is the camera body and the 10mm, 10-30mm and the 30-110mm lenses. I went for the black matt finish, which coupled with its small size doesn't draw attention when out on the street.
[ad#Adsense Blog Sq Embed Image]
In the four months since I've owned the camera it has lived up to my expectations, in fact the AF has surpassed them. It really is lightning quick to lock on to a subject and I have not had one out of focus picture. In fact it focuses as fast as I press the shutter with no lag, as can be witnessed in the photo of the kid walking towards me holding the bag on his wrists or the one of the men with the 'i think he's gay' t-shirt. In both images I literally just clicked as they walked into frame, no pre or zone focussing here. I like shooting with prime lenses and always thought that 35mm was my favourite focal length. However at present the only prime lens is the 10mm f2.8 which is equivalent to 27mm. To my surprise I have fallen in love with this focal length and the 10mm has become my lens of choice. It is also a very compact pancake lens, making a great combo for the street. In use I have taped down the mode dial as it can be moved too easily. I set the camera to shutter priority and Auto ISO, mainly because this got round the problem that many have reported of the camera selecting too slow a shutter speed in aperture priority mode. With such a wide depth of field due to the small sensor, I don't have to worry about what aperture is being set. One final thing… I have fitted the Ricahrd Franiec grip which is brilliant together with a Gordy black leather wrist strap. P.S the Nikon V1 also makes a great travel camera, take a look at Colin Steel's articles on this website.
You can follow me on Twitter @gazonthestreet or see more of my work at Flickr: http://www.flickr.com/photos/gp_photography/
I hope you like the above article and accompanying photos.
Kind regards
Gary Perlmutter