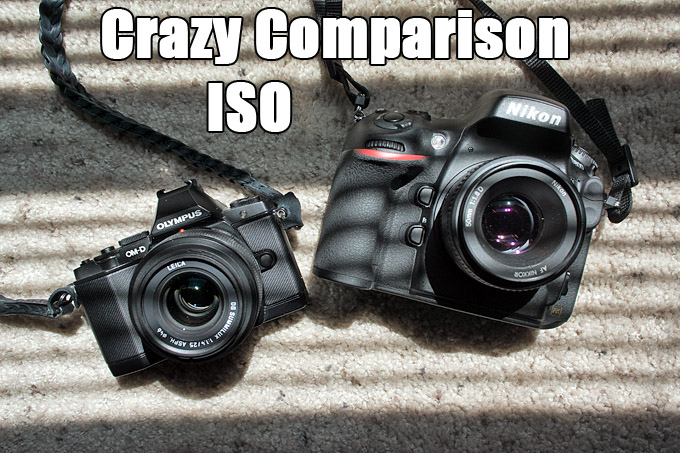 Crazy Comparison! The Olympus OM-D E-M5 vs Nikon D800 vs Leica X2 for High ISO
I know, I know..I have been having way too much fun lately with all of these comparisons, new cameras, new lenses and reviews. So much here to do but I still like to do these "just for fun" side by sides. Stuck at home all morning I thought.."wouldn't it be amazing if the OM-D E-M5 could even come close to the full frame D800 or APS-C Leica X2 for higher ISO performance"? I have been shooting the OM-D when I can and have been marveling at how far Micro 4/3 have come in regards to higher ISO performance. The PEN models are OK up to 1600 but even then it can get a bit mottled and mushy at times.
The Nikon D800 is a full frame marvel with all of the latest tech and of course, gorgeous IQ. I have not had the time to concentrate fully on the D800 but what I have shot so far with it and the Zeiss 35 1.4 has been some of the nicest and richest files I have had through my computer to date. I will have a short write-up and "my thoughts" of the D800 soon and even though I am not a DSLR shooter anymore, I find the D800 to put out beautiful quality. It's basically like a medium format camera IMO.
[ad#Adsense Blog Sq Embed Image]
But I will save that for another day. Right now I just wanted to post some high ISO samples from the D800, Leica X2 and OM-D E-M5, with the D800 and Olympus using a 50mm lens (or equiv). The little Olympus does not do better than the D800 of course nor does it even do as well BUT it is not too far off! The X2 is of course using its built in 24 2.8 which is a 35 equiv, but this is not a sharpness, detail or bokeh test – it is a noise test. So let us take a look..
First, the simple image of my vacuum cleaner in my living room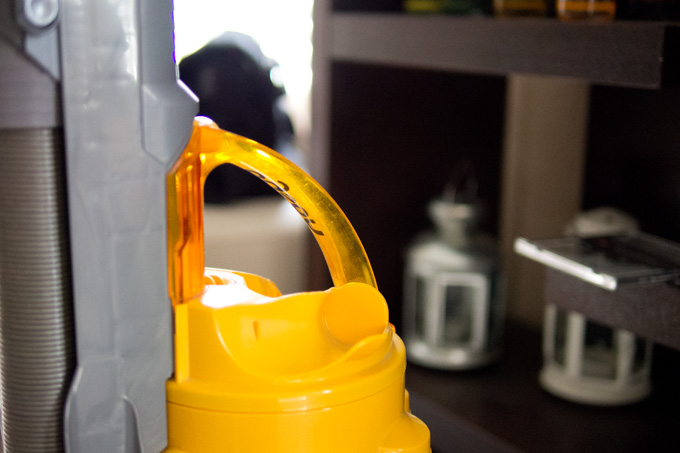 –
and the crops are below, each one has the text embedded to tell you what it is but first set up is at ISO 3200
The D800 is smoother and cleaner but the OM-D is not doing so bad here at all for being a much smaller sensor. Lens used on the D800 is the Nikon 50 1.4 and the OM-D has the Panasonic 25 1.4 – all shot at f/2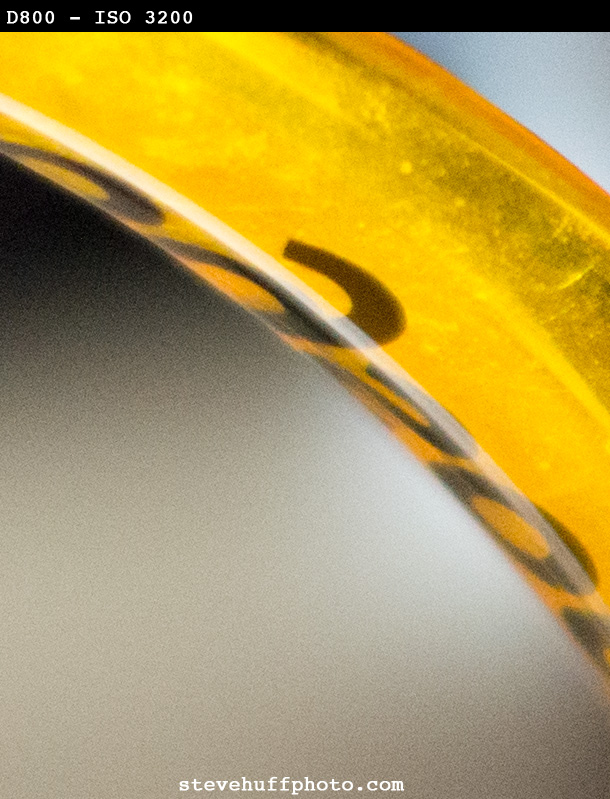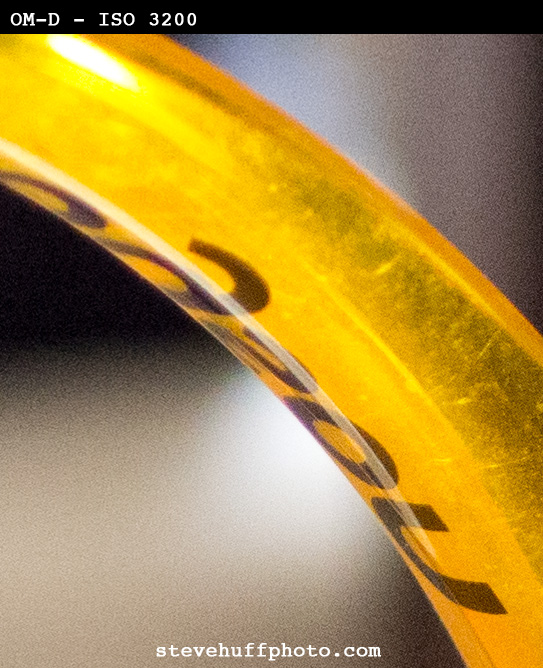 Here is what gets me scratching my head. In my review of the X2 I have found that anytime you shoot at ISO 3200, even if you convert the RAW and use ZERO Noise Reduction you still get details smearing. This does not happen at ISO 6400 or 12,500, only 3200. You can see the X2 crop below is smeared and blurred from in camera NR that is even applied to the RAW file when you do not want it there.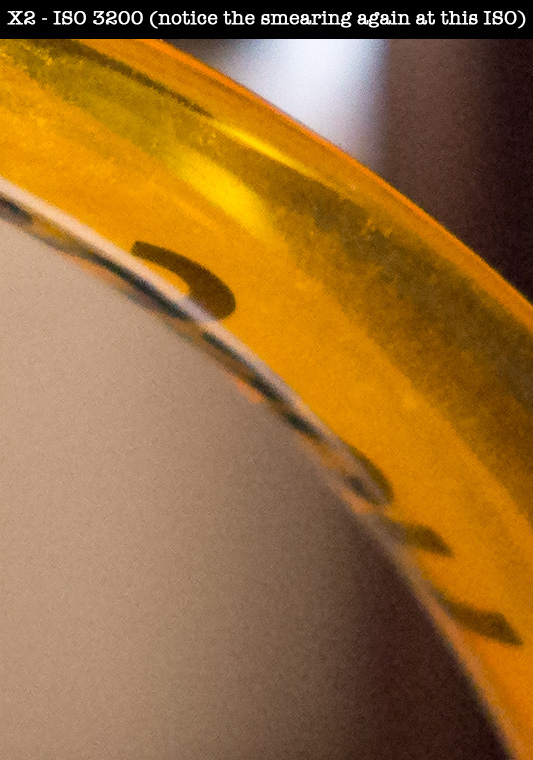 –
now let's take a look at ISO 6400
These are crops from direct RAW files. No editing, no NR, no enhancements. Just opened the RAW files in Adobe Camera Raw and cropped.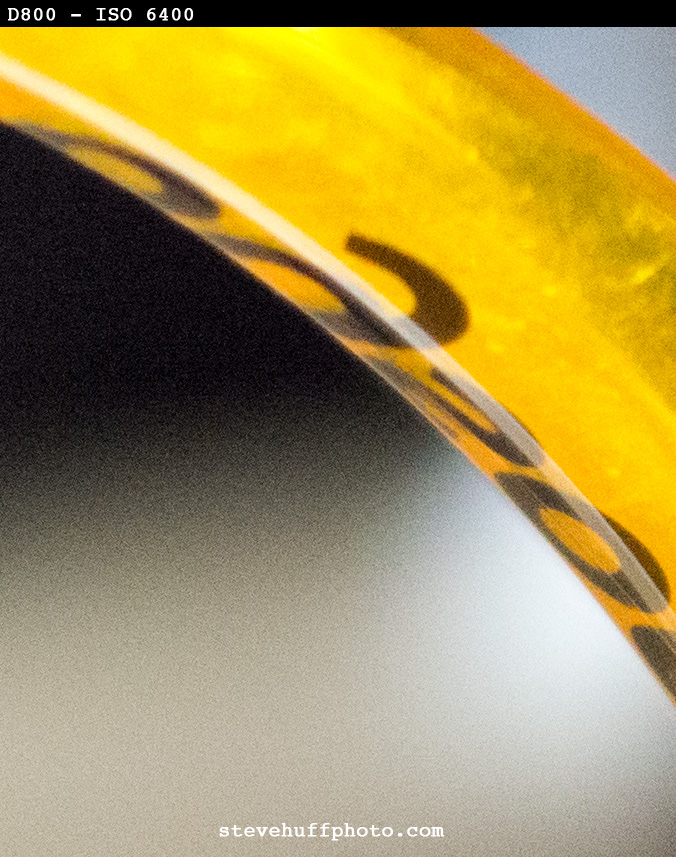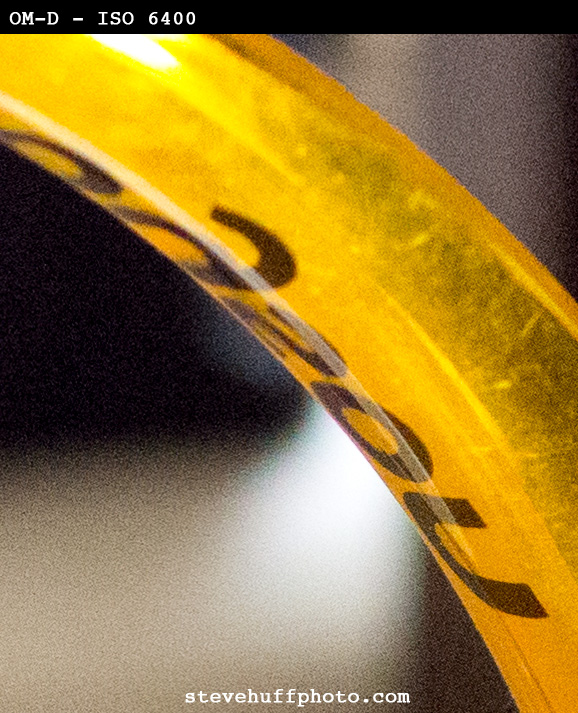 and here is the X2 at 6400 and as you can see, no smearing of details. You can also see the way the Leica renders the yellow differently than the others. The Leica will also have more DOF here so just look at the noise, which is what this test is about.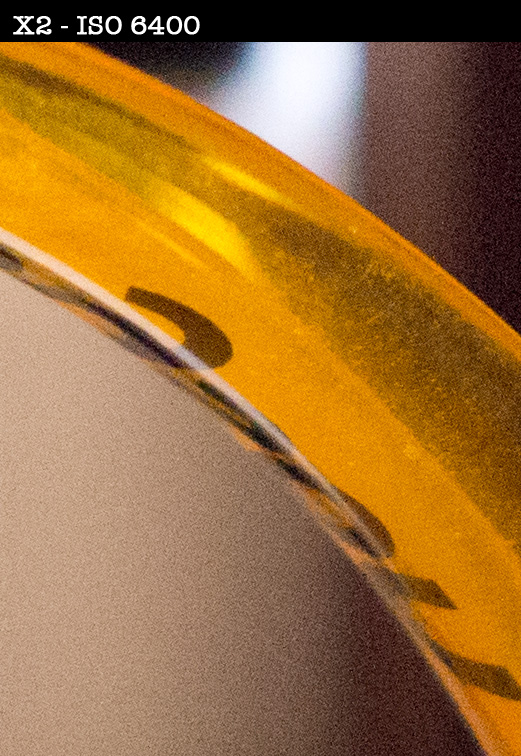 –
How about 12,800?
The OM-D starts to get noisier here but this is 12,800. The D800 is also much noisier here but they aren't as far off as I would have thought.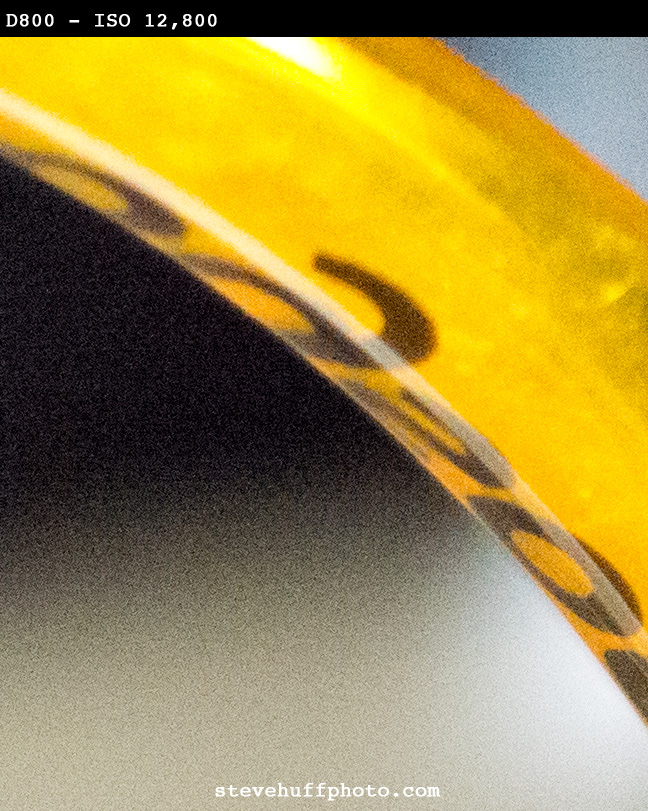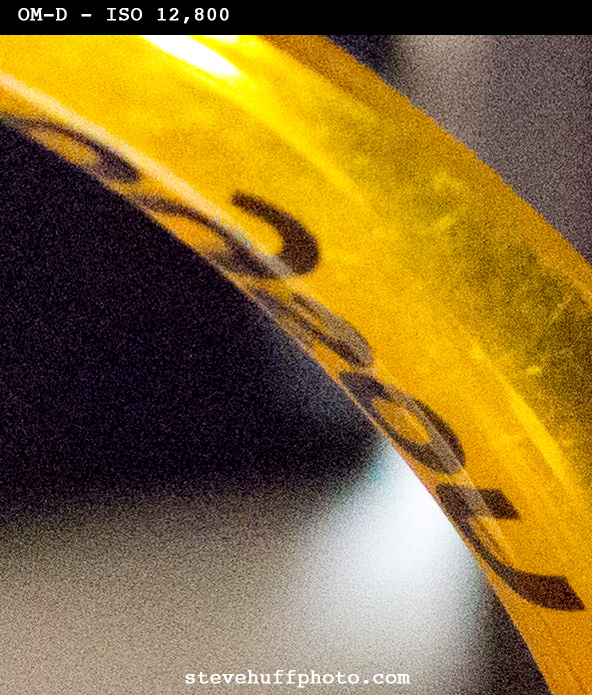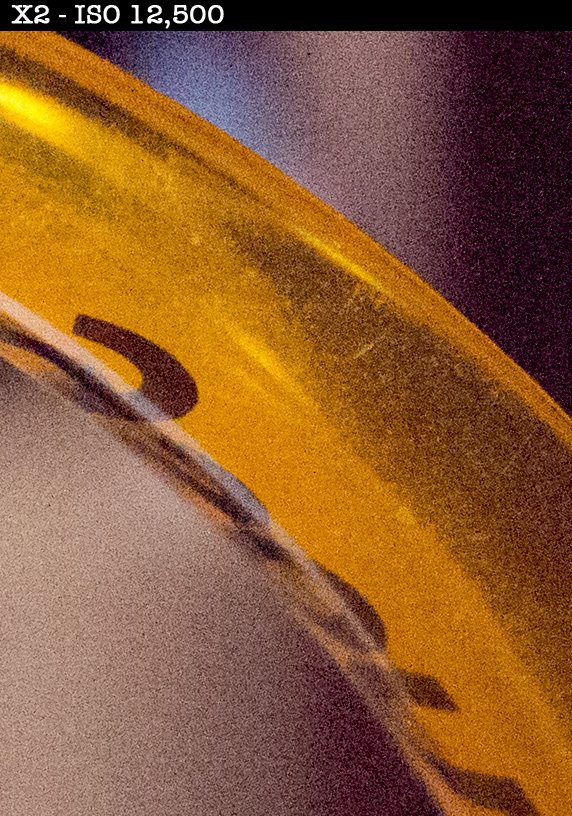 –
OK, dare I even try ISO 25,600 on the OM-D?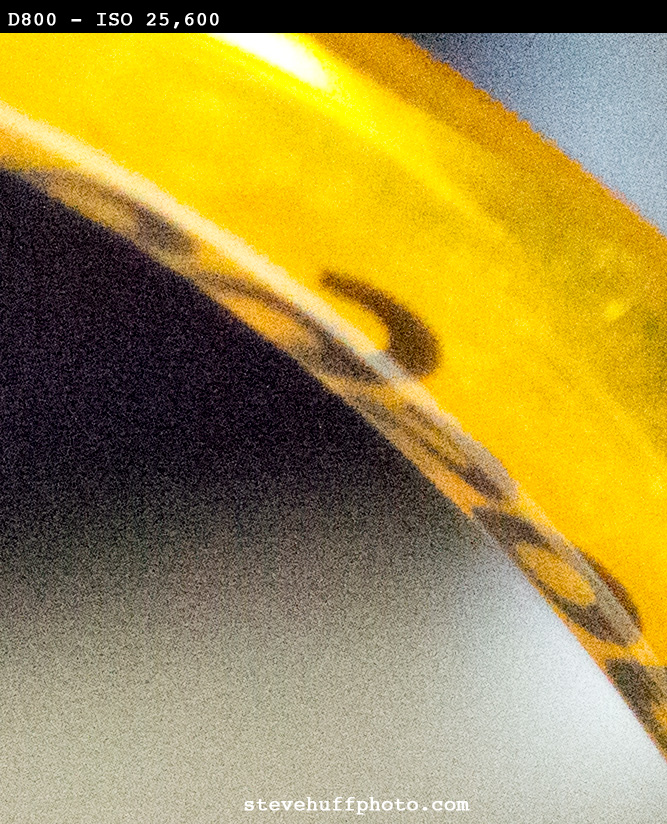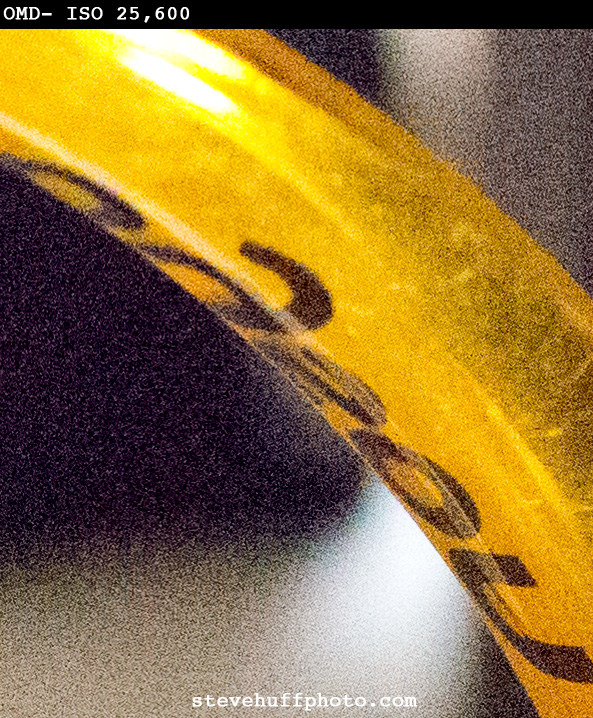 First of all I have to say that this was done as a "just for fun" Crazy Comparison, and it is indeed crazy as the D800 is known as a full frame masterpiece with great low light capabilities (though I believe the 5DIII is better in this area). Still, a full frame technological super force against a little micro 4/3 camera, who in the past had a rep for awful low light performance..well..that is pretty crazy. While the OM-D did not meet or beat the D800 here it came damn close, and to me that is impressive. I have to say that the more I shoot the OM-D E-M5 the more I love it. It really is the BEST Micro 4/3 to come along to date. I have not really heard from anyone who has bought one and disliked it.
As for the X2, it also has a larger sensor than the OM-D but it appears it performed about the same noise wise though you can clearly see the Leica color signature coming through. Again, all were RAW files with ZERO NR added. Not sure what is happening with that X2 ISO 3200 noise but it is smearing at that ISO even though I took away any and all NR. I can state that I really am enjoying the Leica X2 AND the OM-D. The D800 is not for me but if you are a DSLR guy, it is the real deal.
BTW, as I stated in my OM-D review..if you buy one I highly recommend the grip and a decent lens (12mm, 14mm, 20, 25, 45) as the glass makes all the difference in the world.