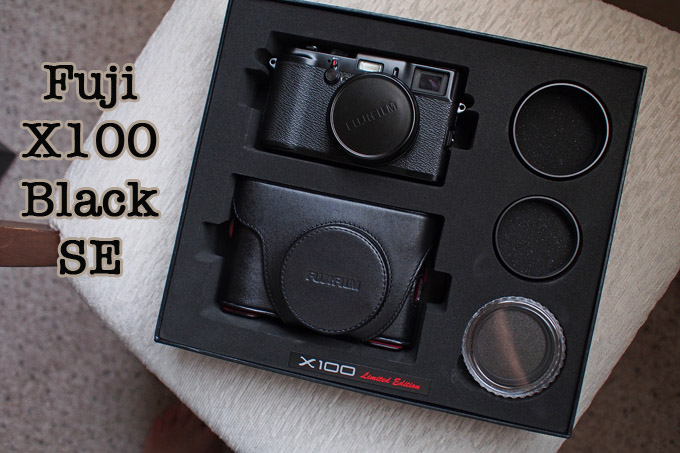 Look what popped into my house. The Black Special Edition Fuji X100!
I could not resist. I went ahead and ordered a black X100 kit. Partly because I love all black, partly because I really do like the X100 quite a bit and partly because i wanted to see how it is with the new firmware, which I have not yet experienced. I also wanted to see how it stands up next to the new Leica X2. I made a video showing me taking it out of the box and I have to say it is much sexier in person that it is in photos. MUCH better looking than the X-Pro 1 IMO. Sleeker, smaller, and even more stealthy. Yes, this black kit is $500 more than the standard X100 but still $400 less than a Leica X2.
The SE kit has the extra though and when you pick up one of these kits you also get a black full case that strips down to a half case, and it fits very well. You get a filter for your lens and a lens hood and adapter. These are all extras that you would have to buy for your standard X100 so in reality, buying this black kit sets you back an extra $250 or so just to have all black and a limited edition set. This is Fuji milking the X100 much like Leica milks their models. If it works for Leica, why not Fuji?
In any case upon taking it all out and looking it over I have to say it is amazingly gorgeous and much nicer looking than the silver, but this is my opinion. The case is quality, the camera feels a little bit more sturdy than an X2 and as for focus speed? Well, I updated the FW to the latest and greatest and have to say it is much much faster than it used to be. MUCH more responsive than the X-Pro 1 and 35 1.4. The whole menu system is fast as well. So far so good.
Check out the video of the black X100 below to witness its sexiness 🙂
So my house is loaded with cameras and I feel a bit overwhelmed but am happy as can be as I love it! I also just received a Sony A57 and a couple of lenses and just had to return the D800 which put out some amazing files (more on this one soon). But today, right now, I am in the mini mode of the X2 and X100. Seeing that the X2 is new I was curious to see if the X100 could still match it in all aspects. So this weekend I will be doing some shooting with the X100, X2, NEX-7 and OM-D. I attached the Olympus 17mm 2.8 to the OM-D to see how it would do and it's doing mighty fine on the new Olympus. Giving me the same 35mm view as the X2 and X100.
The facts are that today, in 2012, all of these cameras are REALLY great at image quality. The ones we choose to work with are all down to our hearts and preferences. It is getting to the point where digital has matured that any something like an OM-D or X100 could last us for MANY MANY years.
In any case, I am doing this comparison all weekend but here is a quick sample from the X100, X2 and OM-D. All at f/4, all with a 35mm equiv lens.
UPDATE – THE COMPARISON WAS RE-DONE AND IS NOW POSTED HERE. THANK YOU!