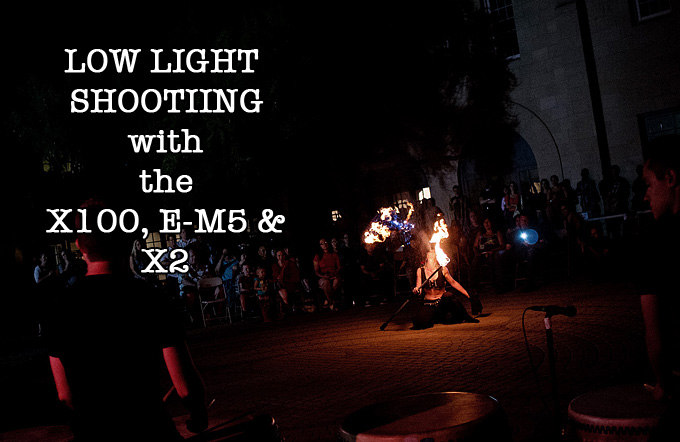 Some fun low light shooting with the Fuji X100, Olympus E-M5 and Leica X2
Here I am, wide awake. It's early Saturday morning, around 2AM. I have been up at my computer for the last 2 hours checking out some photos I shot last night in Phoenix at "first friday". I drove down there to see if there would be any cool photo opps and to test out the Black X100
 , OM-D and Leica X2 in low light, night-time situations. Mainly I wanted to see how the AF did with all cameras in challenging situations so why not? I had nothing else to do and it WAS Friday!
My 1st shot of the night was with the X100 and I did not nail the exposure perfectly but it came out nicely anyway. The camera focused FAST..much faster than it did when I reviewed it long ago. The new firmware did indeed fix a few things like AF speed, menu speed, and overall gave it a snappy feel. I am impressed with what Fuji has been able to do. Click image for larger. It was shot at ISO 1600.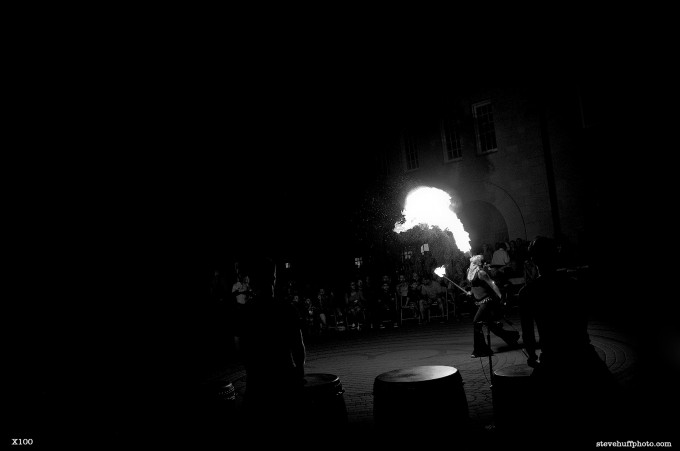 If you saw my post from yesterday you would have seen I had a black Fuji X100 kit arrive to my house. Yes, I caved and bought one after dwelling on it for months. With all of the talk of the new firmware greatly enhancing the speed I had to give it a shot. I also wanted to see how it did side by side with the Leica X2 and seeing that the X2 is brand spanking new I figured it would trounce the X100, but that was not the case. But in reality, the X2 focused amazingly well in the dark. MUCH better than the X1 but IMO it still did not beat the X100. They are about equal in IQ (with the Fuji possibly taking the lead) but the X2 did impress me with its new-found speed and high ISO performance. ISO 3200 wasn't a problem, even in low light. It is indeed a nice improvement to the X1 in regards to AF speed and high ISO performance when using it for taking photos 🙂
The X2 at ISO 3200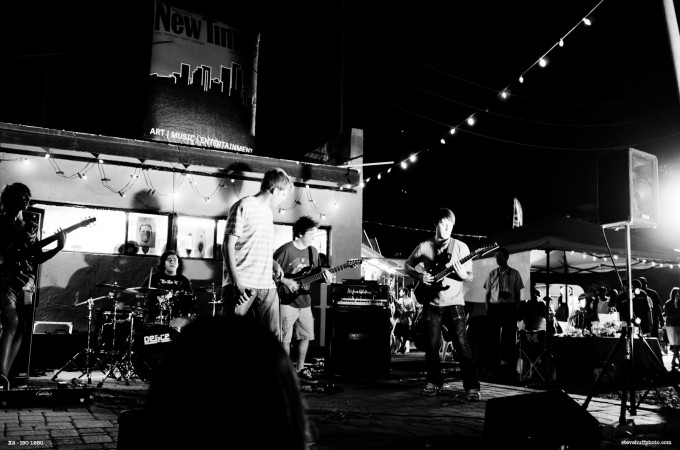 As I sat here at my desk and reviewed the photos I shot I was amazed at how far these small cameras have come. It has gotten to the point now where you can literally take a small and light camera like and X2 or X100 with you anywhere and anytime and get AMAZING results, even at night. Fast AF, great low noise performance and overall amazing designs. I applaud both of these cameras for night low light use. I did prefer using the VF on the X100 though and felt a bit odd holding the X2 out (did not bring the EVF) at arm's length.
Another ISO 1600 X100 shot. I focused on the barrel in front so she would be out of focus with the flame in the sky. I like this one.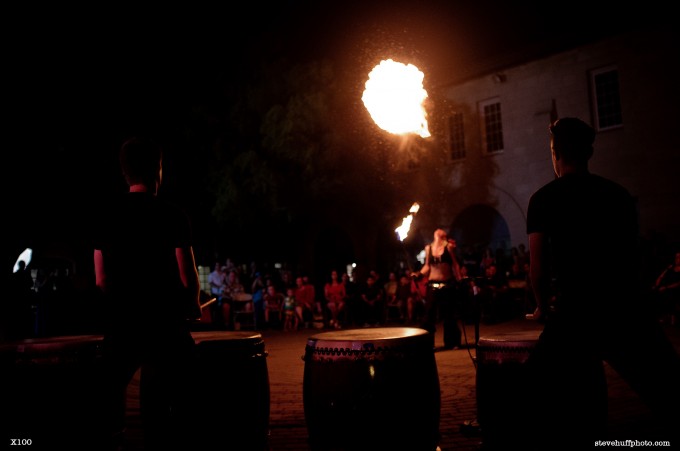 I was having so much fun shooting the "X" cameras that I forgot I brought along my little OM-D powerhouse. On the camera was the Panasonic 25 1.4 and I have to tell you, this combo seems like they were made for each other. Fast AF, no rattlesnake noises and superb sharpness/bokeh, even when wide open.
OM-D E-M5 ISO 640 with 25 1.4 at 1.4 and then 6400! – click for larger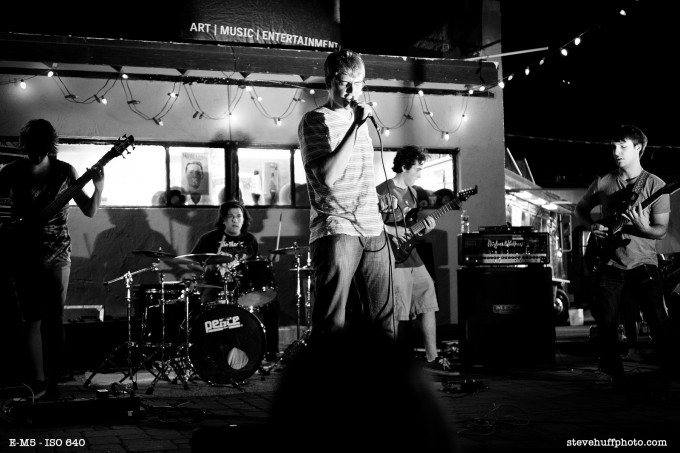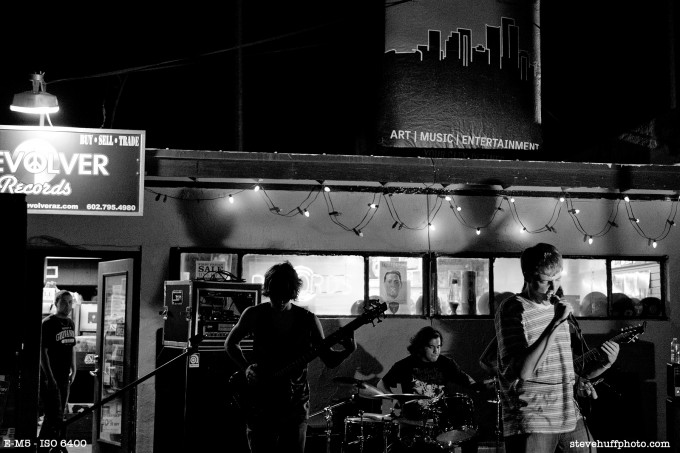 –
even adding noise to this ISO 1600 image looks great. BTW, this is the girl who was breathing fire in the images above..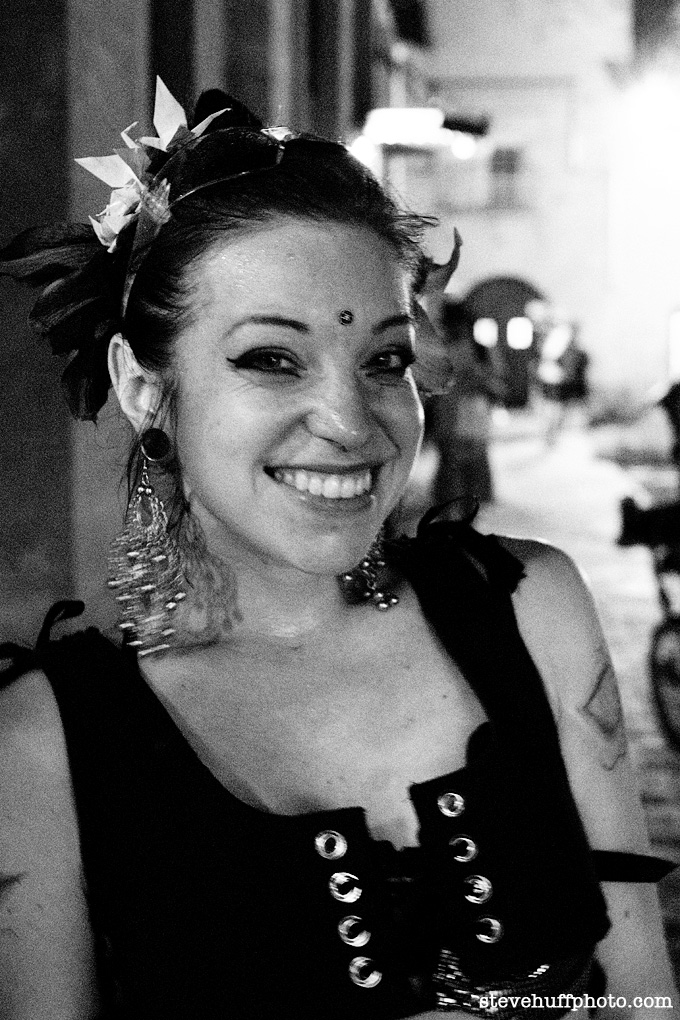 –
and ISO 6400 on the little Olympus? No problem..the next 4 images were all shot at ISO 6400 on the E-M5. No way the E-P3 could have pulled this ISO off. Also,  THIS WAS the fastest focusing setup of the night.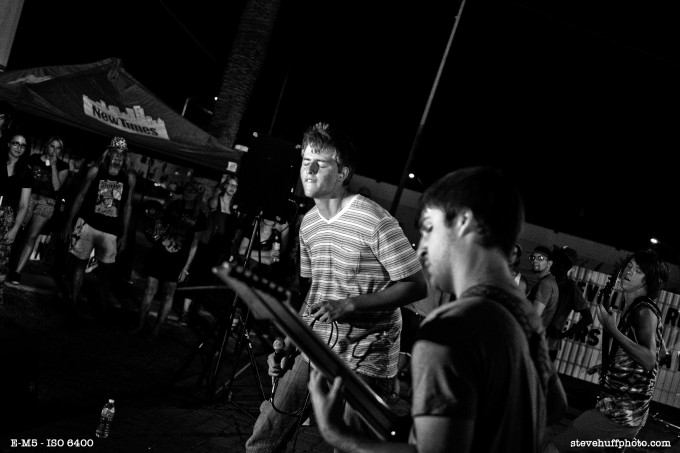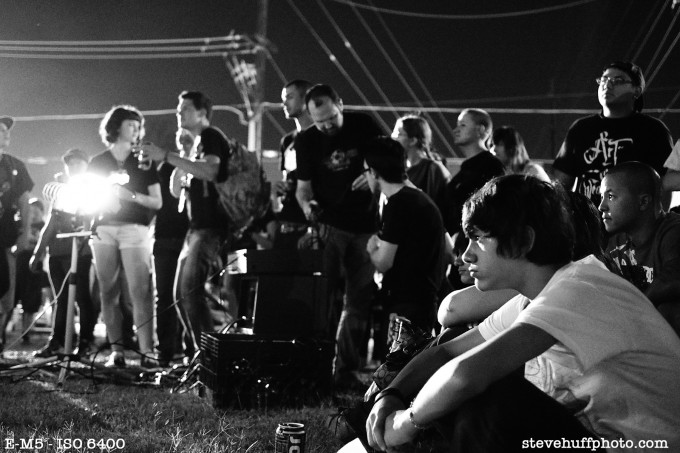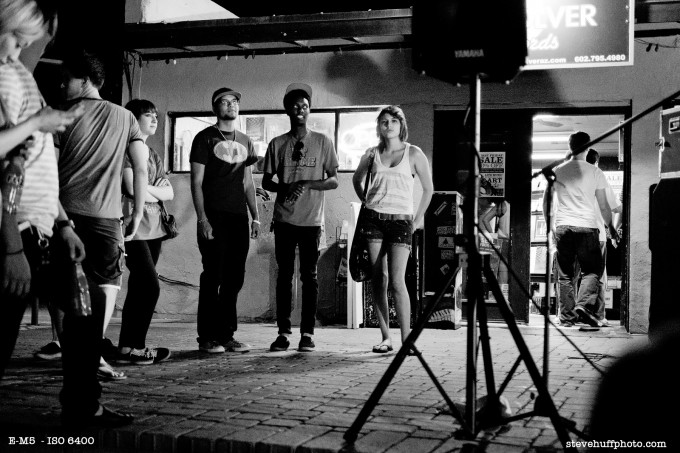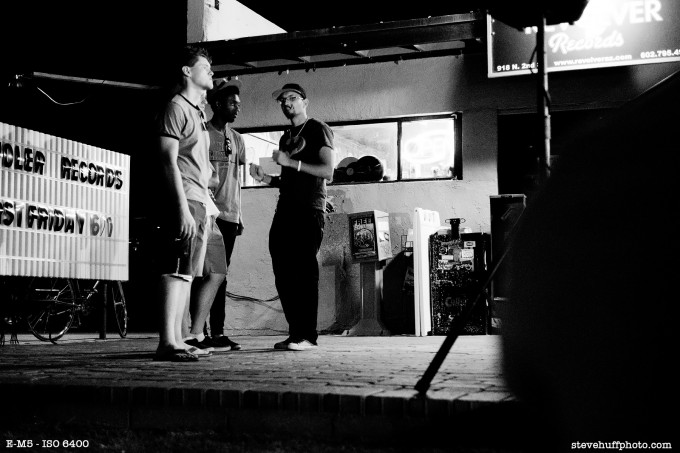 So while I only shot about 30 shots in all, I had fun with all three cameras because they all performed without fail. They all focused quickly and gave me great results and they all have their own kind of user experience and file quality. Yes, I have been talking quite a bit about these cameras lately but I believe in not only talking about my experiences but also showing images from my experiences so you guys can see what comes out of these new cameras.
Take your pic. They are all good and yes, It's a good time to be into photography. 🙂
In case you missed them, you can see see my original reviews of the Fuji X100, Olympus OM-D and Leica X2
OM-D at ISO 1250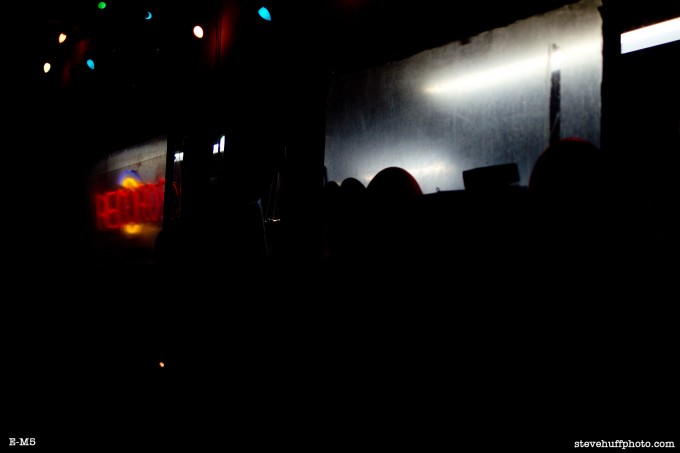 –
X2 at ISO 320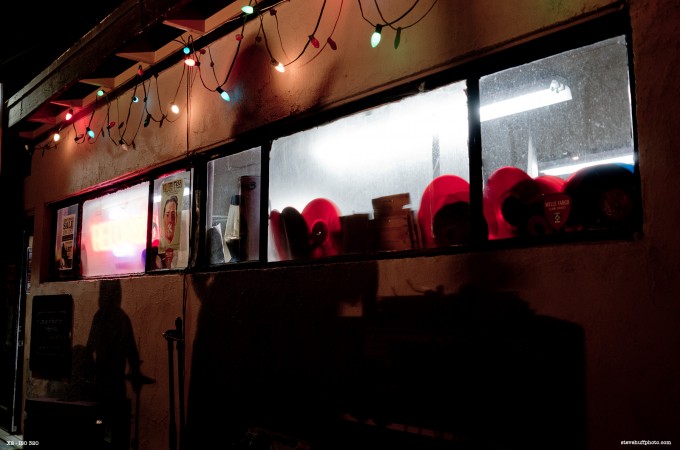 –
X100 at ISO 1600