My New Glass Paintbrush – The SLR Magic 50 f/0.85 for Sony NEX – By Keith Lickteig • www.ScutFish.com
I've recently been spending a lot more time in Hong Kong where I have no plane to fly, no hangar to maintain, no giant smoker to sacrifice many tasty chickens upon. There's few house chores, no gardening, no Jeep to crush shopping carts and sea shells with. I can work, do paper work, make calls, cry about money, but concentrating on nothing but work has truly made Jack a very dull boy. It's time for a few healthy new hobbies.
What is there to do? It's another day in Hong Kong with my beautiful Donna who flies me around the globe almost weekly. This alone is incredible. There's so much to see and share with my family and friends back in the US and UK but the iPhone being my favorite camera doesn't always cut it. So why not explore proper photography? Hong Kong must be the capital of camera ownership and sales. You can't walk a minute in any public space without seeing a camera, a camera ad, a camera shop, being in someone else's photo, or seeing my favorite, the ubiquitous "no photo" sign. The "no photo" sign is everywhere in Hong Kong and China. Heaven forbid someone should take a photo and steal a shops ideas of what are likely pirated goods.
[ad#EMBED]
Donna has always been a bit of a photography buff. By that I don't mean she likes photography in the nude (a man can dream can't he). Just that she enjoys old cameras and taking pictures, especially with film or mildly unusual formats. She's helped fund a minute portion of the Impossible Projects instant film redevelopment and did they ever get the marketing name right on that one. It truly is just about "impossible". She has a few fancy DSLRs with some type of fat fancy lenses that people on the street seem to 'ooh and ah' over, but her favorite digital is a small Ricoh point-and-shoot that has a lovely native square format. Of course I mentioned her antique Polaroid which I thought was going to be the coolest thing since, well, the last time I saw a real instant Polaroid in 1979. The black-and-white films currently available give mildly usable results when they don't get stuck in the cartridge, but the color film is just pure crap. It's my fault for getting her started on that one. I should have listened to the companies most honest marketing as it was never sold as the "Works Perfect Project".
One of Donna's latest acquisition is another giant anvil of a camera made by Fuji that uses near full format film of some sort, 6×6 maybe or something of the nature. Perhaps it is 120mm film judging by the pile of film rolls next to me all with the number 120 plastered on the canisters. Although a very nice camera that takes incredible photos, it's not what I would say is a great journeying machine. It actually draws more attention than the average DSLR with a monster telephoto cannon of a lens. Whenever she takes it out for a photo people turn and look at her as it seems she's replaced her head with a giant brick shaped camera. Really, it's that big … the camera. She's also begun playing with a few very old Rolleiflex twin lens cameras but we have no results from these as yet. I thought they would make really interesting bookends and had no idea anyone would bother using them. As it turns out the Rolleiflex's are worth a pretty penny too. I'd have never guessed it by the number of them I see in the dusty old shops around town.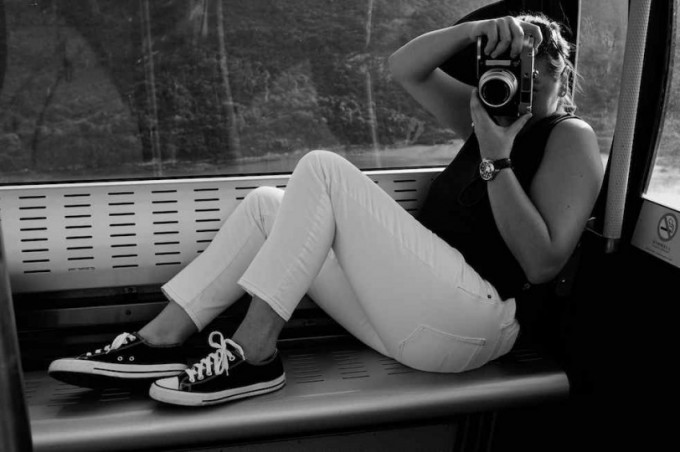 So now it's my turn to get into the photo game. It's something Donna and I can participate in together, and it will give me a much-needed mental escape from work. I read a good bit on the web and develop an interest in the smaller interchangeable lens cameras that seem to be really fueling a portion of the market. As we travel an insane amount I want to travel light. I want to be able to use little more than an iPad to edit and publish and would enjoy a camera that weighed-in a little less than Donnas Hubble like instruments (which was 24,000 lbs before it left earth). In the following days while Donna and I are on walkabout we step into a few shops and have a look at the makes and models available. Of all the incredible offerings we come across a little Sony number that seems to have really made quite a "Huff" on the web. It could hardly be any smaller, it supports assorted lenses, and oddly has the same sensor as one of Donna's monster DSLRs. After a bit of Cantonese debate and haggling Donna hands over her debit card and it's ours. Notice I said "her" debit card. Women's liberation is marvelous gentlemen. I highly recommend we sit back and enjoy!
A few days go by with the new little camera and I'm enjoying taking photos while doing my best to not use the talented and more accurate automated modes. However, as hard as I try it's just not all that exciting. The kit lenses perform very well and make it incredibly easy to capture what was in front of me, but essentially that is all they do, capture what I had no problem remembering in the first place. It quickly becomes time to step it up. It is after all an interchangeable lens machine, there must be options. Time to try out something else.
A quick comment regarding Sony menus (or any camera make for that matter) as I've read such horrible things about them. I'm guessing there are only so many buttons and options that can be fit into one square inch. Upon spending a mere six minutes with the cameras user manual I was able to place eight options of my choosing at my finger tips, with all now being less than two "clicks" away. Amazing. I didn't have to rely on what a Sony engineer deemed to be the best workflow for me, I could choose my own. It was easy and no fuss at all, with no more need to click-through lists of menu options.
Off we go back to the shops to search out a lens that's more interesting for the little cam. There aren't many native options until we come across a Zeiss that was very well reviewed and apparently quite "fast", whatever that meant. Apparently it wasn't fast enough to get away so we took it home, plugged it in, and headed off to Thailand the very day. Why not?
The Zeiss performed remarkably well. The Zeiss focus was quite fast and the results were for the most part quite bright, colorful, and perfect. Almost too perfect. Perfect to the point of being clinical. I've had enough of clinics and "clinical" for one lifetime so upon returning to Hong Kong Donna and I visited more shops and started trying out filters, polarizers, super quasar numerator electron fluctuations among other devices. Again the results improved markedly and now every single pixel was in its exact and proper place, dimension, and hue. All with almost no effort on my part. Lovely, except of all the great works of art I've been so fortunate to behold, not one do I ever remember at a pixel level. Donna and I once climbed to the upper rotunda of the Basilica of St. Peters where I didn't use just my eyes. Trembling, I put my hand against the gorgeous mosaic walls as I walked along and felt more than six-hundred years of history, passion, enlightenment, and sacrifice flown beneath my finger tips. To this day I cannot believe we were given access to such places. Amazingly we had little choice but to touch the mosaics as to step more than a few feet away would have us perched on a ledge with almost 300 feet between our feet and the floor below. It's was an amazing experience. Grazie Papa!
In order to share my travel photos and journal with friends and family, and being one of a handful of people on the planet not using Facebook, I began studying WordPress and learned how to build a scratch website. After about a week I could load photos into my iPhone and iPad, edit, and publish to my newly created site without ever touching a desktop. Perfect, now I never have to leave my hammock.
As much fun as I was having with my new camera and lenses, there was still much missing. I was able to frame and capture moments to share beautifully, but without a little editing they lacked punch, life, or any character at all. There are times when I enjoy playing with a photo, and other times where I feel it's important for the moment to speak for itself. No editing, no in camera processing. Just available light, a subject, and the moment. I had no idea how as a novice I could learn to capture such magic in a photo but articles across the web spoke of such things being possible.
Enter the "magic". Although here in Hong Kong they say "Enter the Dragon". I had been browsing the web more than ever before, reading about photography, available kit, techniques, reviews and such. Heaven knows there's nothing worth while on television and I haven't watched any form of televised news media in more than eight years (hence my great smile and cheerful demeanor). I began discovering images and write-ups of vintage lenses being adapted to smaller cameras like the Sony I've been studying. However, I was certain there was no way I'd get positive results from a fully manual lens with my novice skill level. I'm only a few weeks into this. The concept kept eating at me and I continued scouring the web for more information.
While back at work in the States I read a very "Huffed" up article about a company from Hong Kong of all places making native Sony mount lenses that seemed oddly interesting. The lenses were fully manual, very "fast" (that word again), and the demonstrated photos looked really interesting. Over the past weeks Donna and I had become really good at shopping for new camera kit and I knew there wasn't a lens yet that was "fast" enough to out run me. Immediately upon returning to Hong Kong Donna and I headed out to find the sorcerers shop that made this magical lens. Of course after a hot shower and long nap, Orlando to Hong Kong is a long 24 hours in a seat.
Not long after beginning our search, Donna and I had discovered a handful of shops that carried or could source the lens. (I told you we are really good at the shopping part.) Wandering further we discovered one of the smallest shops in the entire arcade where there they sat, many different well sampled models of the much "Huffed" SLR Magic lenses. After a bit of Canton small talk with the shop owner and many "oohs and ah's" over his beautiful baby (a real baby not the lens) I was ready to snap on SLR Magic and give it a whirl. I stepped into the hall, switched the cam to on, opened the aperture thingy (making the hole bigger), twisted the focus ring and finally began to grin. "This is absolutely amazing" is all I was thinking. I pointed at any and every thing playing with the dials while letting a kaleidoscope of imagery appear before my eyes. This went on for nearly ten minutes before Donna stepped into the hall and reminded me there was a button on the upper part of the device I was holding that when pressed would cause the images to be captured for later viewing. "Oh, that's right" I exclaimed rather excitedly. I was having too much fun discovering aperture to remember anything else. I played around for many more minutes and checked out the other SLR Magic offerings. Then Donna asked me, "well honey, are you going to get it?" to which I replied, "Captain Donna (it sometimes helps if I call her captain), make it so!" And yet another lens came home to play.
The next day we of course departed for another adventure with new photo kit in tow. Well, Donna's kit was in tow, mine easily fit in my shoulder bag. We headed out that night snapping away. The new SLR Magic lens was so cool, and amazing, and really just too much fun to put down. Even for a complete novice as myself there was so much to enjoy. Rather quickly I stopped thinking of it as a mere lens but more of a giant wet paintbrush. The effects, colors, drama one could create was endless. Do I want to capture a single subject, if so, just spin the dial. Do I want the world to appear, spin the other way. Make something glow, turn it a little more. Or how about miss the moment and shot all together in a giant swirling blur, way too easy. Walking down a very dimly lit street I eventually discovered this little dragon could see in the dark, at low ISO, and fast shutter speeds. This was the moment I finally comprehended what a fast lens was, while all this time I had thought I was so young and spritely. What was there not to love about this little lens. I recalled an article I read from a "Rockwell" engineer or photographer. He lambasted the SLR Magic company for even thinking of developing such a lens. According to the article, the author had never even laid his hands on the product, met the company founder or development team, yet found little to like about the company or product. Now that sounds like a magical review and talent to boot. Think of the money saved by reviewing without ever touching. What an amazing business plan.
With camera and lens in hand, I soon began to chat with other photographers on the street that would curiously check out my new kit as both my camera body and lenses were not easy to find on shop shelves at the time. l even became bold enough to take my gear into camera shops along my way and show it off to shop owners and their most curious customers. I'd let their customers try it out and watch them grin just as I did. Then I'd loudly say "talk to Mr. Lee (reading off the shop keeps name badge as if we were old friends), he can find you one I'm certain". Meanwhile the shop manager hurriedly began researching on his smart phone. Salesmen are fun to play with. Especially in China.
Sitting in a cafe looking at the evenings photos I was questioned by a fella named Gary Tyson who claimed to know a thing or two about how cameras worked. He also mentioned he too was enjoying the Leica version of the same lens which is really not the same at all. The M-mount SLR Magic is a whole new barrel of a beast. Gary shared some of his remarkable photos and commented that there was a bit of "controversy" surrounding the SLR Magic lenses and brand. Once again I thought back to that "Rockwell" fella and so many forum comments from people bashing products that they had never seen, touched, explored, or even attempted to understand. Often only due to product price. It is then that I realized many "forums" can be as bad as news media outlets and not nearly as valuable as parting ones hind quarters from the couch, while getting out and exploring for oneself.
After two months with my SLR Magic I have thoroughly enjoyed every challenging minute with the lens. I don't seem to care if the company stole the concept from a Happy Meal, painted it pink, and marked it up 500%. The fact is, whatever they did, they built it, they built it well, and made it available for me to purchase, saving me the trouble of building my own. It fits my camera (amazingly as a native lens), it functions beautifully for my tastes and needs, and I thoroughly enjoy the challenge and results. And if I didn't like it, I didn't have to buy it. If it was too expensive I could have easily chose something else. Fortunately I don't live in a one size, one price fits all world. If I wasn't happy with the available product I'm free to search out other offerings. Free markets are amazing. What's more amazing is how fast products like this are selling in Asia. High-end products of all genres are selling like hot cakes. I've recently watched people buy watches that were more than $60,000 usd. Things in these price ranges are flying out of shop doors. To many in this part of the world a $5000 camera body or even a $10000 lens is a mere toy. Something just to have because someone said it was good or "the best". It's likely it will rarely be used if ever to the degree of its design. I see it in aviation all the time. People spending hundreds of thousands on aircraft and sometimes millions just to have a spare or say they have "one of those" too. It's very interesting to witness what motivates different people to spend.
To me texture and grain in a photograph are character. They are the flavor and smell of one-dimensional world.
So now I have a few new paintbrushes to choose from, and I've got an entire planet before me to explore along with my great partner in crime. Donna and I are having way too much fun searching out places to shoot. I recently spent more than five hours climbing the back halls, stairwells, and alleyways of one Hong Kong's most notorious buildings. I observed all facets of life, vice, and underground activities. I met drug dealers, tailors, cooks, traders, you name it. I did my best to capture photos of it all with less than a handful being anything exciting or even remotely sharable. All poor photos due strictly to my lack of skill. The best part is that bodged photos no longer bother me. I'll happily pack up my iPad, all my new paintbrushes, and head out for another adventure. Each time I try I learn a little more and my technique improves. I get better at choosing my settings, learn to focus faster, and are really learning how to work an area to compose the best shot while not disturbing my subjects. When I get a great shot it really makes me smile and I want to share the moment with my friends. When I don't, I'm happy to have had the chance.
So where to go next? We never really know. Today we are in Japan and I'm certain our next destination will be as equally exciting. Maybe there will be something worth photographing, or maybe we'll find one of those stunning spots better quietly enjoyed and remembered within the greatest canvas one has. Wherever Donna and go I know we'll make the most of it. But perhaps a little more shopping first. I heard something about some "Voigtlander" people I really must explore.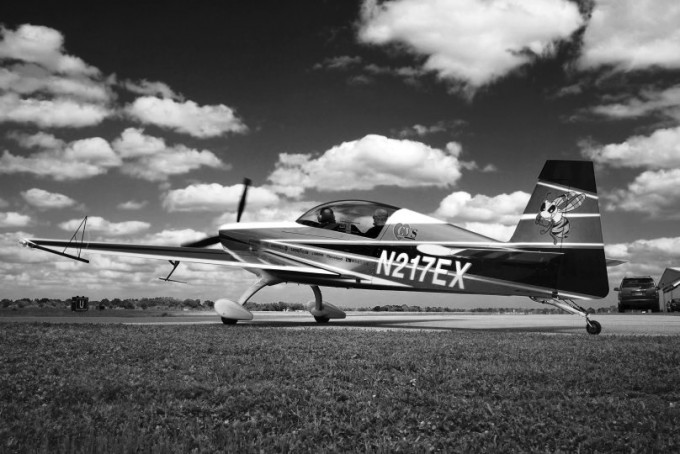 Manual lenses like those from SLR Magic and Voigtlander are turning out to be a real treat for me personally. I enjoy how they help me get more involved with the moment I'm trying to capture. They are in no way easy lenses for a novice to use but that's all part of the fun and enjoyment of the equipment. Day or night the wide aperture coupled with the appropriate filters and patience makes for great adventure.
Above my bright yellow airplane looked equally interesting in black and white and the old Buick below turned out much too sharp so I had to muck it up a bit. Both taken with the SLR Magic in very strong daylight.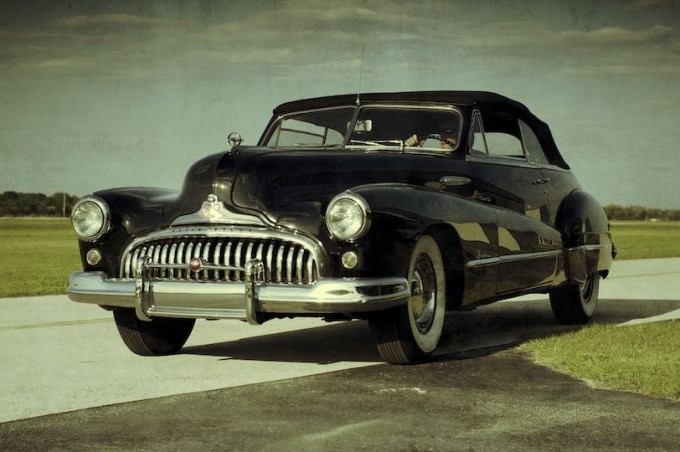 Wide open the SLR Magic delivers great results in very dim light. Days after picking up the lens, George was more than happy to pose quietly for my practice as we waited for our whiskeys to come up to the perfect sipping temperature. Further below Trish tries to hide her cute, tiny, very round cheeks from a shot. The picture here is actually life-size, she's super cute and tiny.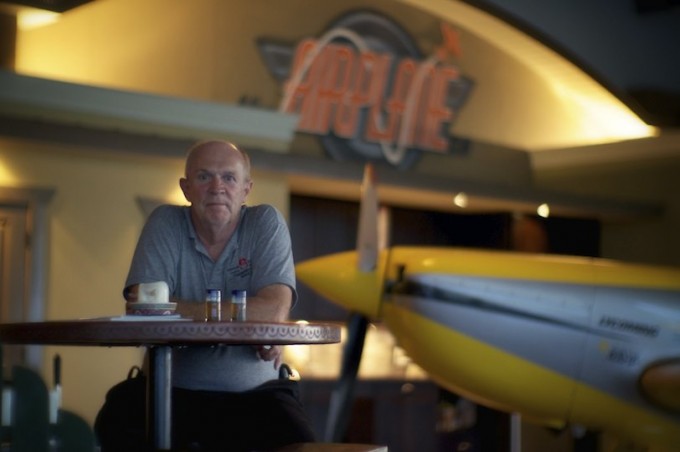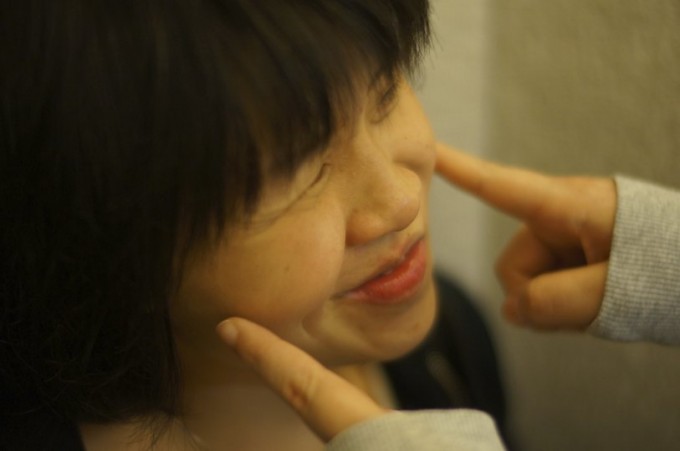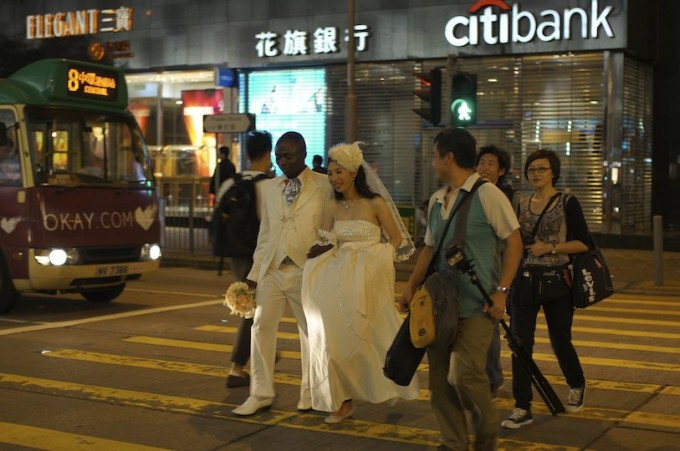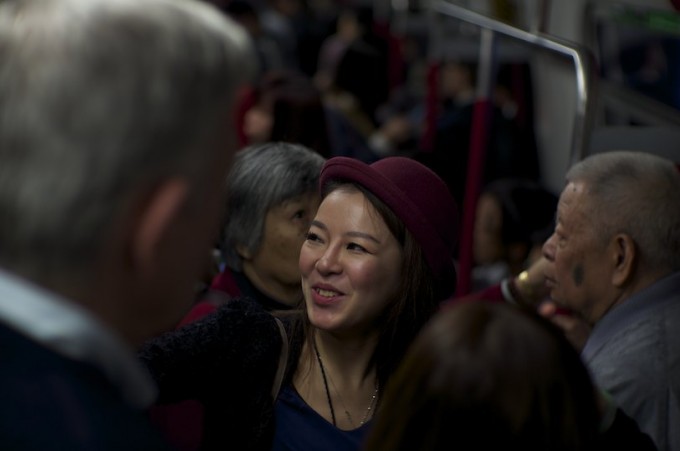 Although the new paintbrushes I have are more than capable of capturing beautifully clean photographs, it's still a lot of fun to mess around with the results on iPad with a few editing apps.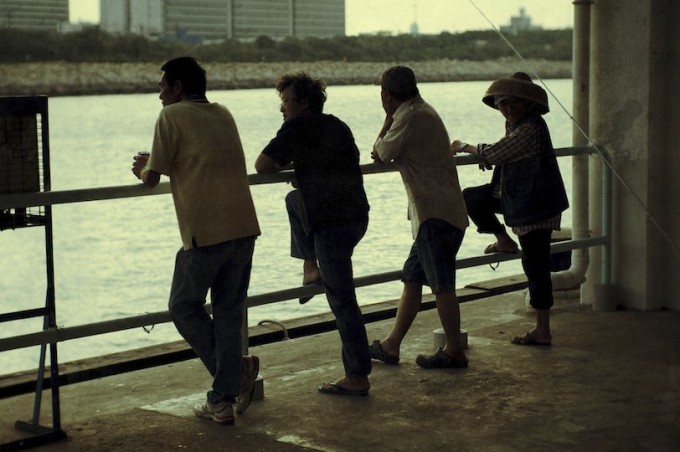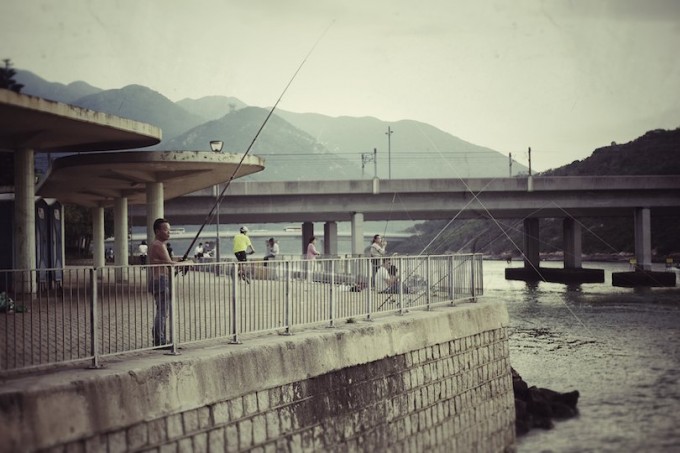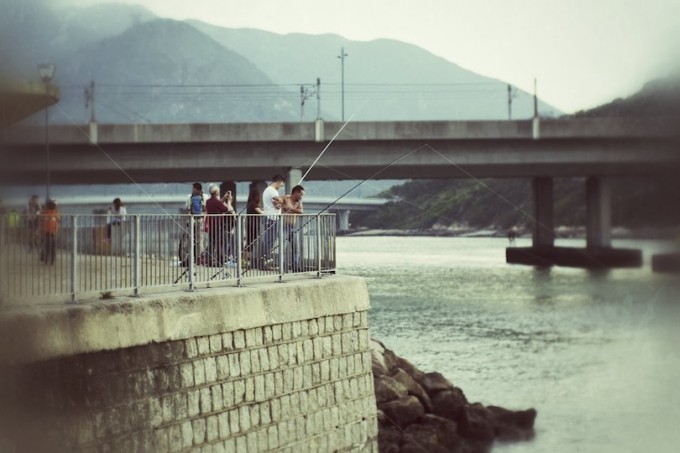 Once again practicing wide open is a lot of fun. If I had only remembered that thing called ISO taking this photo would have been so much easier. By raising it I could have had a much cleaner shot without the motion blur and didn't even recall the option until hours later. It's of no worry, I'll just have to head back to Dubai and get a few more shots of my friend Dave.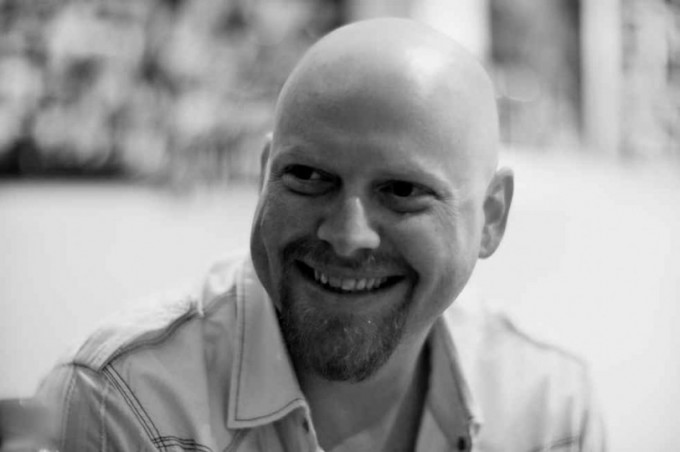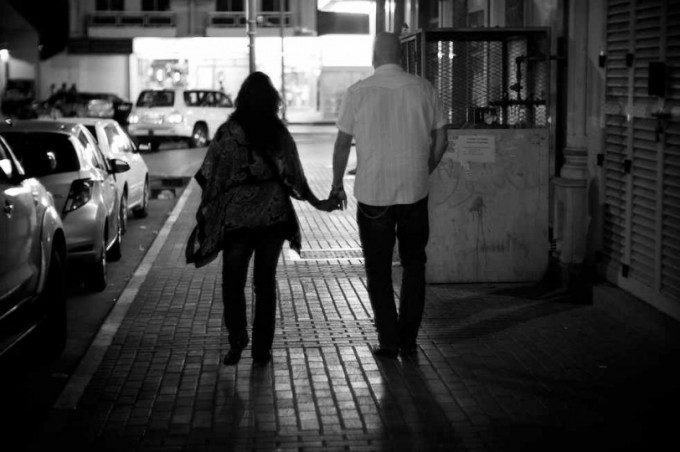 Shooting through grease splattered glass around the corpses of many fried fowl was a bit of a challenge. But patience gave me interesting results in a great part of town.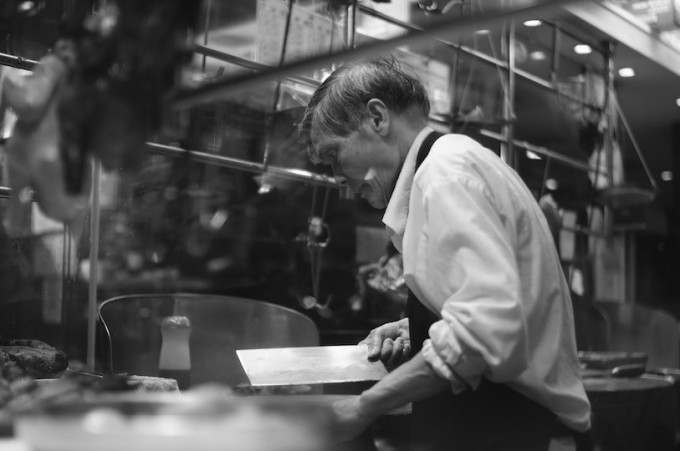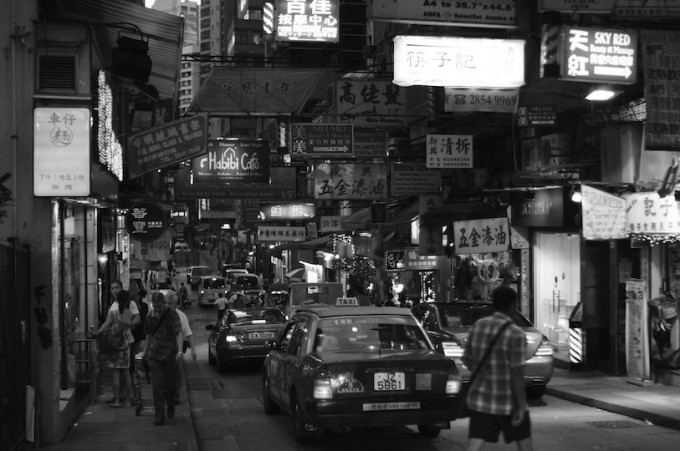 I could have spent hours taking photos in this tiny little work shop. It's located on one of the lower floors of one of Hong Kong's less than desirable buildings. If you didn't know it was there you'd never believe it existed. I'm told that most of their customers don't want to physically visit their shop, but I personally love it. It has great character. Past the double security doors in a room a room only a few meters long and wide, they are turning out some of the highest quality and renowned custom jewelry in the region. The shop has been here since the 1960s I'm guessing and the shop owner was more than happy to let me take photos of the jewelers working away at their work benches. After all, I'm a very good customer. Women's liberation seems to be a two-way street … Damn.