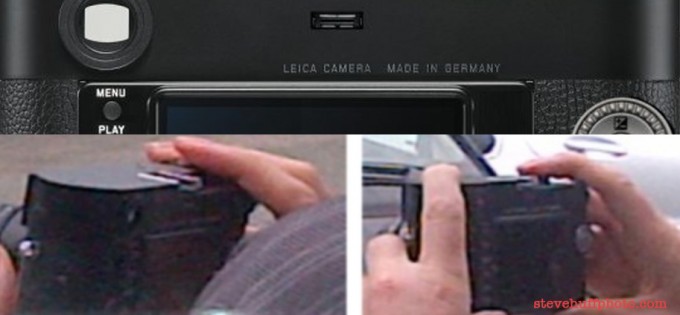 Pics of the Leica M10 Leak out….seems it will have a top mounted EVF like the X2
So pics have finally leaked of the Leica M10! Don't you just love it when leaked photos are out and they look god awful?  Looks like an M still but with a few enhancements. Notice the port at the shoe? It's the same as what is on cameras that have a shoe that houses an EXTERNAL EVF. Hmmmm. I think the M10 will have live view, video, an external EVF and a CMOS sensor. My only question is, will this take away from the M digital quality we have come ti grow and love? The past M8 and M9 have used CCD sensors and these have a rep for having a certain look and feel. I've always been a fan of CCD but CMOS brings with it new possibilities for an M like Video, Live View and much higher ISO capability.
[ad#Adsense Blog Sq Embed Image]
It also has a new dial selector and larger screen (finally, are they upgrading the antique LCD on the M9)?
In any case I expect this to be announced this year so stay tuned. Of course these are my opinions and guesses so let's see how they play out. You can see more HERE.
I expect the M10 to be revolutionary. To do away with focus issues and problems. To be able to use longer lenses like the 135 without issues. I also expect it to come in at a heft price and after this is released I predict the M9 will become a much sought after "classic". C'mon Photokina! Oh and thanks to Gideon Buurma for sending me the info on this one!