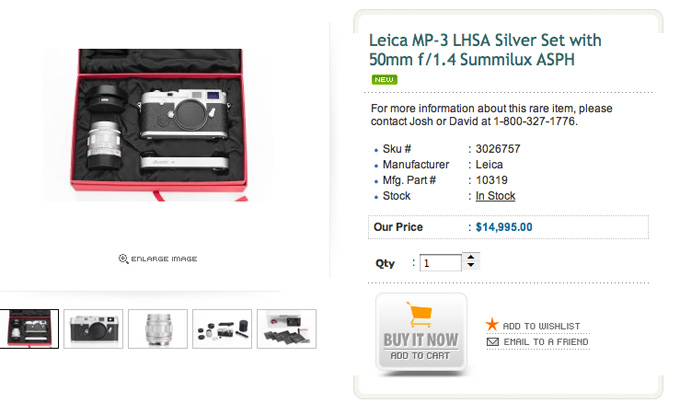 Amazing RARE Leica Set for Sale – The LHSA MP-3 with SE 50 1.4 Summilux and Leicavit. 
MAN OH MAN!!! I remember when this set was available new at B&H Photo and back then I did not have the funds to click on "buy" but I so wanted this set! To me, this set is the pinnacle of Leica film cameras. Yes, there is the MP and the M6 but this special edition LHSA M-P3 set with 50 Summilux ASPH 1.4 (special knurled focusing ring version, which rocks) and Leicavit in classic chrome is THE set to own if you are a shooter or collector. I don't thing these things should be bought and stored, I think they should be used to do what they were made to do, and that is SHOOT THEM!
I never ever see one of these sets go up for sale but Dale Photo has one and it is in excellent condition with presentation case, caps, and even plastic still on the bottom plates. My friend Seal owns this set and he has raved to me about it many times. I always used to think I would own this set and be done with it but sadly, at these price I never will.
So if you are into film, have loads of cash flow, and want one of the sweetest Leica LHSA sets EVER, click here to check it out. Many will scoff at this but it is a beauty and I know of many who have been looking for this set for a long time. SO, if you happen to call Dale, tell them you saw it here!
Steve