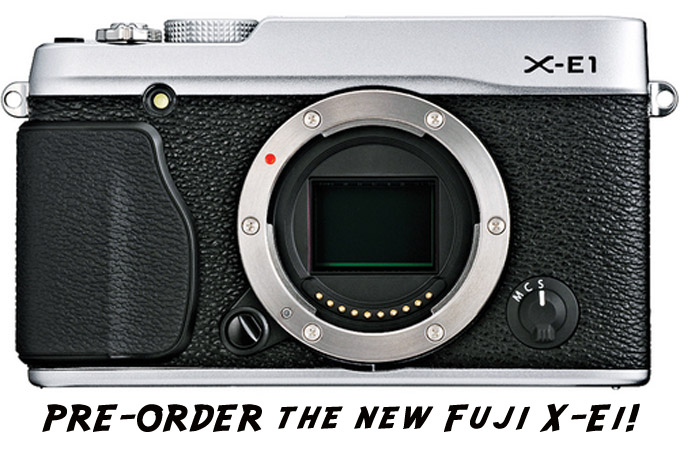 uni X-E1 The new Fuji camera is here! The X-E11 and new lenses! Pre-Order now!
PRE-ORDER THE X-E1 IN BLACK HERE
PRE-ORDER THE XE-1 IN SILVER CHROME HERE
PRE-ORDER THE X-E1 in BLACK WITH KIT ZOOM
PRE-ORDER THE X-E1 in SILVER WITH KIT ZOOM
OR, Pre-Order any of the new Fuji products at Amazon HERE
The new Fuji X-E1 is now OFFICIAL and ready for pre-order!! Woo Hoo! 
What looks like an X100 but with a Fuji X lens mount is in reality the new X-E1 which will be like a mini X-Pro 1 but apparently FASTER. The big question I had with this one is "did Fuji improve the AF speed and responsiveness"? Fuji says YES so if so this will be a crazy winner of a camera. Hell, it probably will be anyway because it shares the same sensor as the X-Pro 1, still without the AA filter (yea) and comes in at $700 less! Just using this as a Leica mount body may be pretty cool. The EVF is just that, an EVF… so the X-E1 does not share the Hybrid EVF/VF with the X-Pro 1 but personally I loved the EVF of the X100 and X-Pro 1 (though some will disagree with me on this one) and used it over the standard VF.
Coming it at $999 it is $699 CHEAPER than the X-Pro 1, it is smaller, shares the same sensor and they are claiming that the Auto Focus can AF as fast as 0.1 seconds. The X-E1 also has 1080P HD Video recording and it even has an external microphone jack. IT HAS A MAGNESIUM ALLOY BODY and the same film simulation modes as the X-Pro 1. So why would one buy and X-Pro 1 over the X-E1? I guess if you want the hybrid VF/EVF and a larger body/LCD but will the AF be faster on the X-E1? It appears so as Fuji says "improved contrast detection" for faster AF. Sounds like a no brainer to me. My pre-order is in (I DO have to review it you know) 🙂
Looks like a beauty from Fuji and I predict a winner for them sales wise. Maybe not as huge as the classic and now legendary X100 but at least we will not have the sticky aperture blade issue with the X-E1!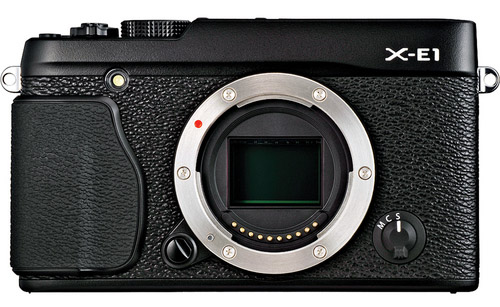 Fuji also has announced and released TWO new X mount lenses for pre-order.
First up is the 14mm 2.8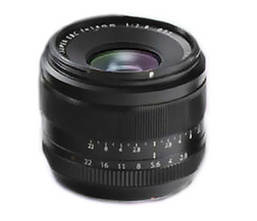 This is the 4th prime lens from Fuji which is pretty cool of them to do because this lens will give Fuji X owners an ultra wide 21mm equivalent view. A 21mm with a 2.8 aperture is plenty fast enough IMO.  You can pre-0rder this lens from B&H Photo but the price is steep at $899 which leads me to believe this will be a stellar performer. It seems to me Fuji is dedicated to this new format with their X-E1 body release and new lens releases. 

–

What would a new $999 X mount body be without a new Kit Zoom to go with it? Fuji has also announced their 18-55 f/2.8-4 OIS Zoom lens that will also be packaged with the X-E1 in a bundle for those who do not own any of the Fuji glass. You can order the kit zoom here at $699. Again, this pricing makes me think that this lens will be a level up from most kit zooms. 

–

The Fuji X-E1 Spec Sheet:

–

16.3MP APS-C X-Trans CMOS Sensor

Moire is tackled at its root cause by the revolutionary X-Trans CMOS sensor's color filter array. By enhancing aperiodicity (randomness) in the array arrangement, the color filter minimizes generation of both moire and false colors, eliminating the necessity for an optical low-pass filter in the lens and enabling X-Trans CMOS sensor to capture full "unfiltered" lens performance. The EXR Processor Pro is supported by an integrated co-processor for higher speed and higher precision image processing performance.
X Mount

Taking full advantage of the mirrorless design, the mount boasts a short 17.7 mm flange back distance, a wider opening, and deeper mounting of the lens, resulting in reduction of back focus distance to the minimum possible while achieving high resolution extending to the image edge areas. When a FUJINON XF lens is mounted, all lens information is instantly communicated to the body, integrating them into a seamless, responsive instrument.
2.36 Million Dot OLED Viewfinder

A 0.5″ electronic viewfinder provides crystal clear high resolution eye-level composition with a built-in diopter. Users who wear glasses will not need to remove them thanks to a 23mm eye-point and a soft resin coating on the eyepiece. A built-in eye sensor detects the presence of an eye and automatically turns on the viewfinder and a 25° field of view allows for the entire view to be seen quickly and easily. Two glass elements and one double aspheric element offer a display comparable to that of an optical viewfinder with high contrast and faithful reproduction of focus, exposure and white balance.
2.8″ 460K Dot LCD Monitor

Compose and playback your photos and videos on this LCD with special anti-reflective coating that reduces glare and is resistant to stains, smudges and water.
Full HD 1080p Video with Stereo Sound

Capture the action in Full HD movies (1920 x 1080). In addition to full AUTO exposure, you can also shoot with aperture priority AE. Taking full advantage of the bright XF lenses, you can also capture movies with a beautiful defocused "bokeh" background. Later with plug-and-play ease, you can connect directly to your TV with an HDMI cable and share your movies complete with stereo audio on the big screen.
Focal Plane Shutter

The X-E1 is designed with a focal plane shutter that sits immediately in front of the sensor and can provide the camera with extremely fast shutter speeds.
Film Simulation Modes

The X-E1 can simulate the color and tonal qualities of acclaimed films including the natural look of PROVIA, the vibrant tonality and saturated colors of Velvia and the silky soft look and beautiful skin tones of ASTIA. Film Simulation mode makes it simple to capture the expressive color quality of the rich legacy of Fujifilm photo film technology. There are 10 Film Simulation Modes: PROVIA, Velvia, ASTIA, PRO Neg Hi, PRO Neg. Std., Monochrome, Monochrome+Ye Filter, Monochrome+R Filter, Monochrome+G Filter and Sepia.
QuickStart Mode

QuickStart Mode will power-up your camera and have you ready to shoot in as little as 0.5 seconds. Never miss a shot because you were ready but your camera wasn't. When QuickStart mode is turned off, camera will start in approximately 1.0 second.
Auto Bracketing

Auto Bracketing is a way to make sure you get the correctly exposed shot by shooting three continuous shots at slightly different levels. You can set Auto Bracketing for:AE Bracketing (+-1/3EV, +-2/3EV, +1EV); Film Simulation Bracketing (Any three types of film simulation selectable); Dynamic Range Bracketing (100%, 200%, 400%) and ISO Sensitivity Bracketing (+-1/3EV, +-2/3EV, +1EV).
JPEG and RAW Capture

Shoot in JPG or RAW and enjoy in-camera processing of the RAW files. The built-in RAW data converter lets you view results in the field without first transferring the data to your computer. This easy-to-use feature not only takes into account exposure compensation, white balance and other in-camera image quality settings, but also lets you apply Film Simulation modes in the converter mode.
High Speed Contrast Autofocus

Thanks to the high speed X-Trans CMOS sensor and newly developed EXR Processor Pro, contrast detection has improved and the X-E1 can autofocus in as little as 0.1 seconds and continuous high-speed shooting of up to 6 frames per second will allow you to capture fast-moving subjects and never miss an action shot. Autofocus is TTL Contrast AF with an available AF assist illuminator. AF Frame selection offers Area Frame with 49 areas and Multi Frame with 5 frame types.
Built-in Flash and Hot Shoe Mount

The X-E1 provides a built-in pop-up flash and a hot shoe mount and TTL (Through the Lens) Flash Sync. Sync speed for flash is 1/180th of a second or slower.
Photography Functions

Select Custom Setting, Motion Panorama, Color Space, Color (saturation), Sharpness, Dynamic Range, Film Simulation, Gradation, Silent Mode, Auto Red-eye Removal, Framing Guideline, Frame Number Memory, Histogram Display, Depth of Focus Preview, Focus Check, Electronic Level, Multiple Exposure, PictBridge, Exif Print, Time Difference, Fn Button Setting (RAW, Movie, etc.)
Playback Functions

RAW conversion, Image Rotate, Red-eye Reduction, Photobook Assist, Erase selected frames, Image Search, Multi-frame playback (with micro thumbnail), Slide show, Mark for Upload, Protect, Crop, Resize, Panorama, Favorites
External Microphone

A 2.5 mm input jack provides a connection for an external microphone for stereo sound when shooting video. That same jack can be used for a remote shutter release cable.
Magnesium Alloy Body

The magnesium alloy body provides not only classic good looks but durability. The design of the X-E1 with on-body controls and dials harkens back to the glory days of 35mm photography