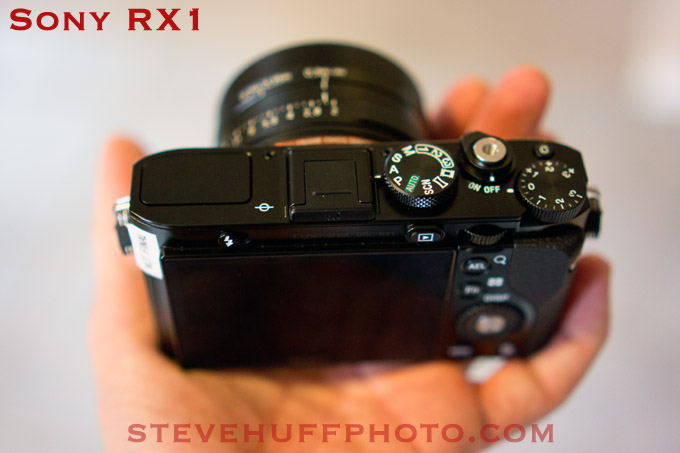 Sony almost made it perfect..things I would have changed about the RX1
MY 1st Look Preview of the RX1 is HERE
First off let me state that I have yet to shoot with an RX1 besides the 5-10 snaps I fired off in my living room last week with it. With that said I knew the RX1 was going to be special as soon as Sony took it out of its velvety bag. As I sat and watched the presentations on the NEX-5R, the NEX-6 and the A99 they kept telling me "we are saving the best for last". I assumed they found a way to create a full frame NEX and I saw this bag on the arm of my chair with what appeared to be camera and lens inside. I just KNEW this was going to be a FF NEX camera after they showed me the A99 and told me "this sensor will be the same sensor in ALL of our full frame products this year". Hmmmmm
But when I found out an adapter would be needed for a full frame E mount NEX camera my hopes dwindled and I thought "I sure as hell hope that is not a new Full Frame NEX that needs a chunky adapter to use full frame lenses". I would not want a NEX camera that needed a big adapter just to use huge full frame lenses. That would take away from the whole concept of the NEX camera. A huge and heavy lens on the front of a NEX-6 or 7 would look and feel ridiculous. The E-Mount lenses are not full frame lenses so if they were mounted to a full frame NEX it would then turin into a cropped camera like the Nikon D800 does when a DX lens is attached.
So I waited..and when Sony pulled out the RX1 from the velvet bag I got goosebumps…there it was..a full frame camera that was small, solid and had a kick ass Zeiss 35 f/2 Sonnar lens attached. First I thought it was an interchangeable lens camera with an all new set of Zeiss lenses to choose from. At that moment I thought "Leica is going to lose some sales for sure". Then I noticed the lens was permanently attached and I thought "well, it may not be an IC camera but no one has ever made a full frame camera like this..ever" and it is ALWAYS good when companies push the envelope. I congratulate Sony for being the one to do this.
Once Sony talked about the RX1 and showed me the presentation making the point over and over that the sensor is where the magic is on the RX1 I started to think.."wow, this is going to be HUGE"!! The sensor in the RX1 and the A99 appears to be the best 35mm full frame sensor on the market as of this writing but all I can do now is take their word for it because I was not able to go out and shoot with it. I do know that the 35mm f/2 Zeiss lens is just about perfect for a camera like this. The 35mm focal length is the choice of many shooters and it was the one and only focal length of the highly popular Fuji X100. I saw comparisons of this sensor vs the D800 and 5DII and was blown away at the extended DR and lack of noise in the crops coming from the RX1 sensor.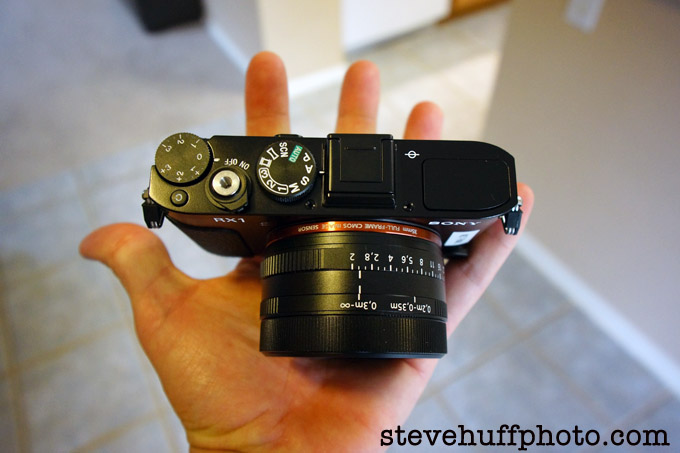 With the RX1 we are going to get best in class high ISO performance, real full frame DOF, amazing dynamic range and as always with Sony superb battery life and hopefully rich and detailed files. This camera could be perfect for street. Imagine setting it to a high ISO and black and white and then getting nice noise free images in return. No limits with light because from what I hear the high ISO is astounding with this sensor. The pre-production "NOT FINAL" sample I played with was very fast with AF though it was not lighting fast or instant. It was much faster than any Fuji and seemed a bit quicker than the NEX-7 I own as well. I expect the final version will have plenty fast AF.
This camera is for those who desire super high quality, simplicity, full frame qualities and a small compact all in one solution. I can see someone taking the money they have been saving for a Leica M9 and 35mm and giving the RX1 a spin but I do have a couple of niggles as this camera is not perfect in any way. Sony came close but there are a couple of faults. If I designed the RX1 I would have went for a NO COMPROMISE NO BULLSHIT design. I would have pushed for:
1. Built in OLED EVF
2. I would NOT have included a built-in flash
3. I would have priced it at $2499 with built-in OLED EVF
If Sony did this then it would have been hard for ANYONE to complain about it. As it is now at $2799 without a built in EVF..it is a little on the rich side. $2299 as is would have been a much more attractive price point. Yes a Leica X2 with EVF is over $2500 and is not full frame, is slower to AF and operate, has less battery life, no video, is not as good at high ISO and has a crappy low res LCD but we expect that pricing from Leica and we do not expect that from Sony who also just announced the awesome looking NEX-6 with 16-50 Kit Power Zoom for $999. It has been reported the EVF for this camera will be $600. If this is true it better be some new technological marvel because $600 for an EVF is borderline ridiculous. I do know the optical VF will be a Zeiss and Zeiss optical VF's have ALWAYS been expensive but incredible. I expect the Sony EVF for the RX1 will be a step up from their current OLED EVF that comes in at $249. I do know it will be sleek and black. Thats all I know. I also know the grip is a "Thumbs Up" type of grip much like the one from Match Technical on the M9.
I think Sony released the RX1 as a statement piece to say "Look what we can do..AND DID". Other companies now have to play catch up and Sony gets the attention and applause for making the camera so many of us wanted and begged for. They did not make it perfect and they did not price it perfect but it is what it is and that is a 1st in the world product, something that has never been done before.
It will do very well and I expect to see some incredible images coming from this little box called the RX1. Can't wait to get a hold of one..I must have been #1 on the Amazon pre-order list last night because even at $2700..if it delivers on its promises it could and may just take the spot as my #1. Time will tell as will Photokina because there are more announcements on the way 🙂 We still have to see what Leica has in Store for us of course. Get your wallets ready :)!!