PHOTO CONTEST ALERT: Win a Leica Monochrom, Leica X2, and BIG Cash. The best photo competition online. Period.
Ok guys..you MUST check this out!
I Shot It, the photo competition website, well they are having some really cool competitions lately. The two coolest right now are the "Black & White" contest where they are giving away cash and a Leica Monochrom camera. The other is a "Premium" contest where they are giving away cash and a Leica X2. Yes, you can submit a photo to the contest and if your photo is chosen by the judges as the winner you will WIN cash and the camera prizes, depending on which competition you enter.
There really is nothing else like "I SHOT IT"  anywhere around and they are the absolute best of their kind when it comes to the prizes, at least from what I have ever seen, and that is not me spewing BS, it is fact. I have browsed the site over the past year but have never entered any of my photos and when I spoke with them recently about their new contests giving away Leica cameras I wanted to spread the word to all of you about it. So they actually became a site sponsor which is why you now see their ad at the top of this site 🙂
So THANK YOU to I Shot It for helping to keep THIS site alive, but that is not what this post is about.
A past B&W contest winner – This person won $5,520 US dollars and a Leica Monochrom. Amazing.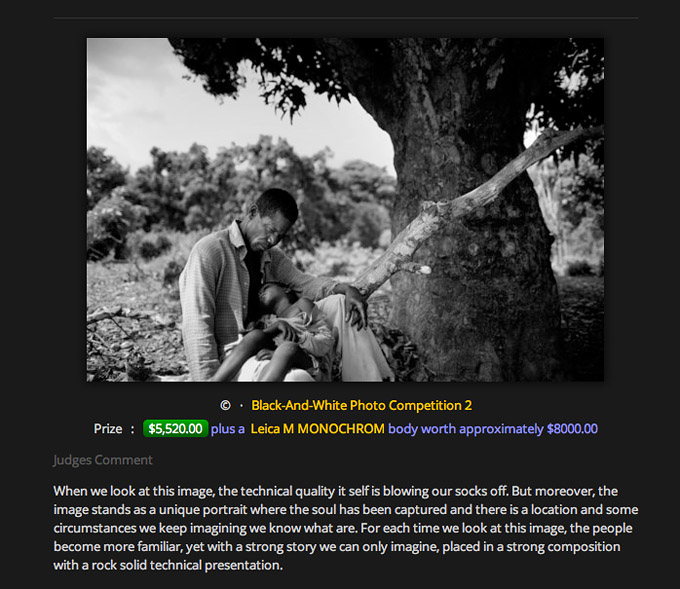 INSPIRATION and MOTIVATION 
When it comes to Photography, most of you here on this site are just like me. I consider myself a photo "enthusiast" which means I LOVE photography and I love to capture memories. I love to try new gear and use gear that inspires me as I find when inspired it brings out the best of me.
I do not consider myself a "Pro" at all, just a guy who loves to take photos and write about it. In fact, I live, breathe and eat it most of the time. I am always on the lookout for new things to motivate me and inspire me and when I browsed the I Shot It site last week I became inspired by the amazing photos on the site as well as the competitions they were offering. I mean, the chance to win a Leica Monochrom??!!?! Wow. Now that is a prize. But they go even further with Cash prizes added to the camera prize. 
Their site has been around for a while now and lately they have been offering up some amazing cash prizes for the best photo in each contest in addition to camera prizes.
This is a site that can not only sparks your creativity and sets you out on a mission to shoot, it is a site that allows you the opportunity to be rewarded for your photography. 
It is a pretty amazing concept. The photographer gets to share his work, have it seen by everyone at the site as well as be judged for the main prize of each contest, and these contests just keep on coming. My friend Thorsten Overgaard is one of the judges for I Shot It as is Birgit Krippner, both of whom are respected and established photographers whom I respect.
Again, they are not new and have been running these for quite some time and it appears the site is starting to really get some attention, but then again, how can you not when you are giving away Leica cameras and thousands of dollars for some of the contests? Their Facebook page has over 148,000 likes with a load of member interaction. CHECK IT OUT.
The cash prizes for contests can get INSANE!
What's The Catch?
Well, there really is no catch. They offer varying degrees of competitions. Some are 100% free to enter and if you win you get credit to your acct to enter the premium contests. If you have an amazing shot that you think stands a chance of winning you can enter the Leica X2 competition for example..and it will cost you $10 to enter. The awesome thing is the more entries that come in, the bigger the prize money. With these kinds of prizes lines up, cash and Leica cameras, it is really a motivator to get out there and look for that one shot..that one moment..that one slice of life that may just win you the contest.
Most of their cash contests are $3 to enter, some are $10 and a few are more. For example, the Leica Monochrom competition has a $20 entrance fee, but THIS IS TO ENTER TO WIN A MONOCHROME valued at $8,000 plus a few thousands dollars in cash, and ONE will indeed win it. Just be sure to have a knockout image for these contests. But the beauty of it is that the cost is low to enter and the prizes are HUGE. You are rewarded for your skill level basically as I am sure the competition is FIERCE when it comes to the bigger competitions.
The way I see it, I SHOT IT is the coolest way to do photo competitions. In the past I have seen photo competition websites that allowed you to submit images for free but if you won, you got nothing but a "You Won" announcement. I Shot It actually rewards the winners with AMAZING prizes. $4500 in cash? Leica Monochrom and Cash? Yep. You can enter whatever contest you wish. The freebies or the premiums or the themed. Spend nothing to enter, send $3 or spend $10 or $20. Up to you depending on the quality of your photo and how much of a chance you want to take. To me, $10 for a chance to win cash and a Leica X2 is nothing, if I have a photo I feel is worthy of the contest of course.
So I suggest clicking over to I SHOT IT, not just because they are a new site sponsor, but because they are one hell of a site to motivate and inspire you to actually get away from your computer and to get out and SHOOT. This is after all what it is all about is it not? If you enter and win a free competition I SHOT IT will deposit $10 in to your account. You can then use that to enter a premium contest. Pretty cool! If anything, head there and join a bunch of free contests to get started. I'd love to see a reader here win something cool, so if you enter and win, even if it is a free competition then LET ME KNOW!
You can check out their Facebook page here as well, it has over 148,000 likes. Wow.
CLICK HERE TO CHECK OUT I SHOT IT!