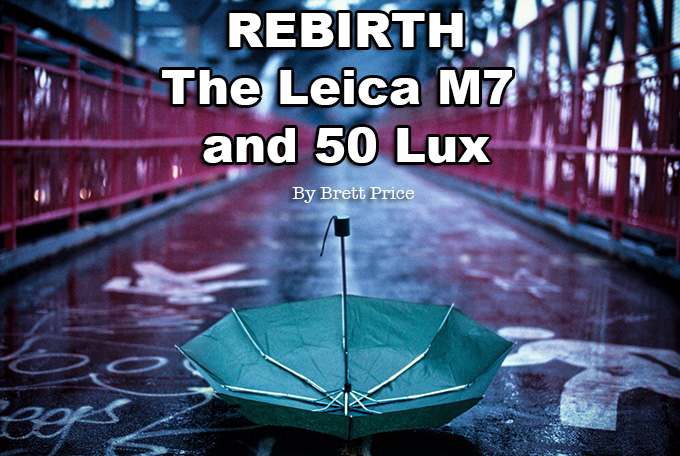 REBIRTH! The Leica M7 and 50lux. What it is like own your first "real" Leica lens by Brett Price
Hey Steve,
I'm a long time observer of your site. I love the community and following it has developed over time and I frequent the daily inspiration and user report posts for their diversity and inspiration, I thought I would write-up one of my own experiences for you.
I recently took the plunge and purchased a mint Summilux 50mm ASPH. This is no small amount of cash for myself and I consider the purchase somewhat of a sacrifice, it's really the most I've ever spent on a lens by more than 3x. I have a wonderful and supportive girlfriend, of whom many of these photos are of, who actually encouraged (shocker) me to buy it. While I wasn't completely new to Leica, this would be my first legitimate Leica-made lens and I was adamant about it being a good one, something I could keep forever and never feel the need to "level up" so to speak.
I had previously been using a Zeiss Zm Sonnar 50 f1.5 and (not to bash your review of it) been, except for a few shots here and there, pretty unhappy with the results. I found it to be soft wide open, inaccurate (focus shift) and therefore not dependable. I almost completely stopped shooting 35mm because the results from it were, in my opinion, not up to par with what I was used to seeing. I shoot a great deal of medium and large format and due to the softness of the lens as well as the difficulty it can be to scan 35mm and get it sharp, I just never jived with it. This led me to all but abandon shooting 35mm, something I hated. I started with that format, I've seen people get results from it that were jaw-dropping, but my personal experience with it was always disappointing. I even considered at one point to sell my M7 and give up 35mm all together, I had plenty of great medium format cameras that gave me great results and were wonderful to use. After all that would pocket me around 3k, a good amount of money that could go many other things I had my eyes on.
I don't know what inspired me to want to own a Summilux, but I set my sights on it, sold a few things (including the ZM 50) and took the plunge. Part of me was a little worried that even with the most perfect Leica lens, I would still have disappointing results and that 35mm was dead to me. I COULD NOT HAVE BEEN MORE WRONG! I understand the sentiment that gear isn't everything, a lot of people are perfectly content shooting a holga and get great results from it, but I equate it to this: A lot of cars get you from point A to point B, but nobody forgets driving in a Ferrari or Lamborghini, it's an experience, that's how I feel now shooting with this setup. I decided that if I wasn't able to get results with this Ferrari of a camera setup, it wasn't the gear, it was me.
I also had the perfect timing with this purchase. I visited my girlfriend in NYC (actually having the lens shipped to her for fear that it wouldn't make it in time) and spent a whole week getting to shoot in that beautiful city. I brought a Mamiya 6 with me for medium format but ended up only shooting the Leica, that is how much I absolutely fell in love with shooting with this setup. I didn't fell the need to shoot on anything else, it was the perfect camera for my trip and I was so nice not to have to fumble around with switching cameras and setups. 1 camera, 1 lens, all you really need right?
Since then I couldn't be shooting more 35mm. I'm a changed man. I love it. It's truly a sentiment to how great this lens is. I carry the M7 and the 50lux with me everywhere I go. I have a Nikon d800 that I use for professional work (I NEVER use it for personal, I can't stand carrying that beast of a camera around) that I'm selling and I recently got a new job that will get me some spare change. I already backordered the M 240 from B&H after seeing some of your stuff from it and the 50lux, I feel like its going to be the perfect setup for me to shoot digitally, I can't wait for it to be in my hands.
Just a bit of info for all the gear-o-philes out there on these shots. All were taken with M7 with the 50lux.
-The top color shots are Velvia and Provia 400x. (home developed with the tetenal e6 kit).
-Mid color shots were Portra 160 and 400 films, developed and scanned by Filmbox Lab here in Nashville, TN. (they do great work!)
-The B&W shots were Kodak Tri-x home developed and pushed 1-2 stops in Rodinal 1:50 dilution.
-All were scanned by a Plustek 7600i scanner.
Hope you enjoy them. I try to regularly post to my tumblr if you would like to see more. Brettprice.tumblr.com.
Thank you Steve for creating a site where someone can write a post like this and some people who might care about it can get a chance to read and learn and grow from the experiences and photos we all take! Cheers!
Brett Price