PRESS RELEASE: Leica Majority Shareholder Buys in to Internet Photo Platform i-shot-it.com
Dr. Andreas Kaufmann, majority shareholder of Leica Camera AG, has acquired a 25.1% stake in the Internet platform "I-shot-it". For a small fee, www.i-shot-it.com enables photo-enthusiasts—from amateurs to professionals—to take part in photographic competitions. An independent jury of internationally acclaimed photographers selects the prizewinners and in the open competitions, members of the "I-shot-it" community select the prizewinners by direct online voting.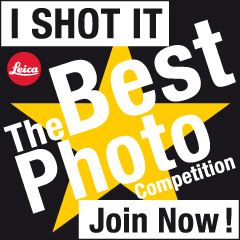 "Many amateur photographers, and professionals, too, think our platform is great, because this is where their work finds the recognition they would otherwise often never find", explains "I-shot-it" founder Hartmut Hennige. "The majority of photo competitions are so restrictive or have such strict rules that many photo enthusiasts are barred from entering right from the start. We let everybody try their luck. The jury members, all independent, acclaimed photographers, know nothing about the entrants or the camera they used to take the pictures." According to Hartmut Hennige, around five million pictures have been uploaded so far. Around one half of these were submitted as competition entries.
Winners of the online photography competitions receive cash prizes –financed by the charges due for uploading image material—and a Leica camera. The current thirteen categories include genres such as wildlife, landscapes, black and white, cars, transport, flowers, street photography, sports, food and more.
The majority of visitors to the "I-shot-it" Web site come from the USA with more than 132,000 visits and 1.85 million page views. Dr. Andreas Kaufmann from ACM in Salzburg, Chairman of the Supervisory Board at Leica Camera AG, reckons with high growth rates in the coming months. "There has been a tremendous upswing of interest in photography over the past few years. The wish to be able to present your own photos to a virtually unlimited number of people in competitions is widespread", says Dr. Kaufmann. "The growing numbers of fans and users shows just how enormous the demand is amongst photographers around the world. We intend to satisfy this demand."