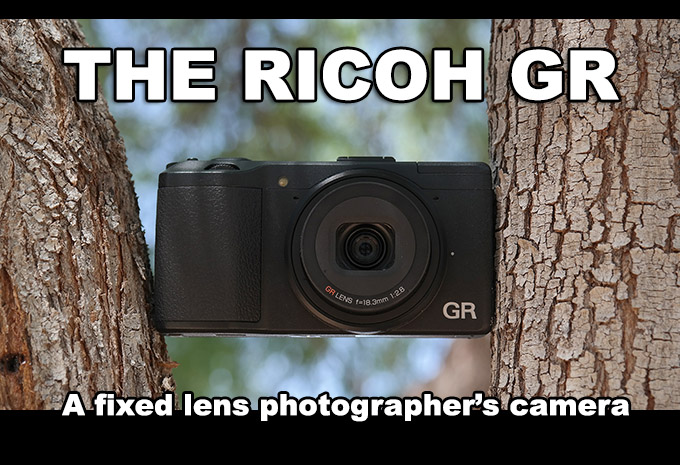 The Ricoh GR Camera Review – The new large sensor GR arrives!
*A Thank you to B&H Photo for letting me evaluate this camera
Isn't it nice when you have a camera that is small, well made, easy to use, and gives you superb quality out of the box? A camera with accurate colors, good AWB performance and nice high ISO. How about really nice and hassle free out of camera B&W for those times you want to shut out all of the color in the world. If a camera had all of this, along with a nice big fat APS-C sensor and decent Autofocus with a fast-ish wide angle lens built in I think many of us would jump in! Funny enough, it is usually NOT the big expensive cameras that give us all of this hassle free performance. Nope, this all comes from a camera coming in at $799, and let me tell you, it is a superb camera and tag along companion for your day to day life.
Check out the video below for my thoughts and a full menu overview of the Ricoh GR
If this sounds enticing to you then the new Ricoh/Pentax GR may be just the camera you have been looking for as it has all of these things and more.
The last time I reviewed a GR Digital it was the GRIII and Ricoh GXR. I did not review the GRIV as I felt it was very similar to the GRIII in IQ with a few usability enhancements. The new GR is a whole new ball of wax though as this guy packs an APS-C sensor punch, and it shows. I knew this was the direction the GR series HAD to take in 2013. There was just no other way around it. I am happy to see this camera, I really am.
OOC with the GR at f/2.8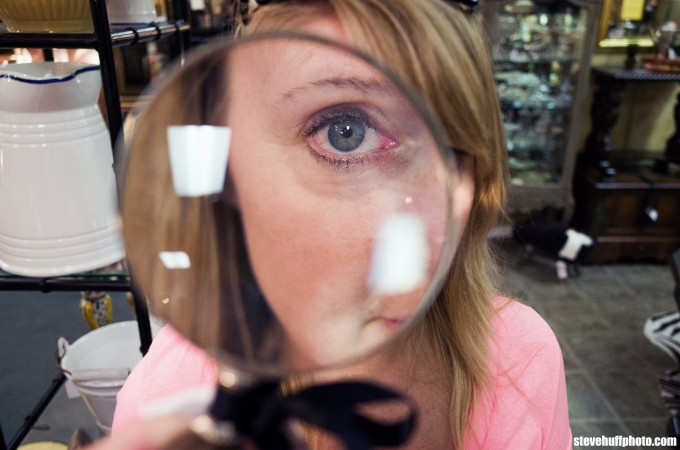 As I used this GR I thought back and remembered something I talked about in my GRIII review and I will repeat it here as it is all true. 
"But before I get to this review I wanted to talk a bit about what makes me tick as a photographer and why a camera does and does not matter when it comes to getting nice photos. While everyone argues wether camera gear can make any difference in your final output, let me break it down into FACTS right now:
Larger sensor cameras WILL give you better IQ than a small sensor camera, especially if printing LARGE

NO CAMERA, no matter HOW expensive will make you a better photographer. Time, passion, and practice will.

If you know what you are doing and take one shot with a small sensor camera and one with something like a

Leica S2

, you will get a much better file from the Leica S2. No question on that AT ALL. BUT the photograph will be the same, just with a different rendering.

Larger sensor cameras have better ISO performance, more dynamic range and better color. They also have the capability of shooting with limited Depth of Field.

The images you create with whatever you shoot will somehow always look like YOUR Images. It's your style that will get you noticed more than the camera you shoot. Small sensor cameras can even help give you a certain style.
So what I said then before reviewing the small sensor GRII rings true today when writing about the new APS-C GR. Before I begin, here are the full specs of the latest and greatest GR: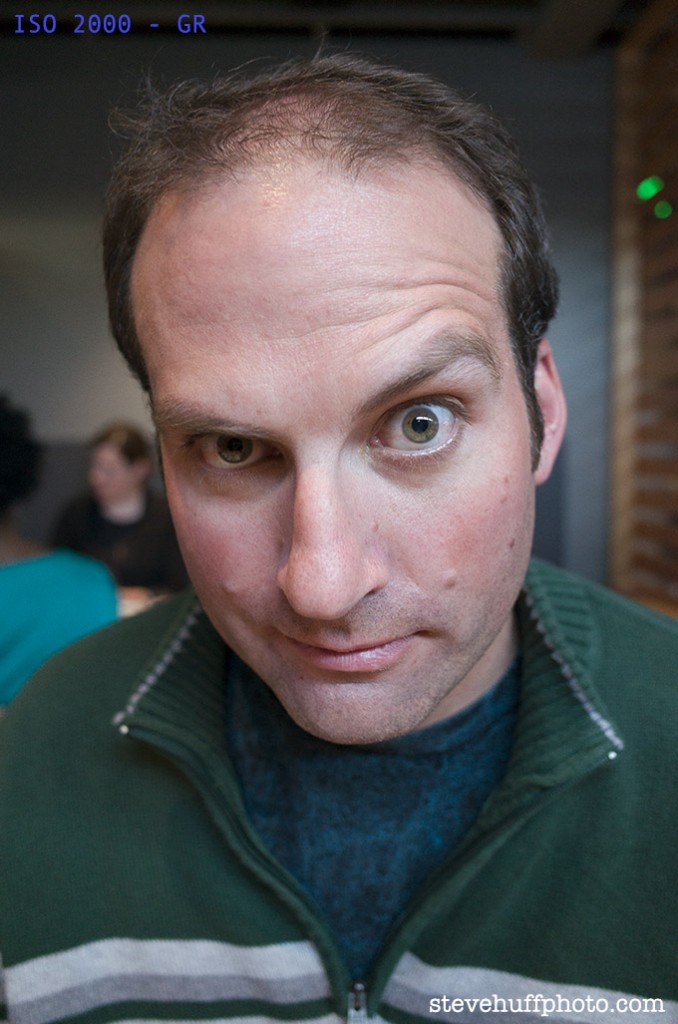 The full specs of the GR
——————————–
16 MP APS-C CMOS Image Sensor – APS-C is the way to go!
The GR's 16.2MP APS-C CMOS image sensor offers low-noise characteristics even at high ISO, super-high resolution imaging quality, color accuracy and a wide dynamic range.
GR ENGINE V Image Processor
The advanced GR ENGINE V imaging engine offers high-sensitivity shooting with minimal noise and fast response times, including fast autofocus and up to 4 fps continuous shooting.
No Optical Low-Pass Filter – THIS IS AWESOME
The omission of the low-pass filter in the sensor design enables particularly sharp details and color-rich images. To balance for lack of the Optical Low-Pass filter, a chromatic moiré compensation function is added to minimize wavy moiré patterns and distortion in certain images.
18.3mm f/2.8 Lens (28mm Equivalency in 35mm Format)
The GR's fixed wide angle 18.3mm f/2.8 GR lens, equivalent to 28mm in the 35mm format, provides high resolution images with edge-to-edge sharpness and low distortion. The seven element lens design includes two aspherical elements to minimize chromatic aberrations. With its newly designed nine blade diaphragm, the GR lens produces a natural bokeh effect at larger apertures.
3.0″ 1,230k-dot LCD Screen with WhiteMagic Technology – Can see the LCD even in the sun
Featuring Sony WhiteMagic technology which adds white pixels to the standard RGB colors to improve image brightness and visibility, the rear 3.0″ LCD provides composition and playback viewing.
Optional Optical Viewfinders – Bingo!
Two optical viewfinders are available (both sold separately) to enhance composition capability and stability. The GV-2 28mm mini viewfinder and the GV-1 21/28mm viewfinder both attach to the camera's hot shoe mount.
Full HD 1080p Video Recording
Capture Full HD video in widescreen 1080p resolution (1920 x 1080) with efficient, high quality h.264 compression at 30 fps. Continuous Autofocus remains active with movement as the camera stays focused on moving subjects in the center of its angle of view.
ISO 100-25600
Supported by its APS-C sensor and the advanced GR V imaging engine, the GR offers high sensitivity shooting from ISO 100 to ISO 25600 with minimal noise.
High Speed Autofocus System with 4 fps Continuous Shooting – About as fast as the Nikon A
The high speed autofocus system captures crisp subjects in a mere 0.2 seconds, and start-up time is only one second. The GR's AF Continuous Shooting function captures a series of photos at a maximum speed of four frames per second, allowing capture of fast-moving subjects in sharp focus.
Designated AF & Aperture Preview Buttons
An AF (autofocus) button is accessible with the thumb on the back panel. When the AF lever is set to the Continuous AF (C-AF) mode, you can capture a series of images of a moving subject – all in sharp focus – by pushing the shutter release button while depressing the AF button. An aperture preview button is on the camera's side panel for quick confirmation of the depth of field before shooting.
JPG or DNG RAW Capture
Capture both JPG and open-standard DNG RAW images. The GR offers a variety of computer-free image processing functions, including in-body RAW-data development to output JPEG format files.
Manual and Automatic Modes
You can set the GR to shoot on fully automatic mode, allowing the camera to determine the optimal settings for each shot or shoot in manual, controlling all settings to you exact needs. Aperture-priority and Shutter-priority modes as well as custom My Settings mode are available also.
Shutter Speed/Aperture Priority Mode
The GR features the original Shutter speed / Aperture Priority (TAv) exposure mode, featured only in PENTAX/RICOH-brand digital SLR cameras. This innovative mode automatically sets the optimum ISO sensitivity based on the shutter speed and aperture selected by the photographer.
Built-in Flash and Hot Shoe Mount
The GR offers a convenient built-in pop-up flash unit with several flash modes, a Guide Number of 5.4 (at ISO 100) and an effective range of 3.3 – 9.8′. In addition a TTL-A (TTL with pre-flash) hot shoe mount for an external flash is provided. The maximum sync speed for an external flash is 1/400 seconds.
Neutral Density Filter
For further exposure control the GR incorporates an ND filter in both manual and automatic modes.
Image Effects
The Image Effect modes allow the user to add a variety of visual effects to create distinctive expressions without the need for a computer. The direct-access Effect button positioned on the camera's side panel makes selection of one of the nine image effects easy. Effects include: B&W, B&W (Toning Effect), High Contrast B&W, Cross-Process, Positive Film, Bleach-Bypass, Retro, Miniaturize, High-Key.
Macro Mode
Macro mode allows you to capture the details with sharp close-up imaging. Minimum focus distance in macro Mode is 3.9″.
35mm Crop Mode
For that classic 35mm look, use the specialized crop mode to instantly set a 35mm frame ratio crop.
Durable Compact Design
Despite its large image sensor, the GR has a compact and portable design. Its casing is made of a lightweight magnesium alloy, while its exterior design retains the style typical of the GR series. Designed for maximum comfort and operational ease, all control buttons are laid out for easy access with the right hand.
Dual-axis Electronic Level
For high precision horizontal and vertical alignment, use the electronic dual-axis level to make sure your shot is perfectly aligned with the horizon or framed just the way you want it.
Eye-Fi Card Compatible
With Eye-Fi wireless LAN SD memory cards, the user can automatically transmit recorded images to a smartphone, and even select favorite images and resize them before transmission. In the playback mode, the user can also recall the transmitted images on the monitor using the Effect button on the side panel.
——————————-
*As always, this review is based more on "real world" use instead of charts, graphs, and all of the techie stuff. When I review a camera I take it out, shoot it for a couple of weeks and judge it by how it performed for me during my time with it. I test for overall build, feel, IQ, ease of use, high ISO, color, etc. If I like it I say so. If I do not like a camera I usually don't even shoot with it for more than a day or two and I send it back saying "No thanks". Usually, if you see a review here for a certain camera it means I really enjoyed it.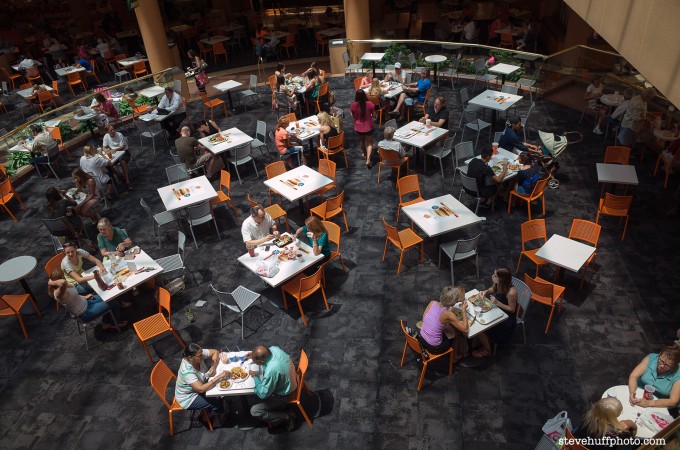 Charging, holding, and shooting with the GR
Much like the Nikon Coolpix A I reviewed a couple of weeks ago (and liked) this Ricoh has a built in 28mm equivalent f/2.8 lens, is small and pocketable keeping with the same GR series size and design, and steps it up about 8 notches from the previous GRIV by upping the game with an APS-C sensor. THIS helps take the camera to "superstar status" in the world of compacts. While there are so many excellent compact cameras out today (Sony RX100, Nikon A, previous GR cameras) that can help you create wonderful memories the GR may just be the "ONE" you have been looking for and craving.
For one, the controls on the camera are almost perfect and seemingly made for photographers. It is such a joy to use and shoot and has given me consistent trouble free results. For example, the camera has a jog dial at the top back by your thumb. You can use it to scroll through menu items or push it for instant ISO, IQ, Aspect Ratio, AF or MF modes, and metering modes. It is all right there with a push of the thumb. We also have custom Fn buttons, switches for exposure modes, a rocker for setting exposure compensation or zooming in on a photo, a macro button, flash button and WB settings button. I feel that this thing is the most useful and customizable camera in this segment of cameras. It is beautiful and if you spend time to configure it for your needs, you are all set.
The top of the GR with it's basic but necessary controls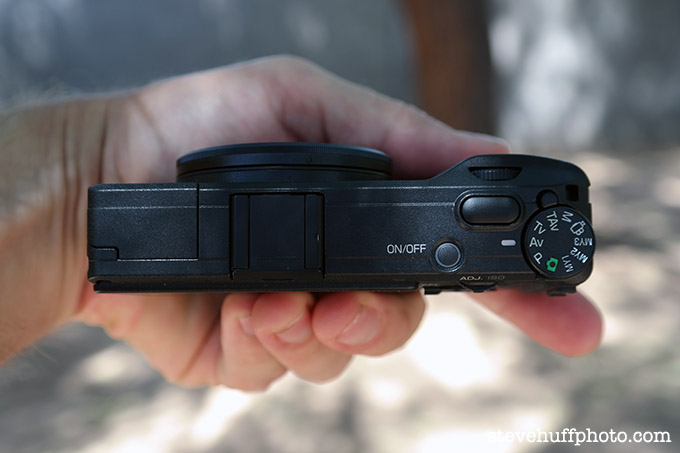 In fact there are loads of settings in this camera that allow you to make it your own, even a 35mm crop mode much like what we see on the Sony RX1. This allows the 28mm to become a 35mm by using an in camera crop mode. Pretty cool. (more on that with samples below).
There is a mode dial up top with your shooting modes. I kept it in Aperture Priority as that is how I have shot for 15-20 years but you can choose between A, P, Tv, Tav, M, Movie and custom settings as well. Once you get your settings all whipped up in the easy to understand menu then you are good to go.
I have not had any AF issues, sensor issues, color issues, AWB issues or even COST issues as this camera comes in at a few hundred less than the Coolpix A it is most similar to. After shooting both the A and the GR, I lean to the GR as the winner due to cost, design, menus, control and overall output. The images from the GR may not have the pop, shine or color signature of the Coolpix A (which leans more digital feeling) of the Nikon A but the files look more filmic and less digital. Hard to explain but that is what I feel after shooting with both of these cameras.
The OOC B&W qualities, as usual with the GR cameras is superb. Below are two out of camera JPEG's shot in B&W mode. The one with the ventriloquist dummies was shot with the "High Contrast B&W" filter that is easily accessible via a button on the side of the camera along with other filters that the camera offers.
The 1st image is in B&W mode, the 2nd in was color converted to B&W and ISO 2500 and the third was in "High Contrast B&W Mode" in camera. The GR Series has always been great for B&W and IMO, can rival what comes out of the Leica MM as far as B&W quality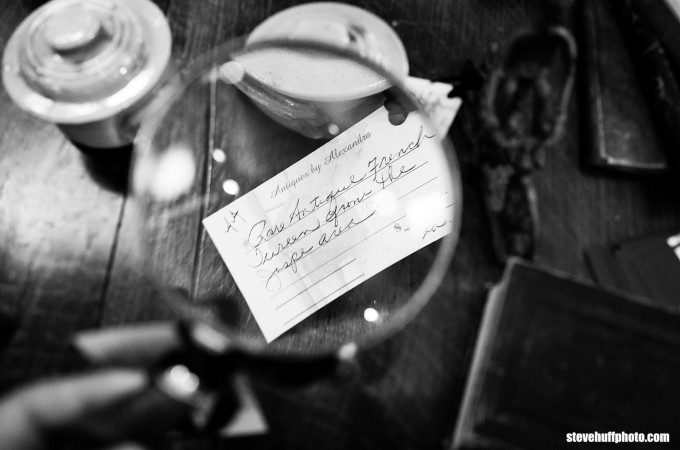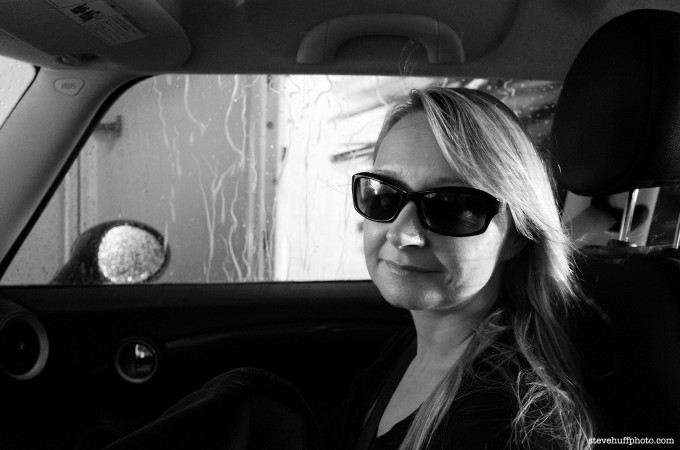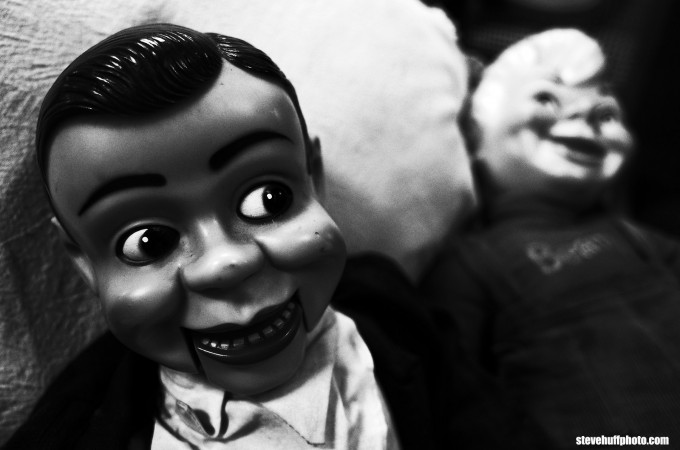 When I started shooting the GR my 1st impressions were that it still felt and looked and worked like a GR and those who love the old GR film cameras will feel right at home with this newest GR camera. But before I get too much into the details and image quality let me talk about what is in the box, as you do not get much.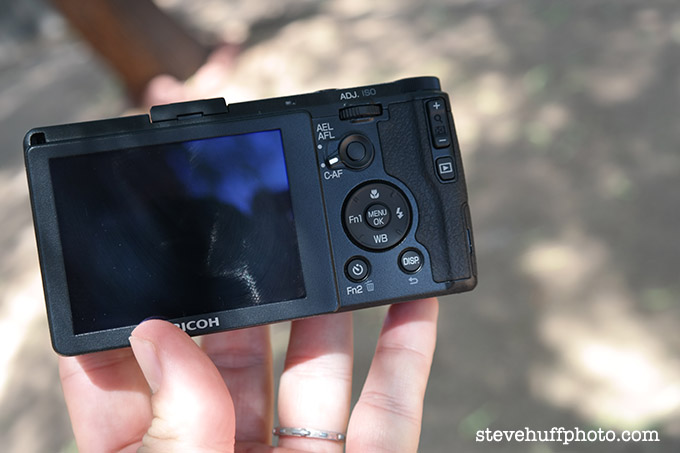 When I opened the GR I was greeted with the familiar body, which I was happy about. I then found the battery but could not find a charger. What happened? Where did it go? I soon found out that a charger is NOT included but instead a USB cable with outlet is and you must charge the battery while it is in the camera, much like Sony is now doing with their cameras, even the high end RX1. BOOOOOOOO!! How much would it cost to add a small charger where you do not have to have the battery inside to charge? Other than the camera body, battery and USB charger you really do not get anything else. Simplicity all the way around here.
No issues in full sun! This camera has a built in ND filter as well, and I had it set to AUTO. The dog was in full harsh sun but the camera set the exposure perfectly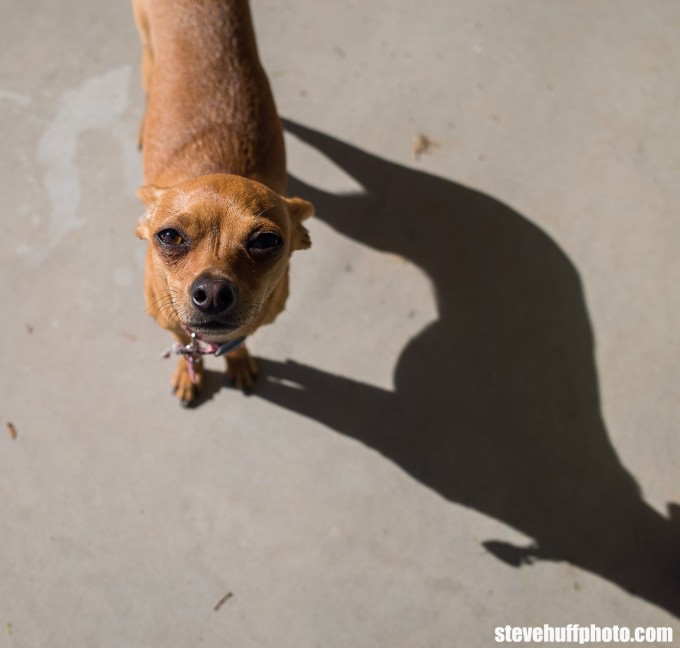 So after charging the battery overnight I installed it and just held the camera. Wow. Now this feels like a well made camera. If you have shot with a GR before you know what I am talking about. It is solid, sturdy, buttons all in the right places and the design is all stealthy black (which we pay extra for from Fuji and Leica sometimes). So the GR easily passes the build/feel test with ease. All I can say is that it just feels "right".
The front of the GR is very basic and stealthy with only the "GR" letters visible.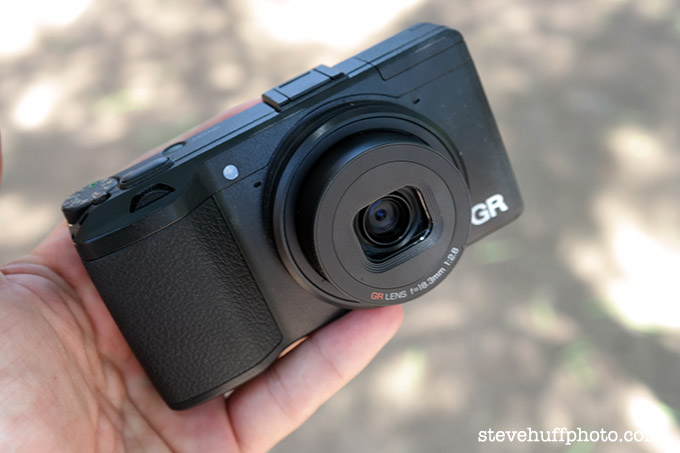 After holding it and testing out the startup time (which takes about 1 second to power on and spit out the lens) I snapped a few test shots with the GR. Being stuck at home all week having to work and write I only had a few things to shoot like my main animal model, my little dog "Baby". The image above (the one above the  camera) is an OOC JPEG shot in full AZ sunshine and wow, the colors are correct, the exposure is correct and the WB is spot on. This is something my Leica M and Sony RX1 has trouble doing but here is a $799 camera doing it without breaking a sweat. It seems that Ricoh/Pentax has their act together as the images coming from the GR never disappointed me, no matter what the situation. I walked around with it for a couple of days with it in my front pocket and anytime I saw something of interest I pulled it out to snap and in almost any situation, any light, the color was pretty damn spot on. Even this old antique clown under store lighting came out exceptionally nice and store lighting is some of the worst for AWB ever. The GR nailed it.
Some of the toughest lighting for AWB on any camera. The GR nailed it with some very cool and pleasant colors.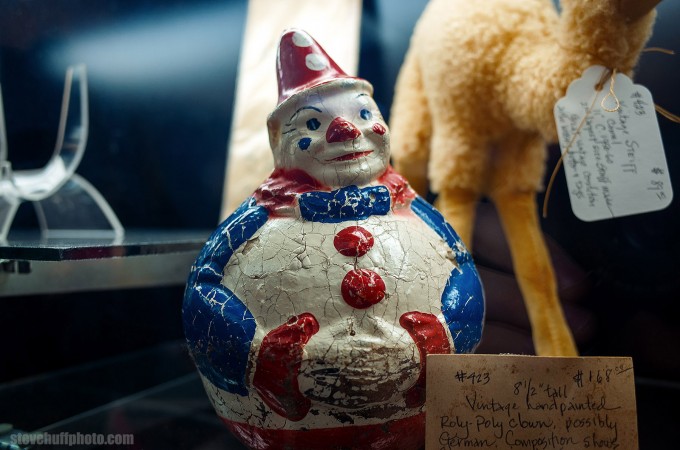 It was kind of cool to be out without a camera strapped around me as I usually have it. This guy was literally in my front jeans pocket without any size issues. The lens stays in the body until it is powered on and then it pops out. I also like the fact that this is a 28mm focal length as it gives you just enough wide angle to fill in the frame without going to wide. I sometimes have trouble filling a frame with interesting content when using a 21mm or even a 24mm but 28mm is a bit more natural, usually forcing you to get close to your subject.
The Mode Dial on the GR – well made, and solid clicks. You can also see on of the scroll wheels, the shutter button and the power button which glows green when on.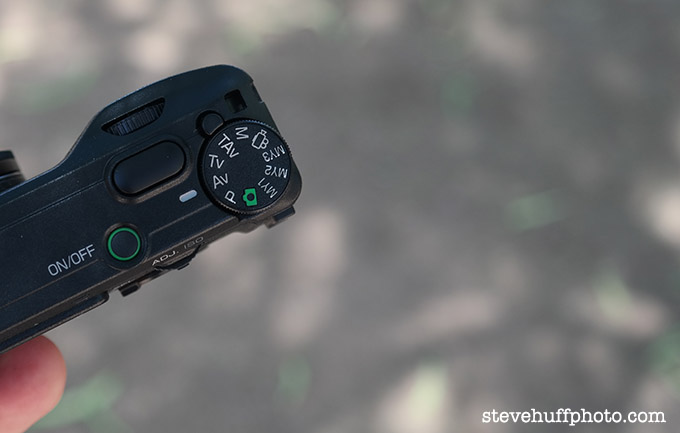 I soon started to realize this camera had a TON of features that were usable. A built in ND filter much like the Fuji X100s which will help you keep exposure good even at f/2.8 in full mid day sun. There is even a crop mode that allows you to get from 28mm to 35mm with the push of a button. I programmed the left side "EFFECT" button to give me a 35mm field of view so anytime I push it, 35mm! This works like the Sony RX1 crop mode by cropping the image to 35mm from 28,mm. Below is an example:
The 35mm Crop Mode
TESTING THE 35MM CROP MODE – f/2.8, ISO 560-640 (used Auto ISO), OOC JPEGS with zero Noise Reduction.
1st shot is 28mm – full size file OOC JPEG if you click it! ZERO NR – f/2.8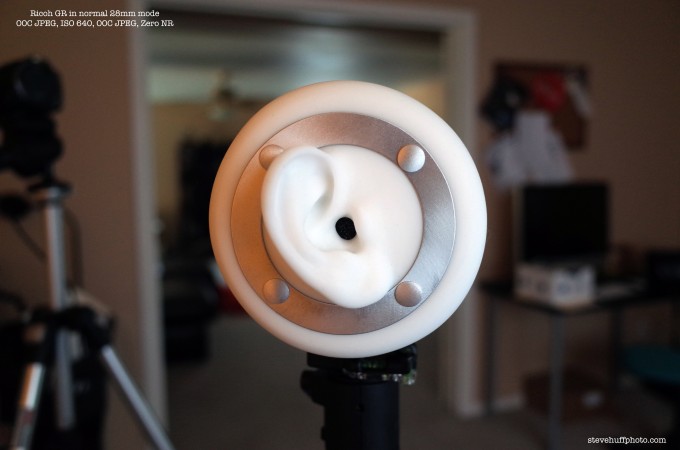 –
and below we have the 35mm crop mode, OOC JPEG, full size, f/2.8, ISO 560, Zero NR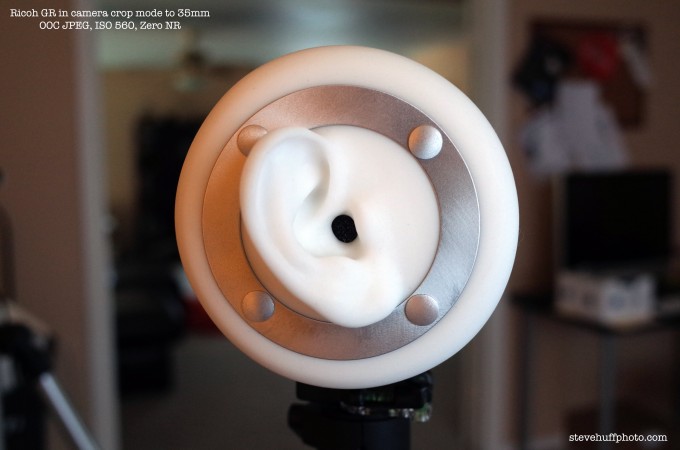 I know you are asking already "WHAT the hell is that ear thing"? Well, it is an incredible and pretty amazing microphone I have recently purchased for my videos (I do other videos besides my youtube camera videos. This device has TWO ears and is called the 3Dio Free Space Pro. Hooked up to any video device or Digital recorder with a mic input your sound becomes simply jaw dropping amazing. You can even use a grip handle and set a GoPro up on top of it and have a full HD video rig with amazing sound. I will have a video up soon on my youtube account showing off what it can do…but right now we are all about the Ricoh GR and talking about the 35mm crop feature.
The 35mm Crop continued…
So if you need to get a little but closer to your subject the 35mm crop is useful to have. Some of you will also get a chance to see that the high ISO noise performance of the GR is its one weak area, and possibly ONLY weak area. It is not up to part with the latest and greatest from Fuji or Sony but to me, I kind of like this. Instead of supwer smoothed over images at ISO 1000-1600-3200 we get more of a filmic feel. Mixed with Ricohs colors, the high ISO noise adds some life to the photos much like the Nikon V1 does. Sharp, good color, and some noise at higher ISO to me is better than NO noise at high ISO, as long as the noise does not look all mottled and blobby. The noise coming from the Ricoh looks good.
High ISO
Below is a sample at ISO 1600 in my lowly lit office without a light on. You will see noise but it does not kill the photo in any way. With that said, there are better ISO champs out there, including the Nikon Coolpix A. The A looked good at sky high ISO so if low light is your thing, and you pefer smooth noise free images, the Nikon will be the better choice for you though it is $300 more expensive.
Click the image for a larger size with full 100% crop at ISO 1600. Below that are crops from ISO 3200-25,600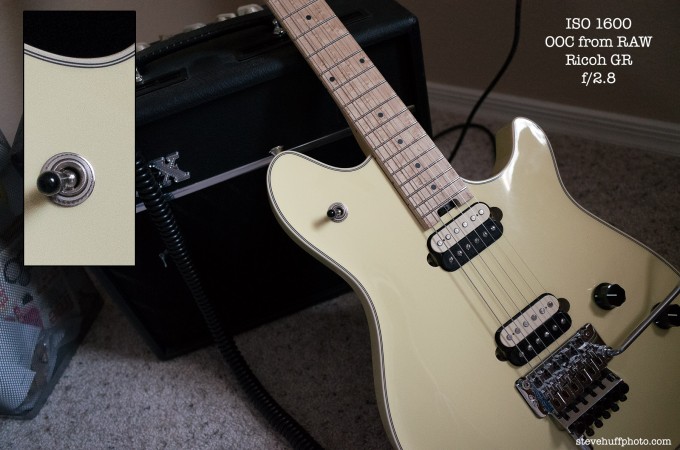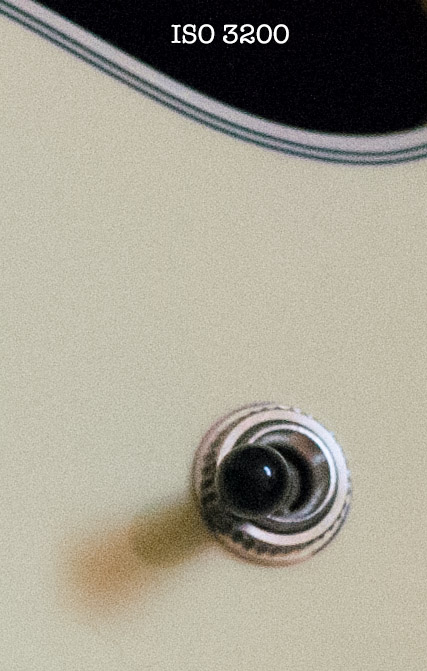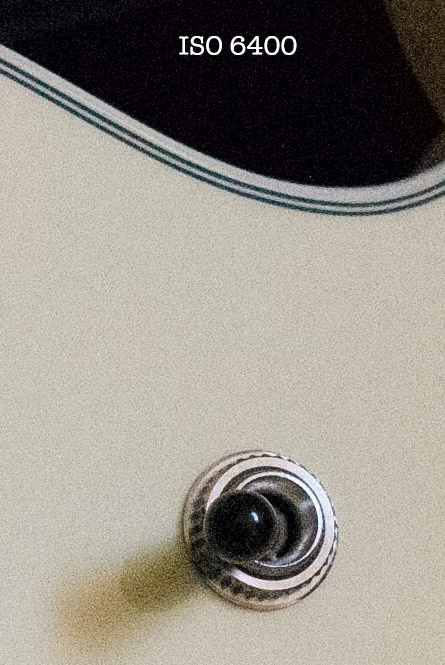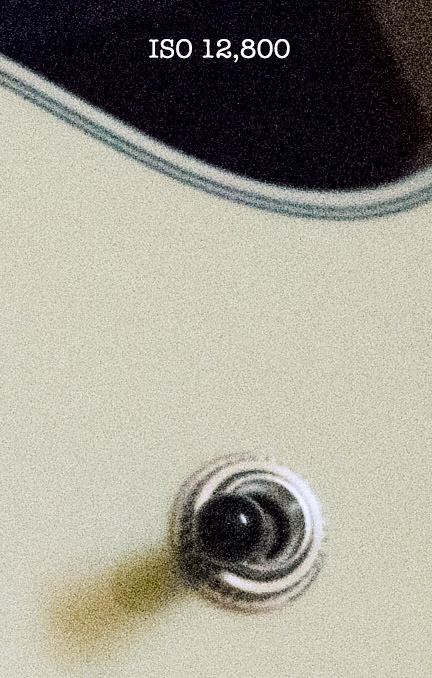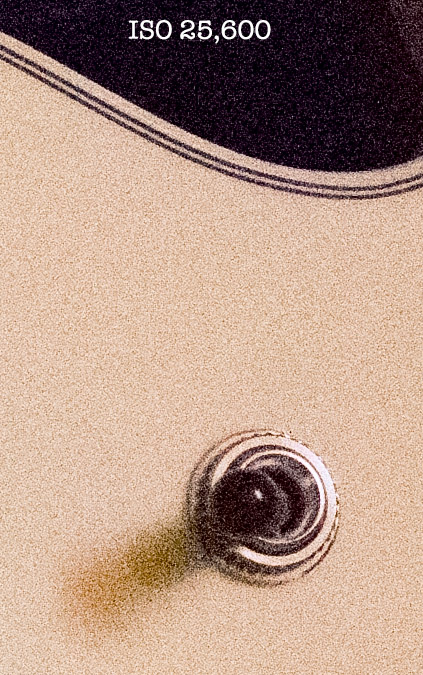 So there ya go! By 25,600 the color goes wonky and the noise is out of control but ISO 1600 and 3200 is not so bad. Remember, these are without any kind of NR at all.
Auto Focus Speed
The Ricoh GR has decently fast AF speed. I compare it to the Nikon Coolpix A as it is about the same. Not blazing but not slow. On par with the NEX cameras from Sony. I found the AF to be accurate as well and Ricoh even has a SPOT AF mode now that really pinpoints your focus point. This is welcome. As with past Ricoh GR cameras you also have your Snap AF where the camera will focus at a set distance that you set in camera. This is great for street photography where you have an idea of the distance you will be from your subjects. The GR gives you all kinds of focus options from Multi AF to Spot AF to Pinpoint and Tracking. You also have MF, Snap and an infinity setting.
Like I said, this guy is super customizable.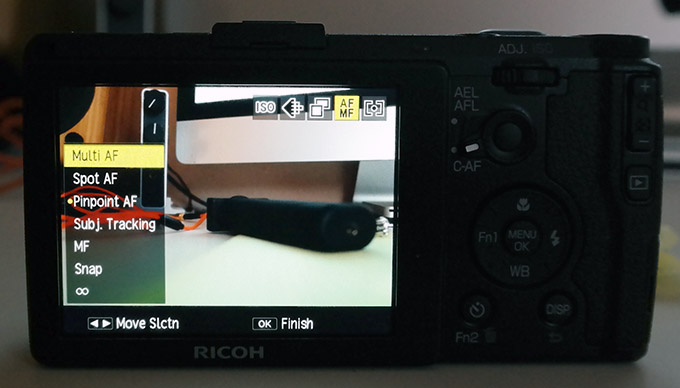 Buggy P Mode?
Others have pointed out to me that there is a bug in Program Auto mode where the camera will never choose f/2.8 as the aperture, no matter what light you are in. My solution to that is to A: Shoot in A mode and set your own aperture or B: Wait for a firmware fix, which I am sure Pentax/Ricoh will soon do for this. It could be that they feel the lens is at its best at f/4, and while it is, the camera is damn good at 2.8 as well. So this does need a fix.
Colors
I have also heard around internet land that people are not happy with the color of the files coning from this camera. Well, I have news for you…the previous GR series were the same. If you want Nikon colors, go for the Nikon A. The Ricoh has its own signature look IMO, just as the IV, III and previous GR's did. The color is different from almost any camera out there and again, to me, the colors are more along the lines of what you would get with some certain films. Why try to correct what is really the cameras signature look? Just as Leica, Sony, Olympus, Nikon and Canon have their unique color signatures (well, Leica's change every camera) so does Ricoh.
Many times I will look at a street shot and know it came from a Ricoh digital just due to the colors. For me, I have zero issues with color but can state if you want more pop, shine and "correctness" the Nikon A is the one to beat.
This is a camera that anyone can take anywhere
This Ricoh GR is truly a camera that you can take with you anywhere. Just as with the Sony RX100, Nikon Coolpix A and previous GR cameras, this one can load up in your front pocket and be ready for any photo situation, even if they are silly snaps from your local mall 🙂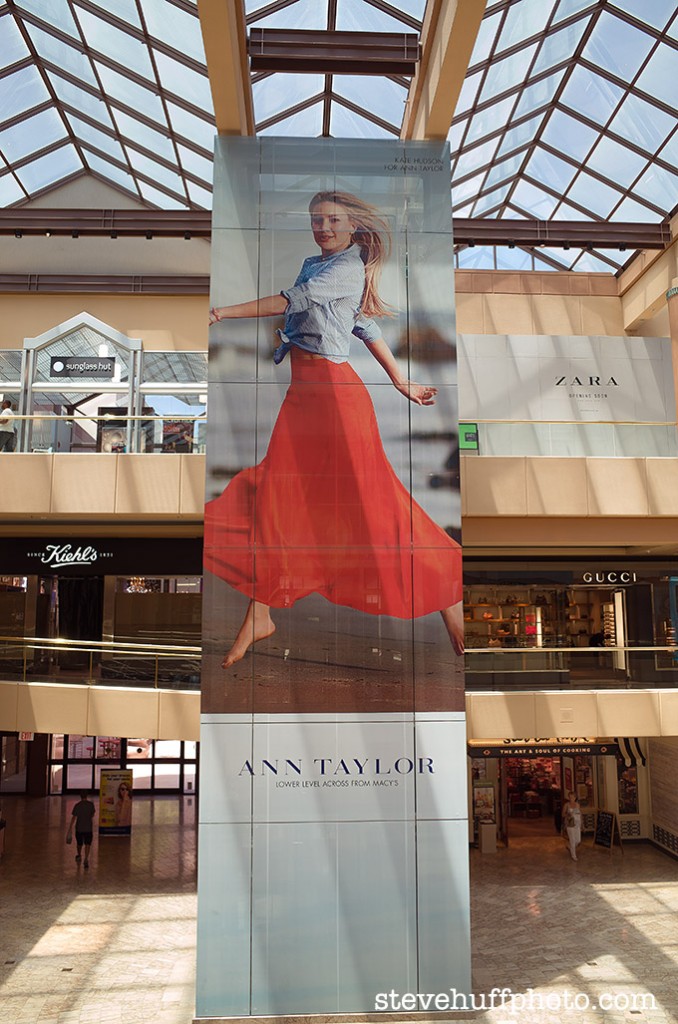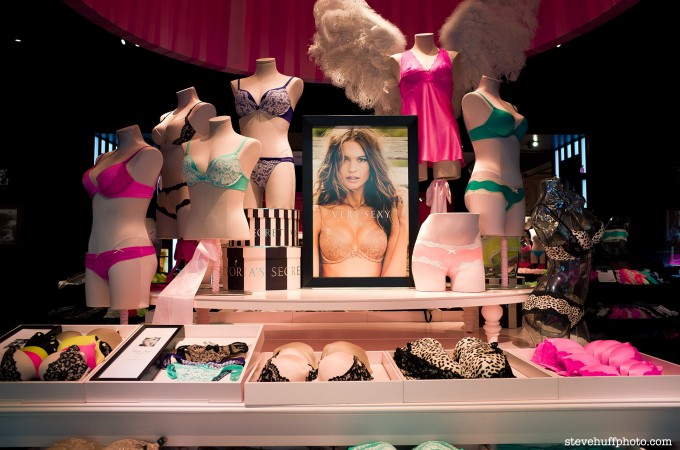 Out of the three cameras I have mentioned here, I love the RX100 for its speed of AF and ability to get a shot as well as the handy zoom lens, but I have to admit…the GR and Coolpix A beat it for color, IQ, and overall pleasure in use. As good as that RX100 is, we now have large sensor versions that have improved. Such is life in the camera world as manufacturers always try to outdo each other with the latest and greatest. The Nikon "A" is also fantastic, and built very well. In use though, I prefer this GR for many reasons like control, ease of use, AWB and Color out of camera, the nice JPEGS and the great GR lens. Nikon also has a great lens, same specs, and the race is close but at the end of the day I prefer the GR for me though you could not go wring with either.
Pros and Cons of the Ricoh/Pentax GR – They look quite the same as my Coolpix A set of pros and cons!
Pros
Large APS-C Sensor delivers the goods
Great color out of camera with a filmic look
Small size can indeed fit in your pocket!
Stealthy matte black, no shiny here!
Image quality is superb, detail is superb!
AWB is great, even in tough situations
Lens is very sharp, even wide open
Controls are all on the outside
Macro mode one push away
Built in flash
Build is nice and solid. Feels great in the hand.
No lens cap to lose!
ON/OFF is quick, about 1 second.
HD video on board!
External VF is available!
The best control of any camera of this kind
Many focus modes such as pinpoint and snap that work well
The best GR to date and possibly the best pocket cam ever (to date)
New TAV mode where you set Aperture and Shutter and camera chooses ISO is unique
Cons:
AF can be sluggish at times in lower light, not as  fast as other cameras on the market
No built in EVF or VF at all. Boo
High ISO not as good as other cameras like the Coolpix A or NEX, so it can get noisy as the ISO goes up
No dedicated battery charger ships, just a USB/Outlet so battery must be charged in the camera. Double BOO!
Battery Life on the low side at around 300-340 shots
Bug in Program Auto mode that will not allow camera to shoot at f/2.8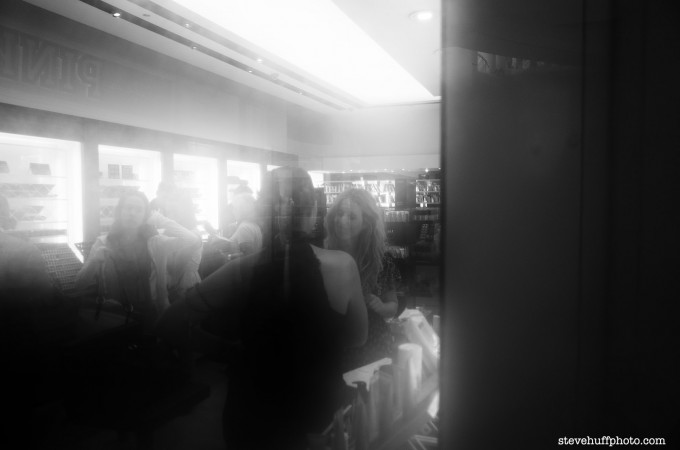 My final thoughts on the Ricoh GR
The Ricoh GR is probably the best pocket cam released to date, from anyone. To me it beats the Sony RX100 ($650), and just edges out the Nikon Coolpix A for me as well ($1096). The Ricoh GR comes in at $799 and B&H Photo sent me this one as they were one of the 1st to ship the new camera.  I am glad I was able to check this one out and now I want one. This is a camera that is solid, rugged and understated but at the same time will reward you with ease of use, reliable use and photos that rival the big guns in the camera world. The large APS-C sensor inside of the GR help it to propel out to the front of the pack and next to the main competitor, the Nikon A, the GR slightly edges ahead for me due to controls, design, and the OOC performance. I love the GR colors and while the Nikon A can be cleaner, smoother and more brilliant with the output, the GR has its own brand of charm with a more muted rich color and a little noisier output that gives you some edge.
My 14 year old Scrubby in his last days – ISO 1000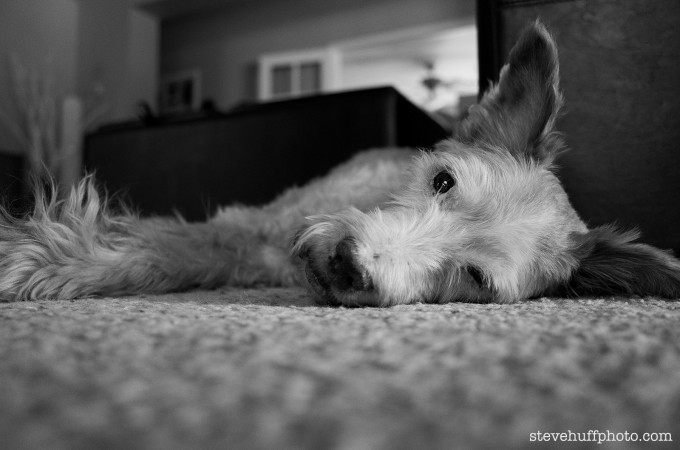 The 35mm crop mode, built in ND filter, Snap focus modes, Pinpoint focus and cool B&W modes are more reasons I love this camera. Ricoh stuck with the current trend as well and left out the AA filter so what you get is super sharp results without the worry of blurred of mushy results. The menu system is clean, fast and works well as does controlling things such as aperture, Exposure Compensation and shutter speed. This feels like a real photographers camera, not something some big wig execs whipped up for big profits. With a new Leica X supposedly coming on June 11th 2013, and being LARGER and less pocketable, if at all, as well as rumored to be coming in at $3000+, this makes the GR even more appealing. It just doesn't get much better in this niche of camera.
What more can we ask for? A great prime 28mm f/2.8 lens that can crop to 35mm, easy controls, rugged build, best in class output and trouble free performance. The GR has it all and at $799 it comes in at $300 less than the main competitor, the Nikon A.
I highly recommend this camera if you want a pocketable solution with big sensor output. I love it but with my recent Leica M purchase, I can not afford to buy one so this review unit will go back to B&H Photo. I thank  them for letting me check it out.
This one gets  HUGE thumbs up from me.
Where to Buy?
The Ricoh GR can be bought at B&H Photo at the direct link below: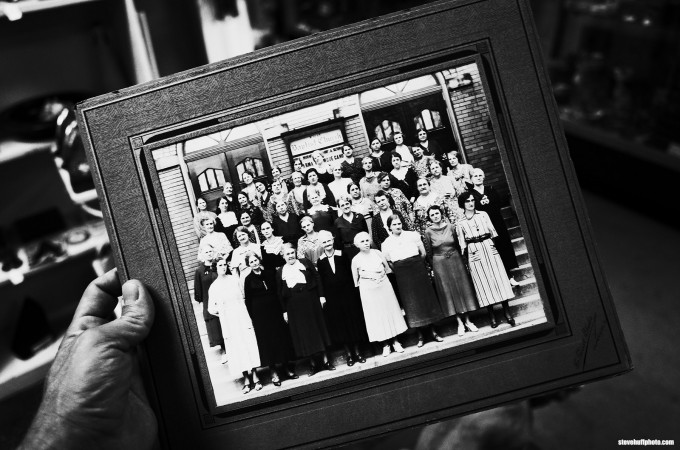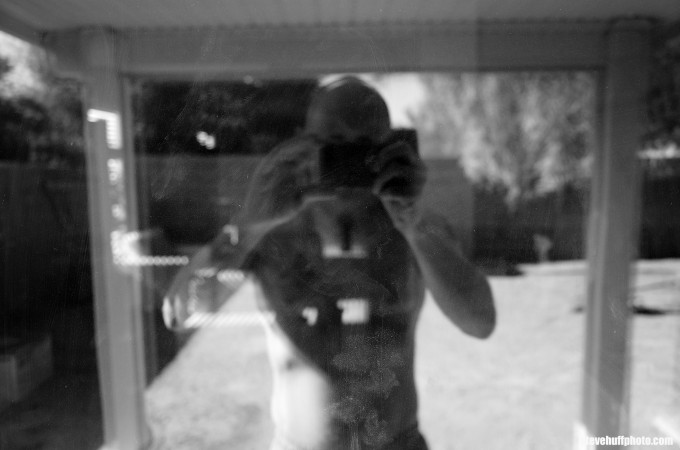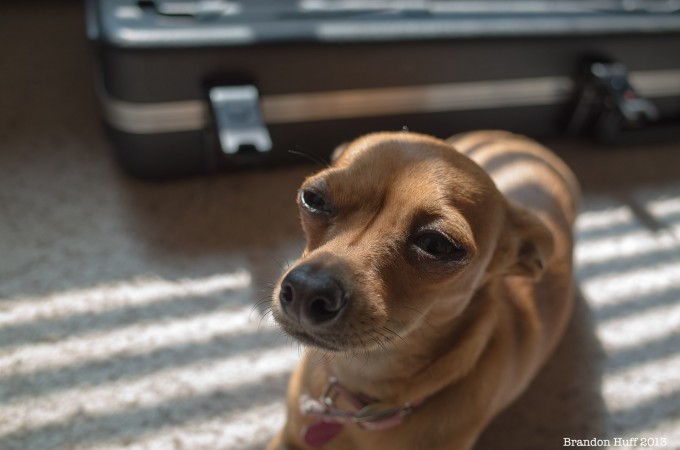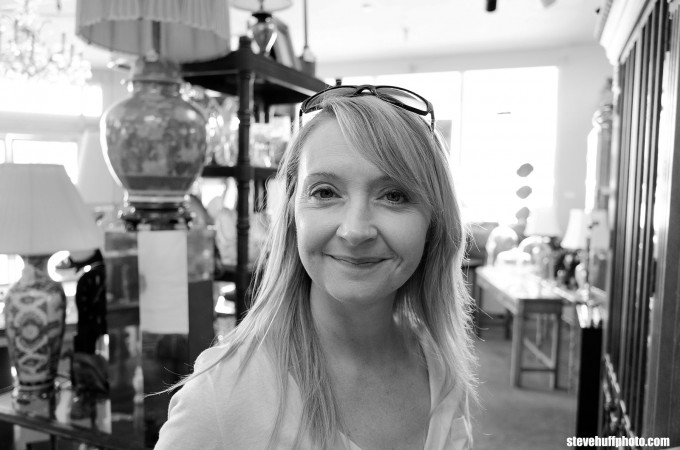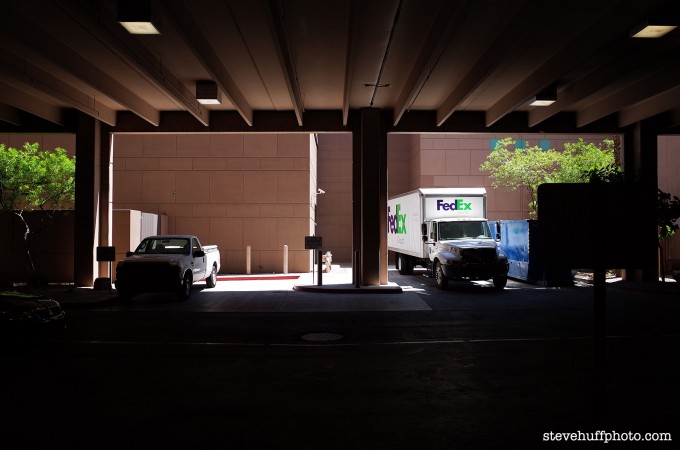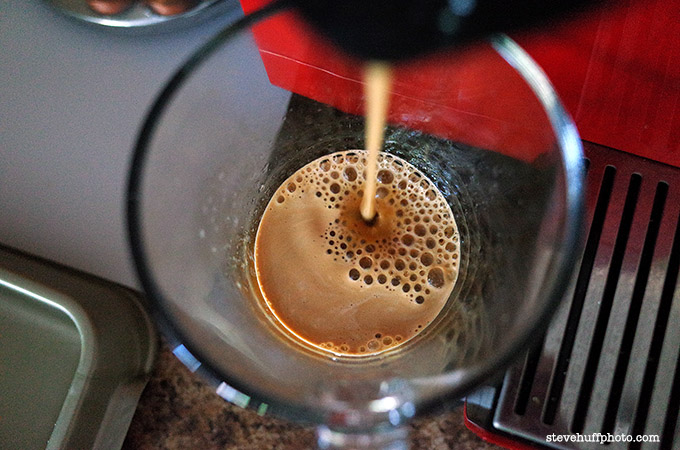 Even more images from the GR!
HELP ME TO KEEP THIS SITE GOING AND GROWING!! IT'S EASY TO HELP OUT & I CAN USE ALL THE HELP I CAN GET!
PLEASE Remember, anytime you follow my links here and buy from B&H or AMAZON,
 this helps to keep my site going. If it was not for these links, there would be no way to fund this site (and the cost these days to keep it going is pretty damn high), so I thank you in advance if you visit these links. I thank you more if you make a purchase! I have nifty search bars at the upper right of each page so you easily search for something at either store! I currently spend 10-14 hours a day working on this site and the only way that I can pay for it is with your help, so thank you! Currently my traffic has been increasing but my funds to pay for the site has been decreasing, so any help would be GREATLY appreciated!
Even if  you buy baby food, napkins or toothpicks at Amazon it helps this site, and you do not pay anything extra by using the links here. Again, you pay nothing extra by using my links, it is just a way to help support this site, so again, I thank you in advance 

 More info is here on how you can help even if you are NOT in the USA as I have Amazon links to Germany, United Kingdom and Canada as well!
If you enjoyed this article/review, feel free to leave a comment at the bottom of this page and also be sure to join me on twitter, my facebook fan page and now GOOGLE +!
Also, you can subscribe to my feed at my subscribe page HERE and read these posts in your browser or news reader!