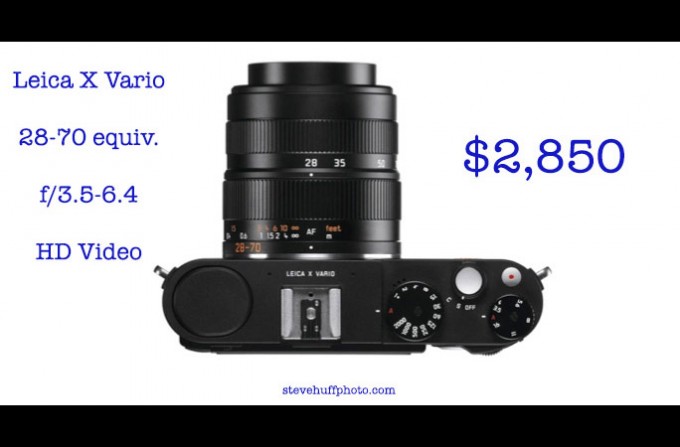 The Leica X Vario has arrived, slow zoom and all!
I have now heard from 4 official sources with full specs and images on the new Leica. Yes, four different sources who are 100% legit have spilled the beans about what is coming from Leica with full details. Two of them actually sent me PDF files with the details. Now, I am sure Leica would hate me for spilling the beans early but it happens all of the time and since I have no contract and no connection with Leica on this, as in, I have no embargo, no signed statement, nothing at all then why not? My obligation is only to my readers and sponsors and this is info the Leica world wants to know, even if it is coming in 12 hours anyway.
So I sit here with this info thinking…hmmm, what should I do? Post it and let everyone know it is indeed what we thought it was, or wait until tomorrow at 9am Eastern for the official word when I have no obligation to do so? Wait for the rumor sites to post it early or do it myself?
Since I am not spilling anything new here, as in, this was really announced when it leaked, I feel I should just let it out. Of course if Leica had given me the info and told me to hold off, it would have been held off. But as I said, I have no agreements with anyone and the information was sent to me freely by several legit sources..so here we go!
[ad#Adsense Blog Sq Embed Image]
The new Leica X Vario hits, and starts shipping WEDNESDAY.
You have read the rumors, find out the TRUTH now, and the truth is exactly the same as the rumors, slow zoom and all. Yep my Leica friends, this is a Leica X2 with a slow zoom added for $2,850 US. THIS IS NOT A MINI M. We also get HD video now as well, which is good to have. I have already stated my opinion on this one in the past week and if I were spending $2,850 I would take the Sony RX1 over the X Vario any day of the week. Now, of course I have not tried this camera yet but the idea of an X2  and a big fat f/3.5-f/6.4 Zoom does not entice me to part with nearly $3000. In fact, I would take an OM-D E-M5 with a 12, 45 ad 75mm lenses (and that would come in at less than the cost of the X Vario) over the X Vario to cover my 24-150mm range at f/1.8 to f/2. Bit If you really want a real Leica with beautiful design and IQ, go for the X2 at $2000. The X2 and X Vario are made in Germany, not by Panasonic.
*I did notice they said it was a newly designed 16MP sensor, so it may not be the X2 sensor which means possibly better in low light, which it will need with that slow aperture zoom.
BTW, there is no IS (image stabilization) so shooting video with this is not gonna fly 🙂 It has an 18-46mm lens, starting at f/3.5 and ending up at f/6.4 by the time you hit 46mm. Due to the APS-C sensor crop, you will of course have an equivalent of 28-70 but with the depth of field of an 18-46mm lens. Throw in that slow aperture and what you have is a "large DOF machine" probably really nice for landscape work. Then again, a Fuji X with nice lens is also nice for landscape work. To me, this release does not make sense. I predict SLOW as molasses sales with the X Vario. If Leica thought the X2 was selling slow due to it not having a zoom, they may be in for a shocker. Those who buy Leica as a status symbol are always there but that customer base is not nearly enough to keep those big profits flowing at Leica, of course, they are in the Leica bubble and do not know that this is who this camera is aimed at.
But, while I am not so thrilled with this release, some or many of you may be. I expect decent IQ because with a zoom lens of this speed, there is no way you will get un-sharp images. I expect decent AF Speed but not as fast as current/modern cameras. Even the design with the big protruding lens is bordering on the Ugly side. The X1 and X2 were beautiful designs..this one looks like a beast and once you add-on that EVF, forget it, it's all over. Might as well spend the extra for the M 240, which I feel is Leica's masterpiece 🙂
What I do like from the looks of it is the back has the M 240 thumb grip and control dial. It "looks" like a mini M 240 body though it is fitted with a lens that can not come off and an APS-C sensor. With a lens mated to the sensor we will get great results. If it had a built in EVF it would have been a much better offering IMO.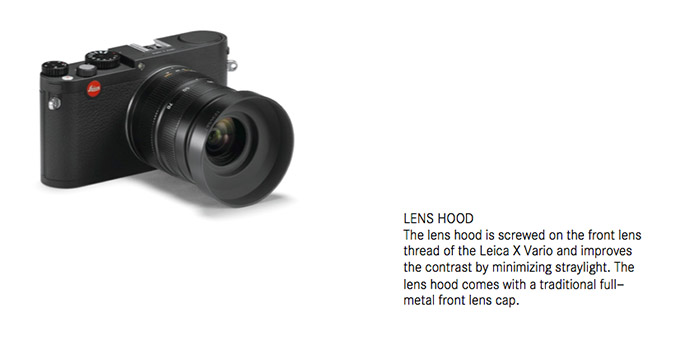 Here is what Leica says:
"The Leica Vario-Elmar 28-70 mm f/3.5 – 6.4 ASPH (35 mm equivalent) and the APS-C CMOS sensor ensures images of unsurpassed brilliance. The size and quality of the sensor means low image noise, high dynamic range and accurate color reproduction. The wide-angle to telephoto zoom range of the Leica X Vario offers photographers the options for many more creative compositions: indoor scenes, impressive landscapes or intimate portraits. The Leica X Vario allows users to change focal length easily and quickly to spontaneously capture the perfect moment giving the user the feel of classic Leica controls. In addition, the autofocus is fast and extremely precise while the switch from autofocus to manual focusing is intuitive – simply move the focusing ring on the lens from MF to AF mode"
"The design and finish of the Leica X Vario reflects the ultimate art of engineering with attention to detail and the use of the finest materials. When you first see the Leica X Vario, the Leica DNA will be obvious. A few minutes of handling the Leica X Vario and design characteristics of the Leica M will be apparent including compactness and construction. The top plate is machined from solid aluminum, the process identical to that used for the Leica M. The magnesium and aluminum body feels solid while the soft leather trim provides a comfortable but firm and reassuring grip. The Leica X Vario provides the user with a unique,one of a kind visual and tactile experience which is synonymous with a Leica made in Germany."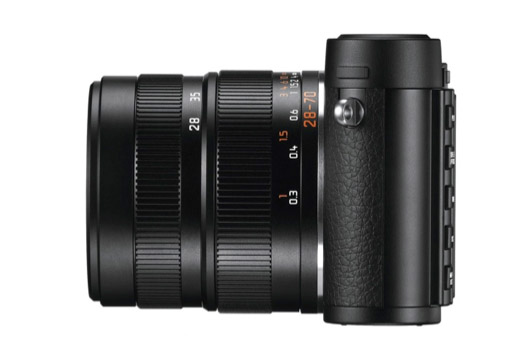 Oh, If you want a hood, be prepared to pay $140 extra. EVF? $500. Hand grip? $160. Case? $240. A full pimped out X Vario will set you back about $4000. For an APS-C crop sensor with a slow zoom. Ouch.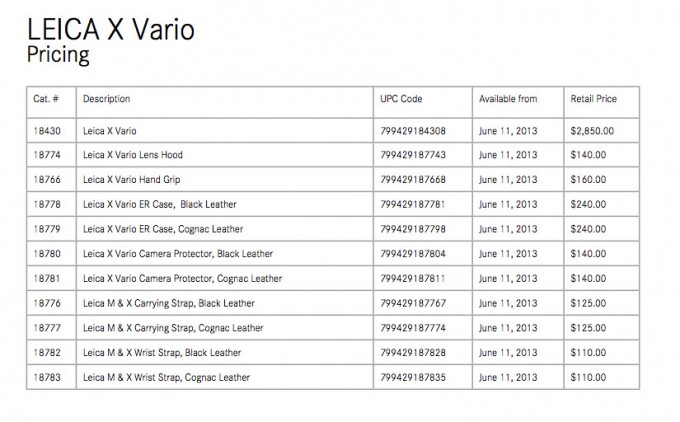 You can order tomorrow and have one by Thursday with no wait!
Dealers will have these ready to ship on Wednesday the 12th and you can buy from Ken Hansen (khpny19@aol.com), PopFlash.com,, The Pro Shop, and Dale Photo. They will all have stock. While there is a 9-12 month wait for an M240, this guy will be available everywhere tomorrow.
If anyone here gets one let me know how you like it and feel free to post some samples in the brand new untouched Leica X forum that you can access RIGHT HERE. You can also go there to discuss this new release or of course, by leaving comments here. I am testing the new forum so be sure to check it out.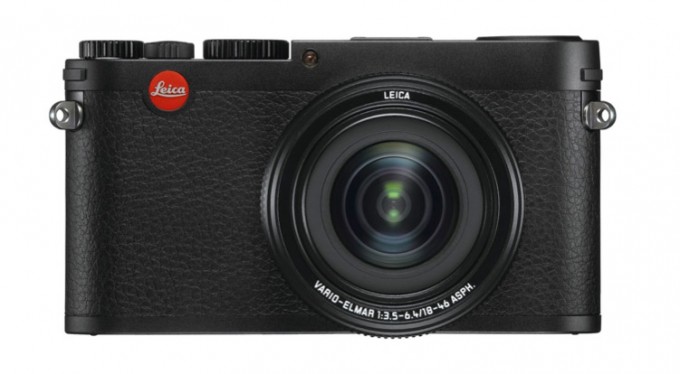 So there ya go! This was Leica's release and the one where they posted "you have read the rumors, get the truth on June 11th". Well, we have the truth and like I said, it is the same as the rumor. For those who have been hoping for an X2 with a Zoom, your camera has arrived 🙂 I was hoping for an RX1 competitor but I guess Leica considers their M to fill that slot. If they did come out with a full frame 35 f/2 camera it seems it would be in the $7-8k range, so in any case, Sony wins. Funny how so many were moaning about the cost of the Sony RX1 at $2700. It is a bargain if you really think of what you are getting with it. This one, not so much but it will serve a purpose for those who have wished for an X2 with a Zoom. Just wish it was more compact.
Steve
Here are the details of the new X Vario:
Lens
Leica Vario-Elmar 1:3.5-6.4 (28-70 mm equivalent), 8 lenses in 6 groups, 1 aspherical lens
Focal Length
18-46 mm (28-70 mm film equivalent)
Apertures
3.5 to 16 (at 28 mm) / 6.4 to 16 (at 70 mm) in 1?3 EV increments
Focusing range
30 cm – infinity
Focusing options
1 point, 11 points, spot, face detection
Image sensor
16.5 MP, APS-C, CMOS image sensor (effective 16.1 MP)
Resolution
JPEG format, 16 M – 4928 x 3272 pixels, 12.2 M – 4288 x 2856 pixels, 7 M – 3264 x 2160 pixels, 3 M – 2144 x 1424 pixels, 1.8 M – 1632 x 1080 pixels, DNG: 4944 x 3272 pixels
Image data file format
JPEG super fine, JPEG fine, DNG + JPEF super fine, DNG + JPEG fine
Exposure Control
Exposure modes
Automatic program (P), program shift, aperture priority (A), shutter speed priority (T) and manual setting (M)
Exposure compensation
Gradation: 3EV in 1/3 EV increments
Automatic exposure bracketing
3 pictures in graduations up to 3 EV, adjustable in 1/3 EV increments
Metering modes
Smart multi-segment metering, center-weighted metering, selective (spot) metering
White balance
Automatic, presets for daylight, cloud, halogen lighting, shade, electronic flash, 2 manual settings, manual color temperature setting, fine adjustment option for all settings
Sensitivity
Automatic, optionally with limits for shutter speed and sensitivity, ISO 100, ISO 200, ISO 400, ISO 800, ISO 1600, ISO 3200, ISO 6400, ISO 12500
Shutter speeds
30s to 1/2000s, with normal flash modes from 1/30s, with flash modes with slower shutter speeds from 30s
Continuous shooting
3 fps of 5 fps, max. 8 consecutive exposures with constant shooting speed in DNG + JPED fine quality
Color settings
Standard, Vivid, Natural, B&W Natural, B&W High Contrast
Flash modes
Auto, flash exposure correction, red-eye correction, fill-in flash, slow sync, studio, 1st / 2nd curtain sync
Hot shoe
Compatible with Leica SF 24D, Leica SF 58 flash units
Monitor
3" TFT LCD, approx. 920,000 pixels, wide-angle field of ives: 100 %
Internal memory
Approx. 110 MB
Memory card
SD, SDHC, SDXC
Interfaces
HDMI out, USB (USB 2.0 high speed), Leica EVF socket
Battery (lithium-ion)
Capacity: approx 450 exposures
Dimensions
Approx. 133 x 73 x 95 mm or
Weight
Approx. 650 / 680 g or 22.9 / 24 oz (without / with battery)
Product includes
Battery (Leica BP-DC8), battery charger (Leica BP-DC8), battery case, leather carrying strap, USB cable, lens cap, user manual
Software
Adobe Photoshop Lightroom (free download option after camera registration)