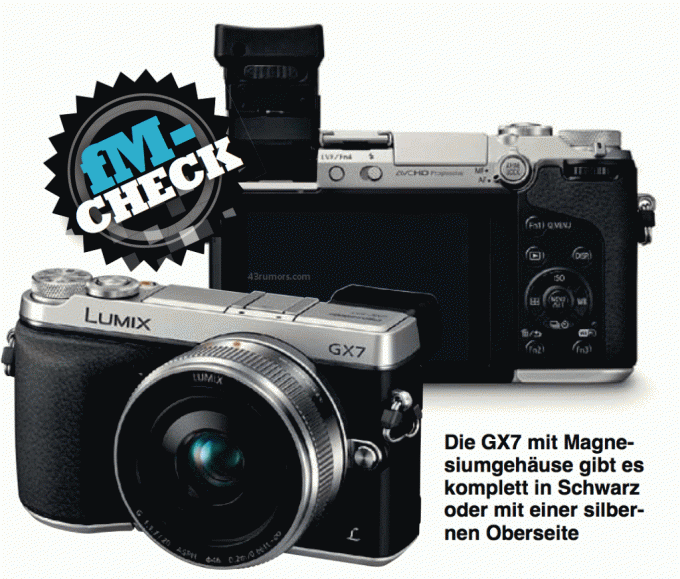 According to 4/3 Rumors, the new Panasonic GX7 is hitting in August and if this is correct, it is a beauty! This would also mean that Panasonic is finally playing catch up to Olympus who has been dominating the Micro 4/3 body sales with their OM-D and PEN line. The reported and rumored GX7 looks mighty impressive.
They are reporting the following  specs but check out that built-in tilting EVF! The body looks Fuji-ish with the silver and black and of course the source is from a rumor site but usually they are pretty spot on over there at 4/3 rumors. It is also rumored to be bundled with either a kit zoom or the new 20mm 1.7 II. This camera and a 20mm 1.7 II would be all anyone would need in the Micro 4/3 world and with the video quality of the GH3 and 1/8000s shutter speed all many of you will want 🙂
Specs as reported at 43rumors.com
It has a Magnesium body and comes in full black or black-silver.
– It has an on sensor stabilization (first ever for Pana).
– Same video quality as the GH3
– Shutter speed up to 1/8000
– 5fps (4fps with continuous A)
– it can focus also in very dark conditions
– Tiltable 2,76 Million Dot EVF
– Tiltable 3 inch LCD (1,04 Million dots)
– Integrated WiFi and NFC
– Focus peaking
– Stereo Mic
– Shipment in September
– Body only price 1.000 Euro
– There will be two kit version. One with 14-42 and one with 20mm lens.
So has Panaosnic FINALLY listened to the demands? Is Panasonic the one who will deliver THE definitive Micro 4/3 body? It is not going  to have that incredible Olympus 5-Axis IS but could have on sensor IS. Looks good and I guess we will find out soon enough on the reality of it as well as the pricing.
What do you think of this new GX7 if it is indeed the real deal?