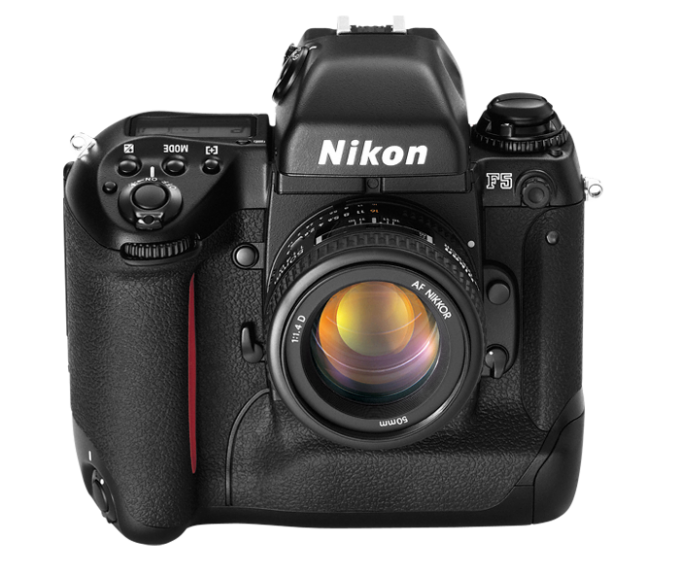 Downshifting with the Nikon F5
By Mark Hutchens
I was in the south of France recently on holiday and a close friend who lives there loaned me a small BMW with a very big engine in it. If you accept that nearly the entire world has speed limits hindering our enjoyment of such power, it could easily be judged as overkill. However, the sensation of driving that car was incredible. The handling, the torque, the fit and finish, all combined together to make driving an engaging experience. And then the rare bit of straight road allowed for that brief and exhilarating (law breaking) jaunt. Then at the end, a quick downshift, release of clutch and enter the curve at a sane and legal speed. There are qualitative differences in the driving experience, even if it is just getting from point A to B.
This sensation came to me again as I held for the first time an unused Nikon F5 won on eBay from a pawn shop at an embarrassingly low price. For less that $200 I had a mint example of what was the top professional SLR from Nikon for years. It felt like the BMW in my hands, and as I burned through my first rolls of Tri-X and Portra, I relished in a sort of guilty pleasure that I was taking snapshots with a weapon. The finder is the biggest and brightest I've ever owned from Nikon. Even my old man eyesight can manually focus with my old AIs lenses. In autofocus, the assuredness and speed of operation is unknown in my medium format rig, even if the negatives are tiny. This camera focuses my nifty fifty like a paper shredder does tissue. An AF-S lens? It's as if it is tracking my eyeball to focus. The fit and finish is extraordinary, its lightning fast film advance felt like the BMW's torque.
A friend with a D800 called me a Luddite and winced as if in pain when I handed it to him. It is heavy. I suggested we drop both from waist height and see which one still worked afterwards. He declined. Why on earth would I buy such a big, heavy antique? Isn't it overkill just for a 35mm negative? I suppose it is, in the same way that BMW is, if all you want to do is move without having fun along the way and not appreciate the nuance in the technology that got you there. Am I using the F5 for its' intended purpose as a professional sports camera? Nope. Do I need 8 frames per second with 35mm film? Do I really want to chew through a 36 exposure roll of film in 4.5 seconds? Not anymore than I want that speeding ticket, but you never know. There might be a straight road somewhere and my daughters' real smile may come at any second.
I usually don't participate in the on line realm because I see too many "purist" folk who think photography is only for art and not for process, as if there are that many artists out there to begin with. I value the process and I accept that my snaps aren't always artistic. Part of that process is feeling the nuance and capability in the technology that gets me from point A to B, even if it is only a snapshot at the end. I suspect that I will expose rolls of film in my F5 I will never develop, but I will revel in the process itself.
A mint condition F5 costs half the price of the EVF on your most recent camera. Go get one, and don't let the purist police write you a ticket for enjoying your equipment for its own sake.
Mark