Quick Comparison: Canon 6D with 35 1.4 vs NEX-7 and Speed Booster 35 1.4
Before sending back the Canon 6D and lenses that I reviewed I ran out and snapped two test shots against a Sony NEX-7 with a Canon EOS to E-Mount Metabones Speedbooster Adapter. As most of you already know, the speedbooster takes your APS-C sensor camera and pretty much gives you the normal field of view and extra stop of light. It Increases Angle of View by 0.71x and increases the maximum Aperture by one stop. It's a nifty device that can give you a full frame look and feel on an APS-C camera. Much has been written about the speed booster here and on other websites across the internet but I thought it would be fun to see the nEX-7 go against the 6D with the same glass.
So below are two generic test shots. One with the Canon 85L and 6d against the NEX-7 and 85L using the Speed Booster. Another with the 6D and Sigma 35 1.4 against the NEX-7 and 35 1.4 with Speed Booster.
1st shot, tripod, Canon 6D and 85L at 1.2 – click it for larger – this is direct from camera, RAW.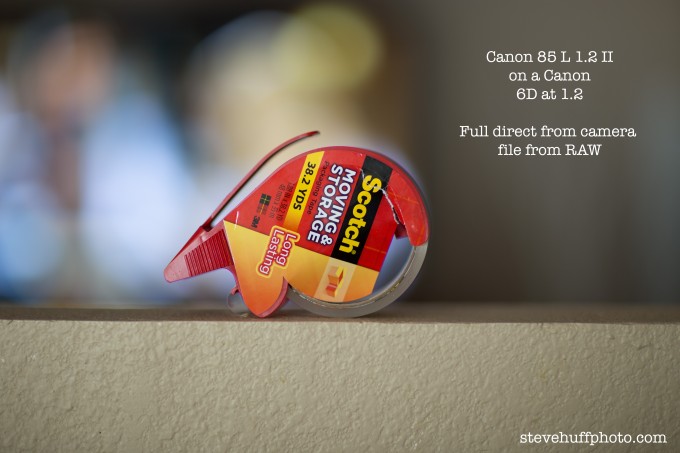 –
Now with the NEX-7 and Speedbooster – 85L at 1.2. Notice the Bokeh..like a big blob compared to the Canon lumps. The Bokeh is from a TV in the back. Click image for larger. The cameras were set to A mode and aperture set to wide open. Cameras chose exposure to see if the NEX would expose correctly with the Speedbooster.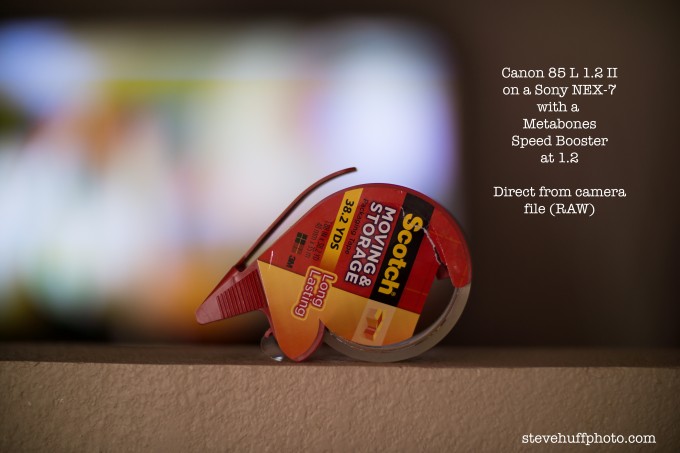 –
Now the Canon 6D with Sigma 35 1.4 at f/2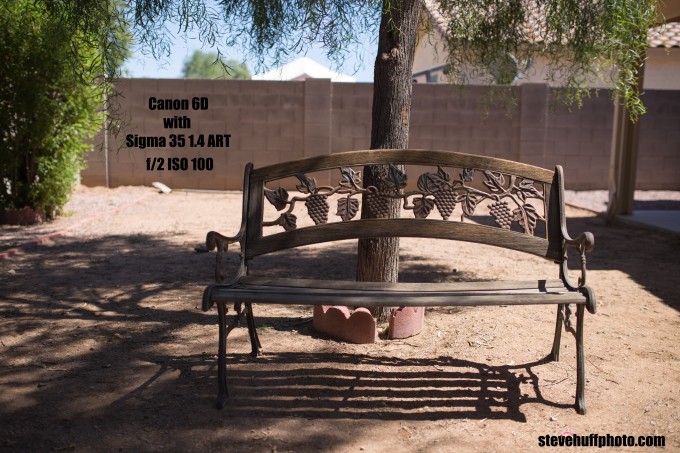 –
and the NEX-7 with 35 1.4 at f/2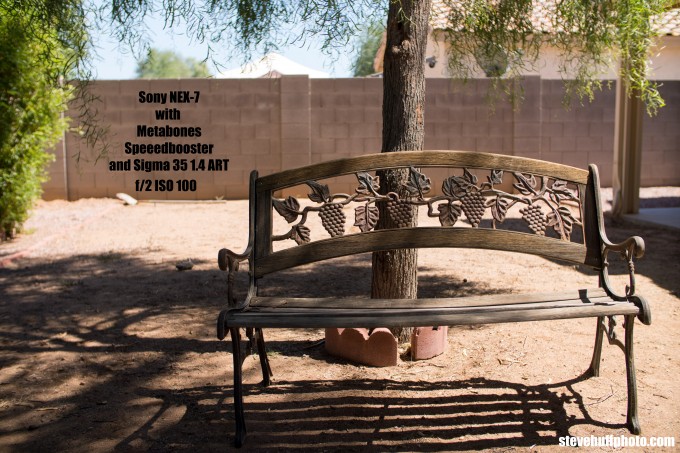 One thing to note: The NEX-7 with Speed Booster focused so slow it could never really be used in reality. Manual focus would be the way to go. With the 35 1.4 the NEX-7 and speedbooster would not work in Auto Focus so it had to be manually focused. The Speed B ooster is expensive but I can see how it could be useful to give you your focal length equivilant and Bokeh back to you when shooting on an APS-C camera. There is also a speed booster made for Micro 4/3 (Nikon G or Leica R glass to Micro 4/3) and Fuji X as well (Nikon).
You can see all available speedboosters HERE at B&H Photo.