Shooting Sony NEX7 modified for infrared
by Dierk Topp – His Flickr is HERE
Hi Steve,
I have a very special topic again for your readers.
After the great B&W post from Ashwin Rao and from Lee Sungsoo from India and so many more great B&W series I would like to offer a very special type of B&W images from North of Germany:
Infrared images in B&W
Made with a NEX7 after conversion to infrared with a R715nm filter built into the camera in front of the sensor.
I have been interested in infrared photography since decades but in the analog times it was just too complicated and expensive – ok. to modify the NEX7 for infrared is not cheap either.
Not cheap but a lot of fun, if you like this special mystic look of these images. You may have seen my post of infrared images made with the Leica Monochrom in June 2013. With the Leica Monochrome I one IR filter R715, that fitted the 21mm and 35mm lenses. For other lenses I would have to buy more filters. At that time a friend told me of his IR converted mirrorless and he told me, that he could use the camera like any normal camera and shoot hand-held! That got me 🙂
If you are interested in more information about infrared photography look here at wikipedia.
I will try a short explanation of the specialty of infrared photography:
shooting B&W infrared gives very light to white tones of the green of trees, leaves and grass and dramatic sky and clouds. I started my first IR shots with the Nikon D70 about 10 years ago and when I got the Leica Monochrom last year I tried it again. For shooting infrared with a normal sensor you need a tripod, as the IR blocking filter in front of the sensor blocks most of the infrared light and the infrared filter, you put in front of the lens, blocks most of the visible light. The small amount of light between these two filters is all you get for the exposure, very long exposures. Hand held IR is not an option in normal situations. The next problem is, that the focal length of the lens for IR light is different from visible light. Therefor you can not use the normal focus mark on manual lenses. I described this in my previous post with the Leica Monochrom.
Now comes the NEX7. 
The NEX7 has a normal color sensor and in front of the sensor the normal IR blocking and AA filter. If you take out these filters you get the full spectral sensitivity of the sensor and can use external IR or UV filters or get an internal filter permanently installed. I got an 715nm IR filter in font of the sensor.
What you will "lose": 
This is one way, after the modification there is no way back to your normal color camera!
What you get: 
In my case with the IR filter built-in I have a IR camera and can use all my lenses (you know, you can adapt almost all lenses on the mirrorless cameras), even tilt/shift lenses or Hasselblad with the Rhinocam adapter!
And I ordered the Sony 10-18mm OSS for this camera, as said, I love clouds and therefor I like super wide:)
And I ordered the NEX6 for my normal color shooting – until I get the coming FF NEX, or if I don't use the Leica M9.
I got my NEX7 modified by DSLR-Astrotec in Germany and got it back in July after less than two weeks.
My experiences up to now:
I started to shoot RAW and JPG in B&W, that gives me a B&W control image right after the shot
only, when I shoot with the panorama function of the camera, I have to use JPG
the sensitivity for the IR converted sensor seems to be about the same as beforee with the normal sensor
that means, I can shoot IR hand-held in relative dark environments (wood) without any problems, especially, as the 10-18mm has OSS stabilization
the AF of the camera works like before, also the senor cleaning
focusing manual focus lenses like the Leica lenses is very hard, sometimes not possible, as the live view image is all red in red. (see below) I have to find an area with high contrast in about the same distance as my object.
Pleas, forgive me, if my English is not correct sometimes.
Here are some of my IR images out of this NEX7-IR. You may find more here in my flickr album.
If not mentioned, all images are made with the Sony SEL 4/10-18mm OSS
PP: Lightroom 5, some with additional Nik Silver Efex 2

first image shows three different stadiums of an image
this is, what you see in live view before you shoot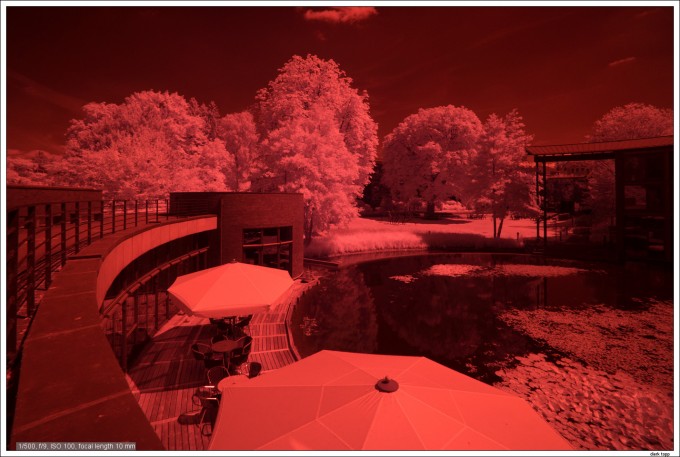 this is, what you see after the shot,
when the camera is set to B&W (depending on B&W settings of the camera)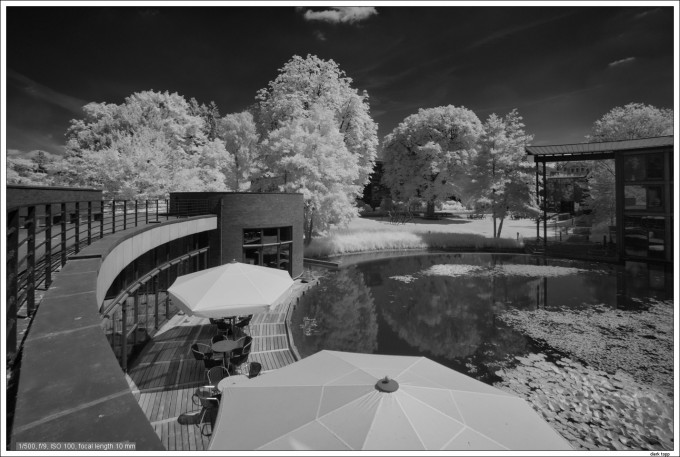 this is a color version, PP in CS6
remember, the image in the NEX7 is still a color image, but only red tones.
there are impressive IR color images in the web, but I prefer the pure B&W 🙂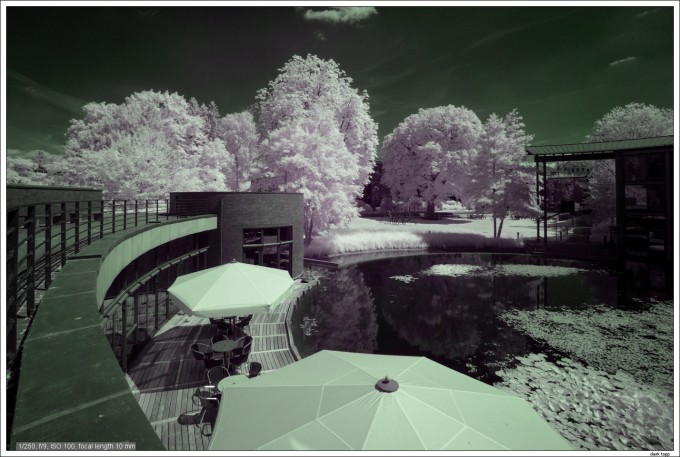 –
if you like clouds, IR is for you
when I first saw the great images of Ansel Adams and his perfect and impressive clouds, I started to notice CLOUDS!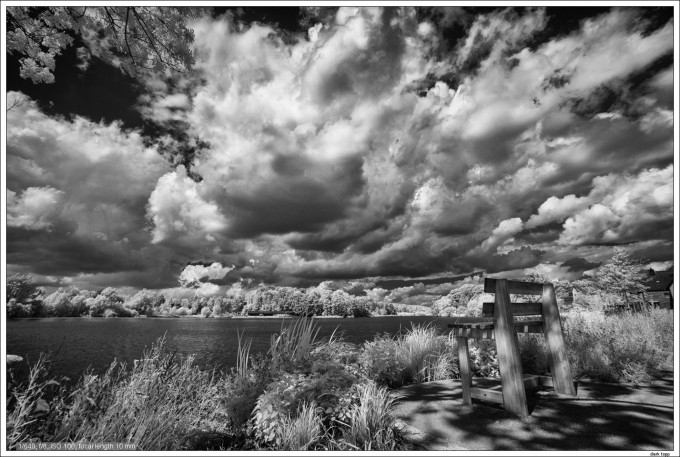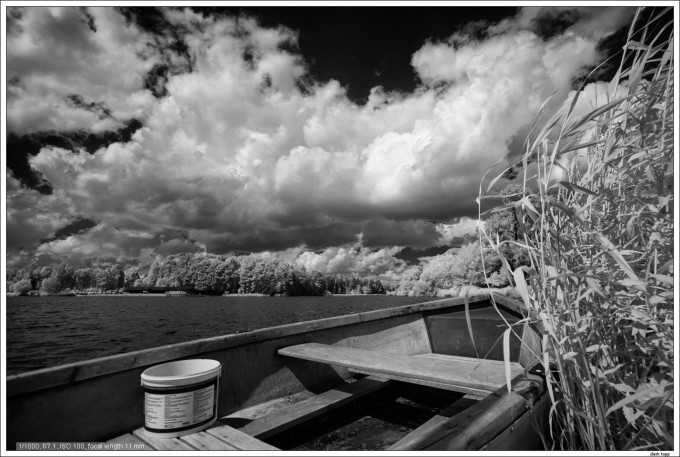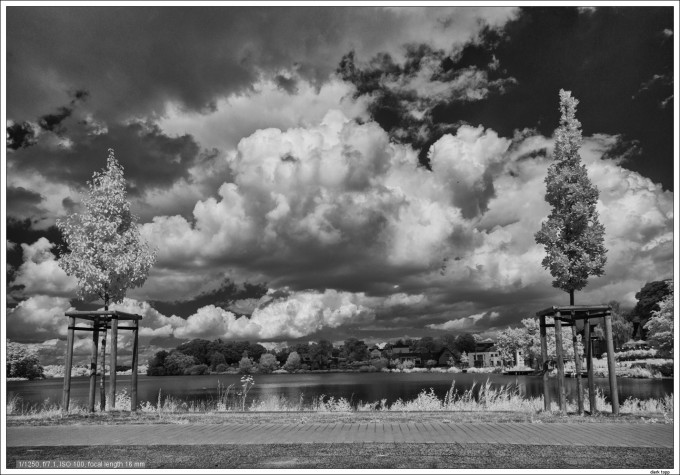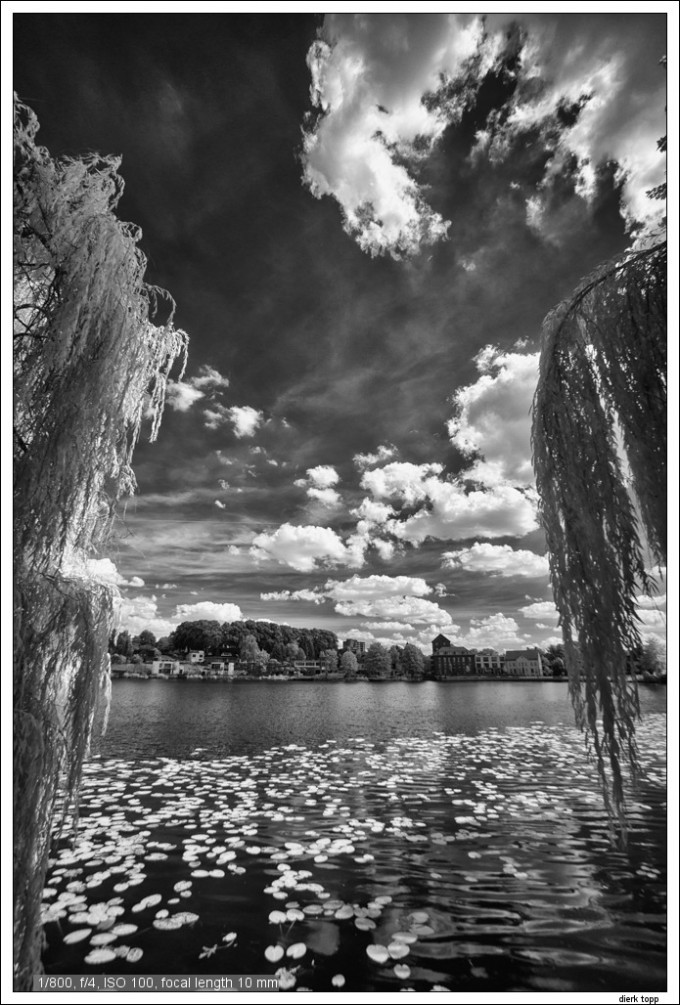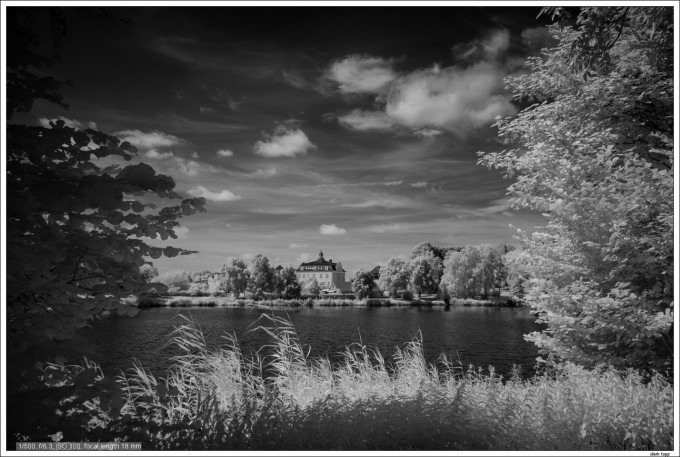 –
on this one a wanted to show the short exposure time for hand held shooting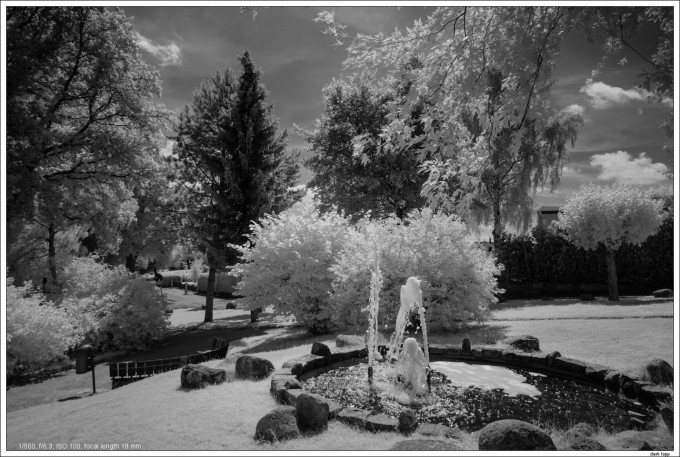 and extreme light situations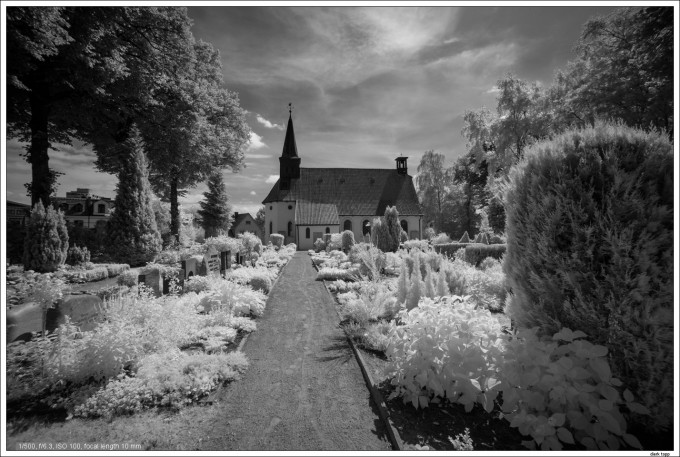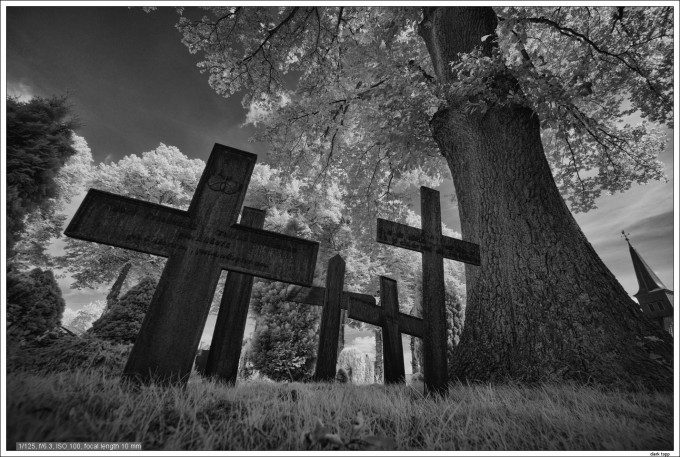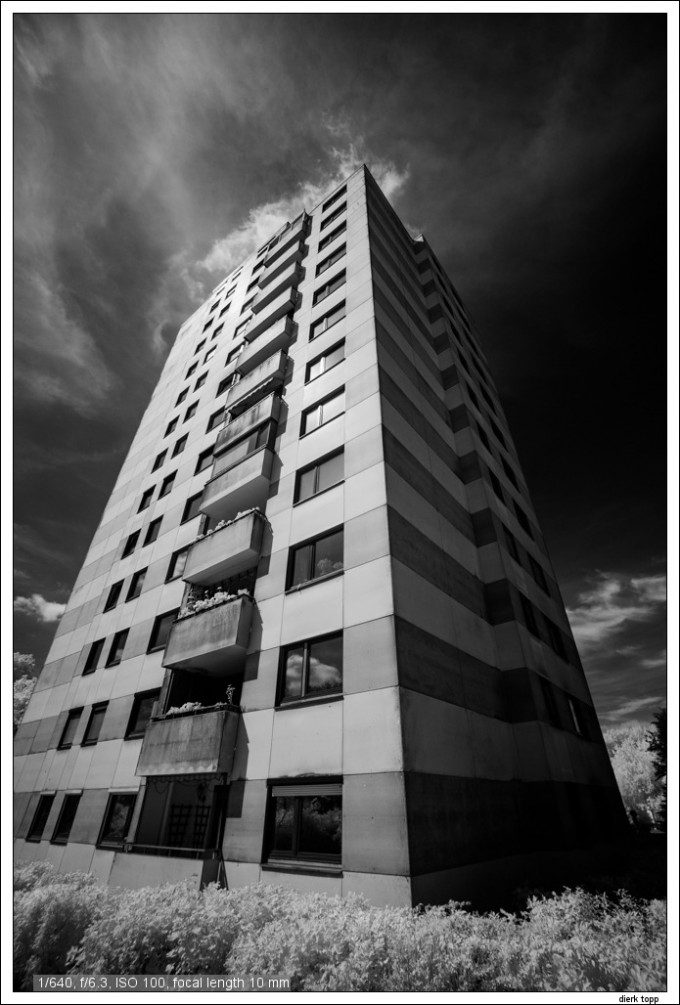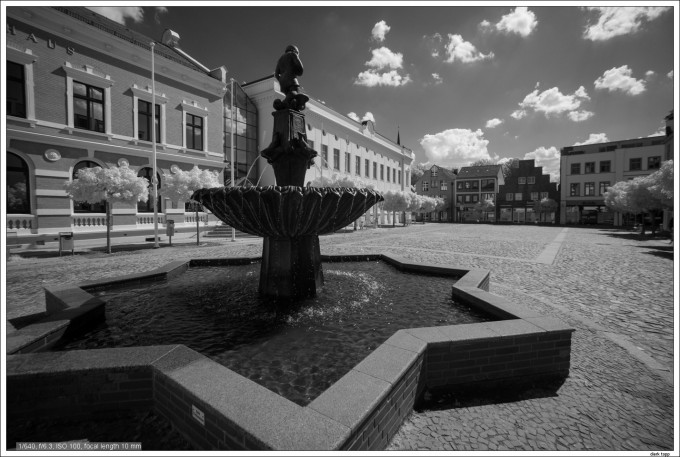 –
panorama out of the camera, some PP (contrast, light, crop of foreground)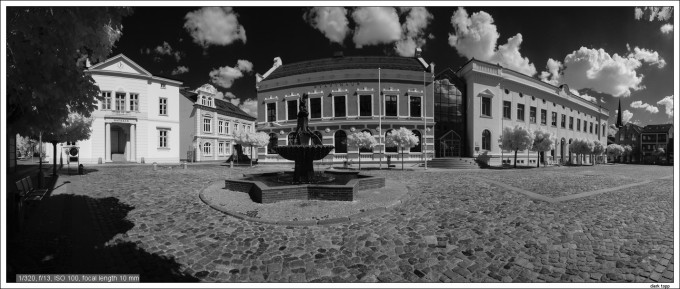 –
and another pano out of the camera
with the Canon TS-E 17mm/4 tilt/shift on a Metabone adapter, shifted up about 5 mm, tripod
this lens does not accept filters due to the extreme front lens, therefor IR with this lens is only possible with a converted camera.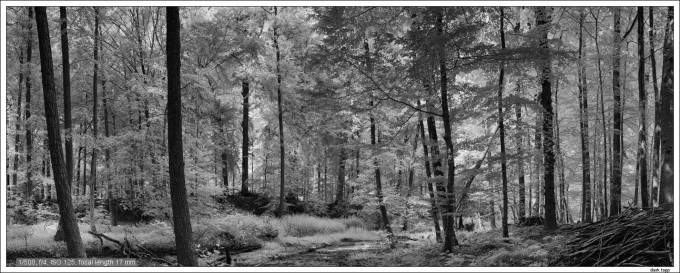 –
cloudy sky with some sunshine, the white of the green leaves seem to light themselves
camera in portrait position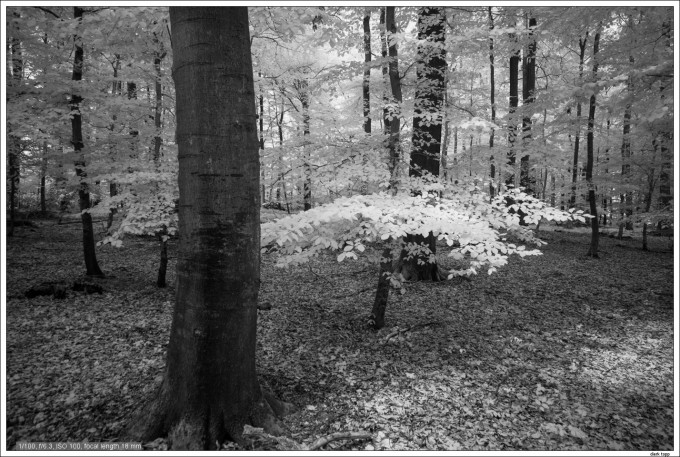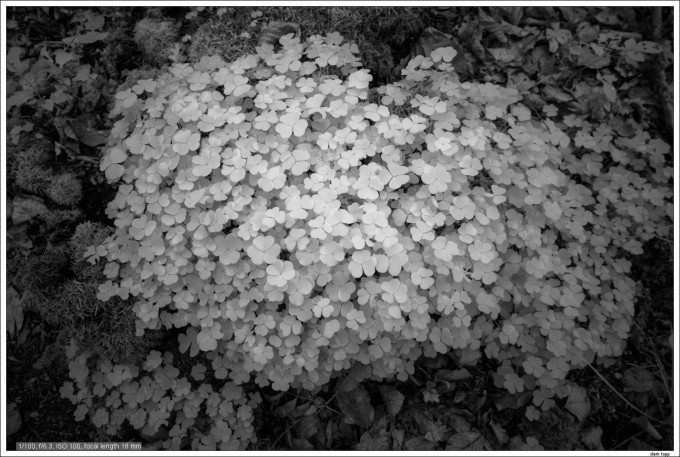 –
lens: Zeiss Distagon 40mm/4 with adapter Rhinocam and hand held series
(as described in the previous post about the Rhinocam adapter), no EXIF info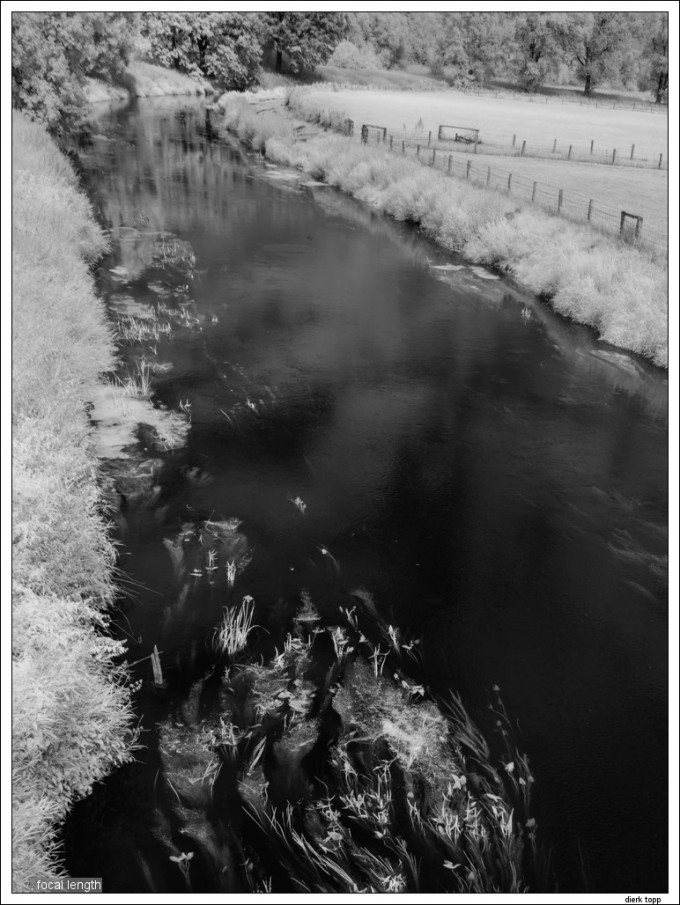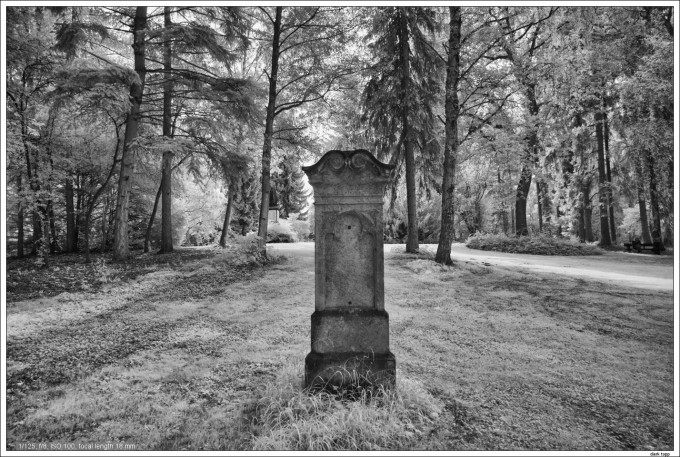 –
ok. last but not least a "self"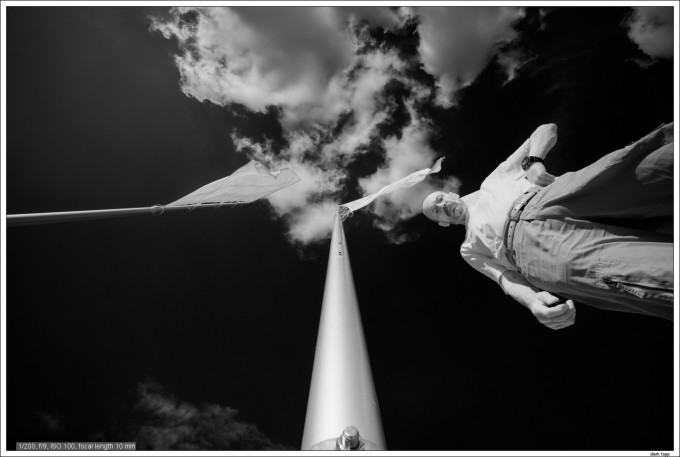 I hope, you enjoyed some of the pictures, even, if the typical IR look is not your favorite B&W
dierk