The $199 Sigma 30 f/2.8 Lens Review on the Sony NEX-7! Bang for the Buck of the year!
So here I am all back home and rested for a couple of days after the week long photo cruise across the East coast. I shot quite a bit on that trip with the Fuji X-Pro 1 to see how firmware Version 2 would fare but I also had the Sony NEX-7 and 30 2.8 lens. You know, that $199 Sigma lens that gives us a 45mm equivalent on the NEX system? The one that Sigma also makes for Micro 4/3? At $199 you would think this lens would be mediocre but maybe you will be pleasantly surprised with one. After all, the buzz on the photo sites are saying it is excellent. I even had a quick guest post here a while back about this lens.
[ad#Adsense Blog Sq Embed Image]
These days $199 is quite cheap when it comes to purchasing a lens for your favorite interchangeable lens camera so when you see something at this price you wonder…"Is it any good"? Well I am here to tell you my thoughts on this little Sigma lens.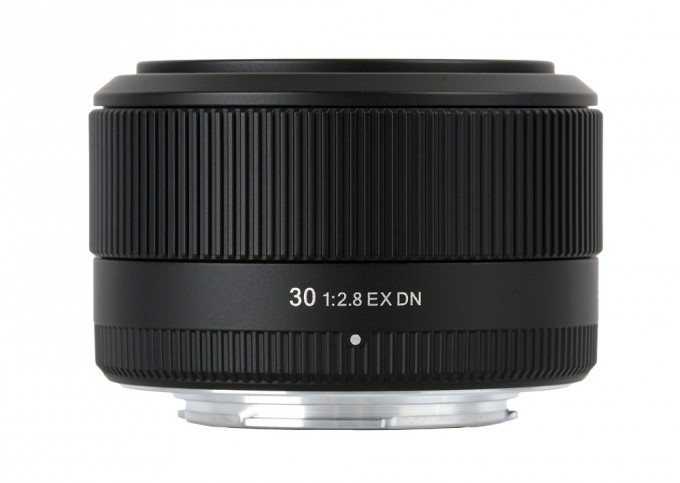 Sigma has officially entered the mirrorless market in an affordable way with this lens as well as their 19 2.8 lens which is also coming in at a lower priced $199. The 19mm would give NEX users a 28mm equivalent so I am also excited to see how that one stacks up because a $199 28mm 2.8 lens is hard to come by 🙂
As always with my reviews you can click any image for a larger and much better looking version! f/3.2 – iso 125 – 1/60s with the 30mm on the NEX-7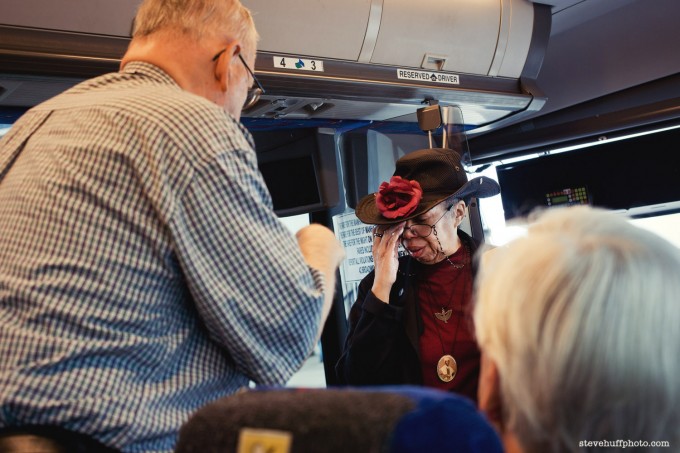 –
Lenses Lenses Everywhere, but which ones to buy?
There are so many great lenses for ALL systems out there today but most are either expensive (most Nikon/Canon), or hard to find in stock (Olympus 75 1.8) or BOTH expensive and hard to find (Leica). Fuji X lenses run about $600 and up. The better Olympus lenses for their Micro 4/3 system run anywhere between $400 and $1300 for the good glass. We all know where Nikon and Canon stand. So how does this under $200 Sigma do in the grand scheme of things? I mean $199 just sounds so cheap for a known brand name  2.8 prime lens! Sure we have the cheap 50 1.8's from Canon and Nikon – the Plastic Fantastics..but the Bokeh is mind numbing and they are soft wide open and have funky corners. So will the little "Sigma that could" really be THAT good? I was soon to find out!
I bought this lens after getting so many e-mails telling me "you HAVE to try this lens Steve"! So I dipped into my camera buying website work fund and bought it from Amazon. For $199 and free shipping. (Love Amazon Prime)! 
Shot this from a tour bus in NYC while heading to the airport – f/2.8 and 1/60s – Sony NEX-7 ISO 200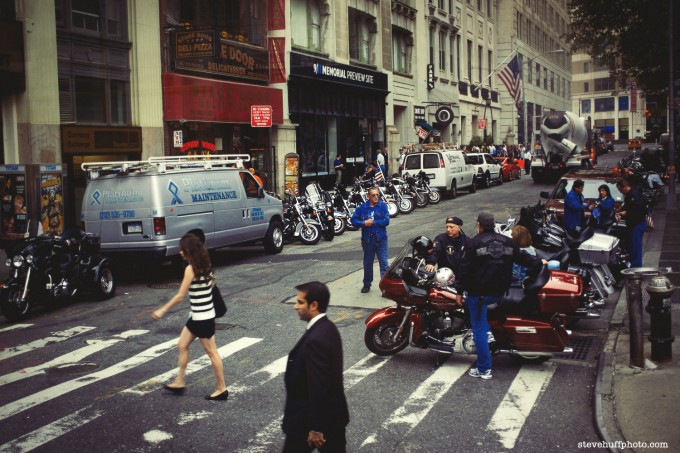 When the lens arrived I opened it and was surprised to see that it came with a nice lens case..wow. This lens is also quite small and light and when I picked it up I heard a rattle sound and thought it was broken. When I moved it I heard the lens element shift inside. Did not sound good at all but as soon as I attached it to my NEX-7 and powered it up the lens was 100% solid and did not shift. I later found out this was normal so my lens was NOT broken. You can see what this sounds like in this quick video overview of the lens I put up on YouTube:
So far so good. The lens was cheap, small, light and even came with a nice case AND METAL MOUNT. But I wondered…what about the IQ?  The image quality has to be soft right? With an aperture starting at f/2.8 I figured I would be getting soft performance wide open and decent performance by f/5.6. When I started snapping I saw the auto focus speed on my NEX-7 was mediocre but not bad at all. It was fast but not lightning quick. Very acceptable and for the price I was quite happy.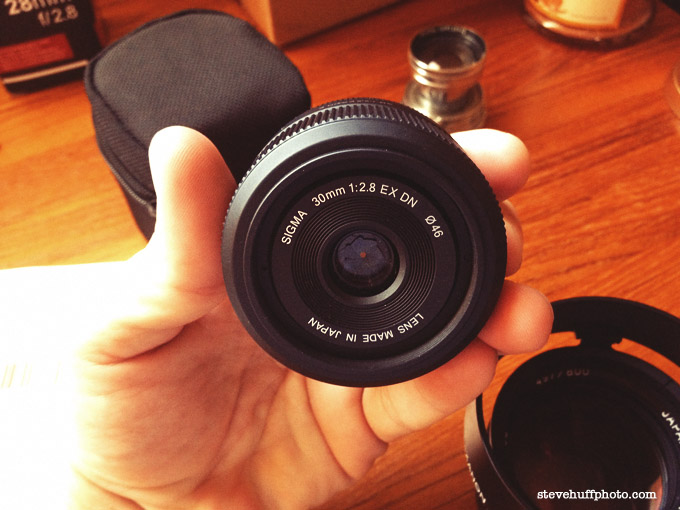 So to sum up the build this 30mm 2.8 lens has 7 elements in 5 groups with a plastic build and feel. It is not fancy but rather quite plain jane looking on the NEX cameras. It is all black and looks like..well..a cheap lens.
But no worries, the lens is a strong performer!
Wide Open this lens is SHARP at the focus point. Click the image below for a larger view to see the sharpness and some smooth Bokeh. F/2.8 – 1/60s – ISO 400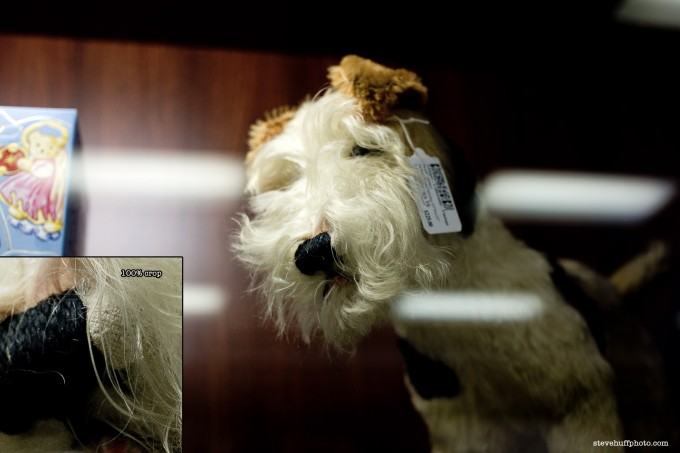 –
Nope! This is not your normal "Budget Lens"
Nope this is NOT your normal budget lens. In fact it is sharper than just about ANY Sony lens I have shot with on my NEX-7! In fact, when shooting this lens it was almost like my Sony NEX-7 had a veil removed! No joke. I saw a crispness I never saw in the 18-55, 16mm or dare I say…even the Zeiss 24 1.8. I am not saying this is a better lens than the Zeiss as the Zeiss is better made, has better color reproduction, is much faster at 1.8 and is a premium lens for the NEX but I am saying this Sigma is pretty damn crisp and beats out my Zeiss 24 in that regard. Crispness 🙂
The Sigma 30 at f/5.6 – click this image to see a larger view and full 100% crop. Damn. BTW, THIS SHOT IS FROM RAW, FROM CAMERA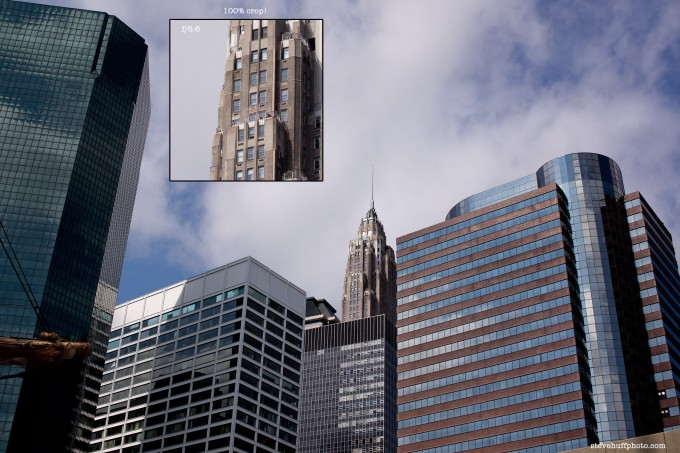 The shot above will show you what this lens is capable of. It is sharp, has great contrast and color and I can not believe a lens this cheap can be so good. It has been glued to my NEX for weeks now. From daily snapshots to shooting street scenes from a tour bus it has never caused me to miss a shot and it has never given me an out of focus shot. It's been ALL good. $199 folks..at this price it is hard to beat.
Check out the next few shots..
Haunted Dolly – f/2.8 – 1/60s – ISO 200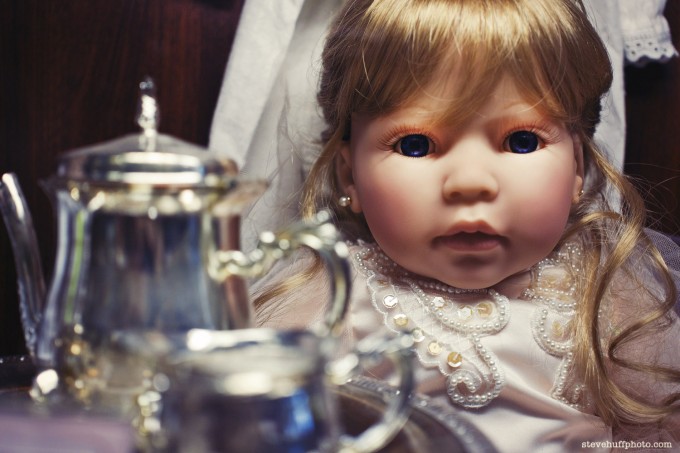 –
From the bus – f/2.8 – ISO 100 – 1/100s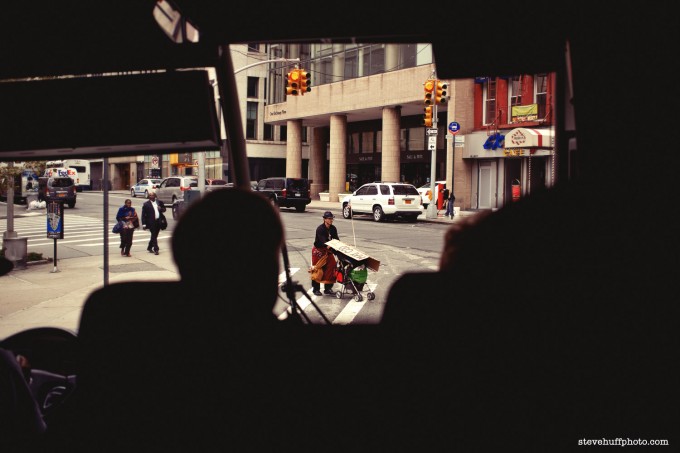 –
Street scene  – can see some of the barrel distortion here with the sign. f/2.8 – 1/60s – ISO 160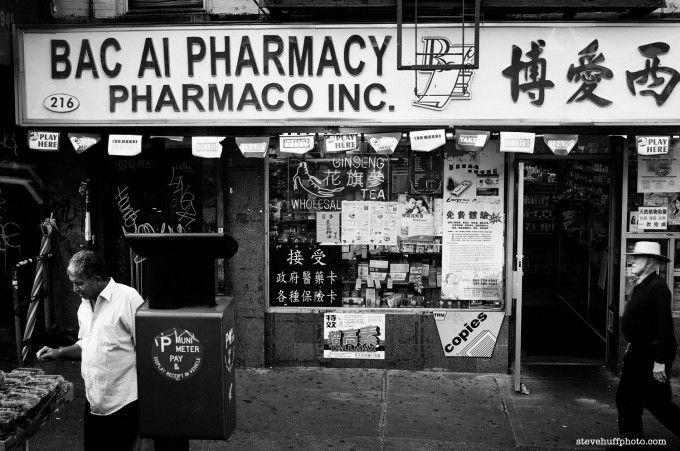 –
So what is wrong with the Sigma 30 2.8 lens? Distortion & AF no go for video!
If I had to complain about something with this lens I would say that the AF speed is a bit slow and the build is on the light/cheap feeling side. It also has some slight barrel distortion (as in straight lines can be a bit bent at times). Nothing that is not fixable in Lightroom but keep in mind this is not a technically perfect lens at all. No way it could be at this price. Also when shooting video you will hear the creaks and noises of the lens as it struggles to AF, especially in low light. This is not a speedy video lens. This is a BASIC lens with great IQ. That is all.
Remember this is a $199 lens and for that $199 you get a hell of a bang for your buck for image quality.  Next three shots are all wide open at f/2.8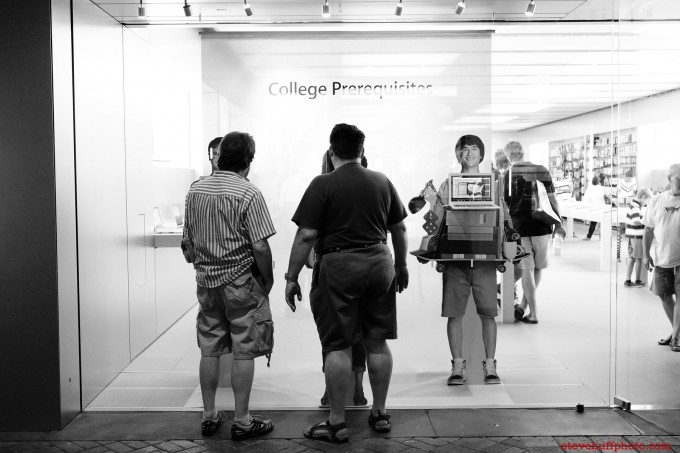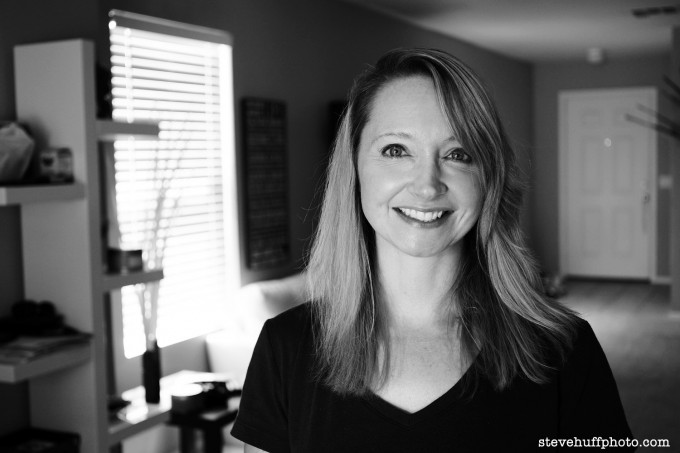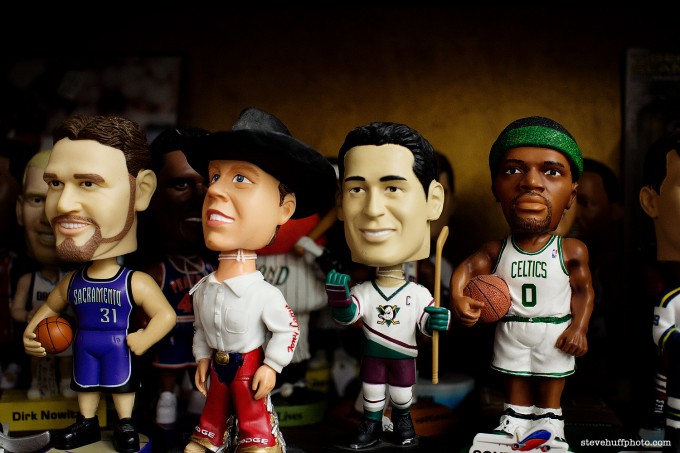 –
My time with this lens…
I tried to shoot a wide variety of things with this lens. I never ever shoot action like sports or running kids and if I had to guess I would say this is not a lens for those situations as it is not a speedy focusing lens. I have read in other reviews that this lens has flare issues but I failed to shoot one shot with any kind of lens flare so if it is there it never showed its head in my images. Then again, I never really shot in to the sun.
I believe taking a lens out and shooting it for a few weeks..getting to know it..testing it in many situations…thats the way to do it. This lens never disappointed me but instead it kept surprising me. I am used to shooting mega buck Leica lenses and while this lens can not compete with the world's best it can kick, stomp and destroy just about any other $199 lens made for the NEX system 🙂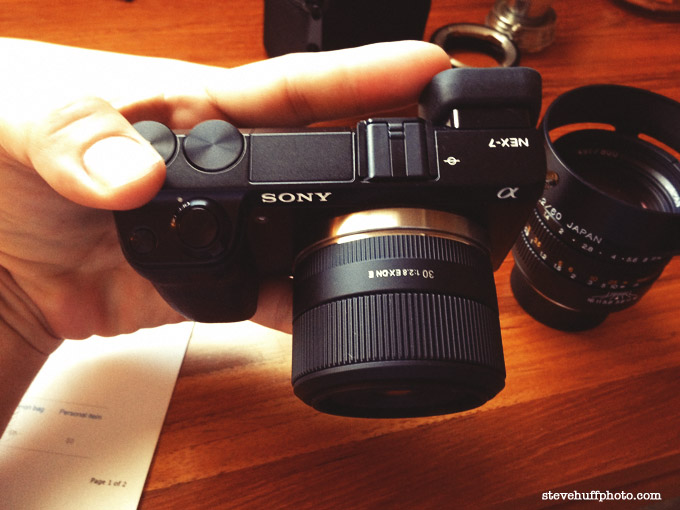 Sigma decided to test the mirrorless lens market with some cheapies but this cheapie is a performer. If you are into the 45mm focal length, if f/2.8 is fast enough for you and you do not want to spend the bucks on the fancier pieces of glass then this lens could be your solution. This and the Sigma 19 could be the combo to beat and for under $400 for BOTH..well..that is unheard of these days.
I have not yet tested the 19 2.8 but if it is as good as this 30 2.8 I would be thrilled.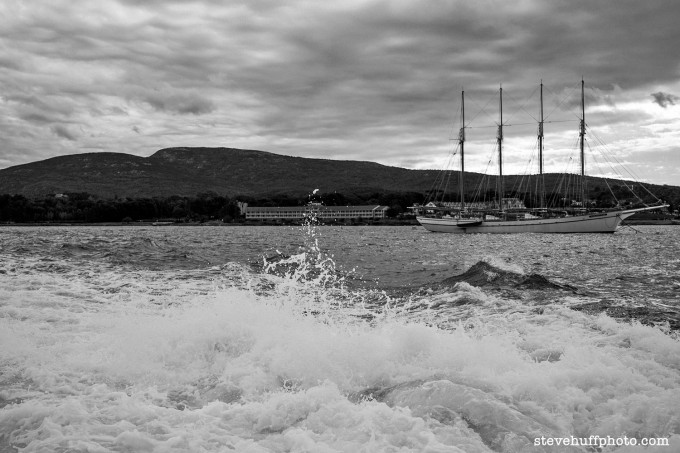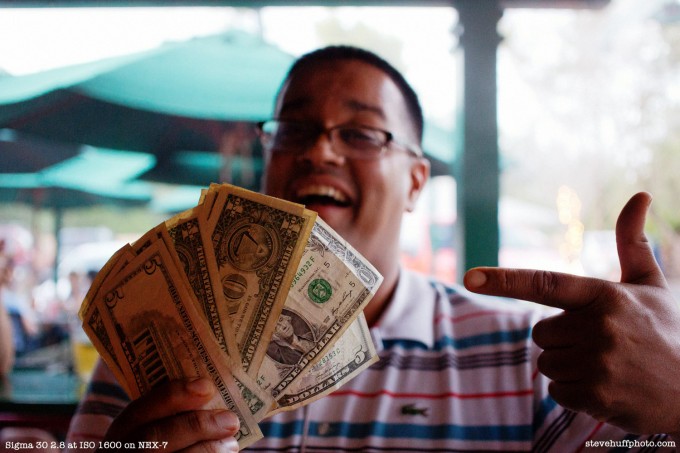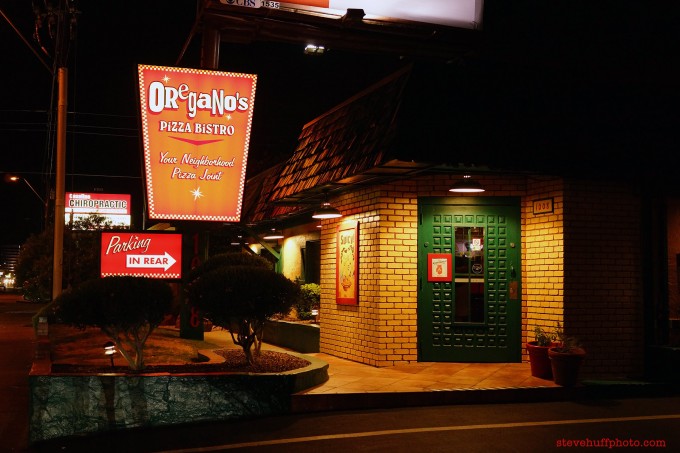 –
Flare Test  – VS – Leica 35 Summilux FLE
It seems that some has been written about the flare of the Sigma 30mm but I found it quite tame and when shot directly into the sun without a hood the flare was minimal. Less than the Fuji X100 lens and less than even the $5000 Leica 35 Summilux ASPH FLE that was USING A HOOD! So the Sigma is great in regards to flare. See for yourself by clicking the images below. One from the Sigma and f/2.8 and one from the Leica at f/2.8 – Both on the NEX-7.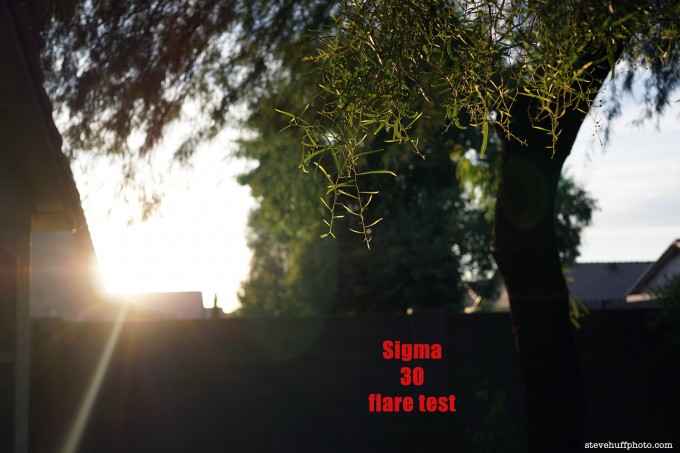 –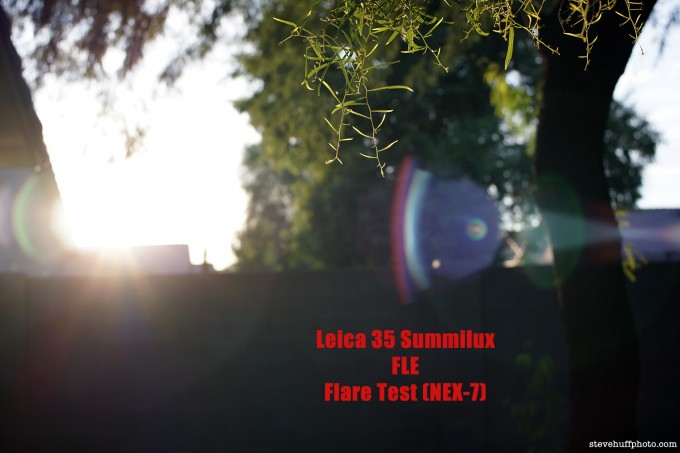 The Pros and Cons of the Sigma 30 2.8
Pros
Cheap at $199
Comes with a nice lens case
Sharp performance even at f/2.8 wide open
light
Cons
Cheap (build)
Some slight barrel distortion
Tad slow with AF/Video creaking noise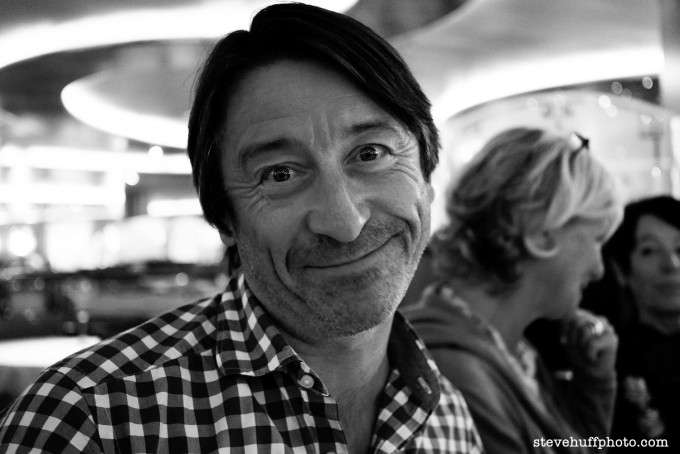 –
So would I buy this lens to keep? My final word…
Even though there are better lenses to get for NEX and one in particular coming down the pike SOON (the new Sony 35 1.8) this lens is cheap at $199 but has the image quality of a $350 – $400 lens. As you can see in the title of this review I am calling it the "Bang for the buck of the year"! It may not be for everyone but if you are tight on funds and want a new lens that will beat your kit lens then this little guy will only bring smiles to your face. I can not image anyone being disappointed with this lens at this price.
I bought it and kept it. Kind of a no brainer.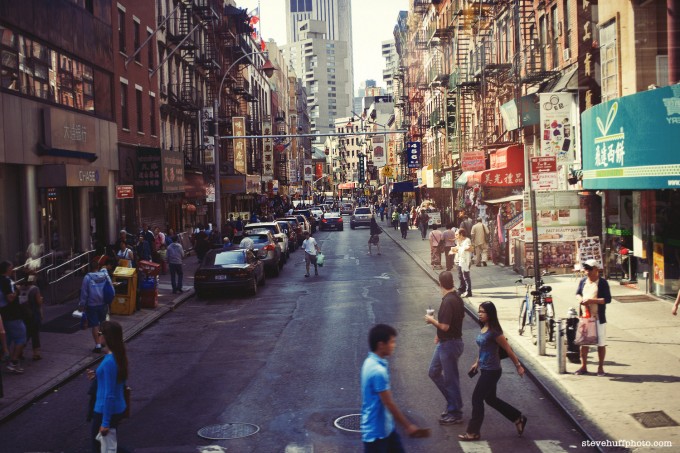 –
Where To Buy the Sigma 30 2.8 for NEX?
I always buy from B&H Photo or Amazon for most of my gear. Great service, great reputation, great return policies. PERIOD.
Lady and her smiling dog – NYC – f/2.8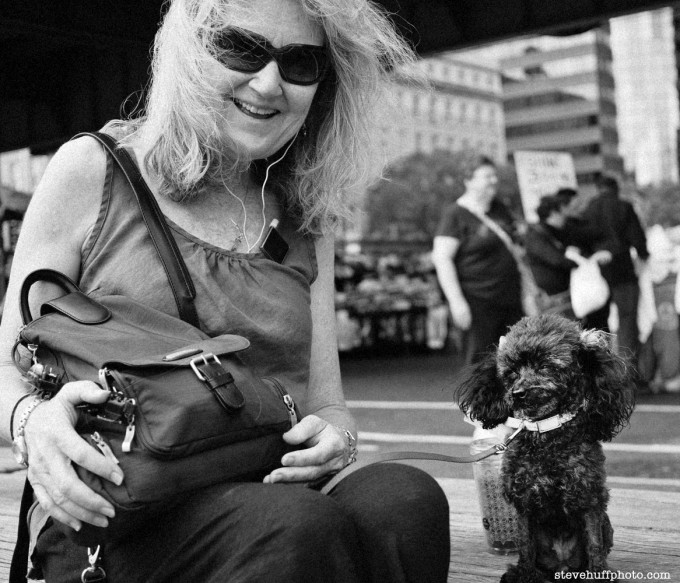 –
Wide open again at 2.8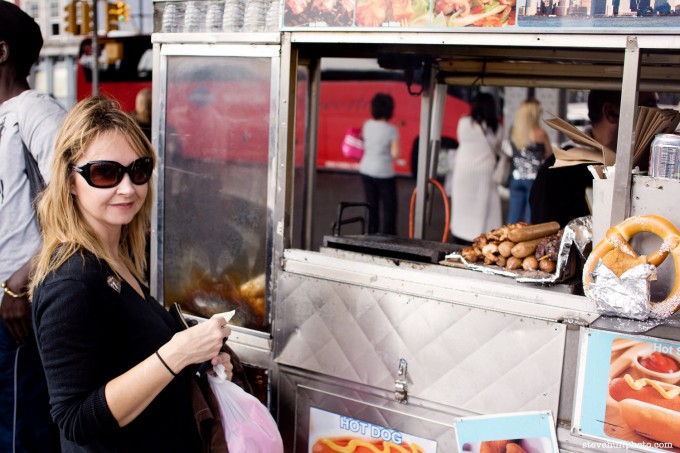 –
from street meat to mean street machine!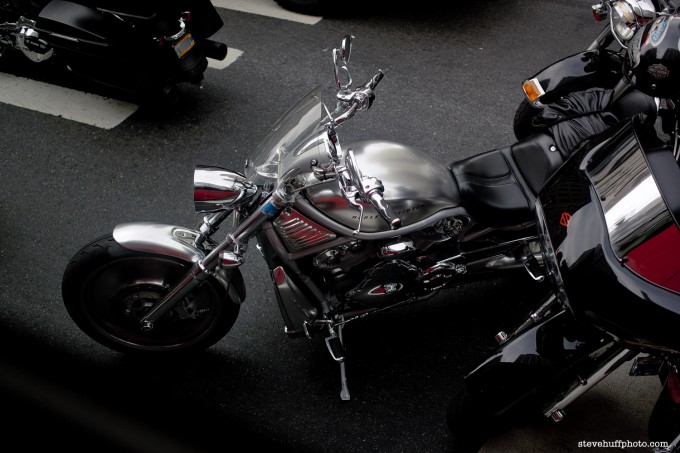 –
ALL I ASK! HELP ME TO KEEP THIS SITE GOING AND GROWING!! IT'S EASY TO HELP OUT & I CAN USE ALL THE HELP I CAN GET!
Remember, anytime you follow my links here and buy from B&H or AMAZON,
 this helps to keep my site going. If it was not for these links, there would be no way to fund this site, so I thank you in advance if you visit these links. I thank you more if you make a purchase! I have nifty search bars at the upper right of each page so you easily search for something at either store! I currently spend 10-14 hours a day working on this site and the only way that I can pay for it is with your help, so thank you! Currently my traffic has been increasing but my funds to pay for the site has been decreasing, so any help would be GREATLY appreciated!
Even if  you buy baby food, napkins or toothpicks at amazon it helps this site, and you do not pay anything extra by using the links here. Again, you pay nothing extra by using my links, it is just a way to help support this site, so again, I thank you in advance 

If you enjoyed this article/review, feel free to leave a comment at the bottom of this page and also be sure to join me on twitter or my new facebook fan page and Google +  page! Also, you can subscribe to my feed at my subscribe page HERE and read these posts in your browser or news reader!