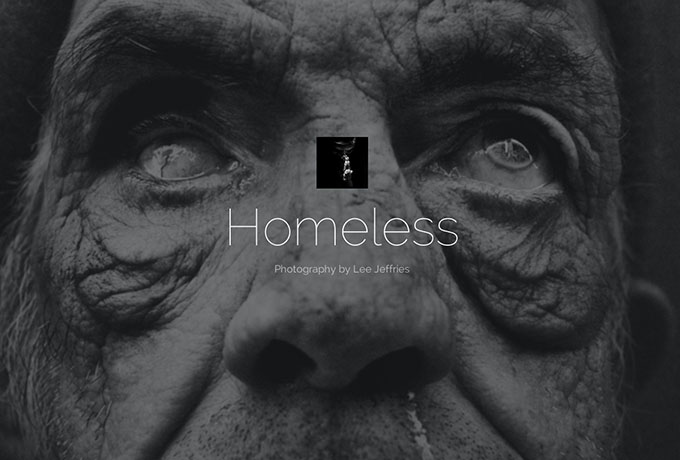 Amazing Portraiture of the Homeless from Lee Jeffries
I just today discovered some work by Lee Jeffries that brought me to full attention to my screen. After viewing all of them, I knew I had to share the link to his images. Some of you may know that I have photographed the Homeless many years ago now and when I took on that small project I was attacked and ridiculed by many who had no idea what the intent of my project was. I was also praised by many for the work and for helping these people out. They are just like us, we are all Human Beings living on this earth with one physical life and not all of us have it as easy as others. In my travels I have found that many Homeless were once living a decent life until something catastrophic pushed them over the edge with no way of returning to the life they once had.
Some experienced the death of a spouse or a chile and could not handle the loss. Some lost their jobs of 20+ years and then had nothing. Some were mentally ill and had no family to take care of them. A few were drug abusers who brought it all onto themselves but one thing remained constant, they lost all hope and were just walking the streets, living by dumpsters and waiting for their life to come to an end.
The images I took on 35mm film were raw, basic and honest. I approached these men and women on the street with a helping hand in the form of food, water, cash or clothing/blankets/pillows. I sat down with them and got to know them and why they were in the situation they were in. I spoke with them, laughed with them and even cried with a couple of them. I followed up with a few over a year and some were gone and some were still roaming the streets trying to survive. Some of my photos are HERE but they do not compare to the emotion, rawness and beauty of the images I saw today from Lee Jeffries. I do not know what he used to capture the images and I do not care, it does not matter.
I do not have permission to share his images here nor have I spoken with him (though I did send him a message), but I urge you to take a look at his gallery HERE. Amazing portraits.
Steve