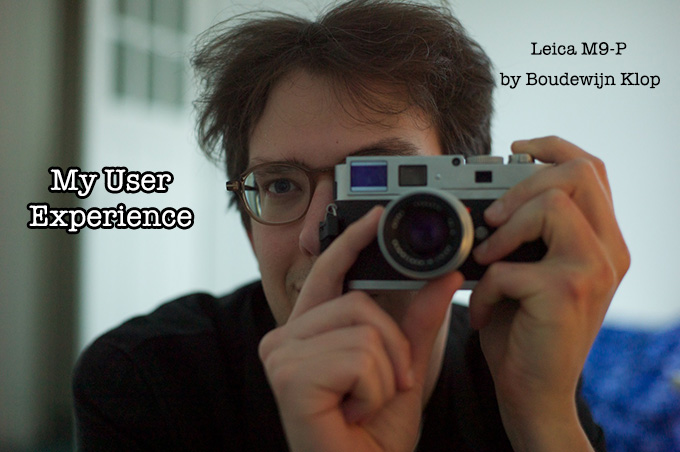 A user experience of buying a second hand Leica M9-P with a 50mm summicron.
The love to portrait people around me
By Boudewijn Klop
Hello Steve,
Your website has inspired me a lot and made me decide to buy a used Leica M9-P together with the latest 50mm summicron (NON APO). I am a 29-year old amateur photographer who likes to photograph the people around me who I love and care about. Therefore, the Leica M9 would suite me perfectly since it is relatively compact, robust and simply a joy to shoot with. When I bought my used Leica M9-P I was quite nervous and in doubt whether I wouldn't be better off buying a brand new Leica M-E for an extra 1000 euros. In the end it turned out that buying a used Leica M9-P was without problems. I bought it from a person who owned a shoe store in Amsterdam and wanted to upgrade its camera to the new Leica M. My newly acquired, but used Leica M9-P came with all the boxes and original receipts and is working perfectly.
I used to shoot with a Fuji X100 and with the Leica M9-P I am so pleased to have full control over my focussing and how well this camera chooses its exposure times. Its rangefinder focus system and almost never failing centre weigth light metering system adds to its ease of use and its capability to shoot the pictures I want to take.
When I was dreaming about buying a Leica I was convinced it should come with the 50mm summilux ASPH. Instead I came across a nice used version of the latest 50mm non APO summicron. Its maximum F2.0 aperture is actually fast enough in 99% of the situations for available light shooting and it also provides plenty of creamy background and foreground blur when desired. In addition, it is small and light weigth, which adds to the portability of the camera system. I just simply put them in my backback when going into town or visiting friends and I take the camera out when I feel the need of taking a picture.
The 50mm focal length is capable of capturing portraits as well as larger scenes. However, it is definitively not wide enough to capture city streets, which needs a lens with a 35mm focal length or less. On the other hand, the 50mm focal length is perfectly allround for shooting friends and family and it can still provide enough "space" to put the photographed people into a context.
I hope you enjoy the sample pictures I provided. They were all shot with the Leica M9-P combined with the latest version 50mm summicron.
Boudewijn Klop