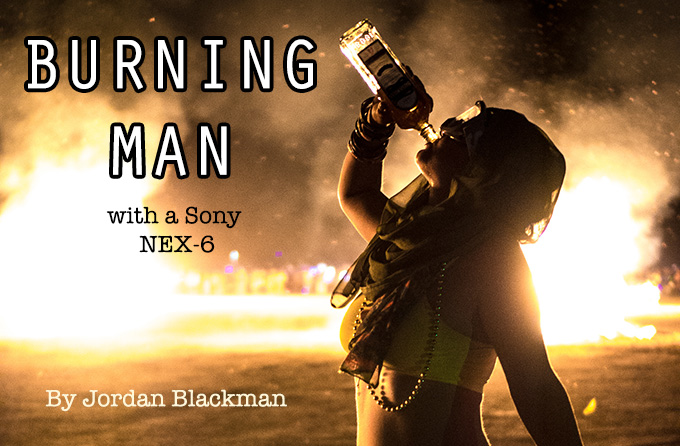 Burning Man Portrait Report
by Jordan Blackman – His website is HERE
I was riding shotgun in a pickup truck for twelve hours, biting my nails as we lumbered across the American West. Between the bed of the truck and the U-Haul trailer hitched up to it, there was easily a two bedroom apartment's worth of stuff with us. But we weren't headed to an apartment. We were going deep into the dust of Nevada's Black Rock Desert.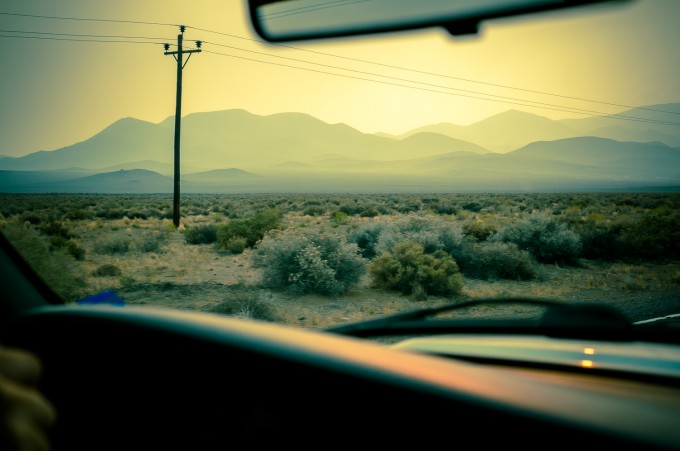 Now, you've probably heard about Burning Man, and maybe you've even been. But I never had, and I was anxious about going. I'd heard stories about dangerous dust storms, outrageous orgies, deviant witchcraft and more. Obviously, I'd need to bring a camera and the biggest memory card I could get my hands on.
Unfortunately, my OM-D EM5 had just been stolen. I had shot with that little Olympus for over a year, and paired with the Panny 20mm it really knocked my socks off. I love that camera. But still, I decided I'd try something different. After an obscene amount of internet "research" I picked up a Sony NEX-6. I liked the video quality and price, and I felt that it would be fun and educational to work a new sensor size. Burning Man was going to be my first chance to really use the Sony and I really wasn't sure what to expect… from the event or from the camera.
Now, one of the big differences between the two cameras is the weather sealing. OMD has it, NEX doesn't. Burning Man is famously dusty, and so I rigged a plastic bag to keep out those tiny sensor demons. It worked really well, especially with the EFV exposed, as you can see from the pic. The downside was that I was committed to a single lens for the entire week. I chose the Sony SEL35f18.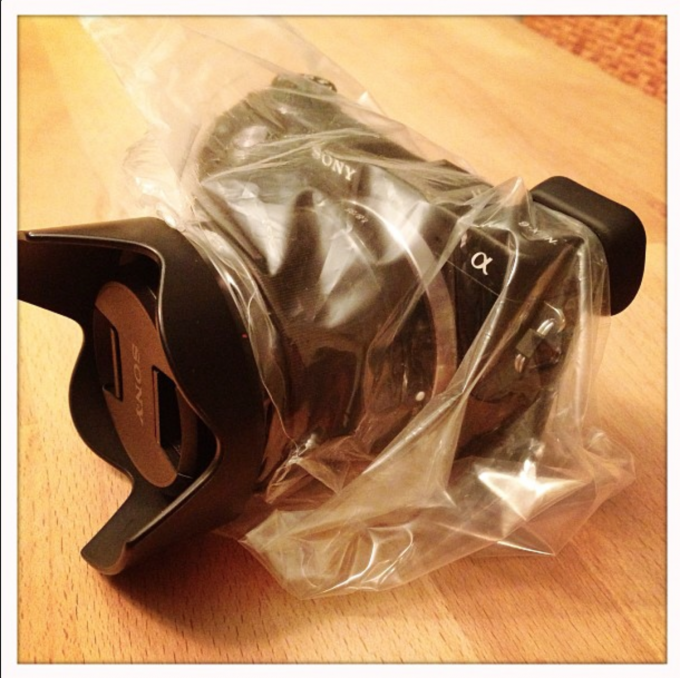 Upon arrival at Black Rock City, the name of the temporary town erected in the desert each year for Burning man, I was completely overwhelmed. The expanse of light and art, the creativity on display, the diversity of color and costume… it was more than I could take in. Burning Man defeats one's power's of perception, let alone observation. I quickly decided to focus on portraiture for the following reasons:
1. It would keep me focused, preventing overwhelm.
2. It seemed a reasonable task for the 50mm equivalent lens I had.
3. Portraits could be gifts, and gifts are an important part of Burning Man culture.
4. Everyone else would be shooting the giant art installations anyway, and who needs another picture of the man burning?
And so, every day I walked across the dust and invited strangers to have their portraits taken. Here are some of those photos. Below the pictures, I'll share some thoughts about the NEX-6, some 2000 captures later.
So, what did I think about the NEX-6 compared to the OM-D? They are both great cameras, and I recommend them both. With the NEX-6, when you nail the shot, you get an amazing RAW file, better than the OMD's. But, it's harder to nail the shot and then it takes more adjustments to get the image you want from the RAW. With the OMD I had more keepers and less work to do in Lightroom. I think the keepers come from the stabilization and the better focus system. The NEX-6 forces me to slow down and think more both during exposure and development phases. I consider this a good thing for my growth as a photographer. And when you take the time you get some remarkable results.
If you shoot video, the NEX-6 can produce absolutely stunning footage, albeit without the OMD's excellent stabilization. I consider 60fps a must for video since the conformed footage looks so great at 24fps. If the community is interested I am happy to write up a long comparison with the pros of each as there is much more to be said on this. The short version is, I'm planning to stick shooting with the NEX-6 until a camera arrives with 5-axis stabilization and the video features I want.
As for Burning Man, I'm no longer nervous. I'll be heading back whenever I have the chance. My overwhelmed feeling has turned to gratefulness. My anxiety into anticipation. I hope to continue my portrait project for many years to come.