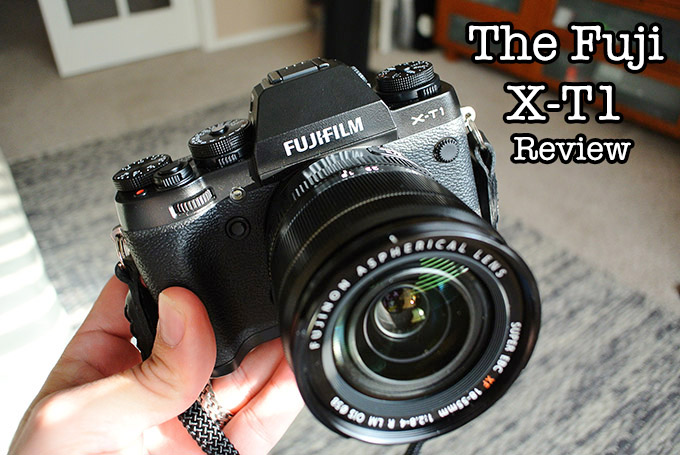 The Fuji X-T1 Review. Fuji creates the Best X to date!
What a way to blow a review! I pretty much say right there in the title that yes indeed this X-T1 is the BEST Fuji X to date, even surpassing the X100 and X100s for me..finally! Many of you know that I was never a huge fan of the X-Pro 1, X-E1, X-E2, etc. I just never felt that they were mature..in fact, on more than one occasion I called them "Beta" products and we, the consumers, were the testers as we shelled out thousands for the bodies and lenses.
Well, the good thing about all of this is that Fuji seems to finally figured out everything (almost) and have now created the Body that the X-Pro 1 should have been as the X-T1 beats the Pro 1 all over and down the block and the "T" stands for "Tough". Yes, the X-T1 is now weather sealed!
All images in this review were shot JPEG. Click on ANY image in this review for a larger version.
14mm at ISO 250 – f/2.8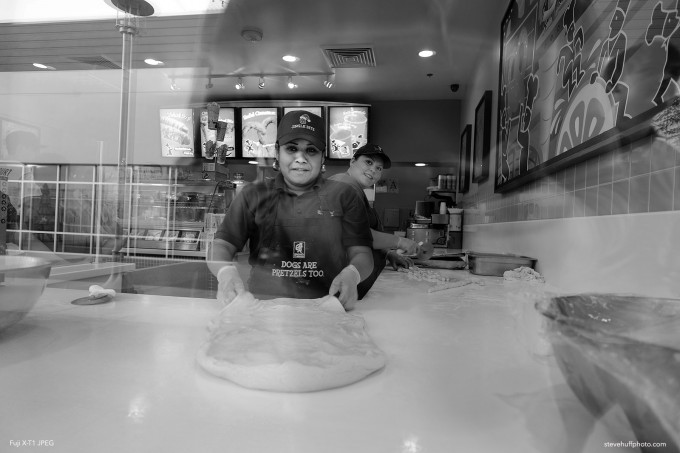 So do I prefer the X-T1 to the E-M1?
As many here know. I have been a HUGE fan of the Olympus Micro 4/3 offerings for years and the E-M1 has been my daily "goto" camera since launch for its build, speed, response, feel, control and lenses. The IQ is also quite fantastic though many dismiss it due to the sensor size. With this new Fuji many have asked if the X-T1 will unseat my E-M1 for my new "goto" camera.
To that I say…NO. As much as the Fuji is an improvement over the previous Fuji bodies, and by a large margin it does not have enough for me to buy it over an E-M1. I have a Leica M 240 which is my premium IQ camera and the Fuji does not come close in IQ, feel rendering, etc to my M, so I have no need for the Fuji. I also have a Nikon V1, J1, and new stuff on the way soon. If I bought the Fuji I would still prefer to shoot the E-M1 for its faster speed, better build, better JPEG output, 5-Axis IS and  the gorgeous lenses. IQ is a draw besides some shallow DOF effects, but for that I have my Leica which beats them both easily.
The Fuji X-T1 surprised me because when the review sample arrived I expected more of the same..which means, big claims and underperformance. BUT, I was shocked to see that this time, the new Fuji lived up to the hype and then some. While not perfect, it is one hell of a camera and the one to beat for APS-C out of the cameras I have shot with to date (NON DSLR).
If I had NO CAMERA and was starting from scratch, the X-T1 would be under serious consideration along with the 14, 23, 35 and 56 lenses. You can buy it here.
Direct from camera color – JPEG – 35 1.4 at ISO 500
For the 1st week that I had the review sample from B&H Photo I also rented a couple of lenses. The 14 2.8 and the oh so popular 35 1.4. I also had the 18-55 Kit Zoom that I never did get to try, so it was nice to see and verify that yes indeed, this 18-55 is the nicest kit zoom I have ever shot with. It is a quality Zoom for sure.
So with all of that out of the way, let me get to the meat and potatoes. How does the camera feel, perform, respond, and how are the controls and build? Before you read, and in case you missed it..you can see my very 1st impression video review below:
The Build and Feel of the Fuji X-T1
This X-T1 feels very good. Better than the Pro-1, X-E1, X-E2. It feels ergonomically correct, for my hands at least. While not as solid or hefty as the Olympus E-M1, the grip feels just right. There is less of the "Fuji Hollowness" that I noticed with previous bodies. The bottom line? I have no complaints on the build and ergonomics. It could have been better, but it also could have been worse.
The control…
One thing I love is the manual dials and controls which remind me of the Nikon Df (review here). On the top of the body we have controls and dials to set the ISO (love this), the metering (love this) and the Exposure Compensation (love this as well). You can also twist a dial and set up bracketing or continuous shooting, etc. It is all right there at your fingertips.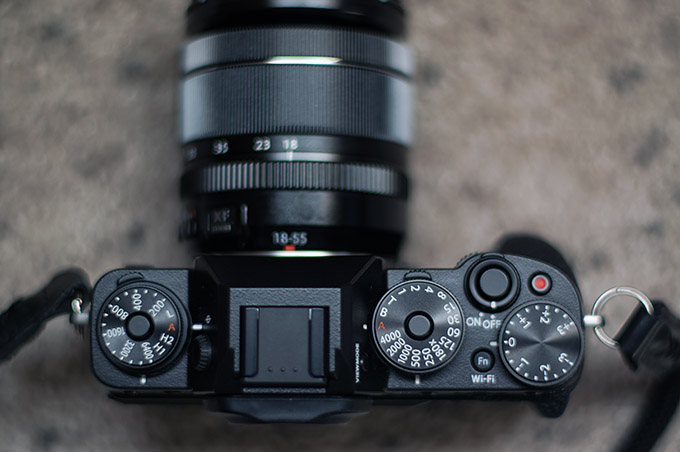 On the back of the camera we have the trash button, the play button, the AE-L button, the AF-L button, a thumb dial, focus assist button (which is nice), the Q button and display button. The heart of the back is the thumb pad and MENU/OK button.
My ONE issue with the design of the back is that damn thumb pad. It sucks. Plain and simple. The thumb pad buttons for top, left, right and bottom do not feel good at all. They do not stick out enough or give any kind of tactile feedback. They are "mushy" and "soft". If I buy this camera I will be sticking some little buttons on each directional pad. Not sure why Fuji designed it like that but this is ONE area where they dropped the design ball.
Is it bad enough to not buy the camera? No, it is just something you will wish they had designed better.
18-55 at 55mm and ISO 200 – f/4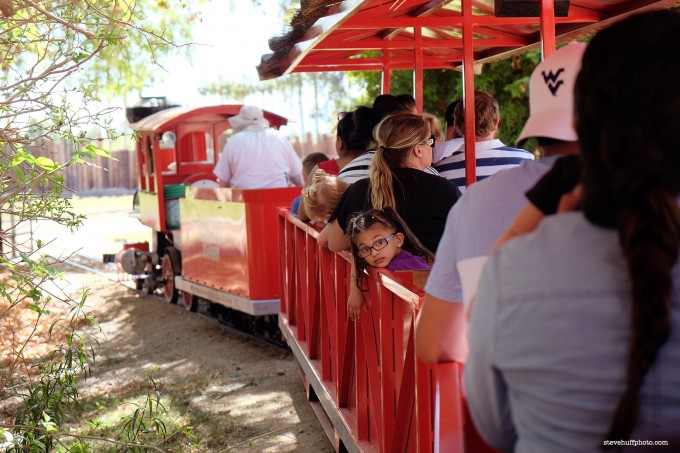 The EVF…
Pull up your eyeball to the big EVF and you may feel like you are at a drive in theater. Yes, the EVF will spoil you with the HUGE size. It is the largest looking EVF I have ever had the pleasure to peep through and it is pretty bad ass. I LOVE EVF's and have preferred them to OVF's for a couple of years now. When the Olympus E-M1 was released, that EVF was AMAZING. The Fuji is even more WOW and AMAZING to look through but it does have some quirks. Still, it puts the E-M1 EVF in 2nd place.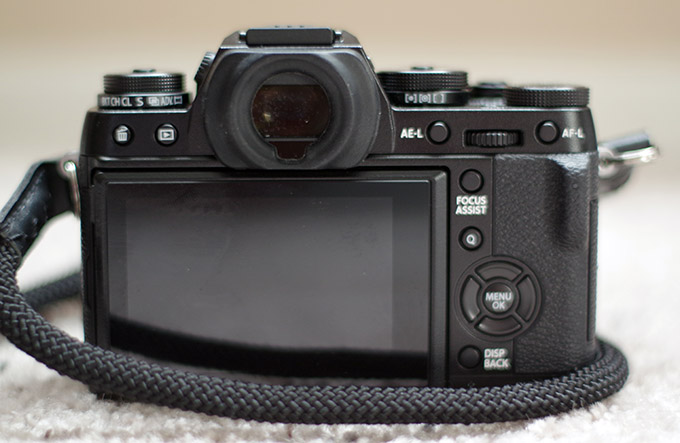 When shooting in low light or going from light to dark the EVF will lag for a bit and then catch up. It also gets grainy at night. BUT, for me, it does not take away from the experience. At all. I can still frame my shots and fire away. I love this EVF. Again, not perfect but so much better than ANY other Fuji EVF to date. Makes me wonder though..why did the not use their OVF/EVF design of the X100 but make it large? Would have been even better to have the choice as many prefer an OVF over the EVF. This would have covered everyones tastes.
Still, the EVF is beautiful to look through. HUGE and almost rear LCD like. Some may even prefer to use the EVF over the LCD to view their images! I like that the camera can be set up to use the EVF without the LCD. So turn on eye detection and the rear LCD will stay off and the EVF will pop on when your face is put up to it. This is how I shot the camera, no chimping.
14mm at f/2.8 and ISO 200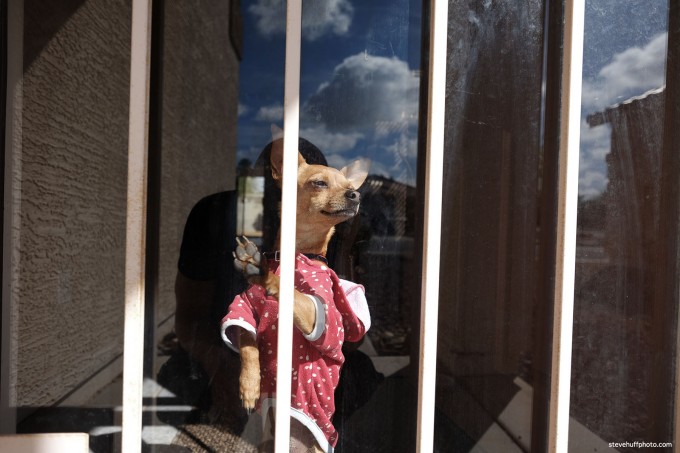 –
35 1.4 at ISO 200 and f/1.4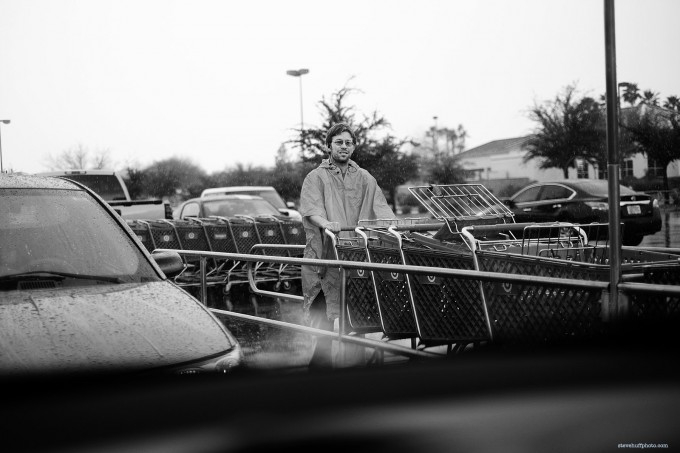 –
35 1.4 at ISO 200 and f/1.4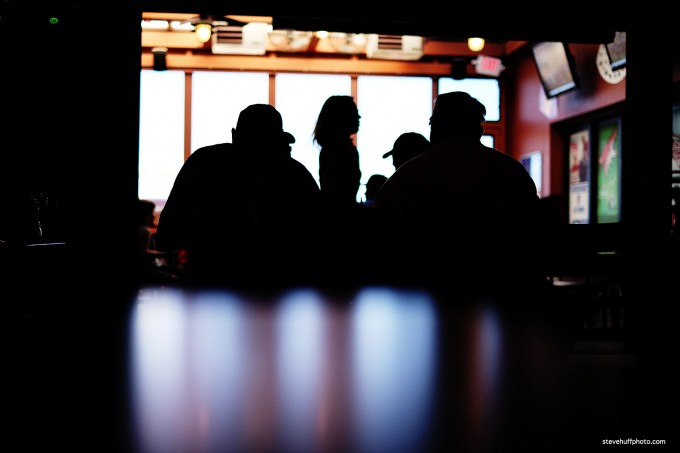 The SD card door, battery compartment and LCD…
The SD card door feels good and is one of those pull back and slide out designs. It locks back into place with a nice click and I encountered zero issues. The Battery door is just like 90% of cameras with the flick of the switch  to open. No issues. The other side of the camera with the HDMI port felt a little sloppy though and I thought that out could have been made to be more like the SD card door, so it would lock into place. Instead you just push it in and it feels a little mushy. But most cameras are like this.
The LCD is a swivel LCD and looks good. No complaints as it is your run of the mill 2013/2014 LCD in quality and size. I much prefer to use that massive EVF. 🙂
35 1.4 – ISO 640 – A creepy crawly critter found in my kitchen 🙂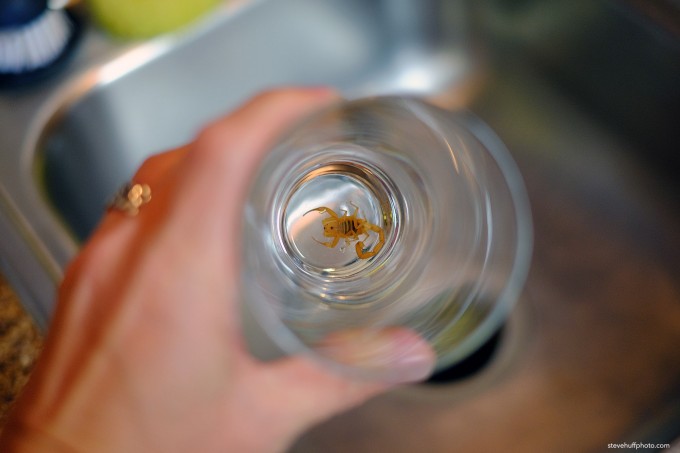 –
14mm ISO 800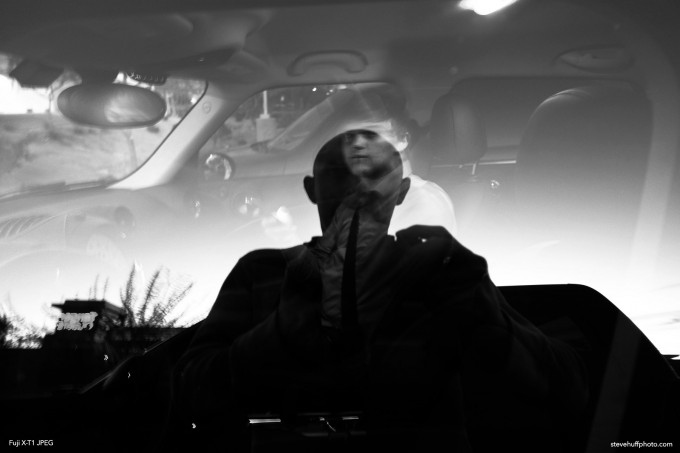 The speed of the Fuji X-T1. 
The Fuji X-T1 had to be faster than the previous X bodies. If it was not it would be an immediate fail for me. This was my #1 worry about the camera. With that E-M1 I speak so highly of..well, it is just such a JOY to use due to the speed, response, IS, etc. So I was a bit worried about the Fuji because I knew there was no way for it to compete in this area with the E-M1.
So how did it do?
Well, when using newer lenses like the 14 2.8 it was very fast. I had no issues with AF at all. Speed was great AND accuracy was superb! This started to get me excited because my #1 main niggle with these Fuji's has been the AF speed AND accuracy! These have both been remedied it seemed. When I put on the older 35 1.4 is when I saw  the AF slow down. Faster than previous bodies but I think it is a lens limitation instead of the camera limitation. It was easily usable but the Olympus 25 1.8 smoked it on my E-M1 for speed. Still, it was not annoyingly slow or anything, just not as fast as that 14 2.8. The Kit Zoom hunted from time to time in lower light and was also not the fastest but still acceptable.
So overall I would give the X-T1 high marks just for the improvements made on the speed and response. Speaking of response, gone are the Fuji days of slow, sluggish menus and response. The X-T1 is up there with the competition when it comes to response and offers better response and speed than the Sony A7 and A7r.
So Fuji created this camera to make a statement I think. To send a message to guys like me.."WE CAN make a fast and responsive camera"!
18-55 at f/4 and ISO 200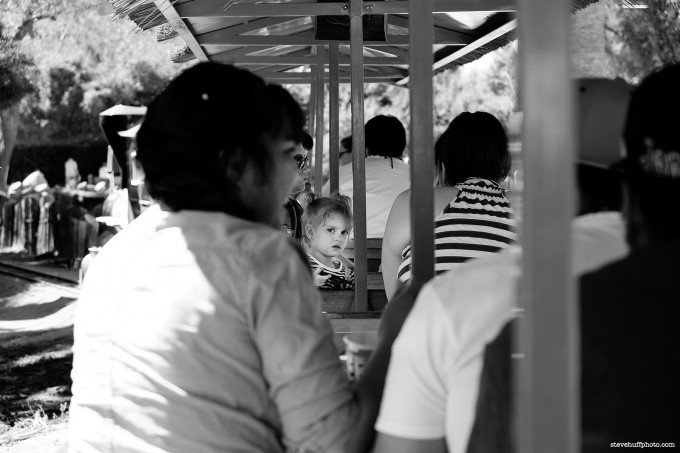 Compared to the Olympus E-M1. High ISO and Detail. 
Some have asked me to include this in the review since many are debating between the E-M1 and X-T1. To be honest, I also feel Fuji released the X-T1 in response to the E-M1. Same shape, design, etc. They HAD to answer to the E-M1 as it has been wildly successful. So how does the X-T1 compare?
Speed and Response vs the E-M1
The E-M1 still wins for speed, response and overall quality of build. But it's closer now than with previous Fuji camera bodies. With the new X lenses such as the 14mm some will not even notice a difference. When it coms to continuous AF though the Fuji fails and is way behind the Olympus. For CAF, the Olympus E-M1 wins the battle.
EVF Battle
I prefer the Fuji. It is larger, more vibrant, and looks like you are viewing a large LCD up close. It is a nice effect. With that said, the Olympus E-M1 EVF is 2nd best in the market.
Controls and Dials
The Olympus dials feel more substantial but the Fuji control scheme..I much prefer. So for real world usage, I prefer the Fuji as it has the right controls in the right places. They just do not feel as solid and well made as the Olympus. I hate the Fuji rear thumb pad with a passion though.
Image Stabilization
Olympus. Easy. No contest. Period. Until you have experienced that 5-Axis IS you have not experienced IS.
Lens Selection
NOW it is getting close. With the Fuji 14 2.8, 23 1.4, 35 1.4, and new 56 1.2 as well as the nice Kit Zoom Fuji is about equal with Olympus. Almost. I prefer the Olympus 60 Macro to the Fuji Macro and I love the little jewel like Oly lenses like the 12mm, 25 1.8, 75 1.8, etc. Still Fuji has caught up and makes Sony appear to be lagging behind in the high quality fast prime arena. I am giving this one a tie because Fuji has released quite a few superb lenses in a short time.
IMAGE QUALITY
Here is where it gets tricky. Now, all of you Fuji guys and gals will tell me NO CONTEST! Fuji! But not so fast. The Olympus is amazing in the IQ department and some of my favorite photos that I have seen last year in 2013 were shot on an E-M1. It has no shortcomings in the IQ department when using it with the superb prime lenses. I have always preferred the Olympus IQ to the Fuji and Sony APS-C offerings. With the X-T1 still using the X-T1 sensor let us see how it goes..
1st up, just a normal snapshot to check for tonality and color out of camera (JPEG). To me the Fuji looks more vibrant (the Fuji colors) and the Olympus is more muted and natural. The Olympus was closer to reality but which is more pleasing? Many will say "Fuji". You can also see the depth of field differences. The Fuji was using the 35 1.4 at 1.8 and the Olympus the new 25 1.8 at 1.8. The Fuji will give you a more shallow DOF here as it is using a 35mm lens and the Olympus a 25mm lens. The longer the lens the more shallow DOF. While both are "equivalent 50mm" in field of view, they will not give you the same DOF. The Fuji focused decently with the 35 here and the Olympus was instant.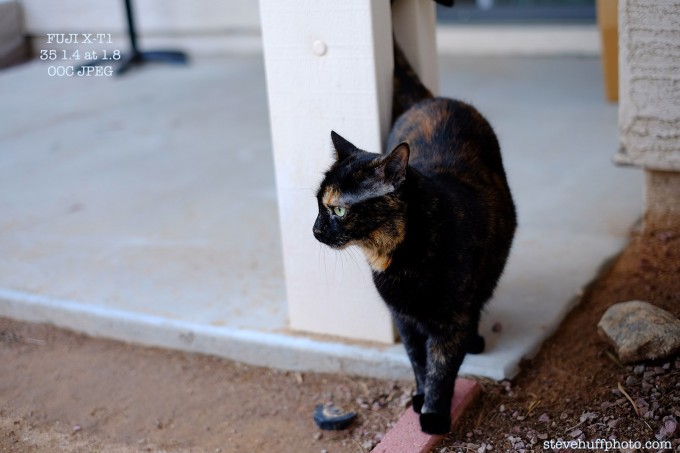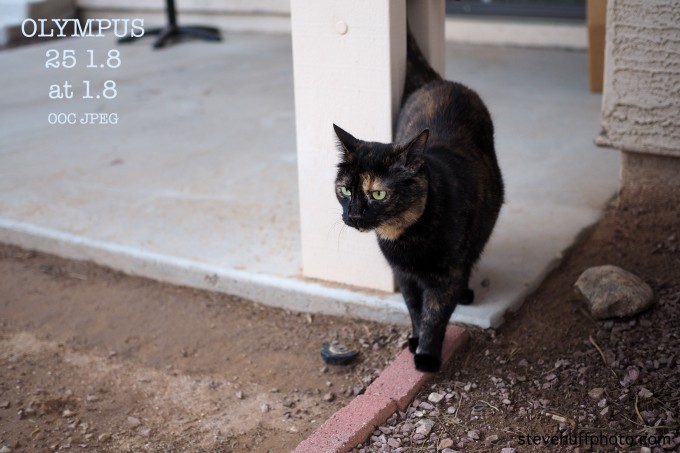 –
100% crops from JPEG. This is where the Fuji X-Trans shows some issues with JPEG. The image of the tree below looks nice. Vibrant, sharp, pleasing. When looking at the 100% crop of each camera, the X-T1 and E-M1 you can see the Fuji has a watercolor effect going on which is NOT pleasant. The E-M1 does NOT have this effect. This is straight from camera on each. The E-M1 wins on this one easily, that is, the 100% crop detail test. Trees are always a nice torture test for detail and the E-M1 won this one easily. These are JPEGS as Adobe, at the time of this review, will not process the X-T1 RAW files. To be fair though, in the past using Adobe with the Fuji X-Trans RAW files yielded watercolor effects as well. Here, to me, the Oly wins.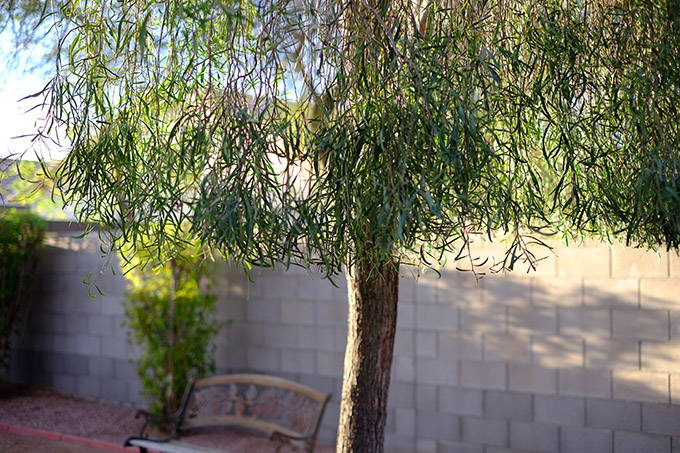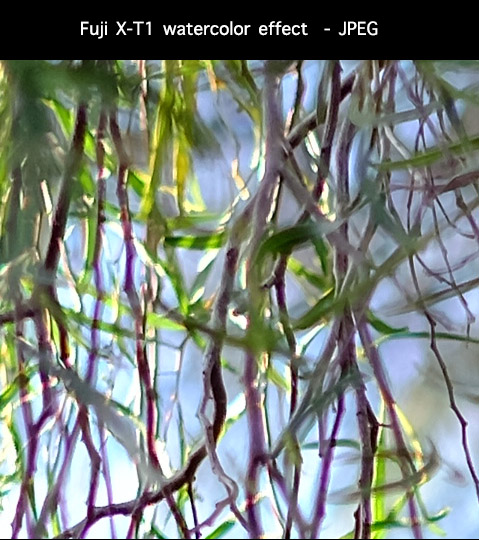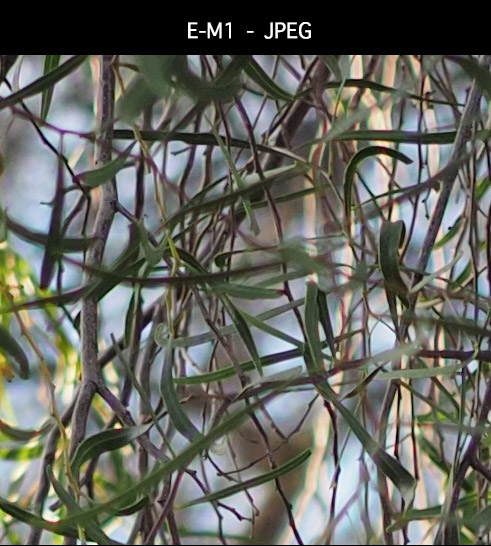 –
High ISO. Most claim the Fuji;s as the king of high ISO but this is not really true. Fuji always applies some level of noise  reduction as you can not turn it off, which really sucks. I always turn off NR on all of my cameras as NR makes the details look smeared no matter how much is used. It does not look natural at all. SO how does the X-T1 and E-M1 stand up at ISO 3200? We would expect the Fuji to wipe the floor and leave the Olympus in tears, but again, not the case. The Fuji is better but the Olympus crop with ZERO NR does not look bad. The Fuji is still applying some NR, the Olympus is NOT.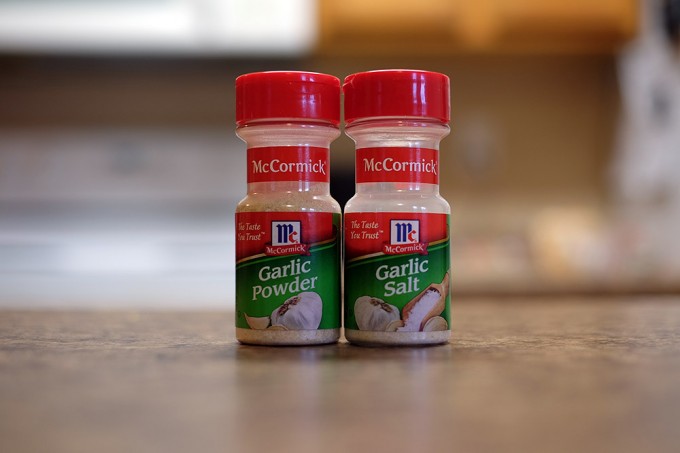 So there you have it, even when the E-m1 has the NR turned OFF it is not far behind the Fuji which as NR on the lowest setting. The Oly is also sharper showing more detail in the crop. I prefer the Olympus here for the 100% JPEG crop and the high ISO comparison at 3200. I also prefer Oly color as you can see from the shots here that are all with the E-M1. Also, proof that the E-M1 can be used and is used for Pro work that looks AMAZINGLY beautiful in color, DR and sharpness. SO many discount the Olympus just because they own a Fuji or Sony without any valid reasons. All of them are great in their own ways. What you choose is up to you for your own tastes.
ISO 1250 with 18-55 Kit Lens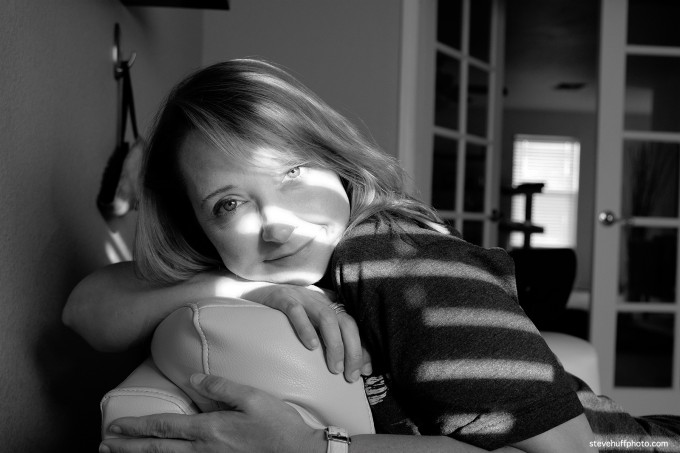 More about the X-T1
The Fuji X-T1 has the same menu style as previous Fuji bodies including all of the different JPEG color filters such as Velvia, Astia and Provia film simulations. Do they look like the film counterparts? No, but they can be nice for those who want to shoot JPEG as they give vibrant, contrasty and more punch to the files if that is what you seek. Basically this is like an X-E2 on steroids in an all new body shape. It shares the same sensor as the X-E2 so we still have the X-Trans "Look" that many love and some do not love so much 🙂
The Battery life is good, the EVF rocks, the control scheme/layout is fantastic and everything is right there on the camera to control. NO MORE menu diving. If you decide to go for the one with the kit zoom it is indeed a great Kit Zoom. Not as sharp as the primes and not as fast, but still…for an 18-55 Kit Zooom it is the best I have tried even including Image Stabilisation.
Below are some images shot with the kit zoom, exif is embedded on each but most were shot wide open between 18-55.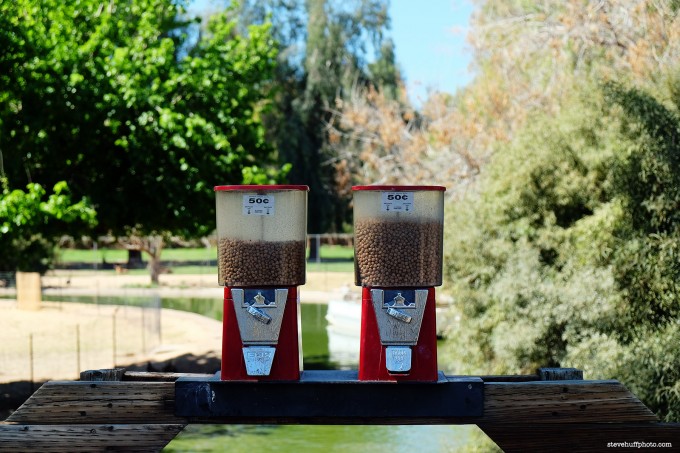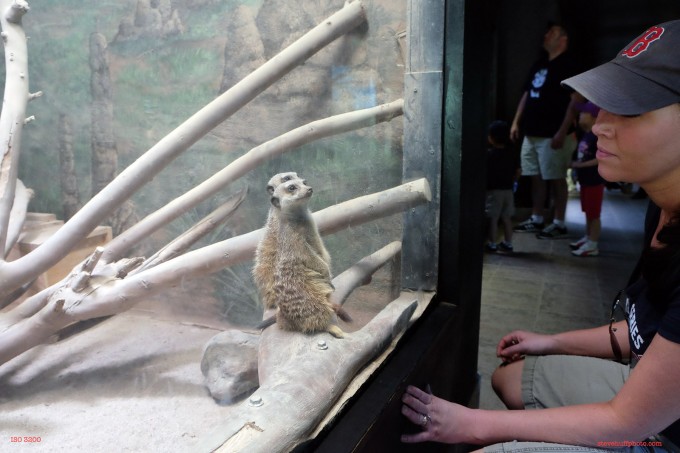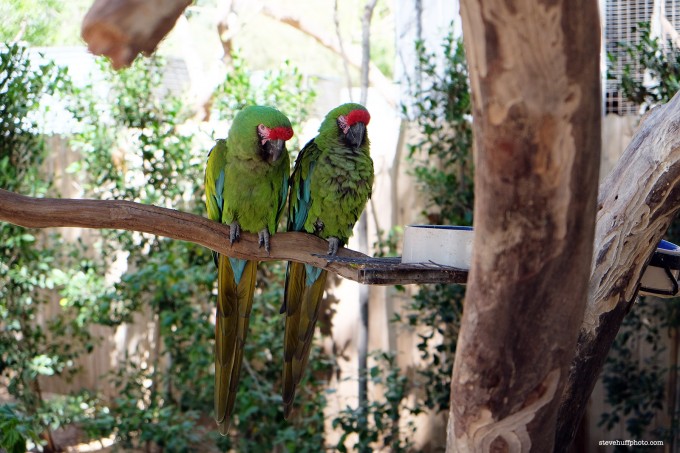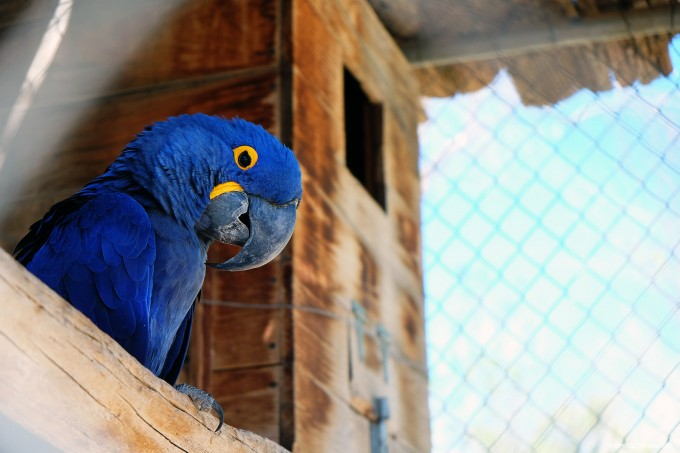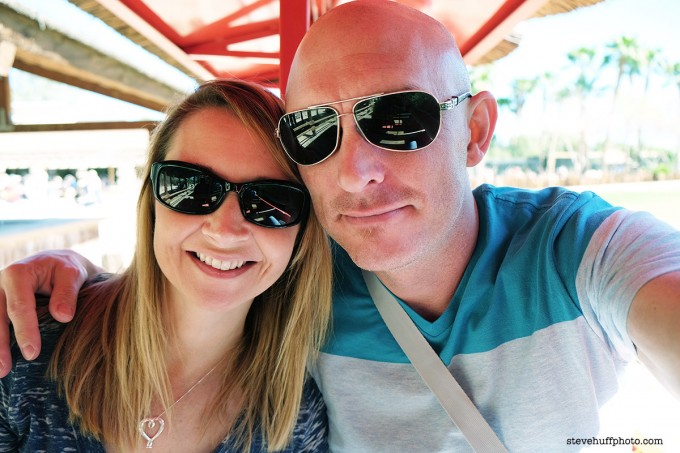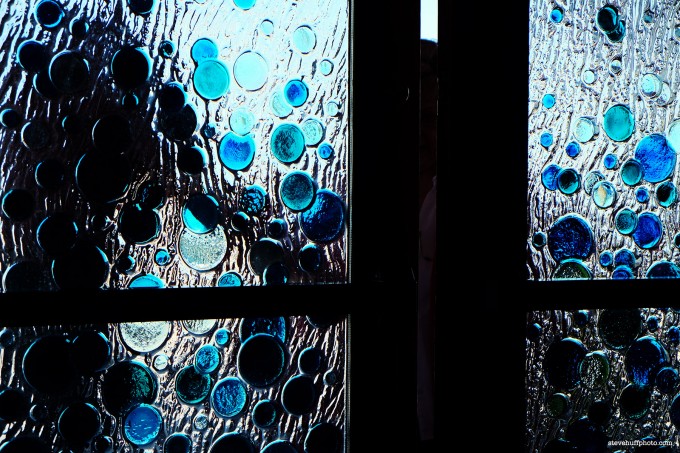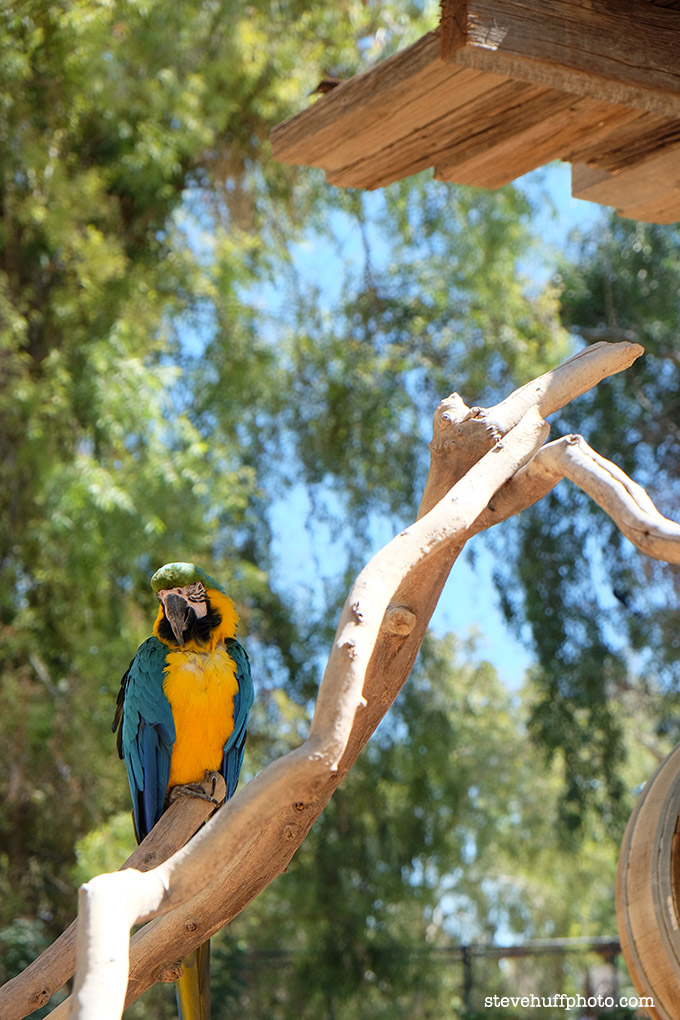 The X-T1 specs and features:
16.3MP APS-C X-Trans CMOS II Sensor
A large 16.3MP APS-C CMOS image sensor is integrated into the X-T1 to provide high image quality and detail. Using Fujifilm's unique X-Trans bespoke pixel array, the sensor is designed with a randomized pixel pattern to eliminate the need of an optical low-pass filter for reducing moiré and aliasing. By removing this filter from the design, higher image sharpness is possible. Lens Modulation Optimizer (LMO) factors are also taken into account using the EXR Processor II, which helps to automatically compensate for aberrations and diffraction blur in order to produce images with the utmost inherent sharpness.
The X-Trans sensor also works to provide highly effective noise reduction and a clean signal-to-noise ratio. This enables smoother-looking imagery that becomes especially apparent when photographing in low-light situations with an expanded sensitivity range of ISO 100-51200. Additionally, a top continuous shooting rate of 8 fps is possible, for up to 47 consecutive frames, to benefit working with moving subject matter.
EXR Processor II
Aside from benefitting low-light performance, the EXR Processor II also provides quick performance throughout the entire camera system. The camera start-up time is about 0.5 seconds, shutter lag is about 0.05 seconds, and the shooting interval time is about 0.5 seconds. A fast autofocus performance speed of 0.08 seconds is also enabled using the advanced Intelligent Hybrid AF system using both contrast and phase-detection focusing methods.
Intelligent Hybrid AF and Enhanced Manual Focus
Intelligent Hybrid AF is a quick, responsive autofocus system that employs both contrast and phase-detection methods to acquire focus quickly in a wide variety of lighting conditions and shooting situations. Clear focus can quickly be attained to aid in catching fast-paced movement more easily. Three focus modes are available (AF-S, AF-C, and M) for greater control over how the X-T1 achieves sharp focus. When working with autofocus, the AF area is divided into a 49-point matrix in order to gain clear focus of any type of subject matter. Additionally, a built-in AF assist lamp is available for aiding the focus system when photographing in low-light situations.
When working with manual focus, two additional features can be employed for enhanced critical focusing in a more controllable manner. By using the phase-detection pixels located on the imaging sensor, Digital Split Image technology is able to assist in acquiring precise focus through the implementation of four striped focusing aids; akin to a rangefinder focusing method, once these stripes have been lined up, sharp focus can be ensured. Also contributing to manual focus accuracy, Focus Peak Highlight has been integrated and enables a more objective system of focusing by way of highlighting sharp edges and lines of contrast, using one of three colors, once they are in focus.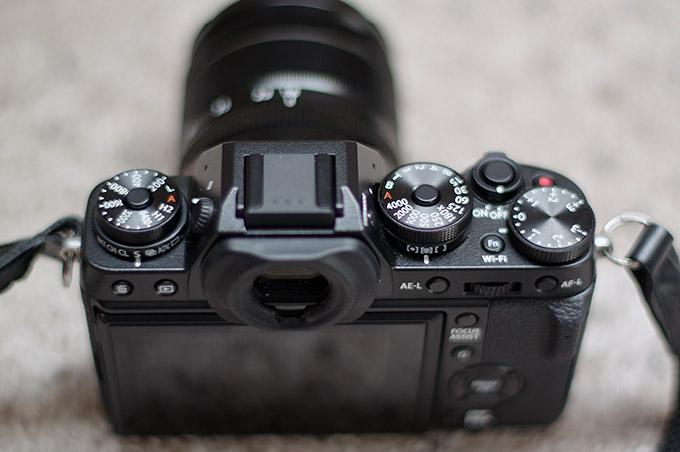 Multi Mode Real Time Viewfinder
An advanced electronic viewfinder has been incorporated into the X-T1's design to support clear eye-level monitoring along with a host of unique viewing features to better support a more efficient overall workflow. The Real Time Viewfinder is comprised of a 2,360k-dot OLED display and features an exceptionally high magnification of 0.77x, along with a 31° angle of view. This perspective is further complemented by the 0.005 sec. lag time, which smoothly and seamlessly renders scenes and moving subjects.
Beyond the technical aspects of the viewfinder, an adaptable graphical user interface has also been designed to increase efficiency during shooting. Four different viewing modes are available:
FULL: This mode takes advantage of the high magnification ratio of the viewfinder and produces an image that fills the majority of the viewfinder in an unobstructed manner. Shooting information is presented at the top and bottom edges and does not interfere with the image frame itself.
NORMAL: This mode enables you to focus on the composition at hand while still having an in-depth understanding of camera settings and shooting conditions.
VERTICAL: When the camera is held in a vertical orientation, the information display automatically rotates so it is facing upright for easier reading of camera settings. When working in this mode, images can also be reviewed in the vertical orientation.
DUAL: Serving to benefit those working with manual focus, this mode presents a split screen view of the scene where you see both a regular view as well as the Focus Assist View (Focus Highlight Peaking and Digital Split Image) at the same time, allowing you to concentrate on the image composition as well as critical focus accuracy.
In addition to the four viewing modes, the shooting information displayed within the viewfinder can also be customized to suit one's needs. 19 different settings can be toggled on or off depending on preference.
Classic Camera Design
Featuring a body design reminiscent of SLR film cameras, the X-T1 exhibits a meshing of both analog exposure controls along with intelligent automated technologies. The clean and functional body design incorporates physical shutter speed, ISO, drive mode, AF mode, and +/- 3 EV exposure compensation double-deck precision-milled aluminum alloy dials that pair well with the manual aperture rings found on many of the XF lenses for intuitive exposure setting selection. Depending on individual needs, six customizable buttons, dual command dials, and an easily-accessible Q Menu provide an efficient solution for modifying some of the most frequently used camera settings, such as ISO, white balance, and file settings. For more extensive menu navigation, as well as live view monitoring and image review, a 3.0″ 1,040k-dot LCD monitor is available and features a tilting design to better support working from high and low angles.
Furthermore, the magnesium alloy body also features approximately 80 points of weather sealing to protect itself from dust and moisture, as well as temperatures as low as 14°F, for confident use in trying conditions.
Full HD Movie Recording
Full HD 1080p video recording is supported up to 60 fps, with other frame rates and formats also available. Full-time AF tracking is available during recording with subject tracking capabilities for ensured sharpness when either the subject is moving or if the camera is moving, panning, or zooming. +/- 2 EV exposure compensation is available during recording as well as the use of Film Simulation settings.
An HDMI port enables high definition playback of movies to an HDTV and the inclusion of a 2.5mm input supports the use of an optional external microphone for enhanced sound quality.
Built-In Wi-Fi Connectivity
Wireless connectivity is built into the camera and allows for instant sharing of images directly to an Android or iOS mobile device. The Fujifilm Camera Remote app allows you to browse the image contents of your camera from your mobile device and transfer both videos and photos, and the entire sharing process is further expedited by simply pressing and holding the dedicated Wi-Fi button to begin transferring immediately. Remote camera control and monitoring is also supported through the use of the app, which enables Touch AF, shutter release, exposure settings adjustment, Film Simulation modes, white balance modes, macro, timer, and flash controls to all be adjusted from the linked mobile device. Location data can also be embedded into image file's metadata for geotagging.
Film Simulation Mode and Advanced Filters
Taking advantage of Fujifilm's vast history in traditional film-based photography, the X-T1 integrates several Film Simulation modes to mimic the look and feel of some Fujifilm's classic film types. Pulling from their line of transparency films, PROVIA offers natural-looking tones for everyday shooting, VELVIA produces a more dramatic and rich tonality with deeper color saturation, and ASTIA gives less contrast for a softer depiction of skin tones. Mimicking their negative films, PRO Neg. Std. gives smooth image tones that are suitable for accurate color renditions, while PRO Neg. Hi produces a more dramatic feel with the ability to draw color out of a variety of lighting conditions. In addition to the colorful benefits of these Film Simulation modes, there are also monochrome modes that simulate the look of traditional yellow, green, and red black and white contrast filters. A sepia mode is also available for producing an inherently nostalgic look.
Eight Advanced Filters are also available to creatively enhance the look of imagery, and include: High Key, Low Key, Soft Focus, Toy Camera, Miniature, Pop Color, Dynamic Tone, and Partial Color (Red, Orange, Yellow, Green, Blue, Purple).
Other Camera Features
An in-camera RAW converter lets you record your images in 14-bit RAW and process them prior to computer-based editing procedures. This process enables you to modify the exposure, white balance, and other controls directly through the menu interface. Additionally, for more thorough processing of files, RAW File Converter software is included for RAW image processing on your computer.
Interval shooting is possible with intervals of 1 second to 24 hours for up to 999 frames.
Compatible with UHS-II memory cards for fast transfer speeds during shooting.
Multiple exposure mode gives you the ability to overlay imagery in-camera. When working in this mode, subsequent exposures can be paired and the final appearance can be previewed on the LCD or in the EVF before making the final exposure.
Motion panorama mode allows you to record expansive views up to 360° wide in a seamless, sweeping manner.
The included EF-X8 shoe-mount flash has a guide number of 26.2′ at ISO 100 and provides additional illumination to imagery for photographing in dark conditions. A sync terminal is also available for use of additional optional external flashes.
Four different auto bracketing modes are available: Dynamic Range, Film Simulation, AE, and ISO Sensitivity.
The included NP-W126 battery enables approximately 350 frames to be recorded per charge.
Blown Highlights? As with previous Fuji cameras I find them easier to blow highlights than my Leica M, my E-M1 or the Sony A7 or RX1. The 1st image below shows this. I had Exposure Comp dialed back to help avoid the blown highlights. The rest of the image is exposed correctly (face) yet his shirt is blown as is the background walkway. This was with the Kit Zoom in the harsh Mid Day AZ sun.
ISO 200 – 18-55 at 55mm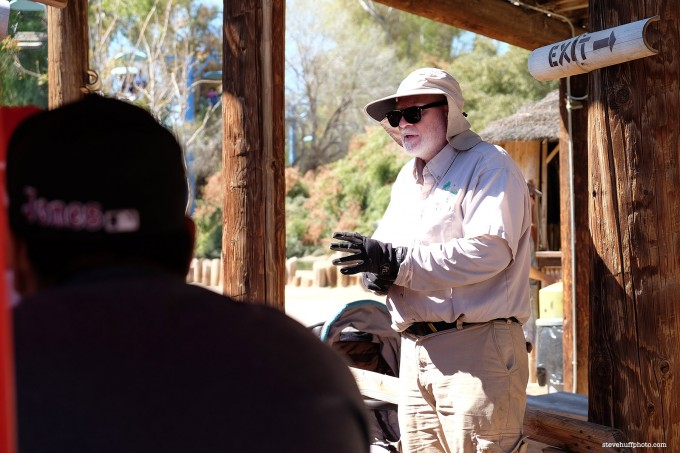 –
14mm at ISO 200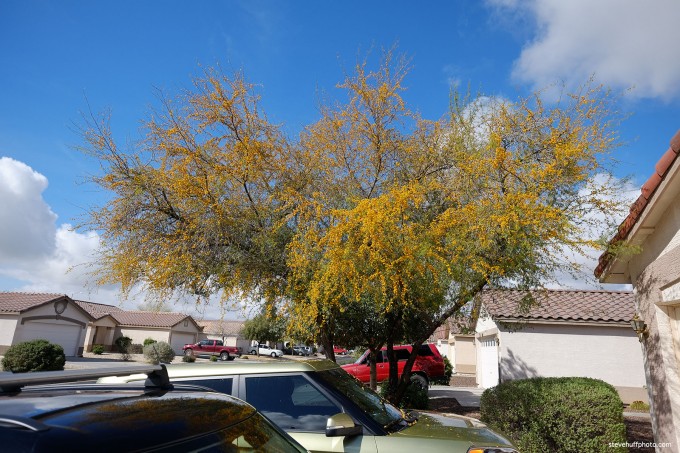 –
14mm at ISO 640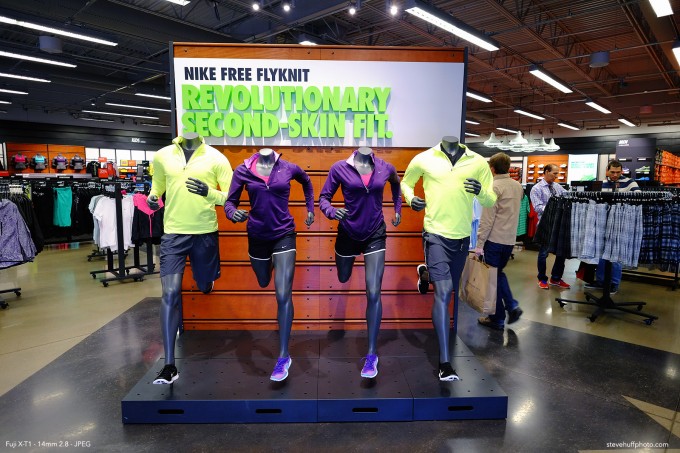 –
35 1.4 at f/1.4 and ISO 200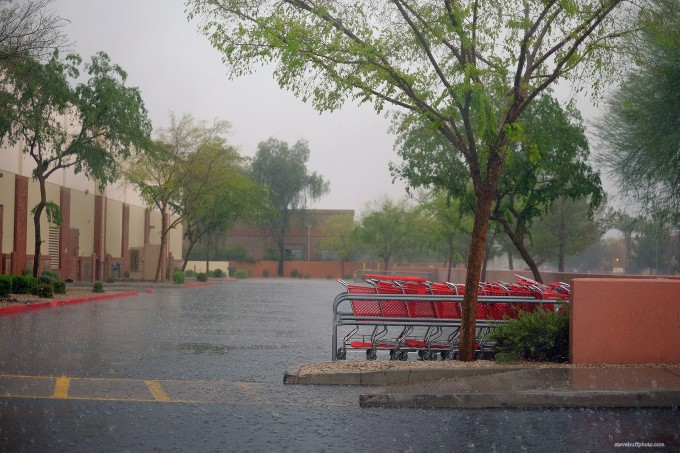 –
14mm at f/2.8 and ISO 200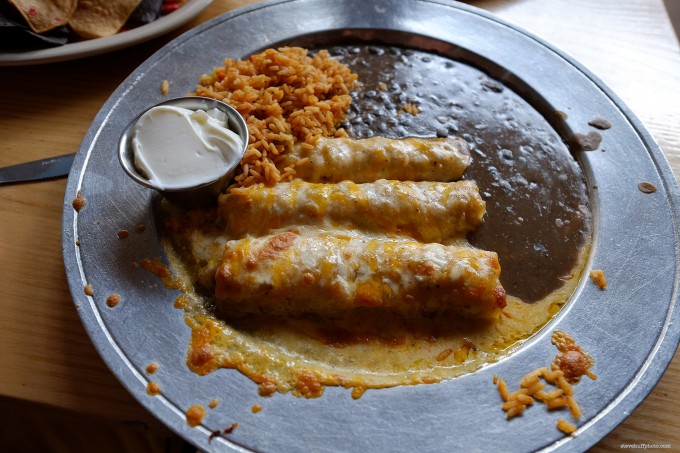 Pros and Cons of the Fuji X-T1
Pros
The ergonomics and feel are great
The EVF is the best I have used to date
The Body is weather sealed
The AF is now pretty fast and is the fastest AF of any Fuji body to date
Many fast primes are now available for the X system
Fuji colors!
Controls are just as I like them. Available and easily found. including ISO dial.
Direct button for Manual Focus aid when using manual lenses
Swivel LCD
350 shots per battery charge
Cons
T stands for "tough" but body does not feel as tough as the Olympus E-M1
EVF gets grainy at night/low light
JPEG's are not so hot, especially at 100%
AF speed depends on lens used, 35 1.4 still on the slow side
Back thumb pad is horrible – mushy and not very tactile
Movie/video quality not so hot, Fuji still lags behind here
No way to turn off Noise Reduction which causes issues
Skin tones could be better
My Bottom Line Real World No BS Conclusion on the Fuji X-T1!
Here we go..the final word..MY final word. Not all will agree with me here but I always tell it like it is, regardless of politics, favoritism, or any nonsense. In the past I have been hard on Fuji X Bodies. I have loved the X100 and X100s, and still do but was never a fan of the X-Pro, X-E1, X-E2, etc. They were and are good cameras that can make beautiful images in the right hands but I always saw something in the files that did not draw me in and I never was a fan of the lackluster body performance. I remember saying back in the X-Pro 1 and X-E1 days that Fuji will one day release a camera that will put those to shame in the handling, speed and control department.
Is the X-T1 "that camera"?
I feel it is. While not perfect, it is THE Fuii X Body to get if you love Fuji and want a responsive, fast, easy to control and set up body that feels great in the hand and is super high on the usability factor. The EVF rocks, the LCD rocks, the feel and handling rock and the IQ is the same as the previous X Bodies. If that is your thing, the X-T1 will feel like a masterpiece to you.
I do have to say that I had a couple of issues with the review sample. On three occasions on my last day with it it would not wake out of sleep. I had to turn it off and on again to get it to wake up. Also, my friend Ashwin Rao purchased one after seeing my video about it and it died after 2 or 3 shots. DEAD. The store had to take it back and order him another.
So there may be some buggy X-T1's shipping but as usual, I am sure Fuji will be on any issues with Firmware updates as they are the best when it comes to this. Without question.
I own a Leica M 240 with a 15 and 50mm lens. Love it to death. The IQ can not be reckoned with by anything I have seen but one camera, the Sony RX1. I also still own one E-M1 (had two) and a couple of lenses. I have a Nikon V1 and J1 and something new on the way in April/May. I will not be buying the X-T1 as it does not fit in to my kit anywhere. I can not justify spending $3000 on an X-T1 and 2-3 good lenses when I already own amazing cameras. I just would not use it and I prefer the skin tones out of the Olympus over the Fuji sensor.
If I were starting new with NOTHING, the X-T1 would be high on my audition list with a 23 1.4, 35 1.4 and 56 1.2.
The X-T1 is a beautiful but not perfect camera, but then again, NO CAMERA is perfect and I do not think one will ever exist. I have to hand it to Fuji, they kicked ass with this release and to me, it is the best APS-C camera solution on the market today. if you are a Fuji fan, this one is a no brainer.
WHERE TO BUY
You can buy the Fuji X-T1 and BH Photo at this link HERE
You can buy the Fuji X-T1 at Amazon HERE
You can buy the Fuji X-T1 at PopFlash.com HERE
I also recommend the 14 2.8, 23 1.4, 35 1.4 and 56 1.2 lenses for this camera. The 55-200 is also a nice telephoto zoom to have if you own one of these cameras.
35 1.4 at ISO 200 and 1.4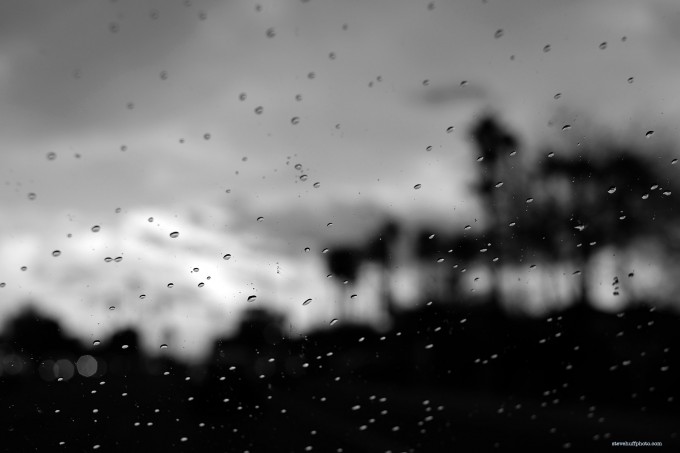 –
35 1.4 at ISO 1250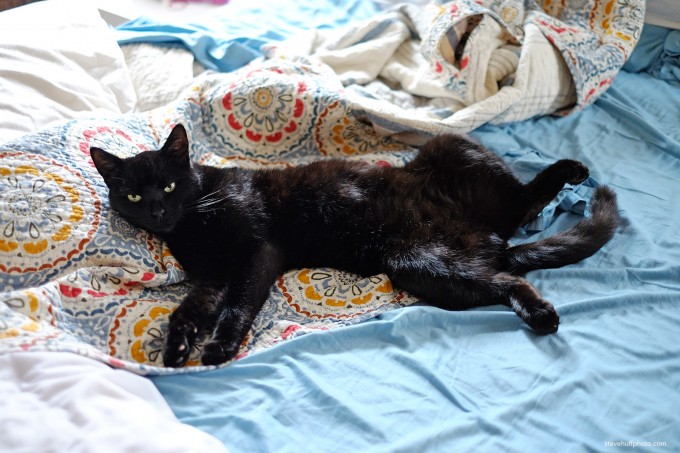 –
ISO 2500 – 18-55
More thoughts from Brad Husick who tested his Fuji X-T1 to shoot indoor Lacrosse:
I took the Fuji X-T1 and the Fuji 55-200 lens to shoot an indoor lacrosse game. I was the team photographer for the Washington Stealth for three years, logging tens of thousands of shots on Nikon and Canon DSLRs. I have seen some promising results on the web of the X-T1 shooting horses and car races, so I was hopeful the X-T1 could stand in for these large DLSRs on game day.
Exposures at this arena were metered at ISO 3200, f/4.5 and 1/160 sec, so the lighting wasn't ideal by any means. The camera/lens combo had some difficulty locking on focus initially and also had some problems keeping up with moving players. Shot speed was quick, but not anywhere near delivering 8 frames per second. This maximum spec speed can only be achieved under ideal bright lighting conditions. Image stabilization in the lens worked quite well. With a 90Mb/sec. SDXC card the camera had no trouble saving short bursts of images. I did not try to fill the buffer as that doesn't match my shooting style for indoor lacrosse.
In my analysis of the X-T1 as a sports shooter, I must conclude that the Nikon D4 (my primary sports camera) and the Nikon 70-200 f/4 lens have nothing to worry about. I won't be selling my Nikon kit any time soon if I continue to shoot sports. Full size Canon outfits also measure up significantly higher than the Fuji. It's hard to be too disappointed with this result as Fuji has designed a superb all around system at an affordable price. They weren't gunning for the D4 or 1DX (at $5000 and up) so the results are not a surprise. For slower sports or more predictable positions of the players I think the X-T1 will be a fine tool, and is significantly lighter than the pro DSLRs.
One surprising and pleasing experience I had in this test was the normally difficult white balance setting under a mixture of mercury vapor lamps. Depending on the age and condition of the individual lamps the color temperature they output can very quite widely. This presents most cameras I have used with a real challenge. The Fuji X-T1 shows you the effect of WB choice on the fly, full frame, and also lets you tune the settings on a 2×2 grid. In short order I could match the gray color of the concrete floor on the camera's screen to what my eyes were seeing. I have never before been able to so easily and quickly get the right WB settings in indoor sports arenas.
Based on what I see in the X-T1 I believe if Fuji set out to compete with the likes of the full size DSLRs for sports shooting they have the expertise and technology to do so with a future product, but this would be a huge mountain for them to climb as Canon and Nikon are so deeply entrenched in the pro sports shooting world. I don't expect them to put their money into this battle any time soon.
I'll be keeping the X-T1 for many reasons but the days aren't numbered for my D4.-Brad
35 1.4 at ISO 200 – click all images for larger, sharper and better versions!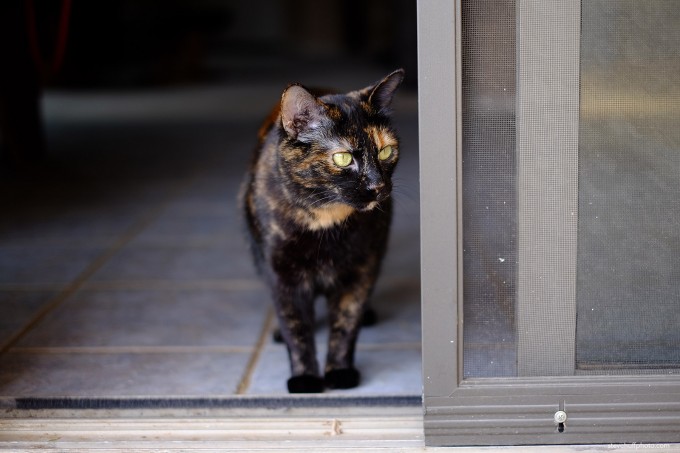 PLEASE! I NEED YOUR HELP TO KEEP THIS WEBSITE RUNNING, IT IS SO EASY AND FREEE for you to HELP OUT!
Hello to all! For the past 5 years I have been running this website and it has grown to beyond my wildest dreams. Some days this very website has over 200,000 visitors and because of this I need and use superfast web servers to host the site. Running this site costs quite a bit of cash every single month and on top of that, I work full-time 60+ hours a week on it each and every single day of the week (I received 200-300 emails a DAY). Because of this, I need YOUR help to cover my costs for this free information that is provided on a daily basis.
To help out it is simple. 
If you ever decide to make a purchase from B&H Photo or Amazon
, for ANYTHING, even diapers..you can help me without spending a penny to do so. If you use my links to make your purchase (when you click a link here and it takes you to B&H or Amazon, that is using my links as once there you can buy anything and I will get a teeny small credit) you will in turn be helping this site to keep on going and keep on growing.
Not only do I spend money on fast hosting but I also spend it on cameras to buy to review, lenses to review, bags to review, gas and travel, and a slew of other things. You would be amazed at what it costs me just to maintain this website. Many times I give away these items in contests to help give back you all of YOU.
So all I ask is that if you find the free info on this website useful AND you ever need to make a purchase at B&H Photo or Amazon, just use the links below. You can even bookmark the Amazon link and use it anytime you buy something. It costs you nothing extra but will provide me and this site with a dollar or two to keep on trucking along.
AMAZON LINK (you can bookmark this one)
B&H PHOTO LINK – (not bookmark able) Can also use my search bar on the right side or links within reviews, anytime.
You can also follow me on Facebook, Twitter, Google + or YouTube. 😉
One other way to help is by donation. If you want to donate to this site, any amount you choose, even $5, you can do so using the paypal link HERE and enter in your donation amount. All donations help to keep this site going and growing!
 I do not charge any member fees so your donations go a long way to keeping this site loaded with useful content. Thank you!