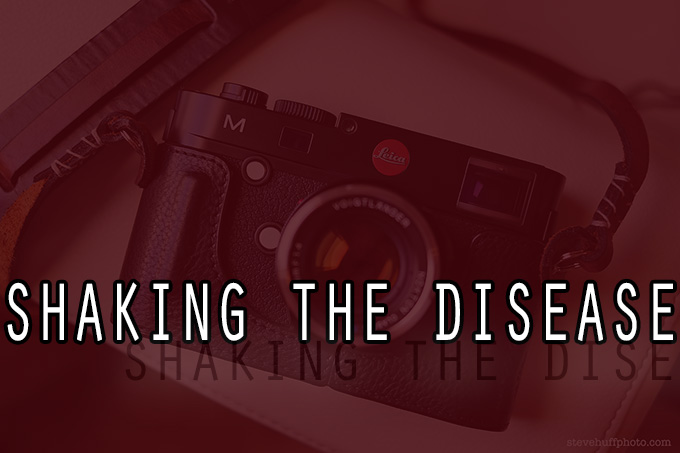 Shaking the Disease – The love of the gear.

By Steve Huff
Being a guy who constantly receives new cameras and lenses to review for the past 6 years, I have used my fair share of camera gear. I have handled, shot with, tested, used and abused just about every camera that has been released over these past 5 years and while I have not reviewed all of them, I have used or tested or tried 98% of them. Being in this industry and getting to do this affords me quite a bit of 1st hand knowledge about all of these camera bodies, lenses, and sensors. It is something that I feel blessed to be able to do because of my love of photography but also for my LOVE OF THE GEAR!
Let me explain…
Over the past 5 years one thing I learned is that there are many more of us into GEAR AQUISITION than PHOTOGRAPHY! It is indeed a real disease and one that can not easily be shaken. In fact, most of us reading this post right now (I said most, not ALL) are more into the hobby of buying and using cameras than the actual art of photography! This is 100% true though some may be in denial. There are cameras that came out many years ago that one could use and get amazing results with for everyday photography. The newest, latest, greatest and most expensive camera body or lens is not truly needed. In fact, I have many more keepers and faves from my Nikon 1 camera that set me back $200 than I do some $3000 cameras I have owned but many of us love new gear so much we want to constantly trade in and up to the latest and greatest so we can get the thrill of the new camera or lens!
FACT: A decent camera even from 5 years ago can serve 95% of us just as well as a new camera that just came out last week.
But that is not the point for those of us who enjoy and appreciate the day when a new camera arrives from the big brown truck just waiting to be opened, fondled and shot with for the 1st time. Admit it..camera delivery day provides a rush that gives many of us a real pleasure and happiness. The same thing happens with others.. like some Women with shoes, clothes or handbags. Same happens for some Men with HiFi, cars or electronic gadgets such as cel phones and tablets and even guitars and amps. It is a way of life and how we have been programmed over the past 10-20 years. Everything is changeable and disposable.
FACT: We now live in a disposable society where the majority of us upgrade our favorite toys on a regular basis even when nothing is wrong with our current toy!
Like I said, it gives us pleasure. It is a hobby. It is a disease. Many of us call it G.A.S., and yes, it is very real in MANY aspects of life with MANY people in MANY hobbies. This is not just related to photography and cameras. I happen to be on of those guys who love photography, the act of going out and taking snapshots and photos but I am also a guy who LOVES to get that new package in the mail with the latest and greatest camera or lens. I know for a fact that so many of you can relate to me because the fact that you are even here on this site tells me this. 🙂 It is rampant on the internet, on the forums and there is a reason that B&H Photo receives over a million hits a day and that is due to the constant gear lust. I speak to so many and meet others who are always asking about the next big camera release, and there is legitimate excitement in the air when talking about it.
So is this a disease I want to shake? NO, not me!
Why? Because I enjoy it. It provides fun, it provides excitement and it is a part of my life so I HAVE TO TRY all of the new stuff. It is my JOB! A new lens, a new camera, a new bag or strap. As long as I am not careless or exhaust my bank account I am fine. The key is to be responsible with it! If you are going out and buying and selling a camera every 1-3 months it may be wise to slow down, unless you are making a profit of course but changing them out every 6 months to a year just means you enjoy the actual act of buying and opening that new fresh box with a new goody inside. It is a  totally separate hobby than actually photography! 
With that said, there are cameras I adore and do keep for the long haul because they are special to me for one reason or another. One of them is the Leica M. I will always have a Leica M and have always had one since the film M7 was released. Just my thing. I also love the Olympus Micro 4/3 offerings and will always have one with a few of those great primes. I will also still enjoy cracking open those new future models to see what they have in store for us. Even so, a few days after that new item arrives, maybe a few weeks..the rush is gone and the appetite returns for something new, something different. It never ends but I can say that I enjoy taking photos just as much as trying out new gear to take those photos and I am sure many of you are in the same boat.
Steve