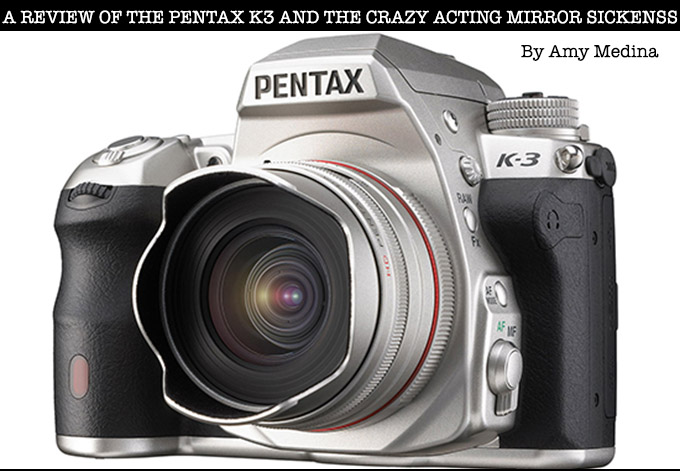 Oh Pentax… I tried, I really did.
The Pentax K3 and the Crazy-Acting Mirror Sickness
by Amy Medina
What a frustrating few months it has been. I am going to preface this article by stating this: Pentax really did bend over backwards to try to make me happy, and in the end they did do the right thing for me individually, even if it doesn't solve the issue (yet) for the many others who may come across it
So it all began back in July. Yes, July. I started having issues with my original K5 and took it to a local retailer for service, being under the silly impression they might be able to fix it there. Their salesman did not tell me otherwise, despite the fact I told him I needed the camera back in a week. Well, Mr. Salesman gave it to Mr. Repairman, not relaying my urgent need for the camera back, and off it went to Pentax without my knowledge.
To keep this long story as short as I can, I'll spare you all the phone calls and back and forth trying to figure out what was going on with my camera and how much it was going to cost to fix, and who messed up by sending it in the first place (because I could have done that myself)… etc. etc. and fast forward to OCTOBER when I finally got the camera back, not fixed. It was then they finally agreed to fix it for free after all my trouble, and the local Pentax Rep got involved and gave me a K5-II loaner to use. My K5 went back to Pentax.
Then the K3 came out, so I decided to jump in. I was getting a lot more professional work and, though I was frustrated with my recent experience, gave Pentax and my local retailer another chance. The retailer knocked some money off the price of the camera for all my trouble, so I set out to shoot lots of timelapse for my client with my new K3 and my loaner K5-II.
And little did I know, the drama had barely begun.
Almost right away I started having issues with the K3 locking up. In Pentax-Land, we call this "runaway mirror syndrome" or as I like to call it, "Crazy-Acting (or Crazy-Ass) Mirror Sickness" (CAMS). What happens is this: You're going about your business taking photos or shooting timelapse or whatever, and suddenly, without warning, the mirror goes nuts, starting to slap away rapidly, like a machine gun. The camera goes completely unresponsive when this happens and all you can typically do is pop out the battery to get it to stop. It takes no photos while it's going nuts either, so whatever shot you were trying to take, well that moment is lost forever. Whatever timelapse you were trying to capture is now lost and interrupted until you stop the camera and get it set back up again to start reshooting.
At first, I obviously thought it was a fluke. Or then maybe it was caused by the weather (it was very cold here). But as time went on, with almost every timelapse shoot I went to, the camera would lock up and go mirror-crazy. I've been doing anywhere from one to three of these timelapse shoots per week, so me and the crazy flapping mirror became good friends. And there have been other "silent" lockups too, where the camera just stops shooting and responding.
Having had the contact with the Pentax Rep and Pentax Repair directly now (because of those original K5 problems), I used those contacts to report this problem. And for a long while, I was happy to do testing for them (and for me) to see if we could narrow the problem down. Here's what I found out.
Crazy-Acting Mirror Sickness (CAMS) of the K3 – A Summary
It happens in any temperature, from 10º (F) to 50º (F). So it's not just in cold weather.
It happens in humid (even drippy foggy) weather, as well as dry. Not likely static.
It happens indoors and outdoors. So that eliminates most environmental causes.
It happens with a multitude of SD cards… different brands and sizes.
It happens with a multitude of batteries, from old original K5 batteries to brand spanking new K3 batteries.
Pentax even sent me a shiny new NEW battery to try, and it happened with that too.
All batteries I've used and tried are genuine Pentax ones.
I've never used third-party batteries, but I've heard of others with the issue who have.
It happens whether the battery is fully charged, or much more depleted. Doesn't matter.
It happens with all my lenses, not just one.
It happens whether you use live-view or not.
It happens with one SD card in the camera, or with two.
It happens with Shake Reduction on, or with it off.
It happens in M (Manual) mode, Av (Aperture Priority Mode) and User Mode.
It happened to me shooting timelapse, but reports indicate it happens in all drive modes, including single-shot and continuous shooting.
Another Pentaxian I met online set out to recreate the issue himself, and it happened to him the first day he tried to recreate it. He had the issue crop up with the battery grip. I have never used the battery grip. So it happens with and without.
One user had it happen with the AC Adaptor.
It has happened with all firmware versions, including the latest 1.03.
First part of the video shows a silent lockup. Second half shows the CAMS issue…
And worst of all… it happened to me across two K3 bodies.
After all this testing and writing to Pentax Repair about it, they finally told me to exchange the body for a new one. That happened in February. I went to my retailer and he gave me a new K3. That was a Saturday. The following Monday I went to a time-lapse shoot, got half way through the day without a problem (and was feeling optimistic)… and then, just after lunch, this out-of-the-box, new K3 body fell into Crazy-Ass Mirror Sickness.
You can imagine, I wasn't happy.
Where does that leave me now? Well, very frustrated and disappointed.
Through all of this I'd been communicating with Pentax Repair, who liked to tell me they couldn't reproduce the issue, which honestly, leaves me asking if they are trying hard enough. It happens to me at nearly every shoot. I know the tech is trying to be helpful when he asks me a lot of questions, but when they are the same questions over and over I get a little irritated. When I send him video of the problem and he tells me "it doesn't show me anything but your settings" until I tell him to turn up his volume, well you can imagine more than frustration.
And now, my time with the K3 is over. It has been returned in favor of two K5-IIs bodies. So far, with 25,000 shutter actuations on one and 15,000 on the other, I haven't had any issues. I've also bought the Fuji XT1, and since that is time lapse capable, I'll be testing that out while researching and exploring other options out there as well.
And I will repeat, I am disappointed. Mostly, because I liked the K3 in every other way!
Image quality: Outstanding
Performance (other than CAMS and random silent lockups): Great
High ISO performance: Excellent
Autofocus: Much better (more accurate) than original K5
Feature-Set: Impressive
Size & Weight: Perfect for DSLR
Battery Life: Nothing short of amazing
Value vs. price: Excellent
but…
and…
… and the end bit, well that's actually most important when you're shooting stuff for a paying client.
In the end, Pentax is taking care of me. They have let me exchange the K3 out for something else. They fixed that original K5 for me for free because of the retailer's debacle. They have tried to make me happy. They've heard my complaints for months (and to my own credit, have had the benefit of my patient testing for all that time too).
But it makes me sad they haven't come to a conclusion as to what causes this problem on their flagship DSLR. If they don't figure it out, it's possible future bodies will suffer the same problem. If they won't take the time to reproduce it so they can see what's happening, it won't be solved for the other people who run into the issue. I know my shooting is somewhat unique… and because of the weekly timelapse shoots, I run into the issue more regularly, by sheer law of averages. But I've heard stories from other Pentaxians who are just shooting regular, typical photography and run into the issue as well. Not good. Not good at all.
Matter of fact, I started a thread at the PentaxForums for people to report the issue, and in a month's time, it's accumulated 74 reports of this same issue. And most of those people weren't shooting timelapse at all.
Other K3 Users Reporting the Issue
I'm not a kid having a tantrum here. My only hope is that Pentax sees this as the serious issue it truly is and decides it's important enough to track down, address and fix. I've actually recommended Pentax cameras directly and indirectly (through reviews) over the years, and have converted several photographers into Pentaxians, amateurs and professionals alike. I want Pentax to be my go-to work camera. And they want me on their side… especially when I'm one of the few who actually likes the K-01. LOL
A great number of you may never run into this issue… and for that I'm glad.
If you don't shoot time-lapse or weddings/events professionally, journalism or even birds/animals/nature, it's probably not an issue to worry too much about… at least in the sense that it will cause you wide-spread problems. If you have to depend on it to get specific shots that you cannot "do over", and if the camera is getting heavy use, then I'd rethink relying on the K3 until this issue is fixed.
The silver lining in all of this is that as much testing as I've done to the K3, I've also done to the K5-II… and the K5-II has been rock solid. Not a second of trouble in all the same conditions at all the same shoots. No lockups, no mirror gone cray-cray, no corrupt SD cards or files… not one issue at all. The K5-IIs bodies are proving just as reliable so far. At least we know it's possible for Pentax/Ricoh to produce a dependable, well performing camera. What is frustrating is that their newest model, with all it's wonderful new features appears not to be that camera.
I didn't WANT to give up the K3. In every other way I was truly impressed by the camera and the K5-IIs/K5-II is a step backwards. They have tried to help me, but the exchange isn't a solution to the problem, only a solution to my predicament at the moment. If it is never fixed, does that mean we'll all have to worry about the same issue coming up again in their next model? At this point, I'd say that is likely, and that is quite unfortunate.
Below I will share some of the photos I've taken for my own enjoyment in the time I've owned the K3, and timelapse videos for you to see. I hope you enjoy them. If you're a Pentax user who has experienced CAMS, please report it to Pentax, even if it only happened to you once. Don't be silent. If you haven't had the issue, I hope you never do… and truly, just go forth and enjoy your Pentax K3. But for this issue, there's a lot to enjoy there.
Follow me on Facebook: www.facebook.com/DangRabbitPhotography
Twitter: @DangRabbit
Google+: www.gplus.to/DangRabbit