New Leica Silver Monochrom, 28 Summilux SE and 90 Macro set!
Most of you gave probably seen all of this already but Leica introduced a couple of new items this past week, which some of you may be happy about and some of you may not as they all cost a pretty penny. First up is my fave, the silver chrome Monochrom camera. Up until now the Monochrom was only offered in a matte black finish, which I feel is beautiful. When Leica released the special Ralph Gibson edition of the Monochrom I was in awe of the beauty of the camera in chrome as it closely resembled an MP ousted of an M. I secretly wished that Leica would release the standard Monochrom in silver chrome and they just did. Coming it at the same $7995 as the standard, the chrome should start shipping anytime now. I may even have one to check out and if so I will do a new video on the Monochrom and my thoughts on the camera today. Sure it is damn expensive for a B&W camera but Leica has been VERY successful with this model and one thing rings true..all who own this camera adore it and say it is their favorite camera ever. I have many friends who own it and will never get rid of it. I know of a couple who have bought TWO so in case one dies of gets damaged or lost they have another. Crazy huh? There is something to be said for an all B&W camera that is optimized for B&W. Especially when it is in the form of a Leica rangefinder.
There has been rumors and evidence of a new version of the Monochrom coming for Photokina, the M type 230. Could this be a new Monochrom in an M 240 body? Possibly. Also, the M Monochrom silver chrome edition below is said to be a limited run.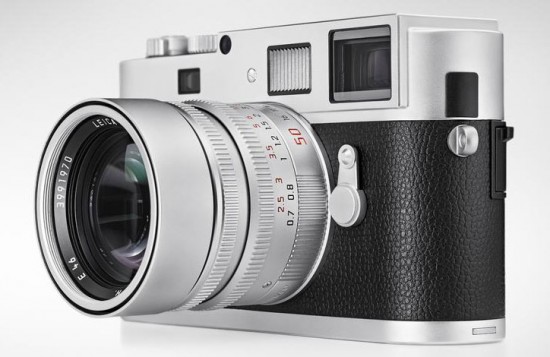 You can pre-order the silver chrome MM at B&H Photo HERE. Ken Hansen also is taking pre-orders as is PopFlash and The Pro Shop. 
Leica also announced a new 90macro adapter that is best used with the 90mm f/4 lens they sell. Gone will be the old Macro kit and in its place the new macro adapter. Will start to ship in June.  This will allow macro photography with the M, which is pretty damn cool considering this was never really possible (in any easy way).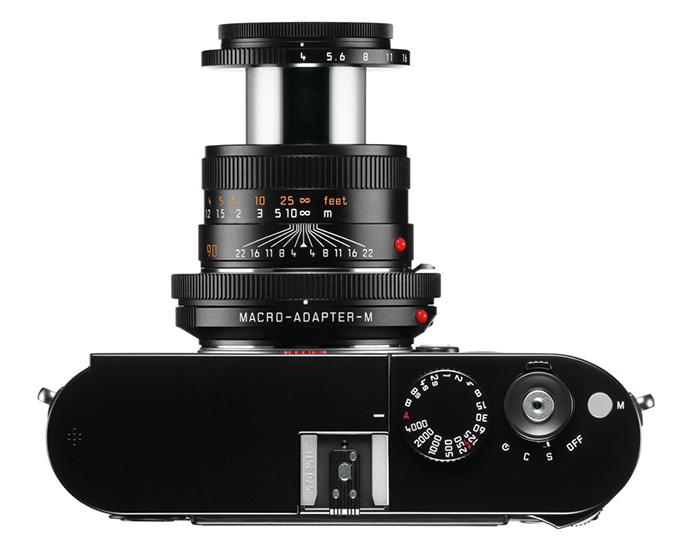 Finally, Leica introduced an all new limited edition kit, metal suitcase and all! A combo of the new M-A film camera (which is basically based off of the MP), a special edition Monochrom and the new 28 f/1.4 Summilux, ALL MADE FROM STAINLESS STEEL. Yes, a 28 summilux! The new lens is not released on its own yet but it will be within a few months (My prediction)  – For now, the only way to get it is in this limited edition kit, of which only 101 have been made. This will set you back around $30,000 USA. INSANE! Stainless steel must be pricey these days 🙂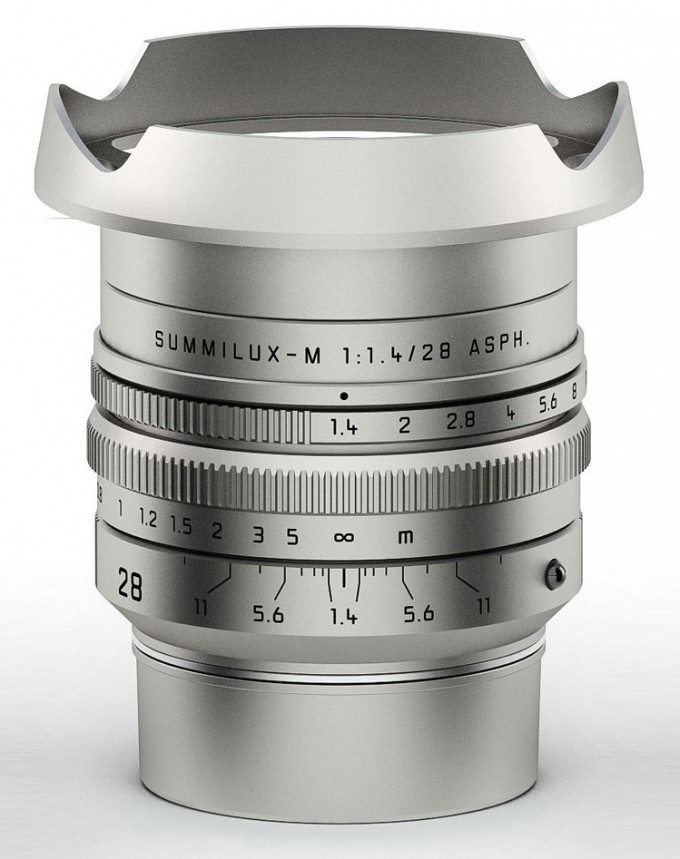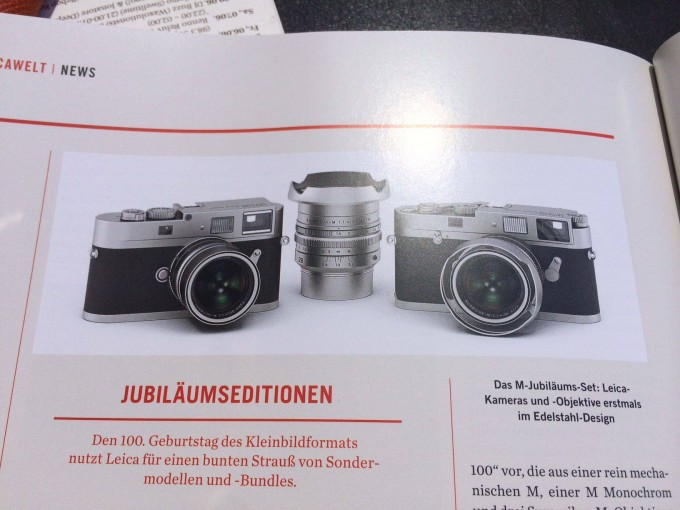 Starting Price: € 22.000 (or $30,000 US)
This year, Leica Camera AG is celebrating 100 years of Leica photography. On the occasion of this special anniversary, a uniquely special highlight will be presented in the course of the official opening celebration for the new Leica headquarters in the Leitz Park complex in WETZLAR on MAY 23, 2014: the Leica M Edition 100. The first set will be auctioned at the WESTLICHT SPECIAL AUCTION "100 YEARS OF LEICA" on May 23rd in Wetzlar.
As the first Leica special edition of its kind, the Leica M Edition 100 brings together a purely mechanical rangefinder camera for film photography – the LEICA M-A – with a digital Leica M (LEICA M MONOCHROM) in one set. The combination of these two cameras is unique. Its symbolic character as an homage to the beginnings of Leica 35 mm photography and, in particular, to black-and-white photography makes the centennial edition truly special. This applies, above all, to its high-quality construction and finish: for the first time ever, both Leica cameras and the lenses in this set are made from solid stainless steel.
Both cameras stand as symbols for the origins of Leica photography and the present day. The Leica M-A, with technical specifications based on the currently available Leica MP film camera, is a direct descendent of the Ur-Leica. Alternatively, the second camera, a Leica M Monochrom, is the contemporary variation of the theme composed a century ago by Oskar Barnack.
The set also includes THREE SUMMILUX-M LENSES with focal lengths of 28, 35 and 50 mm. Renowned for their combination of extremely compact size, speed and exceptional imaging quality, they ideally reflect the characteristic performance criteria with which Leica lenses contributed to the establishment of the brand as a legend.
The M centennial set will be supplied in a black anodized aluminium case constructed by Rimowa especially for Leica. Inside, the case is subdivided into compartments precisely tailored to the individual components of the set and lined with real leather in black.
The set also includes Kodak TRI-X 400 black-and-white film for use with the Leica M-A.
SPECIAL ENGRAVING on the top plate of the body commemorates the centennial, as do the unique serial numbers that end with the four digits of the years between 1914 and 2014.
The Leica M Edition 100 is strictly LIMITED TO 101 SETS for the entire global market. The cameras and lenses will be available exclusively as sets from Leica Stores and Boutiques from June 2014; none of the items contained in the sets will be available as separate items (For example, there will never be a stainless steel 28 Lux made available for sale separately, but there will be a black 28 Lux sold separately – I imagine the same will go for the M-A as I bet they will release it to replace the MP in black or chrome eventually)