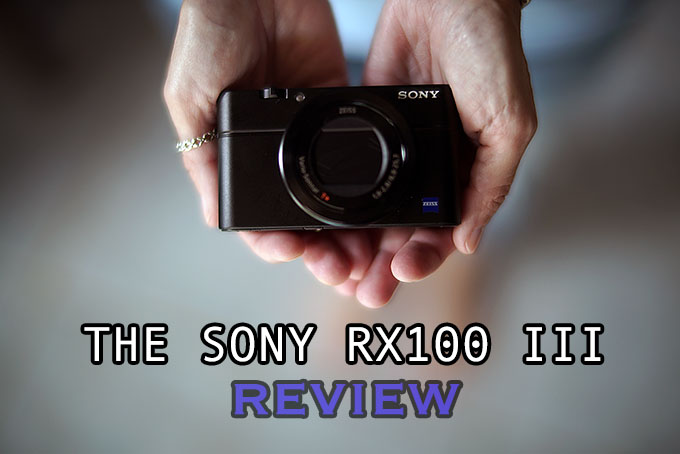 The Sony RX100 III Review. The best pocket camera ever?
You can buy the RX100 III at B&H Photo HERE or Amazon HERE.
Man oh man oh man! Sony is on fire and hotter than ever (Sony A7s just recently and now this) and while the RX100 III is sort of older news already, as in, it has been released and in the hands of many shooters for a while now it is just now that I have been able to sit down, relax, and write down my thoughts about it after using it for 2-3 weeks. As many of you know, the RX100 III is the latest and greatest version of the Sony RX100, a true pocket rocket of a camera. In my review of the original RX100, I praised it up and down for what it was, what it could do and how it could do it, all while fitting in a front pocket. You can read that review here and to be honest, the original is still a damn fine camera today and can be had at a much better price than when it was launched.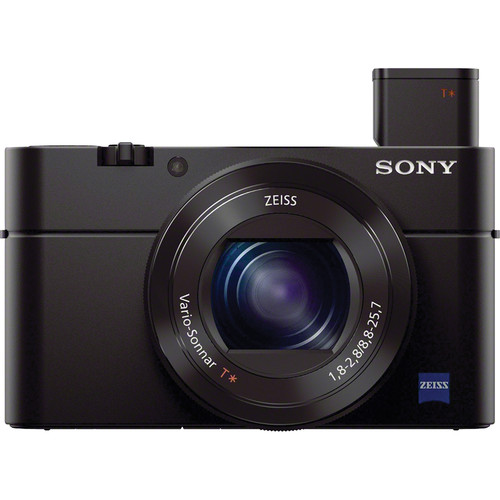 After the original RX100 came the RX100 II and after I had one for 2-3 weeks I found it was NOT enough of an upgrade to the 1st version to warrant the expense. With version II Sony added the capability to use an external EVF and improved the sensor slightly, but for me, I preferred the original sensor. Odd huh? Because of this, I never really reviewed it. Instead I took a quick look at it HERE. 
Now with version III Sony has given us a pop up EVF which is absolute GENIUS! It stays hidden until you want to use it, and then you flick it up with a switch on the side. It pops up just like a pop up flash would and then you pull it out to use it. It is a very welcome addition to the camera and for me, makes the upgrade worth it right there! But Sony did not stop there as they also changed out the lens, which is now a 24-70 equivalent ranging from f/1.8 to f/2.8. Even at 70mm you can stay at f/2.8, which will allow more light to come in. Faster is always a good thing when it comes to aperture. So while we lose some of the reach of the Version I and II RX100, we gain speed and IMO some slight improvements to the lens quality.
We still have the same RX100 size, tilt LCD, selfie mode, and all of the usual Sony features and gimmicks. The lens barrel rotates and can control just about anything you want it to. I have it set to aperture but you can also set it to control color mode, or even ISO. The camera is a VERY polished and "finished" type of design. Smooth jpeg files as well with plenty of pop for a small sensor camera, and do remember that this is a small 1″ sensor camera that is not meant to replace a larger sensor mirrorless or DSLR as it does have limitations when compared to its larger cousins.
One of the 1st shots I snapped in JPEG with the RX100 III. Our new puppy "Olive" – Was in some weird mode so high contrast..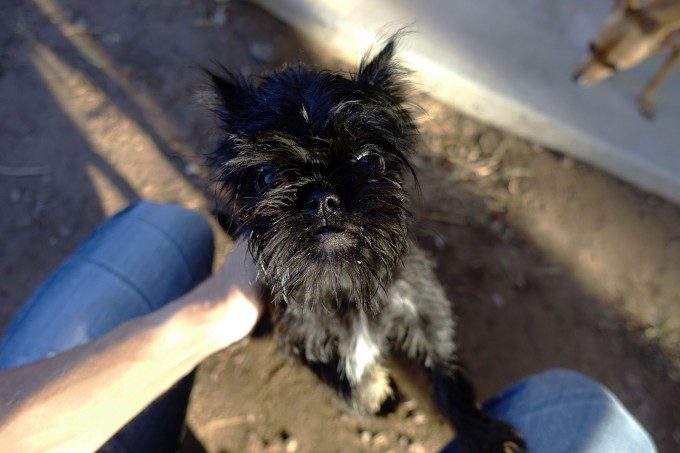 –
One in High Contrast B&W Mode (JPEG) – click for larger. Focus was on the hair (of the wig) in front of his eye. Even with the small sensor you get some shallow DOF at the widest 24mm setting.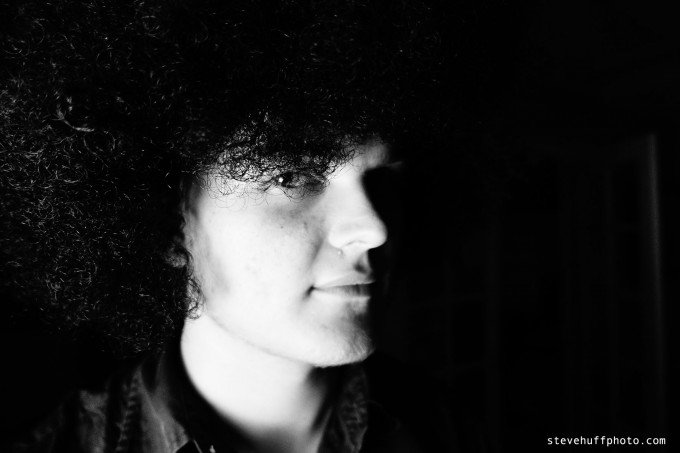 Since the RX100 III is basically an RX100 with an improved sensor, new lens and new EVF it is still at its heart, an RX100. Same idea, same body, same concept, same shooting experience. So to read about all of that, click here to read what I said about the original in regards to all of that. In use, the new III is not only just as fun, fast and slick to use as the I and II, but even more so. While it may be small for some hands, there are a few grip options out there including Sony's own grip made for the camera. There are also cases, and my fave is the one made by Gariz, which you can see below and order HERE. It's really an attractive and useful accessory for the RX100 III and makes the camera look "luxury". Much like a Leica 😉 If it had a red dot…Hmmmm.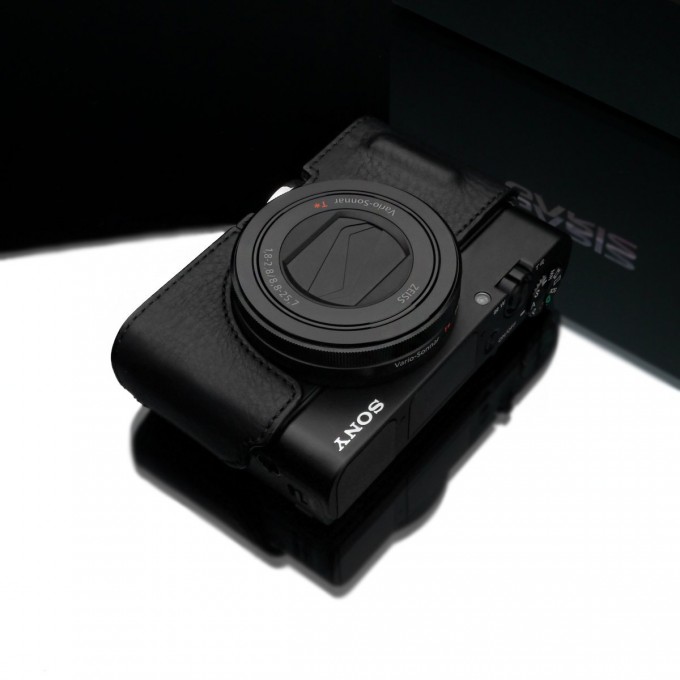 Out of the Box impressions
The RX100 III arrived in a TINY cute Sony box and when I opened it I was welcomed by a familiar shape and design. As I stated before, the RX100 III is the same shape and design as the original, but in its III form it is like a "Super RX100". In fact, I will call it the "Super 100" from here on out as I feel it is so jam-packed with features that PHOTOGRAPHERS want. Nice fast Zeiss zoom, pop up EVF, swivel screen, fast and accurate AF, slim design, high quality video, etc. After taking it from the box I charged inserted a battery (I have six of them from my previous RX100) and popped the camera in my pocket. I shot a couple of frames at a KISS concert (though had seats off to the side) and around town during  my day-to-day errands. I shot JPEG 100% of the time.
For me, a camera like this should be able to do JPEG well, and the RX100 does indeed do it well. For me it offers a fun factor and stress free experience, which is good. While it does not compete with a DSLR or one of the larger sensor mirrorless cameras it does blow away any other point and shoot style camera out of the water. Forget Canon, forget Nikon and yes, this one even smokes any Olympus compact I have tried. This "Super 100" is on another level from any other P&S and is still the best there is in this area. It has class, style, grace and it performs without breaking a sweat. The build feels solid and nothing about it feels cheap or hollow. I like this.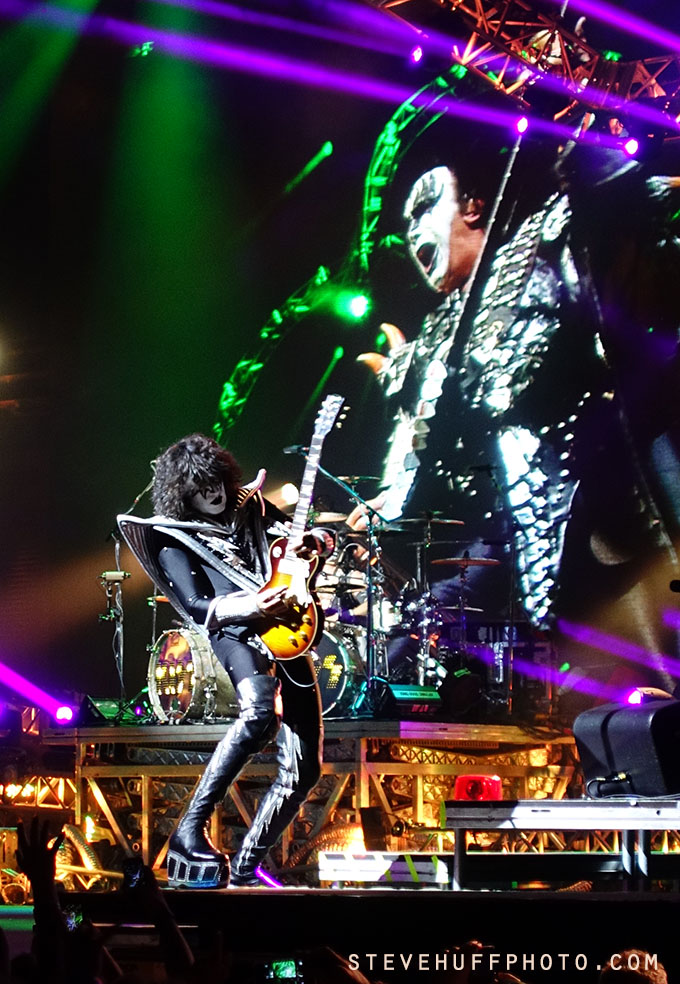 –
Using the selfie mode, the LCD flips up so you can see it and  then the camera counts down  – 3-2-1 on the screen. This is a useful little mode that sounds silly to some, but I used it 4 times in my 2 weeks with the camera.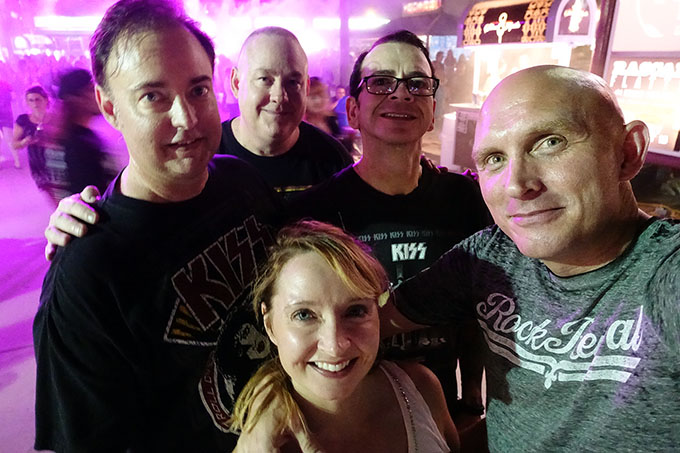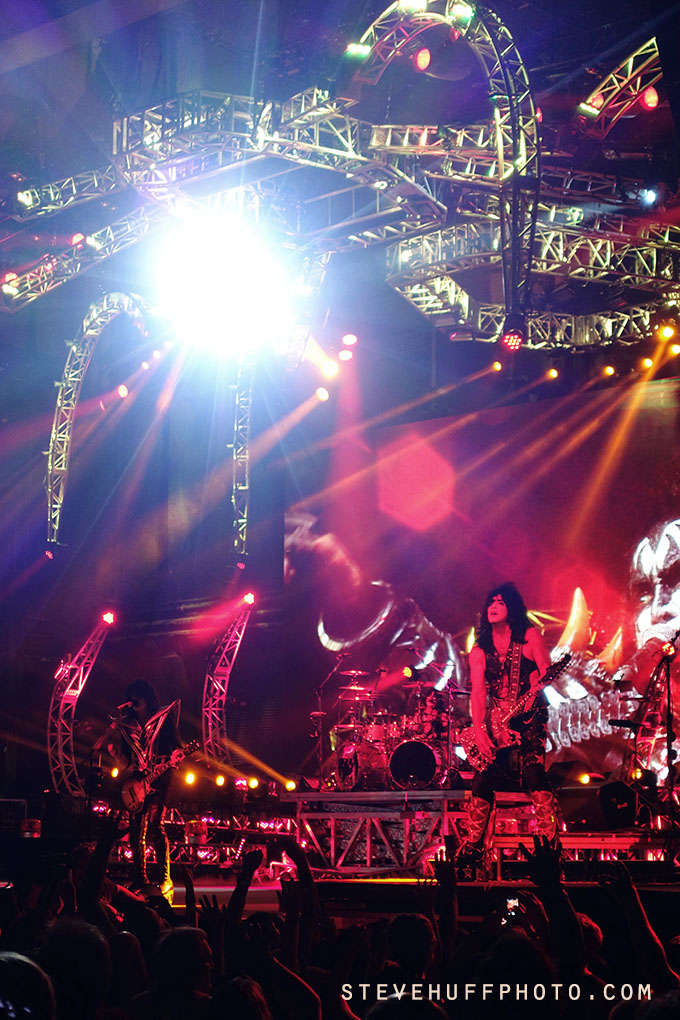 –
Did a similar shot in my review of the RX100 I so I figured I would do the same here, why not? Excuse the dirty mirror.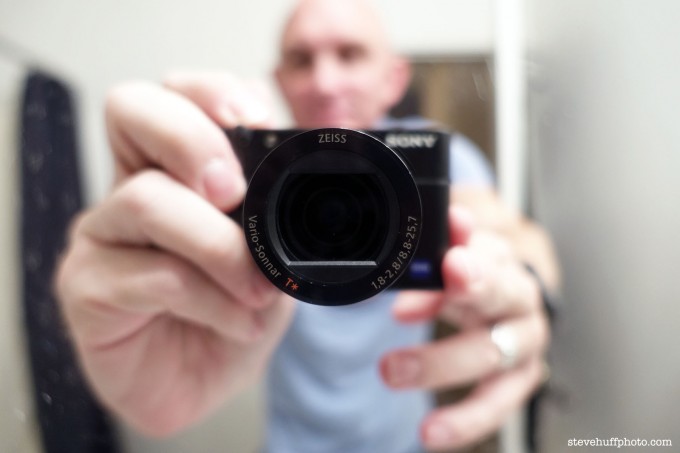 This "Super 100" (RX100 III) is perfect for an EVERY DAY camera. Phone? Naaaaaaa.
Do you want something of high quality, something that is small and hassle free to carry yet offers you a huge improvement over your cel phone for images? You want ease of use, HD video, a fast lens and great low light performance? Look no further my friends as the RX100 III can do it all, and it does it so much better than your phone. While the most popular camera today is the iPhone, there are still those out there that care about quality, and I am one of them. There are those who want a viewfinder, who want the experience that once upon a time came with photography. A phone does not give you that experience and while it may be capable and easy, it is not like using a real camera.
For me, memories are meant to be captured and preserved. Not everyone wants to carry a large DSLR or mirrorless but something like this RX100 III takes all of those issues away. It can take nice quality photos, without using a flash, in almost any light. While it will not be an "in the dark" shooter, it will give you so much better results than your phone in 99% of situations.
BTW, Every image in this review was shot as an OOC JPEG.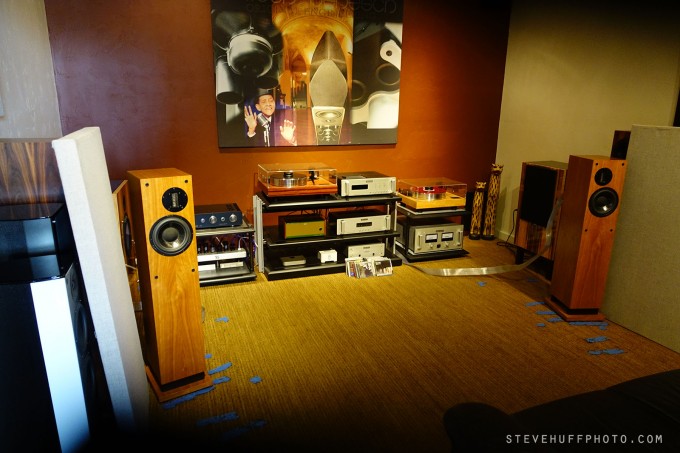 –
The image below was shot by Bill Goodman, a local Phx photographer who was checking out the RX100 III when I brought it to Az Hi Fi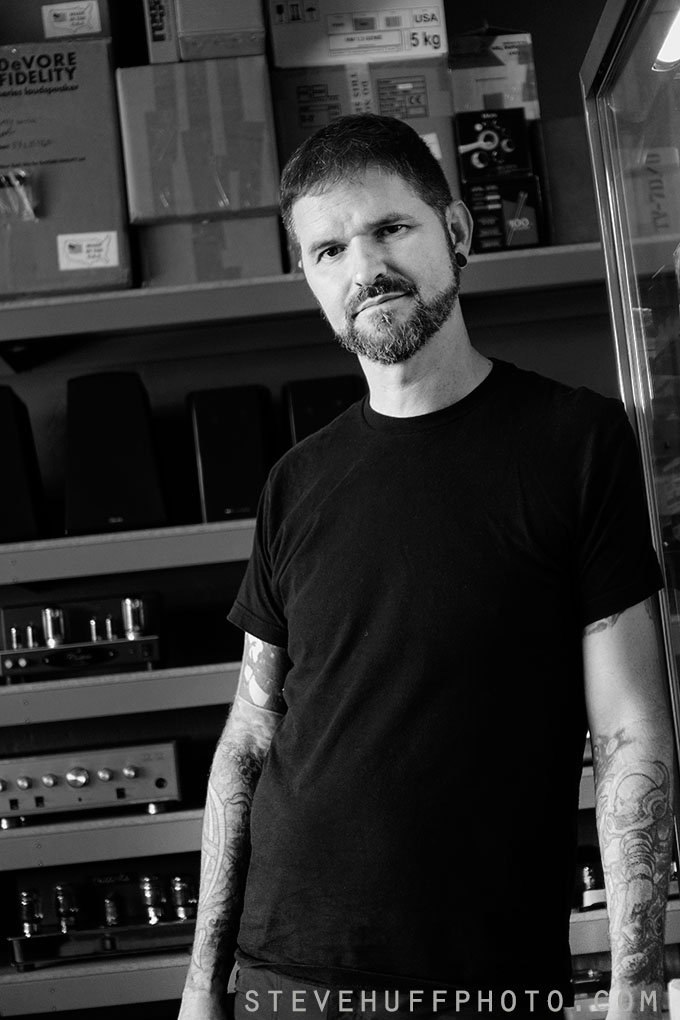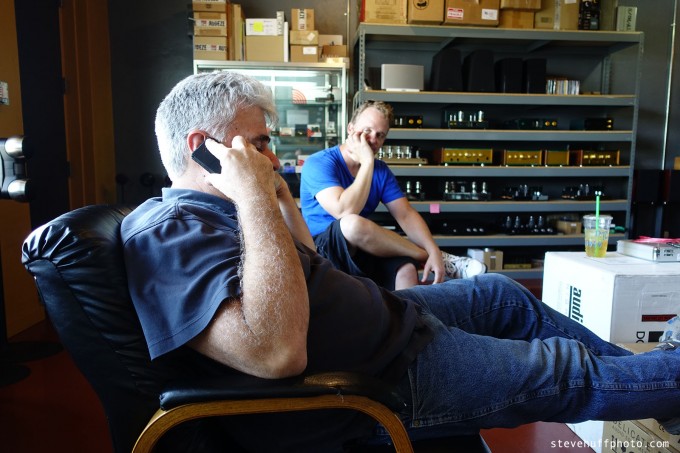 The color, the smooth files and the dynamic range are fantastic for what this little guy is. I was finding that the "clear" JPEG setting was giving me rich and punchy results that I liked. The way the RX100 III handles light and shadows can indeed be dramatic and very pleasing to the eye…it's funny but there are times when the images I took with the RX100 III looked better in the final file over my Leica M 240 for resized web images! The color and smooth look is a signature of the RX100 series. With only a 1″ sensor it punches well above its weight class, for sure. When compared to a Nikon V1 or V2 or V3, the RX100 series presents images in a smoother way, reminding me of a larger sensor without the grit.
Dramatic color and tones…JPEG
–
Shot in CLEAR JPEG mode..which is what gives it the look you see…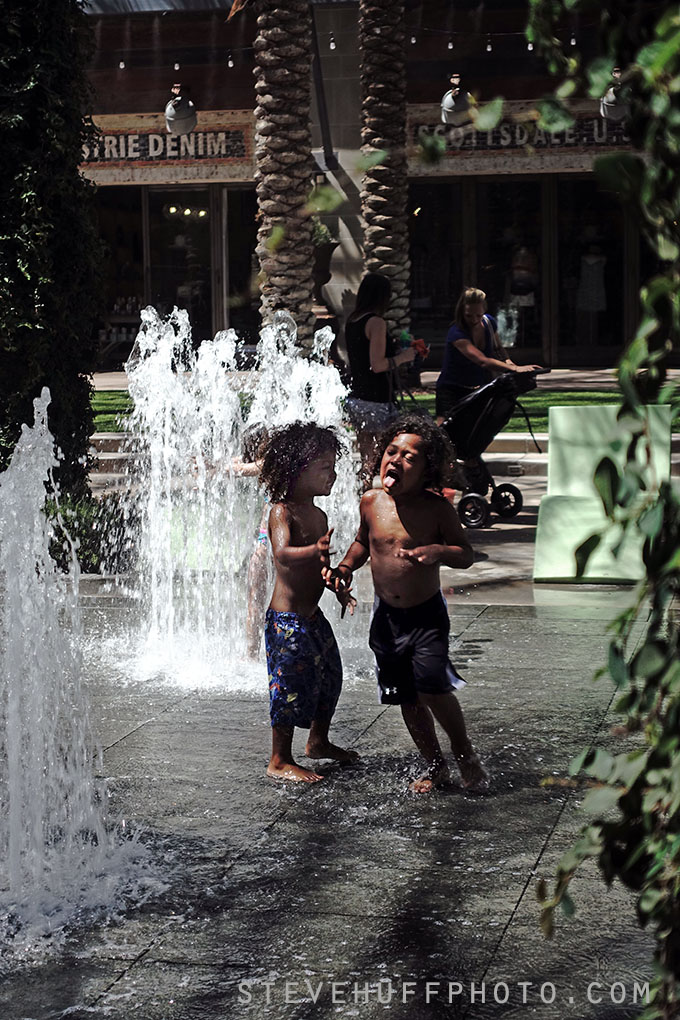 TECH SPECS
Below are the tech specs of the RX100 III, or the Super RX100 🙂 I highlighted in BOLD the features that are worth mentioning and remembering as to me, these are what make the camera.
20.1MP 1″ Exmor R BSI CMOS Sensor and BIONZ X Image Processor
The large 20.1 megapixel 1″ Exmor R CMOS sensor features backside-illuminated technology to enhance its low-light capabilities to a native ISO 12800 while still retaining vivid clarity. Using Sony's Column A/D Conversion and area-specified noise reduction, images are rendered with impressive quality and smooth gradations between tones and colors due to the marked, intelligent reduction in apparent noise. Further enhancing imaging quality, detail reproduction technology works to increase the fine detail rendering capabilities for a more three-dimensional, realistic image quality while diffraction-reducing technology helps to enhance the optical qualities of the lens by suppressing diffraction that is common when working at smaller apertures. Additionally, aiding working in difficult lighting conditions, the sensitivity can be extended to an effective ISO 25600 when using Multi-Frame NR, which records and composites sequential images in order to attain high sensitivity with minimal noise.
Also benefitting the image quality, as well as overall camera performance, is the BIONZ X image processor, which provides continuous shooting up to 10 fps in Speed Priority Mode, 2.9 fps shooting with single-shot AF, a shutter lag time of just 0.008 sec., and a start-up time of 1.6 sec.
Zeiss Vario-Sonnar T* Lens
The built-in Zeiss Vario-Sonnar T* lens provides a 35mm-equivalent focal length range of 24-70mm, covering wide-angle to portrait length perspectives to suit working in a wide variety of shooting conditions. An f/1.8-2.8 maximum aperture benefits working in difficult lighting conditions throughout the entire zoom range and also enables greater control over focus placement for shallow depth of field imagery, which is further accentuated by a seven-blade diaphragm to produce a smooth out-of-focus quality. Nine aspherical elements, including two cemented AA (advanced aspherical) elements, are incorporated into the lens design to minimize chromatic aberrations throughout the zoom range to benefit creating sharp, clear imagery. The lens also features a Zeiss T* anti-reflective multi-layered coating to help minimize lens flare and ghosting in order to produce imagery with rich contrast and color neutrality.
Benefitting the 2.9x reach of this lens, as well as supporting working in difficult lighting conditions and with longer shutter speeds, is Optical SteadyShot image stabilization, which helps to offset the effects of camera shake. When recording movies, the image stabilization utilizes an Intelligent Active Mode, which also uses electronic image stabilization to compensate for both camera shake and rolling shutter effects.
Additionally, a neutral density 0.9 filter is incorporated into the camera's design, which provides a reduction of three stops in exposure to enable working in bright conditions with wider aperture settings and for greater control over how subject movement is rendered.
Direct OOC color from the RX100 III JPEG – this one was shot in VIVID mode.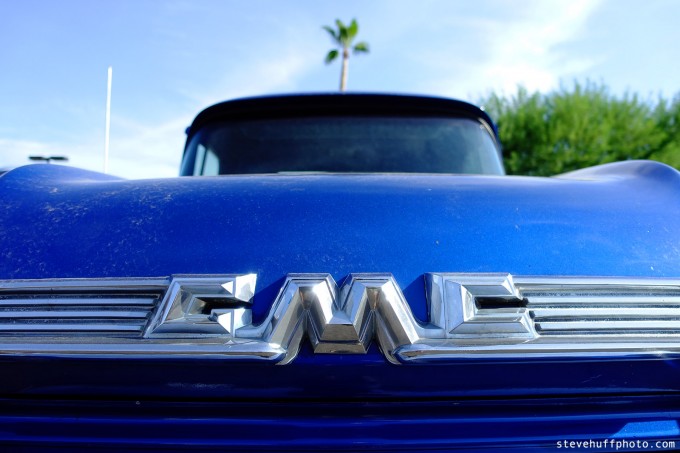 Camera Design
Within the compact design of the RX100 III is both a high-resolution electronic viewfinder and a large rear LCD monitor. The 0.39″ 1,440k-dot SVGA OLED Tru-Finder EVF provides a bright, clear means for eye-level monitoring, which is well-suited to critical compositions and working in bright conditions. It features 100% frame coverage, a unique pop-up mechanism, and a Zeiss T* coating on the optics to reduce surface reflections and flare for enhanced visibility. Alternatively, a 3.0″ 1,229k-dot Xtra Fine LCD screen is also available and features a tilting design (180° up, 45° down) to benefit working from high, low, and front-facing angles. WhiteMagic technology has been applied to the LCD's design, too, to increase effective brightness for easier viewing in bright lighting. When working with both viewing means, an integrated eye sensor automatically switches between both the EVF and LCD. Additionally, the camera can be turned on simply by popping the EVF into place.
For intuitive, SLR-like adjustments over a variety of camera settings, a manual control ring surrounds the lens and features a smooth, click-less design for quick and quiet changing of settings. The ring can be assigned to control a variety of features, at different values, such as zoom, aperture, and Picture Effects. A step-zoom feature can be utilized, too, to allow instant switching between commonly used focal lengths.
Full HD Video Recording
Full HD 1920 x 1080 movies can be recorded in the high-quality XAVC S format, which uses a Long GOP (Group of Pictures) structure, MPEG-4 AVC/H.264 video compression, and linear PCM audio compression, and saves within the MP4 container format. These compressed files permit recording times up to 29 minutes while allowing 50 Mbps video recording at 1080/60p, 1080/30p, 1080/24p, and 720/120p frame rates. Full-pixel readout helps to minimize any artifacts in recordings due to the ability to utilize data from the entire image sensor, which ultimately results in smooth, high-resolution recordings. Movies can also be recorded in the AVCHD format, which is ideal for HDTV playback and Blu-ray disc burning, and the MP4 format, which is ideal for uploading online. Additionally, when shooting for two purposes in mind, dual recording is possible in different formats-XAVC S and MP4 or AVCHD and MP4-for the ability to instantly share footage while also having a higher quality version for subsequent editing.
Benefitting advanced video applications, the RX100 III also supports clean HDMI output for recording uncompressed video via an optional external recorder and for real-time viewing on an accessory monitor. Recording frame rates include 24p, 60p, and 60i, and the shooting info display can be turned off during recording for a cleaner view when utilizing an external monitor.
Built-In Wi-Fi Connectivity with NFC
Built-in Wi-Fi connectivity enables instant transferring of imagery to mobile devices for direct sharing online to social networking, via email, and to cloud storage sites. NFC (Near Field Communication) is also supported, which allows for one-touch connection between the camera and compatible mobile devices, with no complex set-up required. Once connected, the linked mobile device can also display a live view image on its screen and, using Smart Remote Control, remotely control the camera's shutter release.
Additionally, PlayMemories Camera Apps are also supported via the built-in Wi-Fi connection, and allow you to personalize the camera's features depending on specific shooting styles. Apps are available to suit creating portraits, detailed close-ups, sports, time lapse, motion shot, and other specific types of imagery.
Other Camera Features
A contrast-detection autofocus system works to acquire precise focus using single-shot or continuous AF modes. When working with moving subjects, Lock-on AF, with wide, center, and flexible spots, adjusts the target frame size as the subject moves throughout the image frame. Face detection and face registration technologies can be used to base focus on recognized faces and Eye AF is also available, which is a detail-oriented focusing function that prioritizes and dedicates focusing performance on a subject's pupil for sharply-rendered portraits.
For manual focus control, DMF (Direct Manual Focus) and standard manual focus options are available. Benefitting precise manual focus, focus peaking can be used, which highlights edges of contrast within the frame for a more objective means of determining critical sharpness, or MF Assist is available, which enlarges the image for a better view of important details.
A zebra function can be used for easier detection of exposure clipping to prevent overexposure.
A dedicated Custom button permits assigning of one of 42 possible functions for instant, one-touch access to a chosen control.
A digital level gauge detects pitch and roll types of movement and helps to produce even, consistent horizons and plumb verticals.
Smile Shutter technology enables the camera to automatically release the shutter when a subject's smile is detected
Multi Frame NR records consecutive images at a reduced ISO sensitivity and then composites them into a single image to realize higher effective sensitivity (up to an equivalent ISO 25600) with minimal image noise. Standard image compositing is comprised of four exposures and High image compositing utilizes 12 distinct exposures.
Dynamic Range Optimizer (DRO) works to improve images featuring backlit subjects or scenes with high contrast where details can be lost in the shadows or highlights. This mode can be controlled automatically or fine-tuned using five settings.
Picture Effect modes allow you to apply creative settings and emphasize certain facets of individual images for a richer, more aesthetic picture quality. Posterization (Color/B&W), Pop Color, Retro Photo, Partial Color (R/G/B/Y), High Contrast Monochrome, Toy Camera, Soft High-Key, Soft Focus, HDR Painting, Rich-Tone Monochrome, Miniature, Watercolor, and Illustration modes are available.
Creative Style settings provide control over how the camera processes images based on different predetermined styles: Standard, Vivid, Neutral, Clear, Deep, Light, Portrait, Landscape, Sunset, Night Scene, Autumn Leaves, Black & White, Sepia, and Style Box. Within these settings, contrast, saturation, and sharpness can also be adjusted depending on personal preference.
To extend the effective reach of the optical zoom lens, Clear Image digital zoom can be used to intelligently magnify scenes up to 5.8x at full-resolution. This digital zoom technology uses an intelligent interpolation process to minimize the amount of image degradation in order to produce realistic, high-quality images.
In-camera creation of 4K slide shows is possible for rich playback to ultra high definition televisions. An HDMI port is incorporated into the camera's design, too, to enable direct connection to HDTVs.
TRILUMINOS Color support is supported to produce rich, natural colors when imagery is viewed on a TRILUMINOS Display.
I enjoyed having 24mm for the wide end…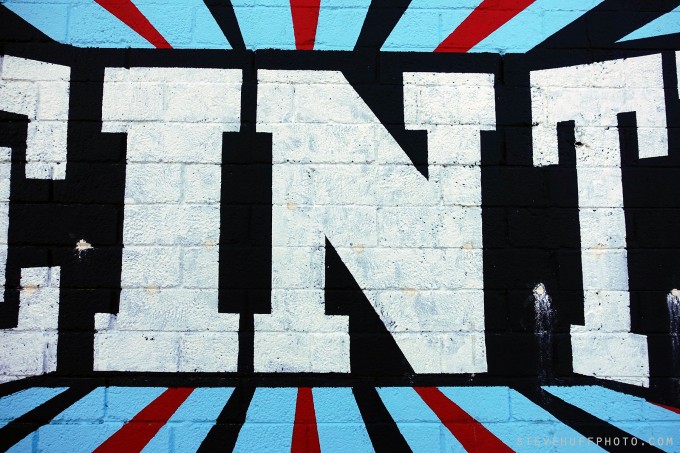 For me, the new EVF rocks..though it is SMALL
As soon as I saw that Sony included a new pop up EVF in this model I was instantly attracted to the camera. If this one feature was NOT put in then the RX100 III would not have generated as much attention as it has and the camera would not be worthy of the III name, it would be more like an RX100 II. The new pop up EVF if really an awesome and fantastic addition to an already great camera model. The coolest part is that if you do not want to use it then it stays hidden. There are no humps, no evidence it is even in the camera. Without using it no one would even know it was there but flick a switch located on the left side and BAM! There you have it, instant EVF. Now you can put it up to your eye and frame with a viewfinder. The EVF is very small but much better than something you will see in a Leica C for example.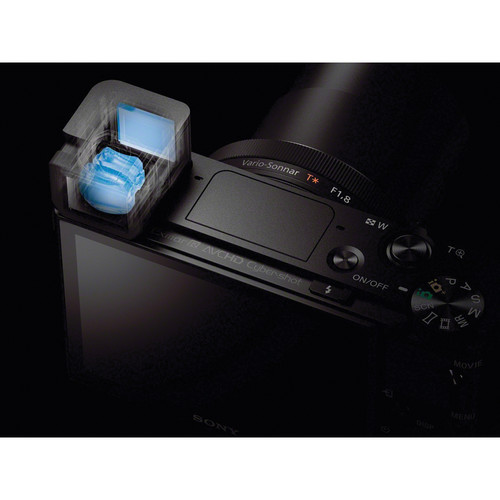 The color is good, the clarity is good and i used the EVF quite often..and I can prove it! See my reflections in the window shots below? Look how small and compact the RX100 III is here! It is small but feels nice and weighty in the hand. The lens offers great clarity and snap and the EVF takes this model over the top.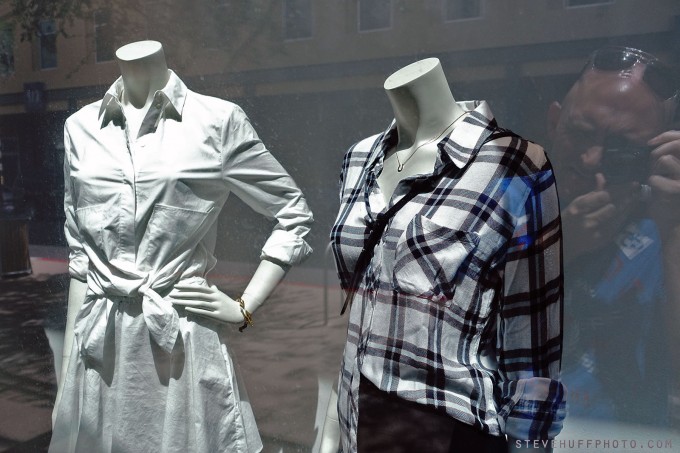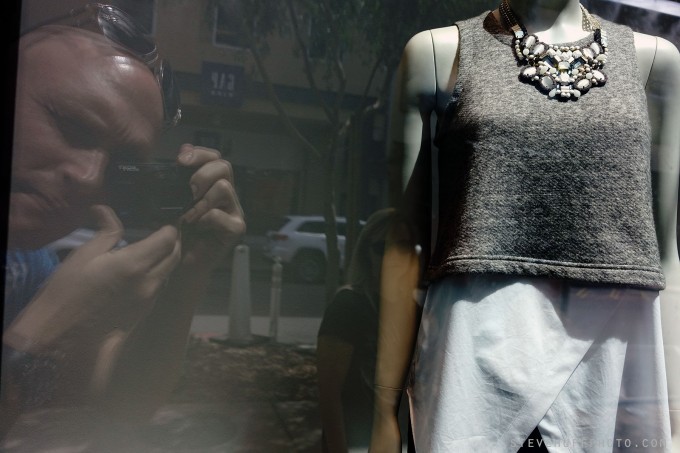 Is this camera for you? Answer these questions to find out!
The RX100 III is not a cheap camera, in build or design or in cost. It will cost you about $799 to purchase the greatest Point and Shoot of all time, but to see if this is worth it to you, answer the following questions, if you answer yes to ALL then you would benefit from an RX100 III.
1. Do you want a pocket-size travel type of camera to take anywhere?
2. Do you dislike larger and heavier cameras?
3. Do you value QUALITY when it comes to images? As in, IMAGE QUALITY?
4. Do you like having a convenient and fast zoom?
5. Do you like to shoot hassle free, and even shoot JPEG?
6. Do you often want the "best" you can get to avoid making mistakes in purchases?
7. Do you value having an electronic viewfinder to frame with?
If you answered YES to ALL of the questions then you would not be sorry with the RX100 III. In fact, I guarantee it!
Again, to get what the RX100 III is all about, read my RX100 review. Most of the camera is the same in regards to what it is, what it does and why it is so awesome 🙂 This is a "light" review going over the new features only!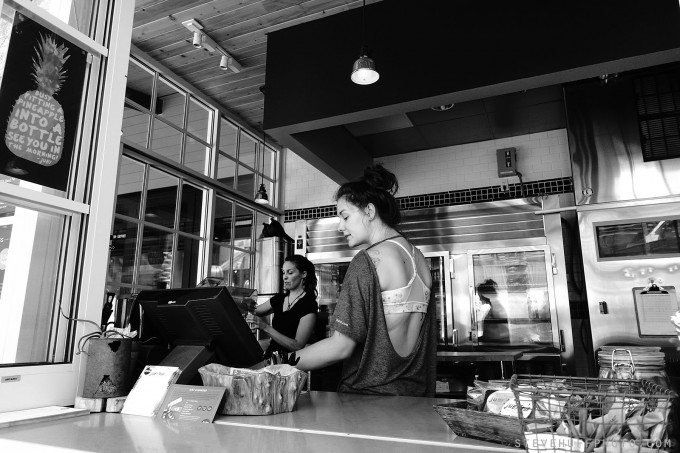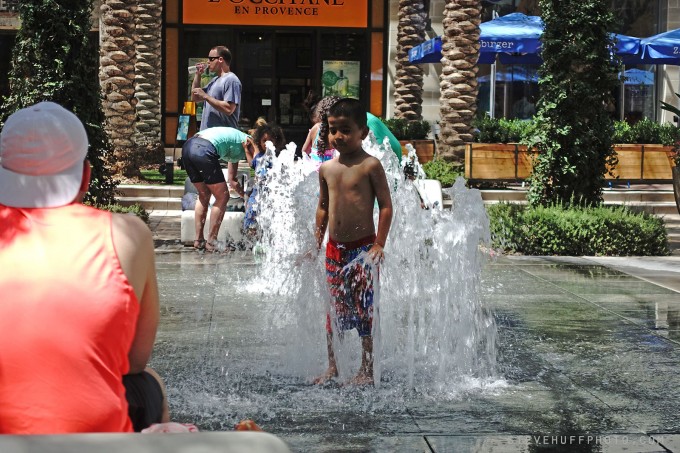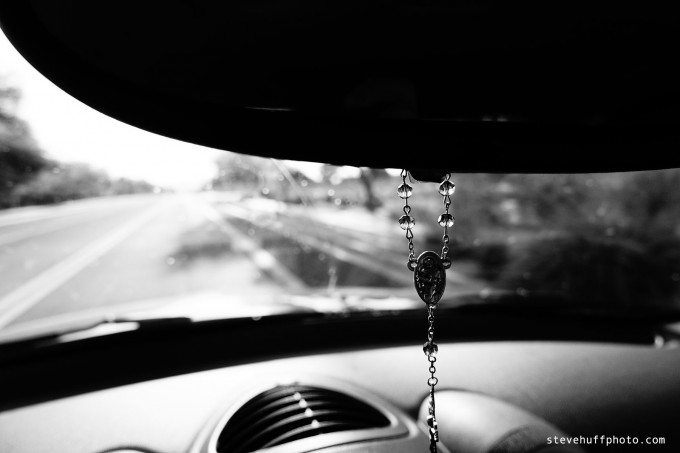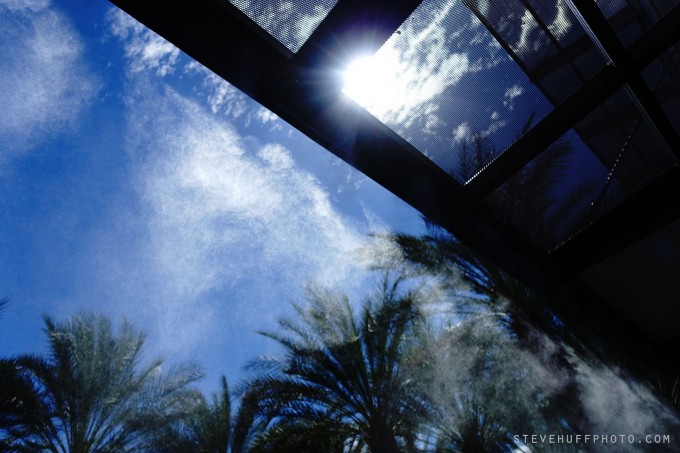 The Pros and Cons of the RX100 III
Pros
It is small and fits in a front pocket
Pop Up EVF addition is AWESOME!
Camera AF is fast and accurate
Tilt LCD is very useful, even selfie mode
Build quality is good
Lens 24-70 1.8-2.8..nice
pop up flash if needed/wanted!
HD video is nice with optical steady shot!
WiFi built in, works well
Camera apps can be downloaded and used
Built in ND filter for when the sun gets bright, automatic
Smooth control dial on lens will control almost anything you desire
Many cases and grips made by third parties
Batteries are small, and cheap (third party sellers)
Best in class image quality and color
cons
Price of $798 is a little high for a P&S
Small sensor cannot compete with larger sensors for DR or ISO NOISE
Not the best for really low light, NR gets aggressive
Can be too small for some with large hands
Does not come with dedicated charger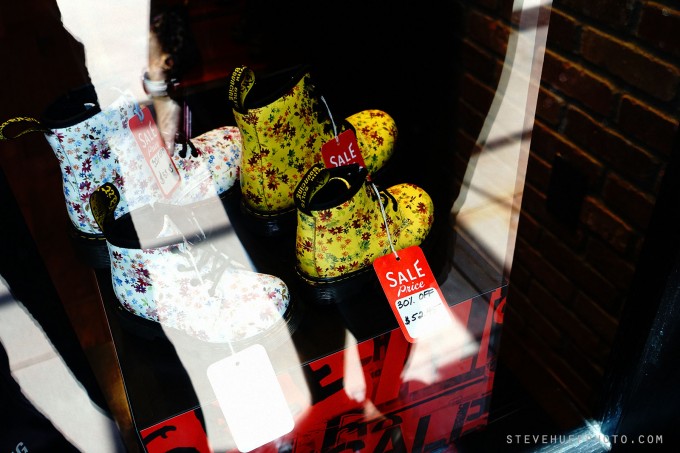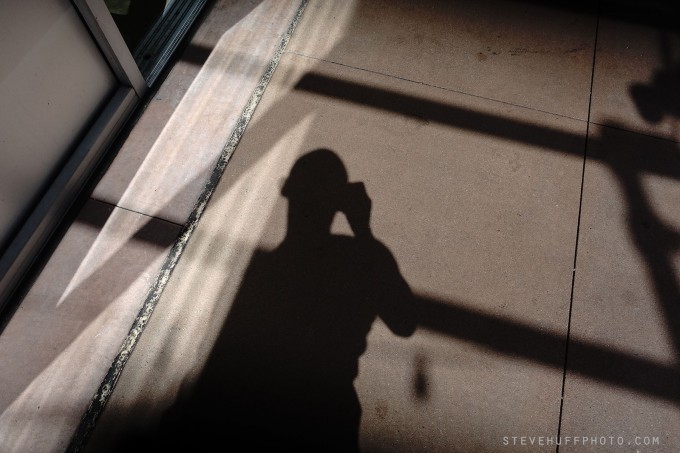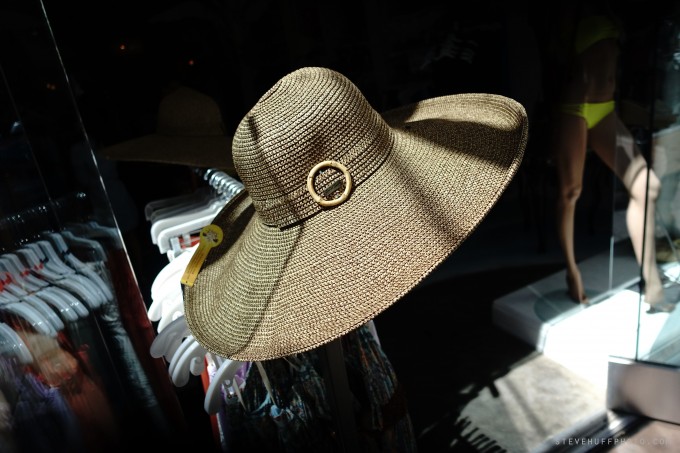 My final conclusion on the RX100 III
The newest RX100, or what I call it,  "the Super 100" (RX100 III) is a genuine masterpiece of a point and shoot. It does NOT get better than this in a pocket P&S camera, period. From the design, the build, the EVF, the swivel LCD to the fast lens and punchy color and pop from the files, the RX100 III is the real deal. Once again Sony hits it out of the park here, as they have been doing for 2-3 years now. Sony is surpassing companies like Nikon, Canon, Leica in many areas with some of their recent cameras and they are showing no signs of slowing down or stopping and I think…yes I think..they are just getting started. Call it intuition but I have a feeling something ver special is coming in the high-end arena from Sony..very soon.
Keep in mind, the RX100 III will not and can not replace an APS-C or full frame camera (get the same results) as you just do not get the dynamic range, ISO performance or depth of field possibilities with the smaller sensor RX100 III. What you do get is a camera that is perfect for family use, vacations, world travel, and every day shooting. I have seen images from the RX100 (original) that blew away images I have seen from large DSLR's, but that was from a VERY talented photographer. It seems that if you really know what you are doing then the RX100 III will reward you with its capabilities. I have noticed the DR is not up there with larger sensors as highlights can get blown, but it is not a big deal or deal breaker. The files from the RX100III are sublime and as good as you can get from a camera of this size.
The lens is fast with a versatile and normal 24-70mm range. With an aperture starting at f/1.8 and slowing down to only 2.8, the camera is highly capable even in low light. The EVF works great and stays out-of-the-way until you need it. It is not the largest thing ever but it works and works well. The design is genius! The RX100 III also has a built in ND filter which will automatically activate when needed. You have all of the Sony usual tricks here as well like panorama, color modes, art modes and intelligent auto modes. This camera can be used by amateur and pro alike. In other words, Sony makes it easy to either pick up and shoot in full auto or delve into the camera and use manual features.
All in all, this is indeed the best pocket camera ever made in the digital world. The price is steep at $798, but if you want the best P&S available and do not want to mess with lens swapping and larger bodies, this is one way to go that will leave you satisfied.
You can buy the RX100 III at B&H Photo HERE or Amazon HERE.
The Sony RX100 III gets my highest recommendation for this class of camera. Way to go Sony!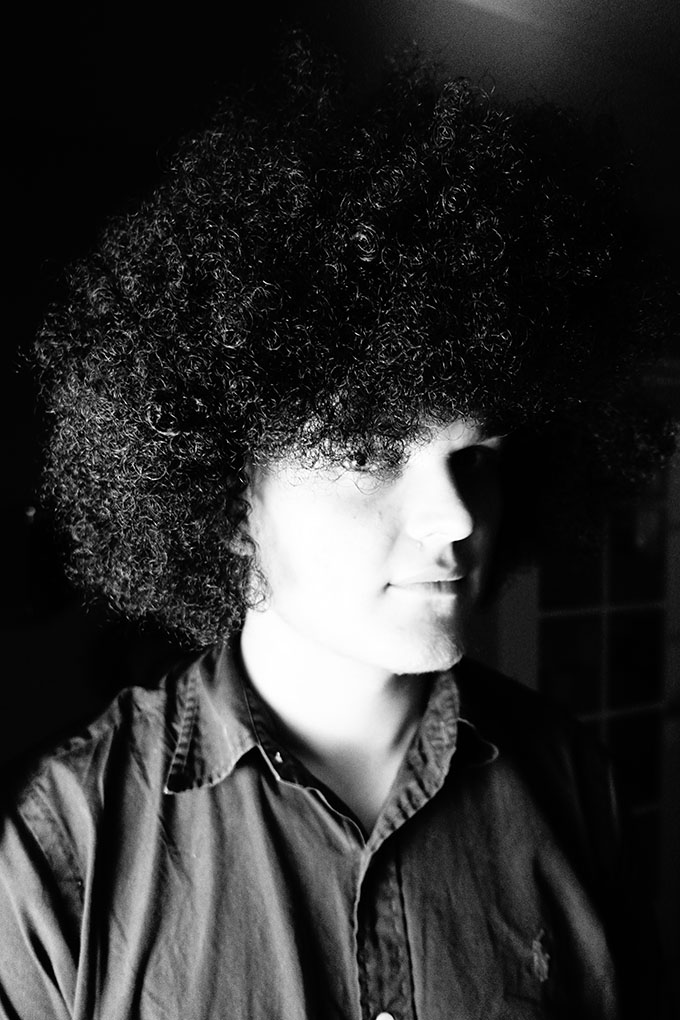 PLEASE! I NEED YOUR HELP TO KEEP THIS WEBSITE RUNNING, IT IS SO EASY AND FREEE for you to HELP OUT!
Hello to all! For the past 5 years I have been running this website and it has grown to beyond my wildest dreams. Some days this very website has over 200,000 visitors and because of this I need and use superfast web servers to host the site. Running this site costs quite a bit of cash every single month and on top of that, I work full-time 60+ hours a week on it each and every single day of the week (I received 200-300 emails a DAY). Because of this, I need YOUR help to cover my costs for this free information that is provided on a daily basis.
To help out it is simple. 
If you ever decide to make a purchase from B&H Photo or Amazon
, for ANYTHING, even diapers..you can help me without spending a penny to do so. If you use my links to make your purchase (when you click a link here and it takes you to B&H or Amazon, that is using my links as once there you can buy anything and I will get a teeny small credit) you will in turn be helping this site to keep on going and keep on growing.
Not only do I spend money on fast hosting but I also spend it on cameras to buy to review, lenses to review, bags to review, gas and travel, and a slew of other things. You would be amazed at what it costs me just to maintain this website. Many times I give away these items in contests to help give back you all of YOU.
So all I ask is that if you find the free info on this website useful AND you ever need to make a purchase at B&H Photo or Amazon, just use the links below. You can even bookmark the Amazon link and use it anytime you buy something. It costs you nothing extra but will provide me and this site with a dollar or two to keep on trucking along.
AMAZON LINK (you can bookmark this one)
B&H PHOTO LINK – (not bookmark able) Can also use my search bar on the right side or links within reviews, anytime.
You can also follow me on Facebook, Twitter, Google + or YouTube. 😉
One other way to help is by donation. If you want to donate to this site, any amount you choose, even $5, you can do so using the paypal link HERE and enter in your donation amount. All donations help to keep this site going and growing!
 I do not charge any member fees so your donations go a long way to keeping this site loaded with useful content. Thank you!