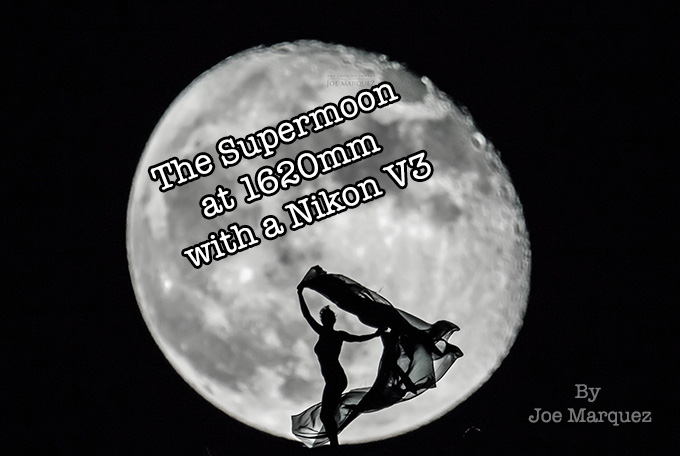 Supermoon Photoshoot at 1620mm with Nikon V3
By Joe Marquez – see his website at http://www.thesmokingcamera.com
(from Steve: This is one of the coolest posts I have placed here in a long time…love it! Thank you Joe for the beautiful work and showing what the Nikon 1 system is capable of)
A couple of months ago, while out shooting with the mirrorless Nikon V3 and 70-300cx lens (189-810mm equivalent field of view – FOV), I noticed a hiker on a nearby ridge top – and a beautiful, bright moon above. I took a few shots and was quite pleased with the results. The V3 and it's tiny sensor does surprisingly well in good light. Now I wondered how it would look if I attached a super telephoto lens and photographed the hiker directly in front of the moon. What about a ballerina silhouette? I decided to find out.
As you may know, the Nikon V3's one-inch sensor results in the equivalent of a 2.7 increase in FOV. In essence when a Nikon FX lens is attached via the Ft-1 adapter, the V3 becomes a 2.7 teleconverter with no loss of light. Thus a 600mm lens becomes 1620mm.
Initially my plan was to photograph a single ballerina in front of the super moon. However, I began considering everything that could go wrong: weather, inability to focus at night, DOF issues, instability, inaccessibility and of course all the unforeseen inevitable mistakes I normally make. So I decided to increase the number of shoots to insure I would get a decent image or two.
Now I had to get my hands on a $10,000 Nikon 600mm f4 lens. So, I went to the only camera store in Hawaii with uber cool rental equipment, told them about my project and they agreed to sponsor my efforts. Here's a formal thank you to Hawaii Camera (www.hawaiicamera.com) for supporting this little moon project of mine.
Using a number of online programs I determined optimum times and locations to photograph the moon as it crossed the ridge. And because the ridge runs north south I was able to shoot as the moon rose in the east and several hours later as it set in the west. Thus, everyday I had two opportunities at the moon. So over the course of a week I planned fourteen separate photo shoots. Only later I realized, I didn't factor in time for sleep. Oh well, can't think of everything.
I then called upon many friends – models, performers, cosplayers, ballerinas and dancers as well as fellow photographers to assist. Altogether 43 people were involved in this moon project. Call times ranged from late afternoon to early morning before sunrise. Most participants had to hike the steep ridge at night with headlamps. We required a spotter or assistant for safety and we communicated via two-way radios or cell phone. One cosplayer's outfit weighs 133 pounds and required ten trips to get the costume into position. A super thank you to everyone who participated.
While the models and spotters were climbing the ridge, I and an assistant down below had to deal with traffic, trees, wires, poles, houses, basketball players, dogs, golfers and sprinklers.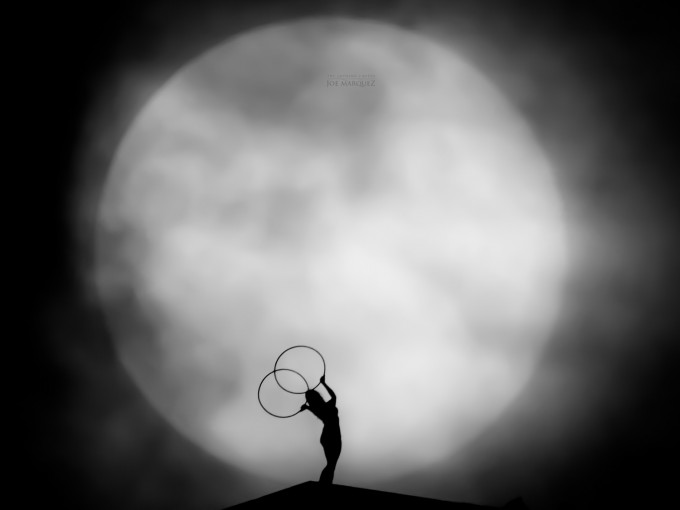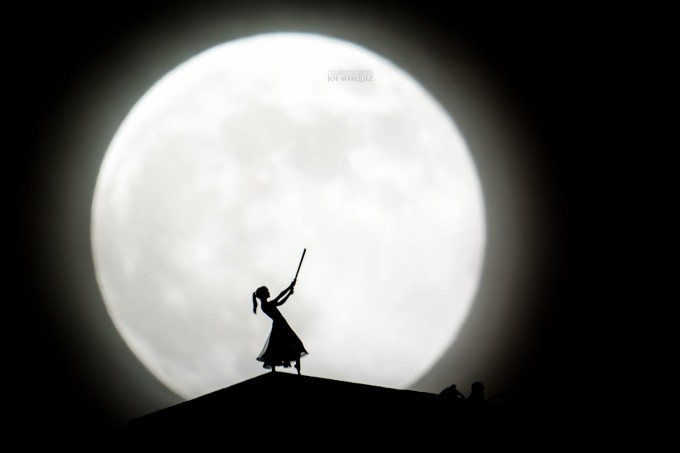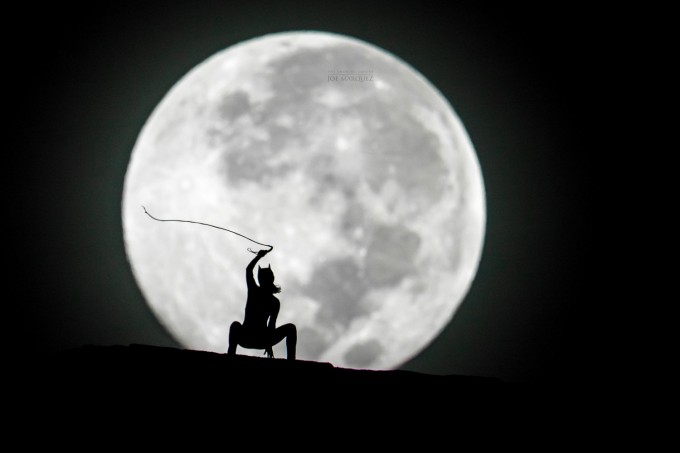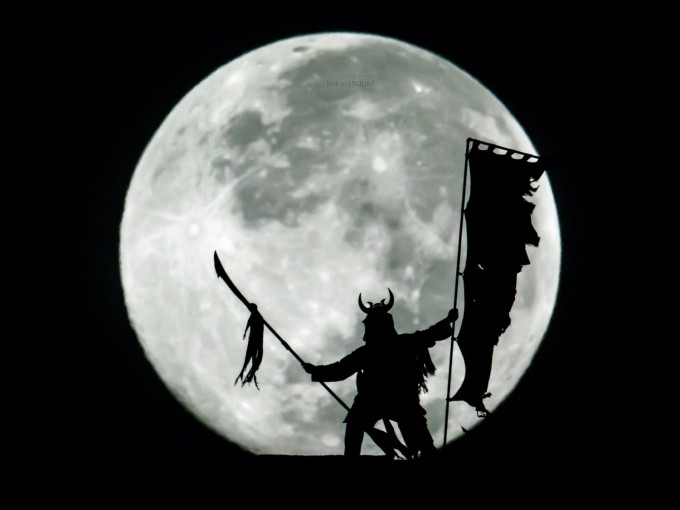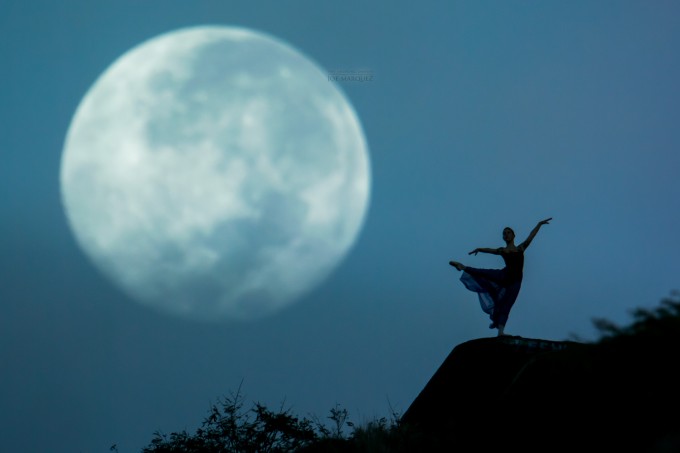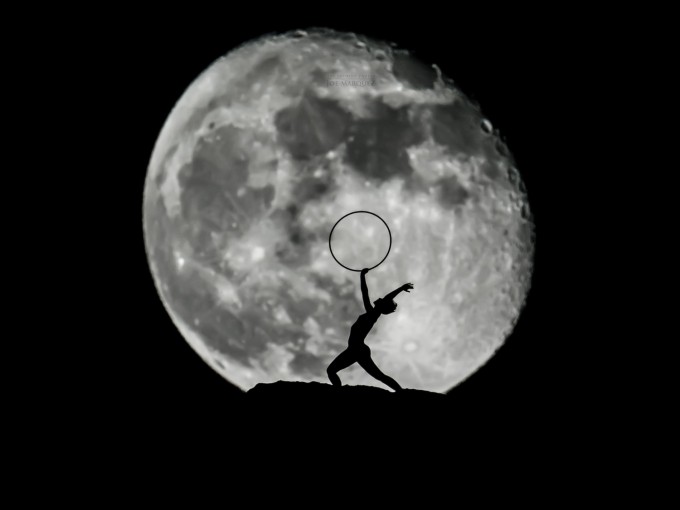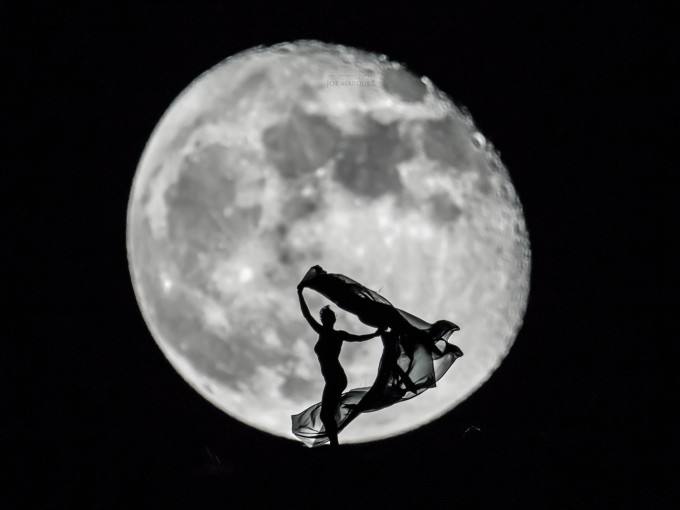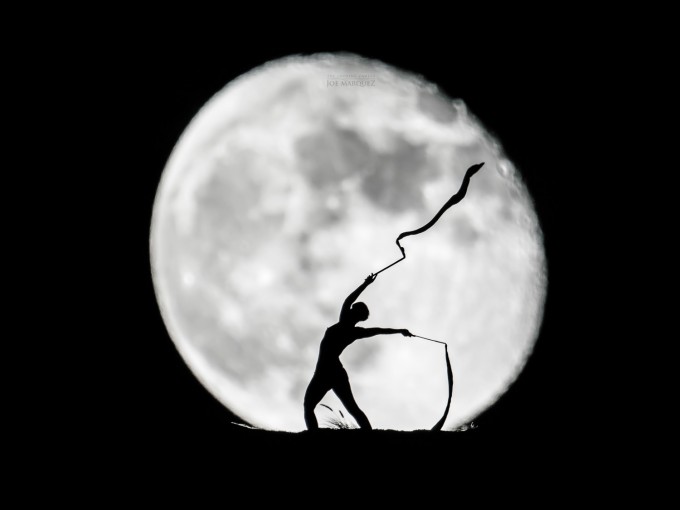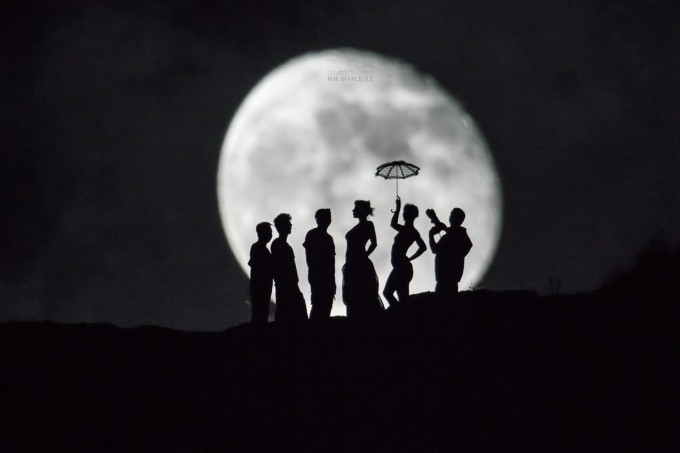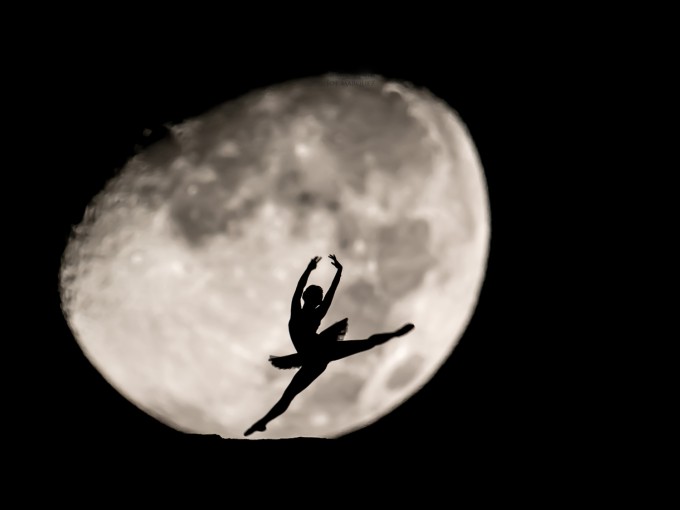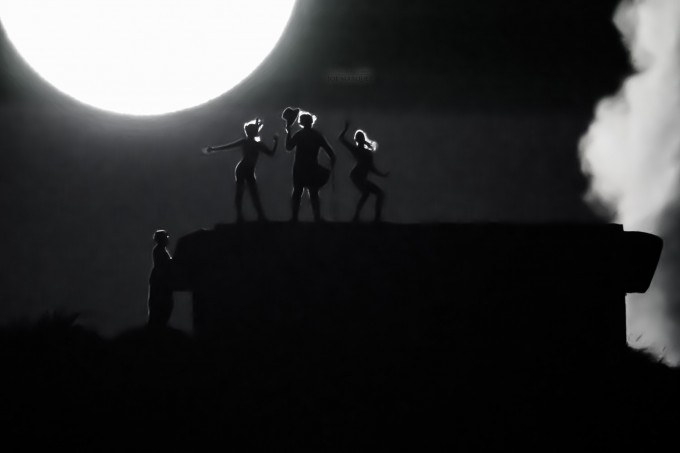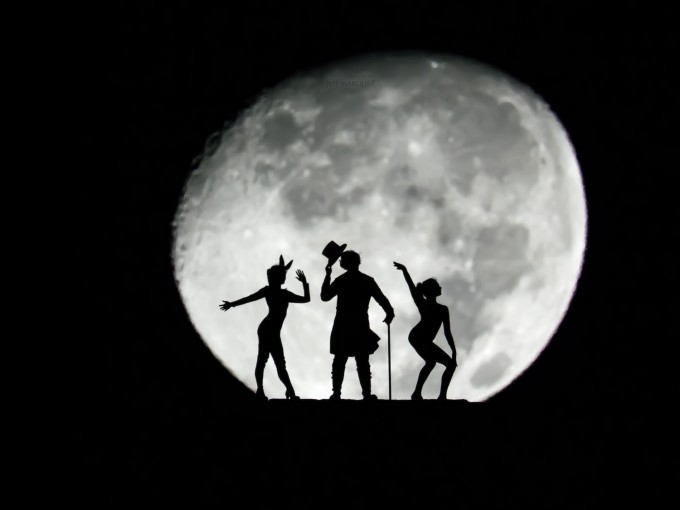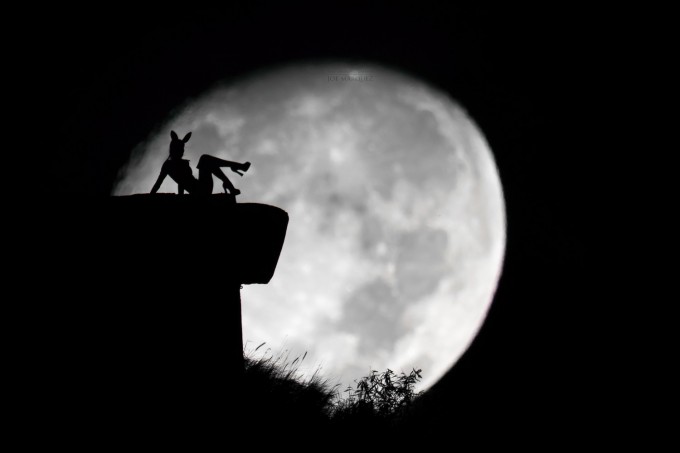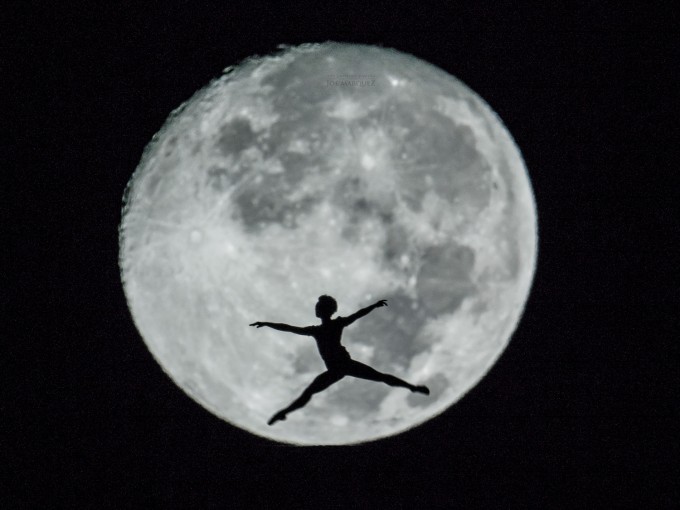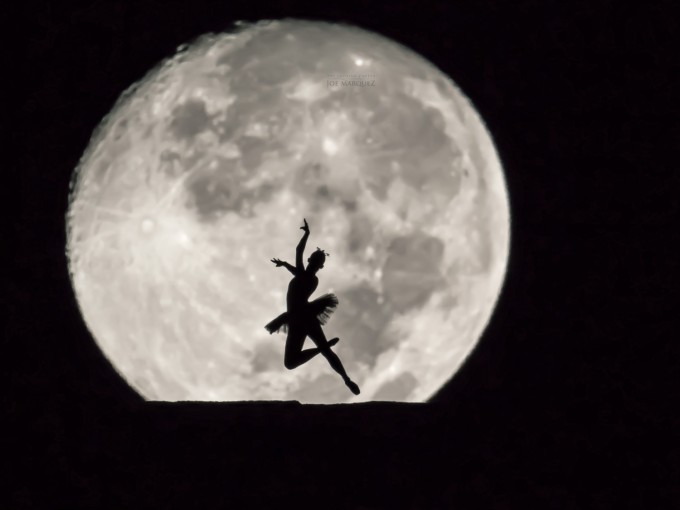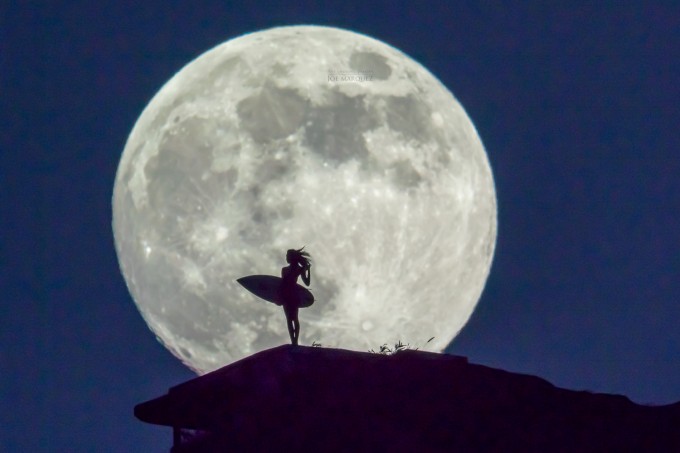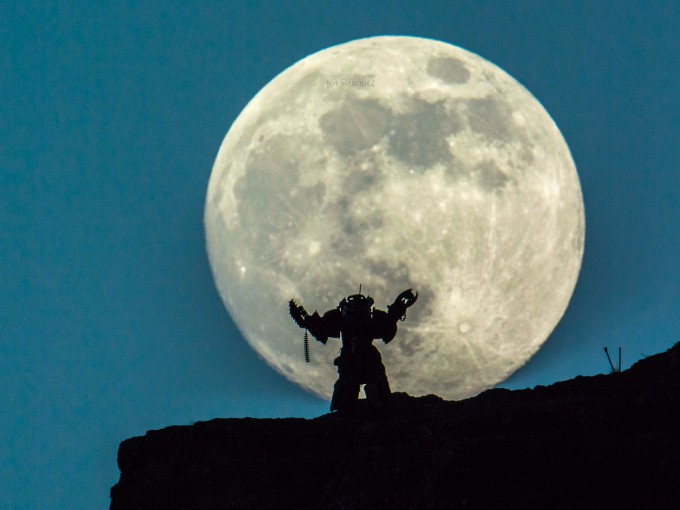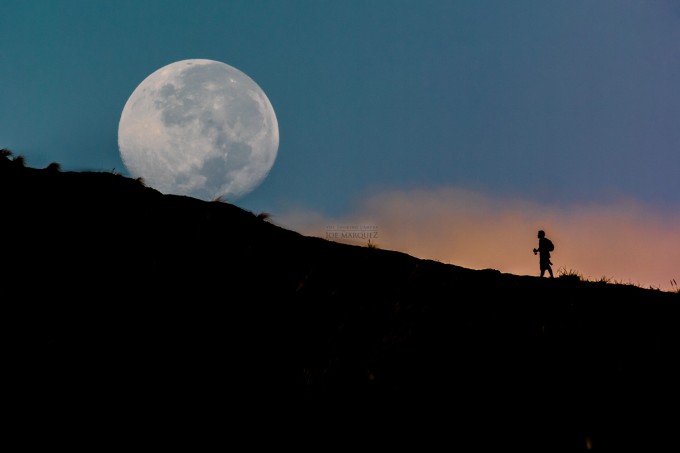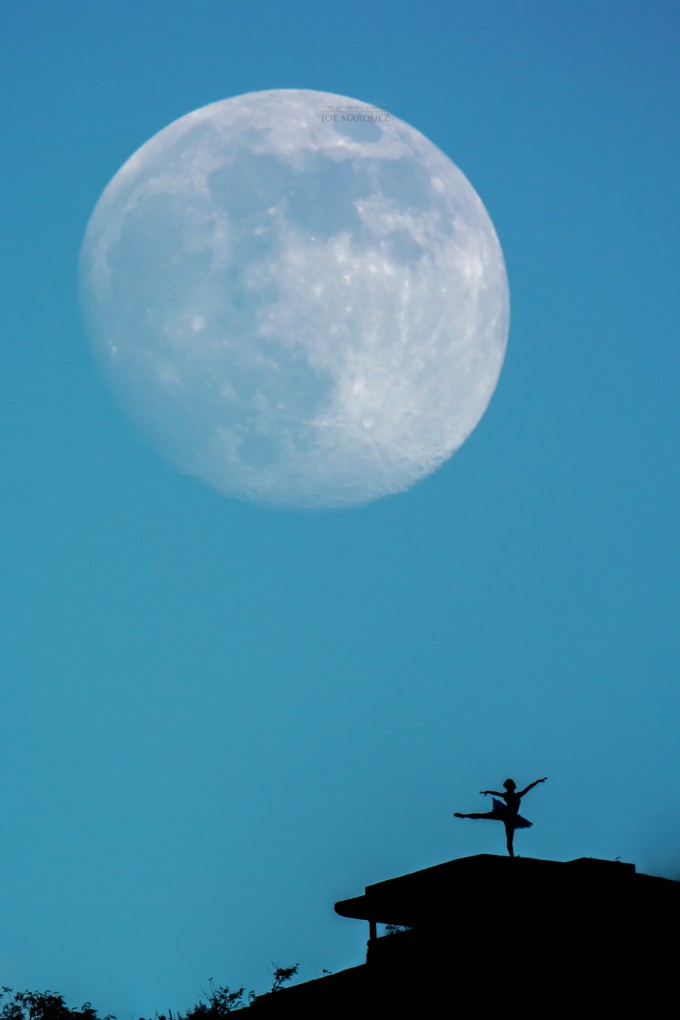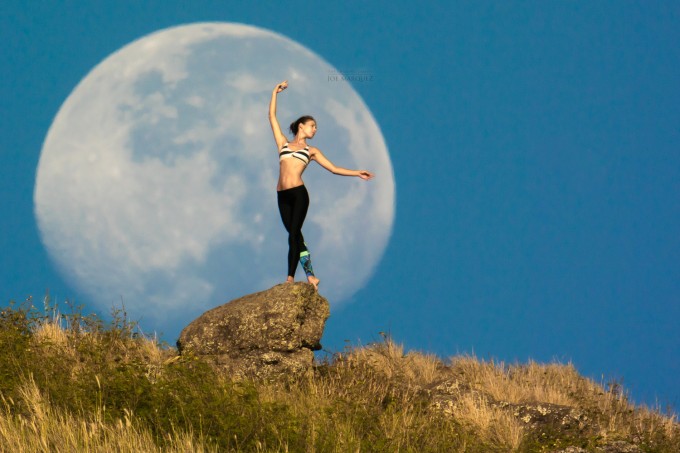 In the end everyone had a fun and unique experience and a good number of wonderful photos. In addition, I learned a tremendous amount about shooting the moon. Foremost is the moon moves so quickly when viewed at 1620mm there is often only a moment or two to get the shot. Secondly, the moon has quite a variety of looks due to clouds, time of day or night and so on and I had to constantly and quickly change my exposure settings. Finally, the Nikon V3 did an excellent job on this project and I wouldn't hesitate using this little camera for other super telephoto projects.
In fact next month at full moon, I plan to again use the Nikon V3 and experiment with lighting, fashion, a bride in her wedding dress, video and a surprise or two. Amazing what is possible when you utilize a camera's strength to its fullest.