The Southwest Workshop BEGINS! Limited updates until next week!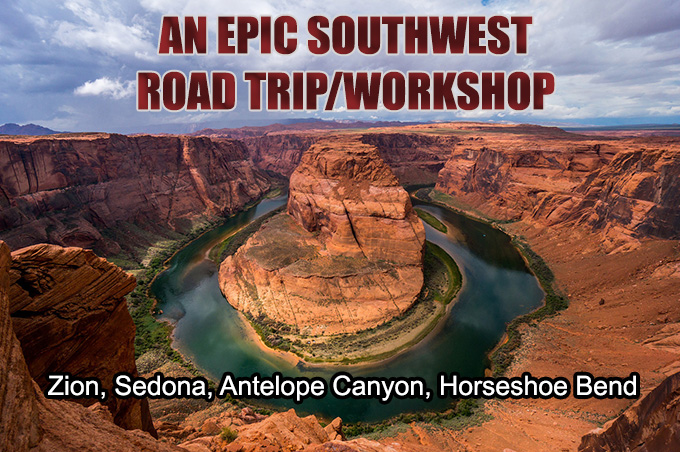 Today is the day we head out on the five day journey across the Southwest USA with 30 of us loaded into a fully chartered bus as we take this journey in style and comfort. Last night we had a dinner for those who arrived early and this evening we will be heading out at 5:30PM sharp and my internet access and time will be limited so do not expect to many page updates until next week Tuesday. When I return I will be doing an update on how the Workshop went as well as post my review of the Voigtlander 40 2.8 ASPH lens . For the trip I will be bringing my Sony A7s and 3-4 lenses including the Voigtlander 15 Heliar, the new 40 2.8 ASPH as well as a Leica 50 2.8 Elmar classic and the Sony 55 1.8.
I plan on shooting some landscapes with the Sony A7s to see just how well it does in this scenario.
When I return I should have the Panasonic LX100 for review as well as the new Zeiss Loxia lenses SHORTLY AFTER. I may also take a look at a few other new things 😉
So enjoy your weekend everyone! Tomorrow there will be a film Friday post from Ibraar Hussain and another post or two but probably not much for the weekend or Monday.
This workshop sold out 100% as we had no more hotel rooms available so it's going to be a full but fun trip, my largest one yet. I want to give a special thanks to Todd Hatakeyama and Jay Bartlett who pretty much organized this entire trip. Without those two it would have been a mess 🙂 Also thanks to Albert who has been picking everyone up from the airport all day yesterday and today.
Should have some cool photos from everyone to post here next week!
Thanks to all!
Steve
PS – to those going on this journey I have a few things to give away on the bus as we travel tonight, so should be fun!