Site Update: I am more pumped than EVER!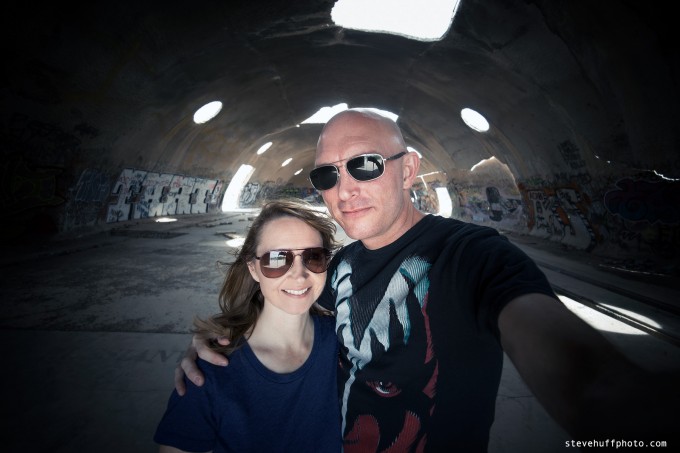 Photo Above: Me and Debby taken with the Sony A7Ii and Voigtlander 15 V III (vignetting added with filter)
Hello to ALL!! The weekend is HERE and last weekend I was out in California with buddy Todd Hatakeyama doing some off roading in our Jeep's at Joshua Tree National Park. We enjoyed some trails as well as some photography and I brought along my Sony A7II new 28 f/2, the 35 1.4 and the Zeiss Loxia 50 f/2. Also brought along my new Leica M-P 1240 SAFARI set, and it is a beautiful set and $1k cheaper than buying a standard black or silver set, and a limited edition to boot. For those wondering, I will have a full video and thoughts on the Safari set within days, but if anyone is interested in seeing what it is all about, PopFlash.com has SIX in stock HERE. 😉
As for me, this site and the state of affairs here, things are better than ever. Traffic is fantastic, interaction on reviews is at an all time high and I have so many companies wanting to advertise that I ran out of space and can allow no more! All of those ads you see on the left sidebar? Most are site sponsors and they help keep this site going and growing just like all of you do, so take a moment to check them out if you have not done so already! I also just picked up a HUGE sponsor, largest ever for the site who will start at the end of this month. So things are going GREAT.
This site (V2 of the site) to date has received over 105 Million visits. To me, that is HUGE.  Amazing… and so so awesome. Why? Because I never planned or dreamed or even tried for this to happen, it just came naturally and without me ever stressing about traffic, promotion, social media or ANY of that, the site just continued to grow and grow and still is to this day. After seven years, this site is well established and many come here for their fix of real world reviews, user reports, daily inspirations and much more. For that, I THANK YOU!
So here I am, seven years after starting my original site out of our passion and excitement for cameras, lenses and photography. It was in my blood, my senses and with me for my entire life. Nope, I never went to college or school for photography besides a few college "classes" on film (and a couple can't stand that about me)  but for me, it has never been about following the rules or being perfect. For me it has ONLY been about the enjoyment I get from it, the memories created with it and the absolute joy I get from new technology. I am a tech geek and love reviewing and testing new things. Check out the amount of posts and articles posted since day one on THIS site (doesn't include the old site reviews)  – see them HERE, there are thousands!
Since its beginnings, this version of the site has received over 105 MILLION visitors with over 111,000 comments left. The biggest day ever was when I posted THIS post on post mortem photography. It went viral and brought in nearly 240,000 views in one day.
I still spend 40-60 hours per week on this site. I receive hundreds of emails per week (and not all can be answered) and I live, eat and sleep STEVEHUFFPHOTO.COM as well as a couple of other things I do these days that bring in even more emails and traffic than this site does! Yes, I am a busy guy but I love it. Keeps my brain working and sharp.
Today, in 2015 I am probably the happiest I have ever been in my life. No stress, no worries, health is good, family life is awesome, and how can I complain when I can wake up, lounge around in my PJ's while I write, answer emails, make new friends and do my work..that I love?
I never dreamed for a second when I started this site as a hobby long ago that it would turn into what it has become today. Many tell me they love this site due to the variety of what gets posted. Articles and reviews from everyday people just like me get to share their experiences, photos and sometimes private moments with us all, right here. I allow ANYONE with the passion of photography a place to share their experience and while not everyone is a master photographer, all have something to share and we can all learn from everyone who posts here. I do every day.
As always, the site is able to continue with all of the support from YOU, the sponsors and when you guys use my links to purchase whatever it is you purchase. 🙂
One other thing that has seemingly almost vanished (from this site) are the haters and trolls. They used to be everywhere..maybe they thought I would go away but of course that was not going to happen. Today they stay away as they know this site is a success and that I could care less what they say or have said. They also stay away as they will get banned if they start trouble. I strive to keep this site positive as negativity is something I do not allow into my life for so many reasons. It's actually one key to happiness in life IMO. But the 1-2 haters left, you are ignored and your comments never make the site, so sorry 🙂 You lose again. Wasting your time, never mine.
Anyway, I thank ALL OF YOU 1000%,  I THANK my site sponsors 1000% and I thank my friends and family who have supported me and this little website from its early beginnings. Know this, I am more pumped than ever and there is so much more to come!
Steve
PS – Current Site Sponsors, check them out!! – Ken Hansen (Legendary Leica Dealer – khpny19@aol.com) , PopFlash.com, Tenba, Hold Fast Gear, 5 Shiny Buttons, Cosyspeed Camslinger, Pro Shop for Photographers, Lens Rentals, CameraQuest and Wotancraft.