Photo's with a Story
By Dirk Dom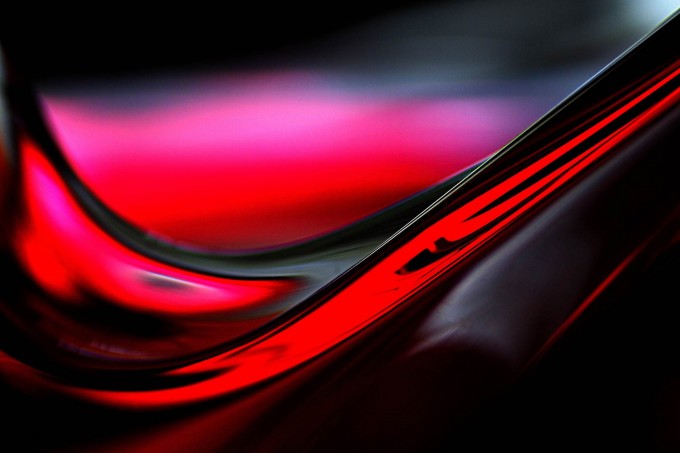 When I show people my photographs many ask me what exactly they are seeing. That is a reasonable question, because I shoot quite a lot of abstracts. I generally tell them to appreciate the images on their own grounds. Most people, however, expect photographs to be representative and are not accustomed to having to use their imagination.
I made a booklet which originated as an exercise in playful interpretation of my photos. I picked out about seventy that I particularly liked and challenged myself to create tales inspired by the images. It proved surprisingly difficult. Some of my images seem so simple and have such an impact that I couldn't think of anything. In some cases I made up stories; in others I wrote down impressions inspired by what I was looking at — what ever came to mind, and sometimes, when the creation of the photo itself was a good story, I shared that too. At random intervals I had left the reader/observer the opportunity to make up a story himself.
This is an excerpt of the book with ten photographs.
Enjoy!
The photo above is exercise one. What does it make you think of?
Alien Encounter
A Star Seed floats through space, on its way to the core of the Galaxy to reproduce. Its solar sail is folded up, so far away from any star.
A Guffaw, who normally eats cometary cores, sees the Star Seed as a delightful snack.
The Star Seed reacts to its approach with a giant electric discharge. Intense plasma wires light up in the interstellar medium.
The Guffaw changes its mind and its direction.
The Star Seed floats on, on its journey of millions of years, on track to another star.
With thanks to Larry Niven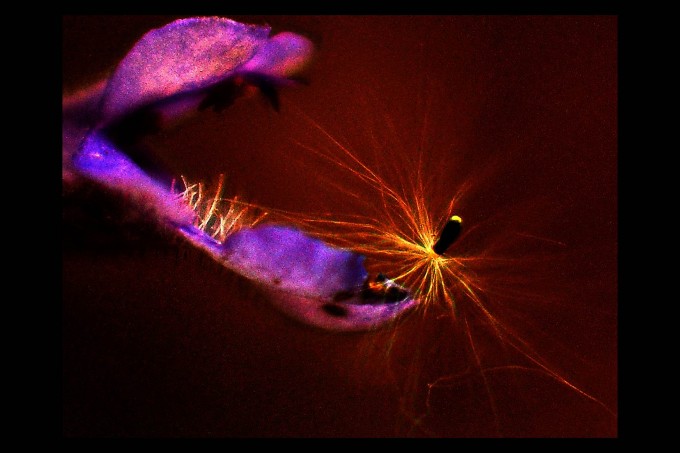 Brown Dwarf Life Form
DENIS-P J082303.1-491201 b, part of an ultra cold binary system, has a mass of about 28 Jupiter masses. This brown dwarf is 67.7 light-years or 399 trillion miles from Earth. It was discovered in 2013.
The life which developed there consists of twenty-mile long single-celled organisms (hydrogen filled bubbles made out of polyethylene) who float in the atmosphere and are bioluminescent. These are colonized by photosynthetic organisms. Seemingly there are similarities with the life on Jupiter.
The photograph is made in May, 2144, by the Da Vinci atmospheric probe which flew through a life form, filming, during its descent to the core.
Exploration of brown dwarves is considered a low priority.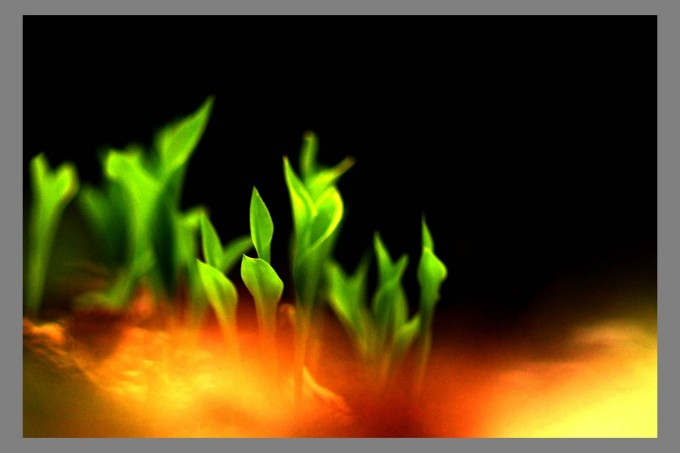 Drowning Moth
Beginning of March, 2014, I walked in the Zevenbergen Forest, Ranst.
On the banks of the ditches you can make photographs with lots of contrast, so I walked along the water.
About six feet from shore, this drowning moth. I planned to save it, but first, a quick photograph. A first image without paying attention to composition. Then, this image, with the moth carefully lined up in the dark reflection of a tree. I wanted to take a few more photographs, but the wave pattern the wings made stopped after about five seconds and didn't start again. I was disappointed. Suddenly I realized the moth was dying and it was finished.
Quickly I looked for a branch, but the only one I found was too short. Pity. The moth no doubt served as a protein rich delicacy to a bird or a frog. It's a beautiful, but sad shot.
Life is so easily extinguished.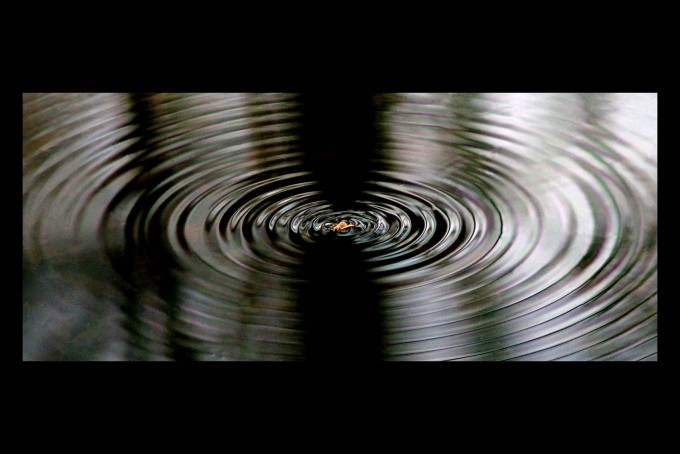 Nuclear blast
I was happily taking shots of forest anemones when World War Three started. The bomb incinerated the Antwerp port at twenty miles distance.
I live, but what good does it do? The anemones bloomed for the last time.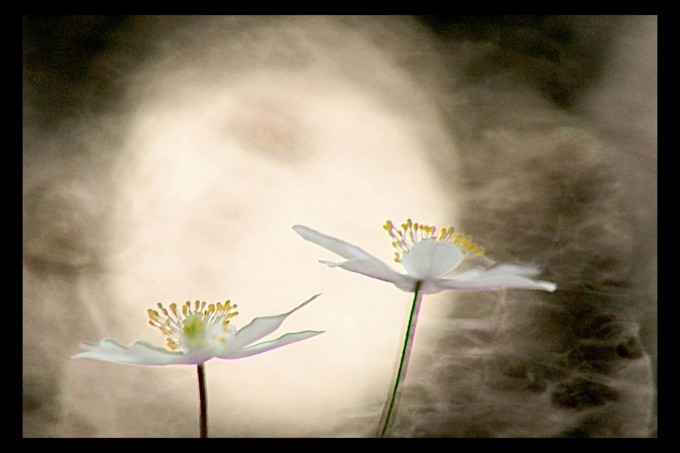 Microvilli
Microvilli (singular: Microvillus, lat. Villus "brushy hair (from animals), wool") are microscopic protuberances of the cellular membrane which drastically increase the surface of cells. Microvilli are found in the brush border of the small intestine. Because of the large surface macromolecules and ions can be absorbed more easily.
The brush border is the homogeneous layer which is visible at the apical side of the enterocytes (absorbing cells in the small intestine) and the epithelial cells in the proximal tubulus. If this tissue is looked at through a light microscope, one can see that the brush border consists of a great number of very closely stacked microvilli. These microvilli make for a twentyfold increase of the small intestine surface. This increase in surface makes the intake of nourishment much easier.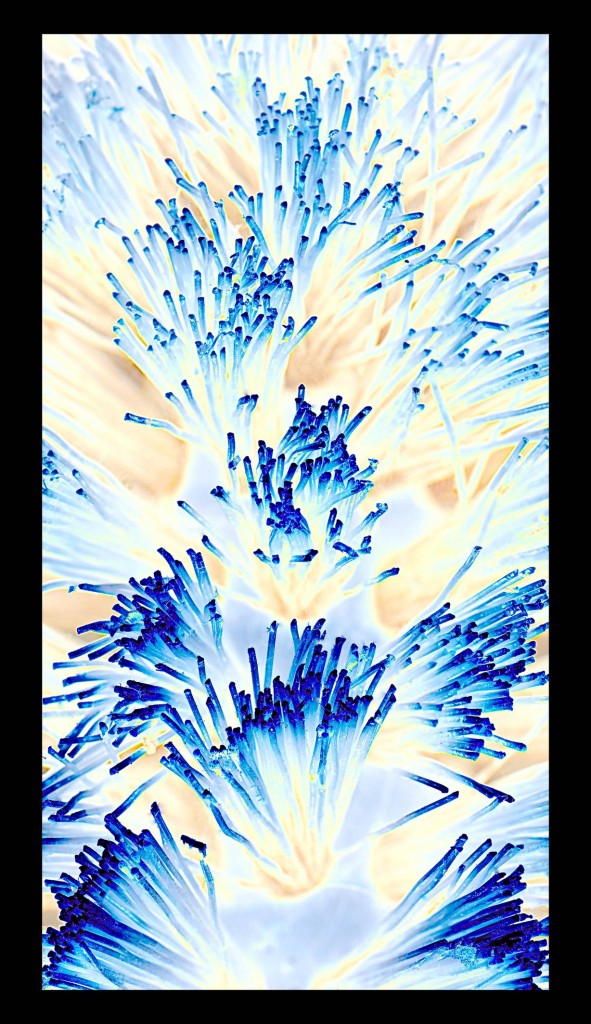 Me, as a Photographer
This is a fun one.
So I went to take this photograph. At first I wanted to go alone, but I took my sister Nadine along to take the shot.
I hung about ten camera's around my neck and arranged them in such a way that they showed nicely. But this hopelessly entangled the straps.
After about five minutes the forty pounds of camera started to really hurt and I wanted to take them off.
I couldn't unknot them. The weight became unbearable. In the end I had to lie down and make my sister disentangle them.
I don't want to think about what would have happened if I had done this alone.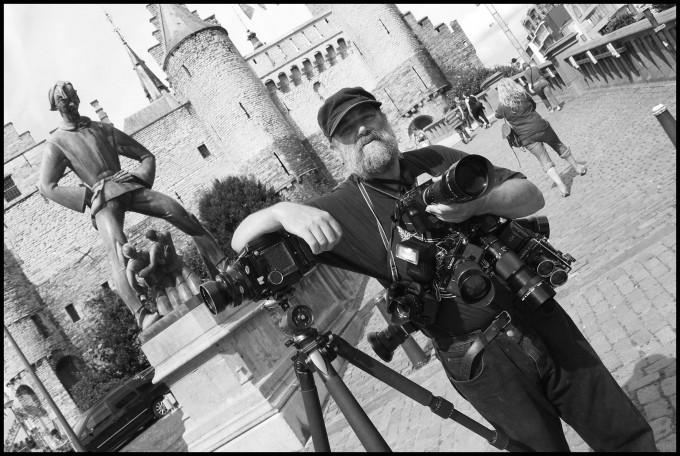 Love is:
Putting your paws on the eyes of your beloved.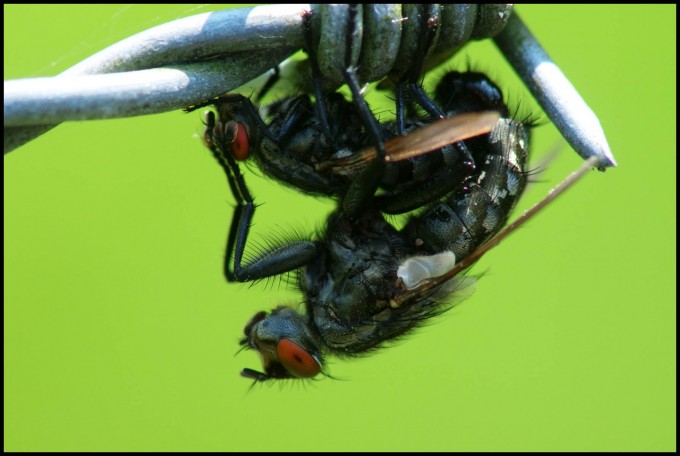 Visisonor
This is how the Daft Punk music looks to Guy-Manuel de Homem-Christo.
The Visisonor, developed by the University of Antwerp in 2017, translates the impressions of the other senses to a visual signal.
Apple bought the patent.
In 2019 110 million Visisonors were sold, despite the violent price tag.
With Thanks to Isaac Asimov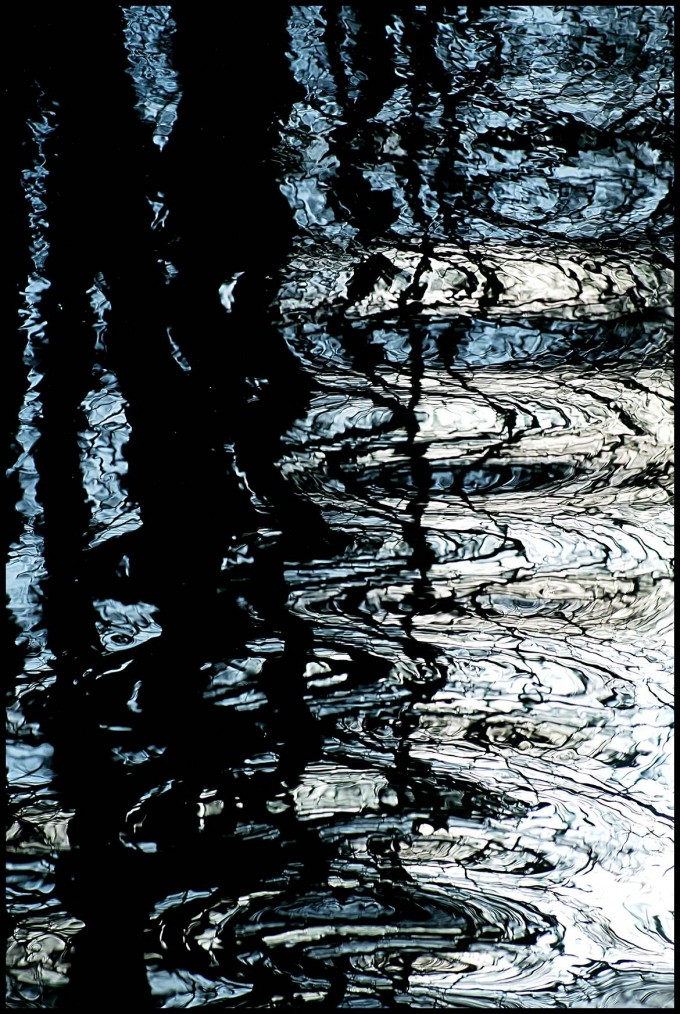 Second Exercise
Oh, yes, believe it or not, this is a photograph!
I can't make up any story with this.
Can you?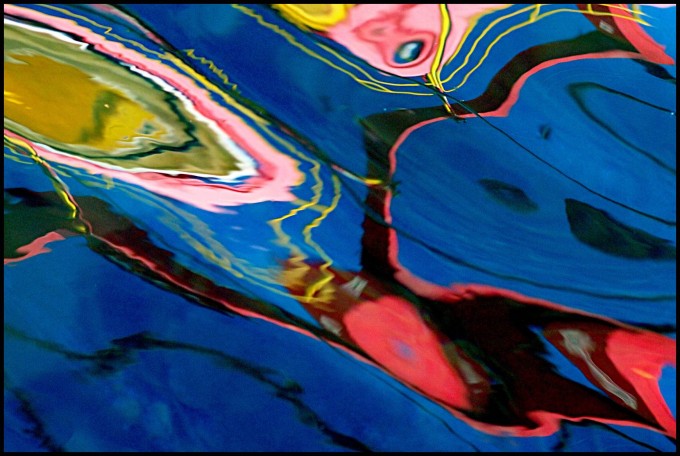 Well, hope you enjoyed it!
And, my apologies!
Dirk.