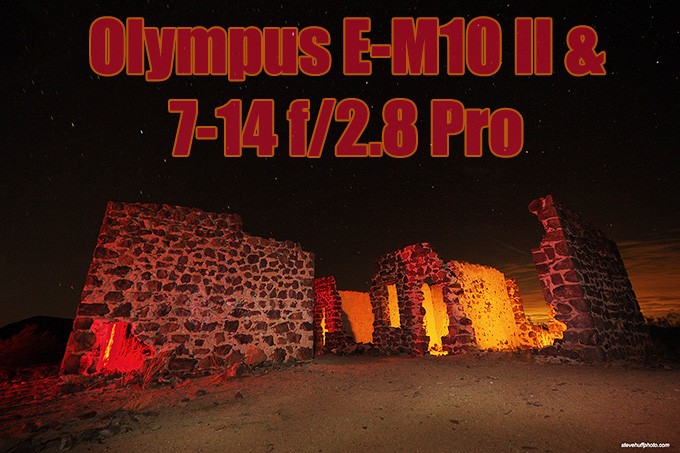 The Olympus E-M10II and 7-14 Pro Lens Review
by Steve Huff
Buy the E-M10 at Amazon or B&H Photo
Buy the 7-14 Pro at Amazon or B&H Photo
Seems like it was just  yesterday when I was reviewing the Olympus E-M10 (Mark 1) and shooting the streets of Las Vegas with it…thinking all along just how far we have come with camera technology. The E-M10 Mark 1 was a tiny little guy, but not too tiny, and it was as powerful as the larger more expensive Micro 4/3 cameras. It was a popular choice for those getting into the Micro 4/3 camera world due to its much more affordable price over says an E-M1 or even E-M5 II, and it offered plenty for most to really understand what micro 4/3 can do for them.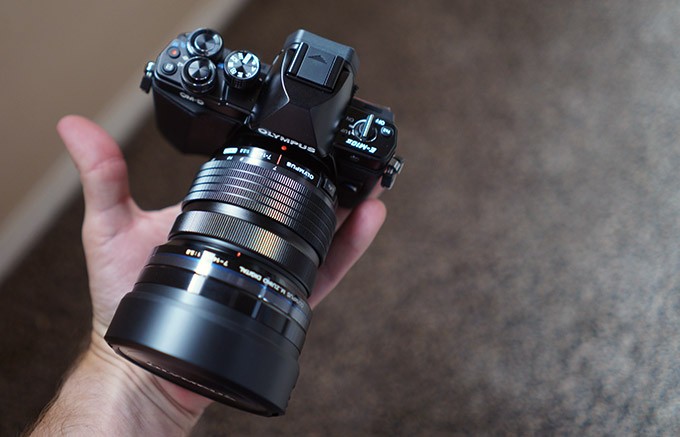 Now here we are today with the new E-M10 II and while not groundbreaking "new" as in, just came out today..I have been shooting with the E-M10 II and 7-14 for a couple of weeks and have grown to really enjoy this combo. Now, I am an E-M1 and E-M5 kind of guy as the size of the E-M10 is on the small side for my tastes but if you have small hands and want an easy, enjoyable and quality experience, the E-M10 II will give you just about as much as it's larger siblings, the E-M5 II and E-M1.
Of course with the new Pro 7-14 f/2.8 lens attached, the camera is no longer "tiny" nor will it ever fit in a pocket, but what a combo this could be, for those who really enjoy soaking in the entire environment in a photo. Yep, even with the 2X crop factor of Micro 4/3, the 7-14 still comes in at an ultra wide 14-28mm focal length, and yes, light gathering is still f/2.8 and I find this the perfect ultra wide lens, in fact, with its fantastic solid but smooth build, its amazing lens performance which is sharp across the frame and its nice size which is bigger than most Micro 4/3 lenses but still smaller than a full frame ultra wide zoom (though better made) it is the perfect ultra wide, in fact, the best I have ever shot with.
When I factor in the size, build, speed, performance and equivalent focal length I can put it up against my Sony/Zeiss 16-35, which is a beautiful lens itself. It is smaller than the Sony/Zeiss, built better, and gives just as good if not better IQ. Color is also more "pleasing"…"warmer" with the Olympus, which many find more pleasing. So for Micro 4/3 shooters, using a lens like this you are not giving up a thing over a full frame sensor and ultra wide except maybe some overall crazy resolution (especially with a camera like the Sony A7RII or the new Canons).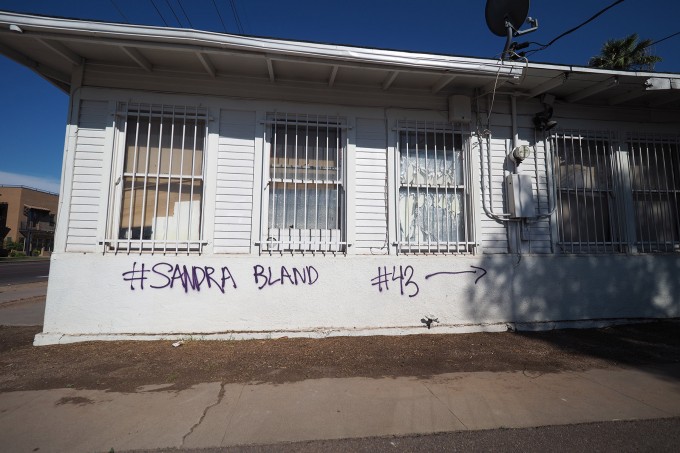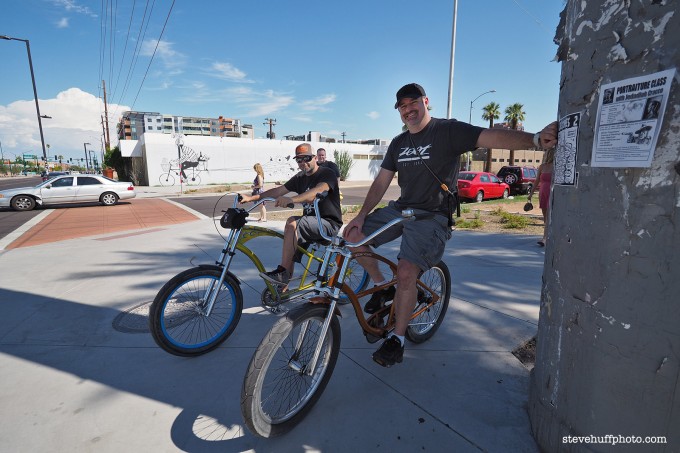 With a lens like this, the 7-14 Pro and a camera like the E-M10 II with offers true 5 Axis image stabilization we now have an incredible thing. Already, using an ultra wide lens like this we really do not need much in the way of image stabilization, but turn on video shooting on the E-M10 II and wonder at the silky smooth performance that almost mimics a hollywood steady cam style rig. You can walk, run and shoot video and your footage will be smooth due to the combo of ultra wide lens and the 5 Axis IS. VERY cool as Olympus has seemingly perfected this tech now as it works so so well.
Night Shooting with the E-M10 II and 7-14 Pro
Middle of the night, AZ desert, some light painting with the E-M10 II in Live Time mode which makes it super easy to do light painting as you preview the progress on the LCD in real-time, and just stop capturing when the camera shows you the exact image you want. Genius and Olympus has been implementing Live Time and Live Composite now for a while, and its a great feature to have as it just works so so well.
Click images for larger view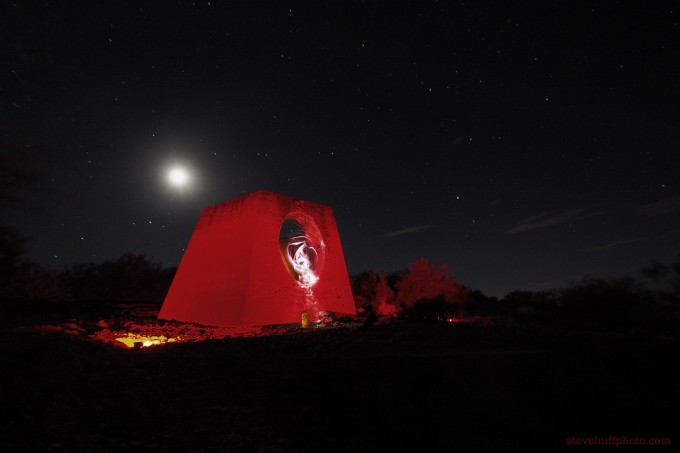 –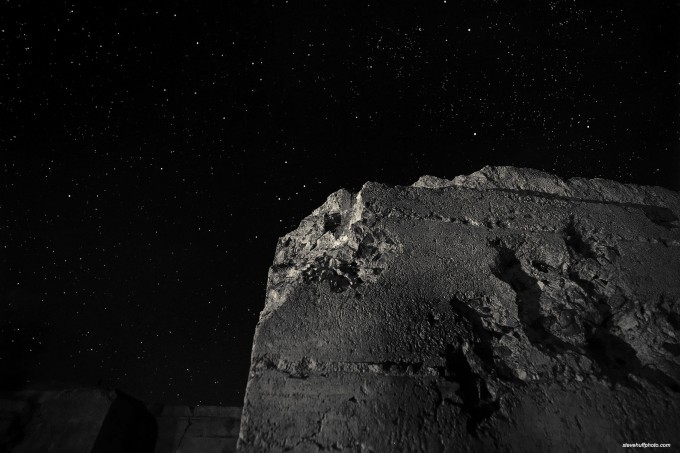 –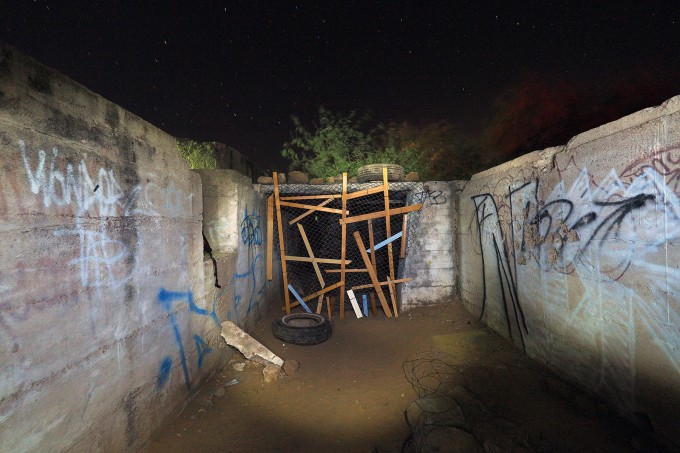 Truth be told, while out in the desert shooting at midnight using the E-M10 II and 7-14 2.8 Pro I was very happy with the ease of use when it comes to long exposures. If you shoot at night, and want an EASY way to do long exposures look no further than Olympus. ALL of their Micro 4/3 cameras will allow you to do some very cool things at night using the previously mentioned "Live Time", "Live Bulb" and "Live Composite".
Late night, AZ desert. 7-14 Pro, tripod mounted, 97 seconds, f/3.5, 7mm (14 equiv). Give it a click!
E-M10 II – revolutionary or refresh?
If you missed my original review of the older mark 1 version of the E-M10, see it HERE. I have been reviewing Olympus digital cameras since their very 1st PEN, the E-P1 and have not missed any major release to date. The original E-M10 was revolutionary IMO as it was  tiny, had 3 AXIS IS and performed to a level of the larger and more expensive Olympus Micro 4/3 cameras. The new E-M10 II is an improvement in many areas but still more of a "refresh" than anything crazy new or exciting.
They added 5 Axis vs 3 Axis, which is awesome but the 3 Axis was also quite good. There is a silent mode for 100% silence when shooting and the electronic shutter has a capability to go up to 1/16,000 of a second, perfect for bright sunny days when you want that shallow DOF from a fast prime.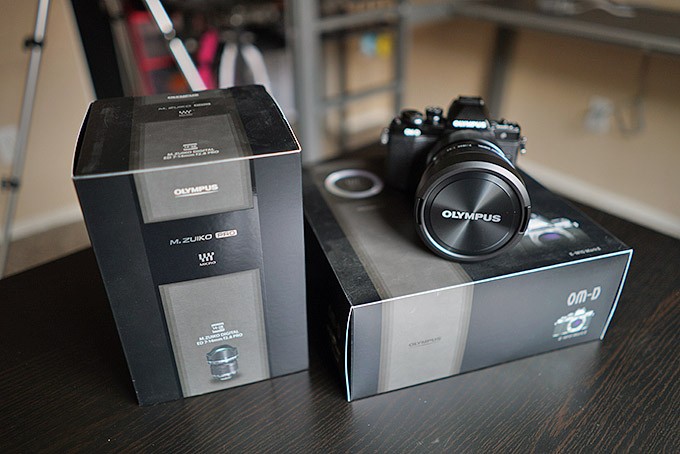 More features of the E-M10 II…with great features in bold..makes you really see how powerful this little guy is…
A high-resolution 16.1MP 4/3 Live MOS sensor pairs with the TruePic VII image processor to facilitate up to 8.5 fps shooting and full HD 1080p/60 movie recording, with a top sensitivity of ISO 25600. In-camera 5-axis image stabilization compensates for up to 4 stops of camera shake to benefit working in difficult lighting conditions and a FAST AF system employs 81 contrast-detection areas for quick, accurate performance with dedicated subject tracking modes. The retro-themed body incorporates a range of assignable function buttons and dials, as well as a 2.36m-dot OLED electronic viewfinder and 3.0″ 1.04m-dot tilting touchscreen LCD for clear image monitoring and playback. Besides the handsome appeal of the E-M10 Mark II's design, its main assets lie in its versatility of shooting functions and performance to benefit photographers and videographers alike.
7-14 Pro. around midnight in the AZ desert in an old ruin that sits there with tunnels and passageways.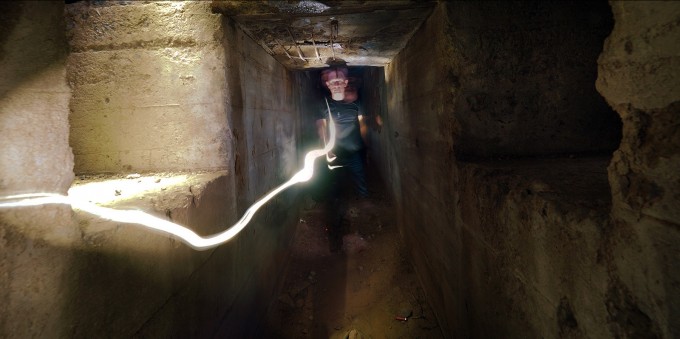 Benefited by the range of imaging capabilities, the E-M10 Mark II also incorporates a variety of shooting modes to suit working in various situations. A Silent Mode utilizes an electronic shutter for perfectly quiet picture-taking, with shutter speeds up to 1/16,000 sec. available. Live Bulb and Live Time modes are well-suited to creative long exposure photography and a dedicated Live Composite mode lets you watch a long exposure gradually build up during the course of the shot. Built-in Wi-Fi allows you to pair the camera with your smartphone or tablet for wireless sharing and remote camera control, and an interval shooting mode can be used to produce in-camera 4K time lapse movies.
Left to right: Best friend since childhood Mike, then my wonderful Debby and me during a mid day beer/pub crawl event in Phx AZ which was LOADS of fun.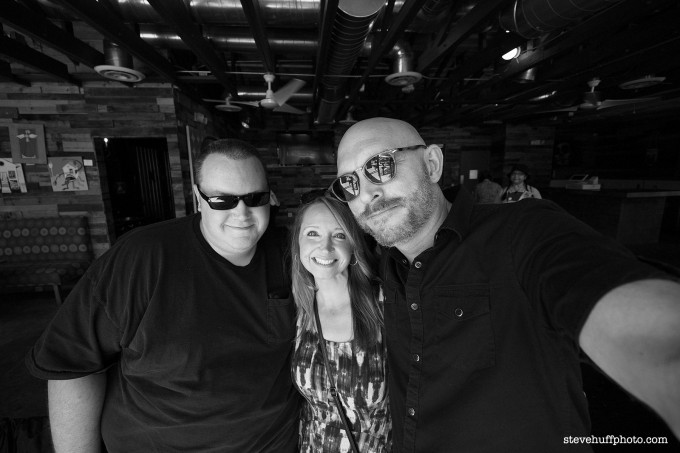 When reading the above text, with features in bold, I say to myself "wow, this camera is offering a TON for $649 USD. I have shot with cameras costing up to $35,000 and down to $69. More expensive does not always mean "better". I have had experiences shooting a $15k camera that was awful. I hated it. I had an experience shooting a $300 camera once that was delightful (though it was no where near the E-M10 II for capabilities).
This little E-M10 II, while not immediately different from the original E-M10 really shows its stuff when you are out shooting with it. I notice quicker AF, better low light, better IS, and well, an improved EVERYTHING. So I take back y :refresh" comment as it is more of an "evolution" of the wildly popular E-M10. It offers just enough that if I was shooting and only owned an E-M10 I would be pretty tempted to upgrade for these new features. In use and practice they are quite nice.
One new feature I did not yet mention is FOCUS BRACKETING, which is basically just like FOCUS STACKING. According to Olympus, this feature is really for Macro shooters as it allows you to get tack sharp macro shots without worrying about missing or having a part of your subject out of focus. The camera will take several shots, focused at different points and then you can use something like Helicon Focus and BAM you have a perfect, in focus, stacked image. This is the 1st camera I know of that offers to bracket focus for you in camera.
I expect the next pro Olympus, whatever it is called (E-M1 II perhaps) will have this feature as well and I also feel it is close to being time for a new E-M1 II, my spider senses are feeling it. 😉
So Olympus is continuing to do innovative things with every camera release, with this one it is the focus stacking/bracketing. More so than ANY other camera company, Olympus seems be on top of it when it comes to creating a camera that is polished, finished and works VERY well with just about any feature you could ever want. Focus peaking is always there, 5 Axis now standard, fast AF speed all around, gorgeous lenses (some of the best in the business) and an IQ that is pure "Olympus".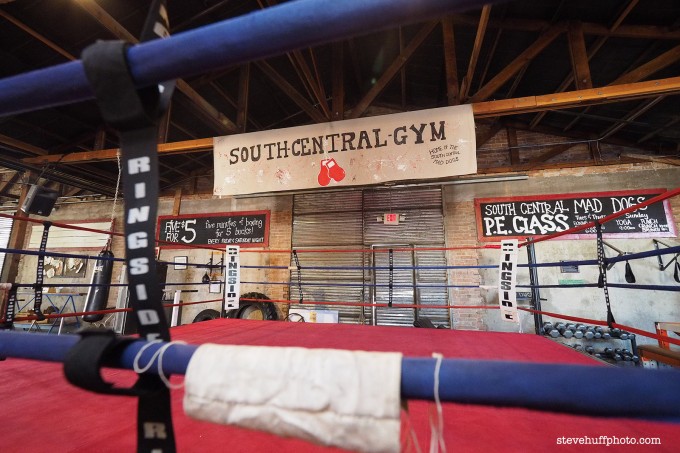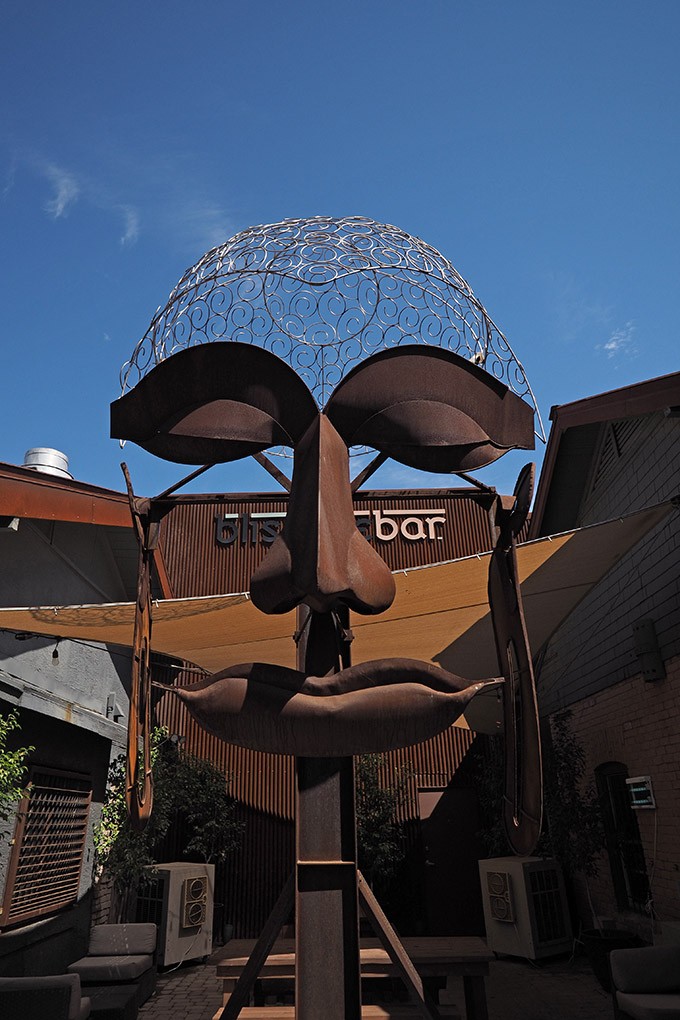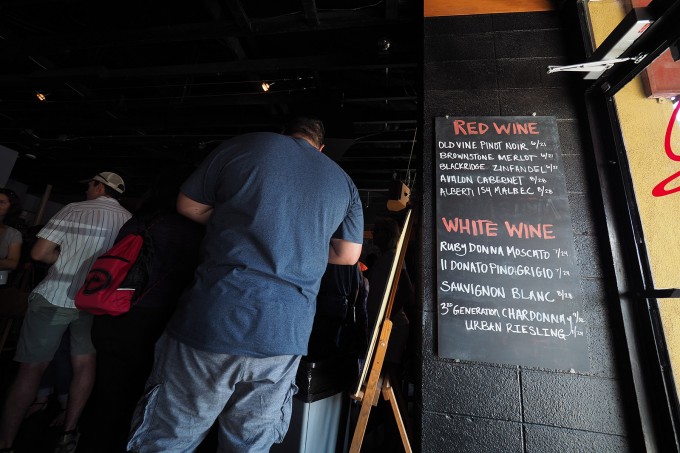 Again, this is a quick review as my original E-M10 review cover more about what the E-M10 is all about HERE. This review is just to talk about the new lens and the new features of the camera. When I did that review I used the then new 12-40 f/2.8 pro lens. I like this 7-14 better as it seems to be sharper with better contrast and pop.
The 7-14 f/2.8 Pro
As already stated, I LOVE This lens. It is quite amazing really and the good press it has been getting is well deserved. In general terms, it is still small for an ultra wide, but this ultra wide is built to a HIGH standard while keeping it as small as possible for a super quality f/2.8 lens. It is dust, splash and freeze proof, and I tested this out in the desert at night while shooting some long exposures and self portraits. When I returned home my gear and clothes were COATED in dirt, grime and dust. I blew off the direct carefully from the lens and body, then once all dirt was off of the lens, it was cleaned gently with a lens cloth and the barrel was wiped down. Looks and performs as new.
This lens will offer you an amazing perspective and if you own a Micro 4/3 camera, it beats the old Panasonic 7-14 f/2 (that I used to own) in EVERY way from build, performance, AF speed, quality and of course Aperture speed.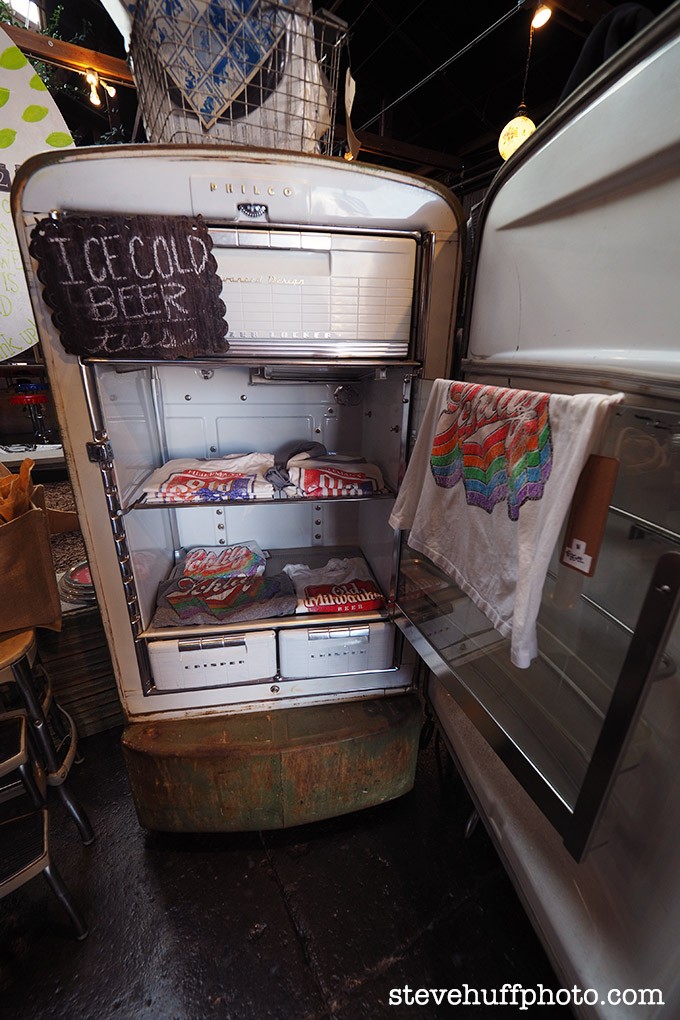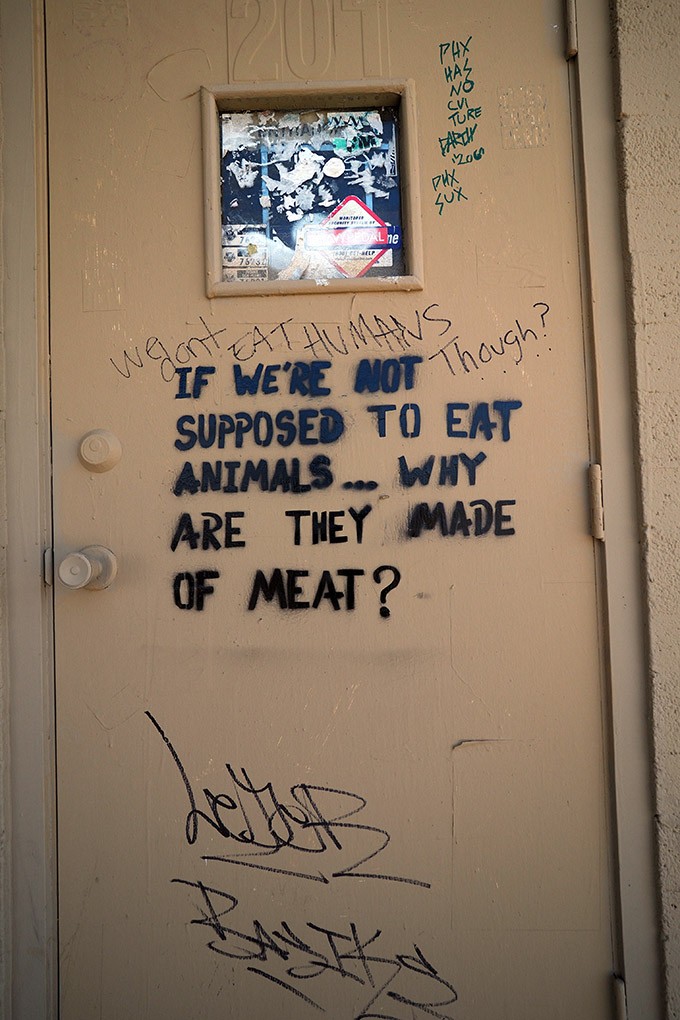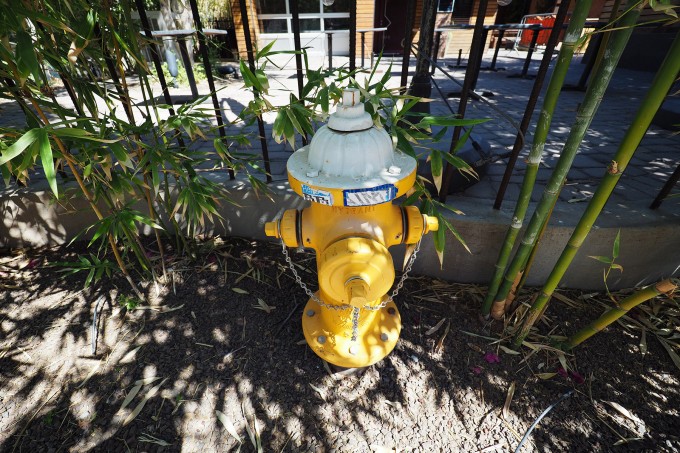 It seems no matter what I wanted to capture, no matter how tight the quarters were or how much of the subject there was to capture, the 7-14 always pulled it in. Truth be told, I'd probably rather have seen a 7mm f/1.8 pro 😉 If I owned this lens I think 99.9% of my images would be shot at 7mm. ;0 Even so, I know many would use the full range of the glass.
I have shot with the Nikon 14-24, the Canon 16-35 and the Sony/Zeiss 16-35. This Olympus pro, for me, beats them all in all areas. It holds up to the high quality tradition that Olympus applies all of its pro lenses and then some. While not cheap at $1299, it is priced accordingly and priced right.
Conclusion
The new E-M10 II and 7-14 f/2.8 Pro lens is a stunning combo and the set would set you back around $2000, or $1500 less than a Sony A7RII body only. 😉 Think about that one.
While the E-M10 II can not compete with a full frame camera at high ISO, dynamic range or depth of field (shallow) it can take on something like a Sony A7RII for sharpness, color and FEATURES that make shooting FUN, ENJOYABLE and at times, THRILLING. I always seem to have a smile on my face when shooting with Olympus as the experience is just so user friendly and rich. The cameras never hold me back, no matter what I want to shoot..which is why I always have an Olympus M 4/3 camera on hand to go along with y full frame cameras. Sometimes, the job calls for things the Olympus would excel at, other times I need the full frame for the DR, DOF or richness.
I never have focus issues with Olympus cameras or lenses. I never have problems using these cameras and at the end of the day when I sit down to do image review, I am always pleased with what comes from a camera like the E-M10 II. They just "work" and if you are someone getting into photography, I HIGHLY suggest taking a serious look at the E-M10 II body with a lens like the 25 1.8 prime which would give you a 50mm equivalent field of view. So like a fast 50. See my 25 1.8 review HERE. 
In my experience Olympus, much like Sony, is on a roll in 2015 and going into 2016. They can do no wrong, and any of their current cameras are top notch from the PEN E-P5 to the still fantastic E-M1. Olympus also always rolls out MASSIVE firmware updates for all of their OMD line giving even owners of older models all of the new features of the newer cameras. Well, most of them. A sign that Olympus cares about its current base of customers instead of just releasing new cameras to fix issues.
While I am still partial to the amazing E-M5 II, I'd shoot the E-M10 II and be thrilled to if it was all I had. It's a gem indeed.
WHERE TO BUY?
I would buy from B&H Photo HERE
or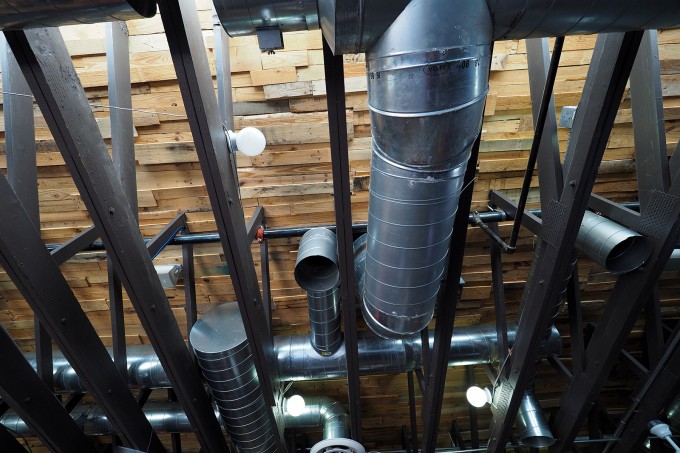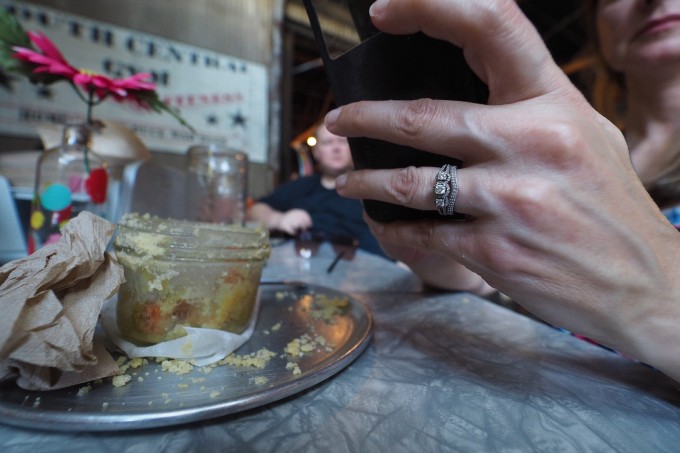 ——————————————-

PLEASE! I NEED YOUR HELP TO KEEP THIS WEBSITE RUNNING, IT IS SO EASY AND FREEE for you to HELP OUT!
Hello to all! For the past 7 years I have been running this website and it has grown to beyond my wildest dreams. Some days this very website has over 200,000 visitors and because of this I need and use superfast dedicated web servers to host the site. Running this site costs quite a bit of cash every single month and on top of that, I work full-time 60+ hours a week on it each and every single day of the week (I received 200-300 emails a DAY). Because of this, I need YOUR help to cover my costs for this free information that is provided on a daily basis.
To help out it is simple, and no, I am not asking you for a penny!
If you ever decide to make a purchase from B&H Photo or Amazon
, for ANYTHING, even diapers..you can help me without spending a penny to do so. If you use my links to make your purchase (when you click a link here and it takes you to B&H or Amazon, that is using my links as once there you can buy anything and I will get a teeny small credit) you will in turn be helping this site to keep on going and keep on growing.
Not only do I spend money on fast hosting but I also spend it on cameras to buy to review, lenses to review, bags to review, gas and travel, and a slew of other things. You would be amazed at what it costs me just to maintain this website, in money and time. Many times I give away these items in contests to help give back you all of YOU.
So all I ask is that if you find the free info on this website useful AND you ever need to make a purchase at B&H Photo or Amazon, just use the links below. You can even bookmark the Amazon link and use it anytime you buy something. It costs you nothing extra but will provide me and this site with a dollar or two to keep on trucking along.
AMAZON LINK (you can bookmark this one)
B&H PHOTO LINK – (not bookmark able) Can also use my search bar on the right side or links within reviews, anytime.
Outside of the USA? Use my worldwide Amazon links HERE!
You can also follow me on Facebook, Twitter, Google + or YouTube. 😉
One other way to help is by donation. If you want to donate to this site, any amount you choose, even $5, you can do so using the paypal link HERE and enter in your donation amount. All donations help to keep this site going and growing!
 I do not charge any member fees so your donations go a long way to keeping this site loaded with useful content. Thank you!