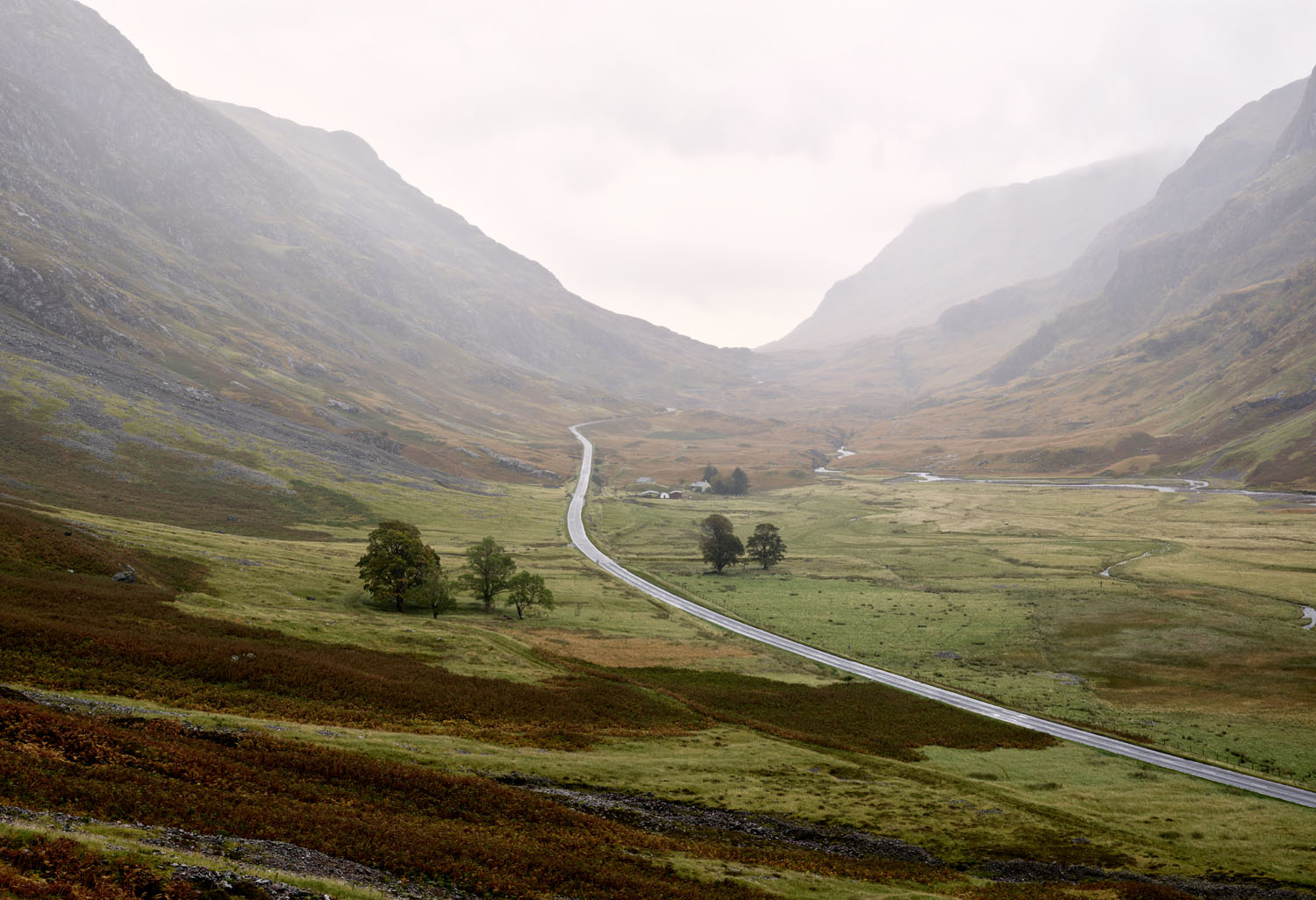 Scotland in Medium Format with a Phase One DF+
By Andrew Paquette
For my autumn holiday this year I had wanted to do a fashion shoot at a nearby ruined castle. However, I wasn't able to find the right models or styling for it, so I opted to go to Scotland instead. This is something I'd wanted to do since seeing Skyfall when it came out, and my interest was only enhanced when I saw Albert Watson's photographs at the Isle of Skye. I mentioned this to a photographer I knew in Edinburgh, Laurence Winram, who helped me find a good assistant (a great assistant—Stuart McMillan) and loaned me a lightstand and incidental gear for the trip.
I shot all of my serious shots with a Phase One DF+, an IQ250 back, and an SK 80mm LS lens. In addition, I brought a Sony A7R, Leica 35mm Summilux, and a Zeiss Alpha 135mm lens. The Sony was there to take video of the excursion, though it did get used for some incidental shots. Everything was shot tethered. This made things a bit more complicated in the rain, but some of these shots wouldn't have been possible any other way so I'm glad we went to the extra trouble of bringing a laptop, tray, and stand for the computer. All photos were processed in Phase One's Capture One Pro v. 8.2.
It rained off and on throughout the trip, at times quite heavily, but for hours on the second day it was clear. A surprise to me was how important my new waterproof hiking boots would be. I didn't know anything about Scottish bogs until I got there, but after walking through a few, am grateful to my wife for insisting I get a new pair of boots. It was like walking on wet sponges—and this was true almost everywhere we went.
Because the monumental rock formations of the Isle of Skye have been extensively covered by other photographers, I tried to avoid them (though I was curious to see them). Instead, we focused on the inner portion of Skye Isle, and the less obvious places around Glen Coe valley. As Stuart said at one point, almost at our last stop 'Look! That's the first tripod we've seen so far—we've done well'. He explained that if we'd gone to some of the more famous landmarks, we would have seen dozens of photographers with tripods.
On my first shot I managed to snag my trousers on a thorn bush, which tore out a huge section of the backside. I didn't notice, but apparently it was pretty obvious to Stuart:
'Looks like you've torn your trousers there'
'Is it bad?' I asked.
'Yep, it's pretty bad.'
I took a look and was surprised at the extent of the damage. Luckily I was able to obtain a sewing kit at the hotel to sew them up. It looked like I'd been the victim of a shark attack, but under my rain gear, it was invisible. Apart from that mishap, everything went pretty well.
My primary goal was to make photos that resembled some of my watercolour paintings that have a strong Chinese influence, as seen in this example I made at Yosemite:
Figure 1 Lee Vining, watercolour on paper, 37″ x 54″ 2002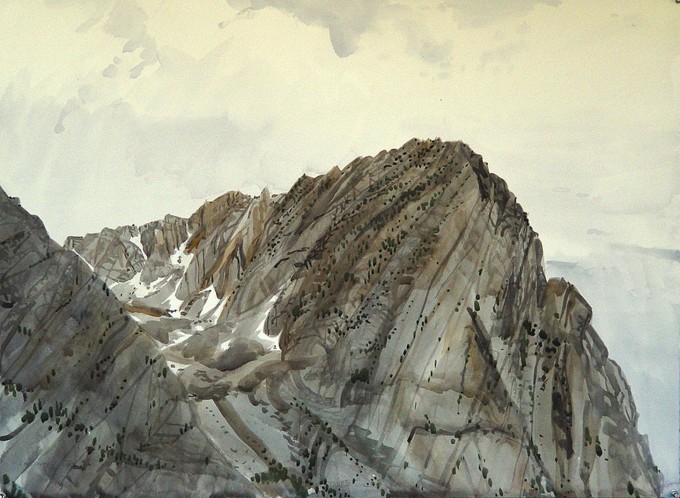 Here are some of the shots, along with comments:
Figure 2 Waterfall near the town of Calender ISO 800 f/2.8 1/1000
This was the first major shot I took, on the way up to Glen Coe. It is also the shot I ripped my trousers to get. The goal was to get something that would resemble Chinese paintings from the Song dynasty of big dark boulders in rivers or fast moving water. To get that effect, I wanted the water sharp, so we spent most of our time balancing ISO, f-stop, and exposure to get what I wanted.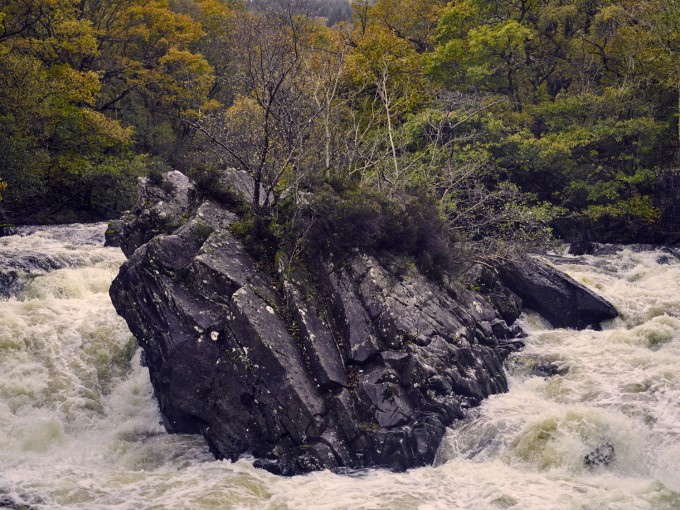 –
Figure 3 Mini bogs ISO 100, f/10, 1/200
On the way to Glen Coe, we passed a big lake that had a number of small islands topped by small trees. I wanted to shoot them, but didn't have the time at that moment, so we came back and got this on the way back to the airport at the end of the trip. I wish I'd had a longer lens for this, but I didn't have one, so this is a crop, making it one of the smaller images from this excursion. Because the IQ250 produces such large images though, it is still larger than most full frame DSLR images.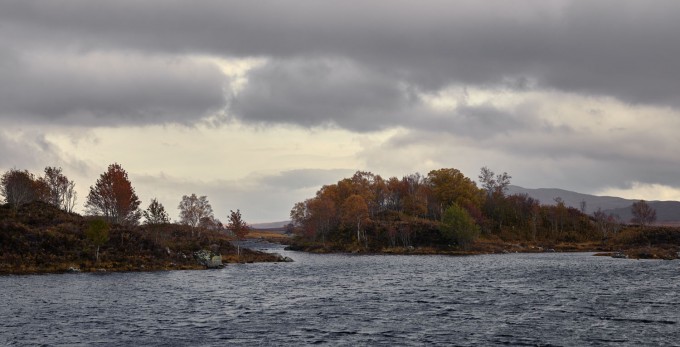 –
Figure 4 Cuilnacnoc Gate ISO 100, f/16, 1/80th
Stuart and I spent at least an hour at the top of this hillside, engaged in an effort to capture the vastness of it. However, none of the pictures were able to do the job, so we hiked down. Not wanting to get trapped at the wrong spot, I took note of this location and then we continued to the bottom before deciding to come back up and get this shot. It is about four images stitched together in Photoshop, one of the largest of the stitched images I made on the trip.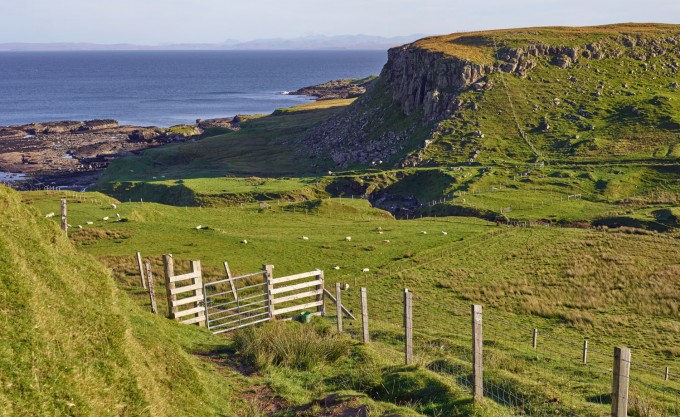 –
Figure 5 Glas Bheinn Mhor ISO 100, f/20, 1/25th
We stood on a huge spongy mass to get this. The primary difficulty was waiting for the light to peek through the clouds and hit this mountain. We waited about a half hour or more after this was taken, hoping it would get better but it didn't so I finished with this. It is one of the few images that is inspired by a British rather than a Chinese painting. In this case, I recognized the mountain as one painted by the British watercolourist Francis Towne (one of my favourite artists), so I was quite keen to get it.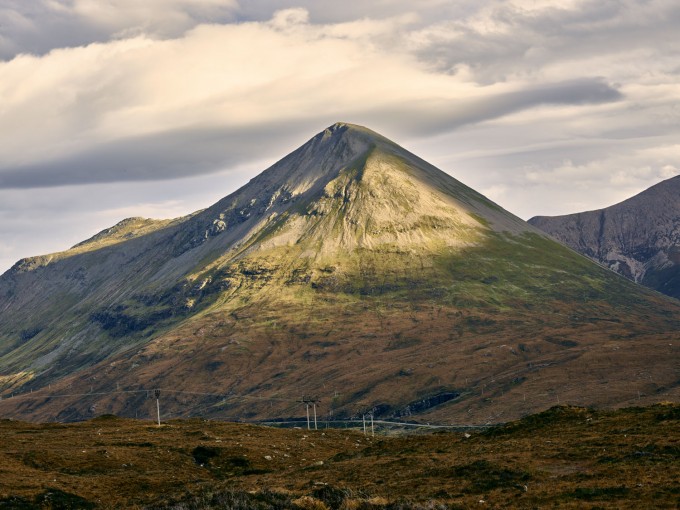 –
Figure 6 Glen Coe Valley ISO 100, f/14, 1/8th
This is one of the first shots taken at Glen Coe. It was a tough hike (for me) to get up the slippery moss and rocks while carrying about 15 kg of camera gear, but we made it up and were rewarded with beautiful views in every direction. It rained quite hard at times, but all of the equipment performed without malfunction. That said, by the end of the day, everything in my bag was covered with condensation moisture and needed drying off.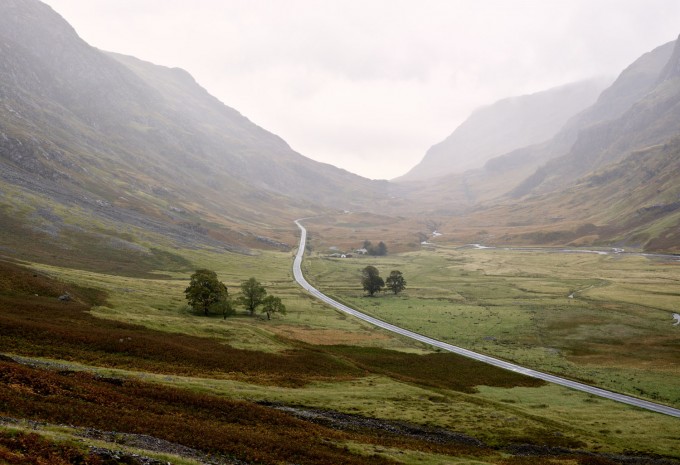 –
Figure 7 Glen Coe Bog ISO 100, f/12, 1/20th
When I first saw this it looked like a field of lumpy grass like what I frequently saw around Phoenix. When I suggested going out for a photo, Stuart warned me that "it will be wet". It turned out this was a bog and it was very wet, just as he said. All of the plants you see here are growing straight out of water, and beneath that, soil. The mystery question is "how deep is the soil?" In most cases the water was only an inch deep, but in others your whole foot could get swallowed by one of the red spongy growing things they had all over out there.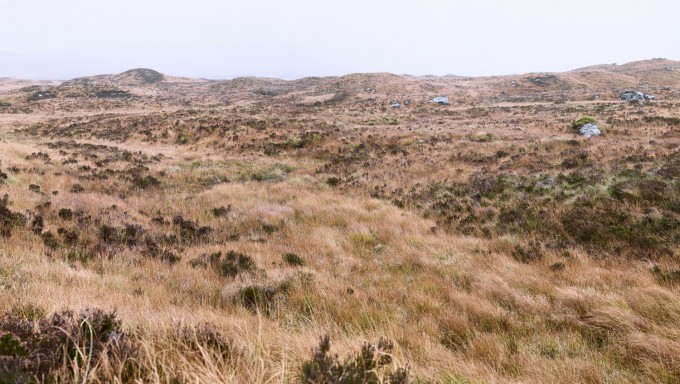 –
Figure 8 Glen Coe 2 ISO 100, f/8, 2.5s
This image is one of the few that really looks like a Song dynasty painting to me. It is shot straight across the Glen Coe to catch the lowering clouds.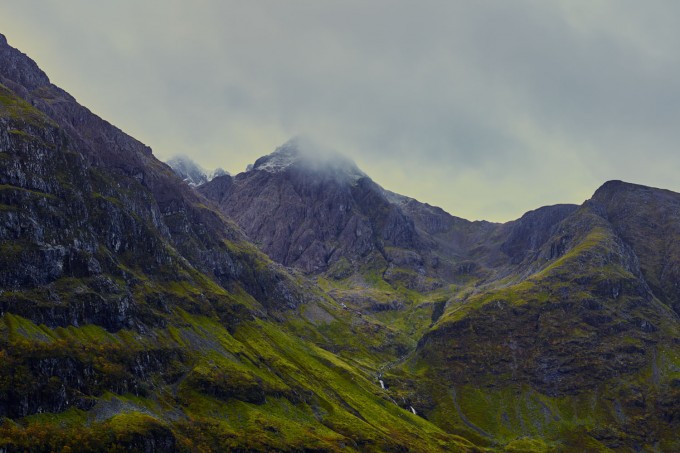 –
Figure 9 Loch Long Cliffs ISO 100 f/11, 8s
Another of the 'Chinese' images. We were headed to Loch Anna, but couldn't find access, so we stopped at Loch Long instead to shoot this at the end of the day, at sunset or a little after. It was a real surprise to me how Chinese the landscape looked because I hadn't expected it at all.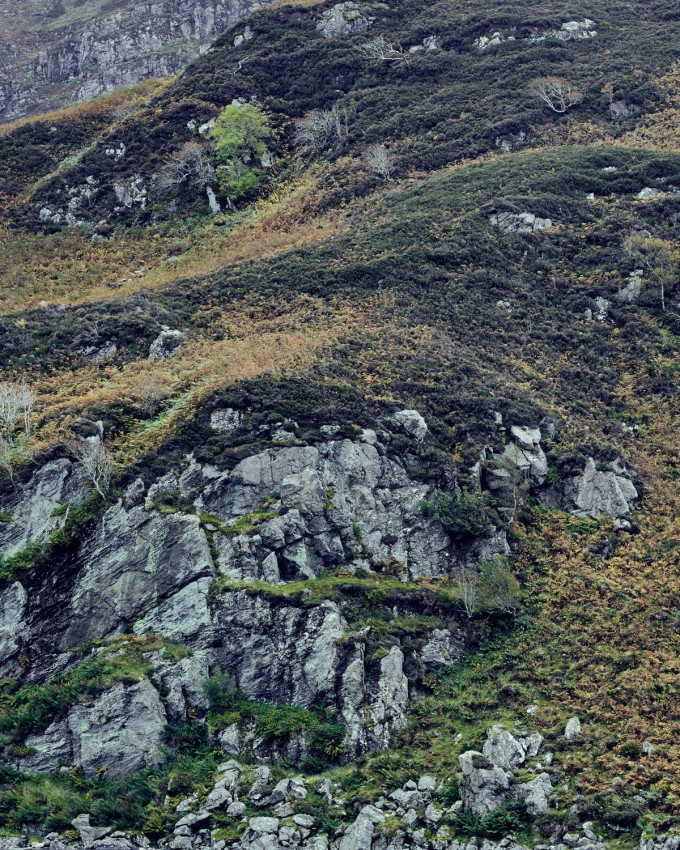 –
Figure 10 Maligar homes ISO 100, f/20, 2.5s
This was shot in the early morning of the first full day of shooting. It was quite windy, which led to quite a lot of motion blur in the grasses—and in almost all of the photos I took on the 3 days of shooting that we had. This scene reminded me of Edward Hopper's watercolours of New England homes in the U.S. The way it is shot here though, it looks more like watercolours by Winslow Homer from his time in England and then later near Boston.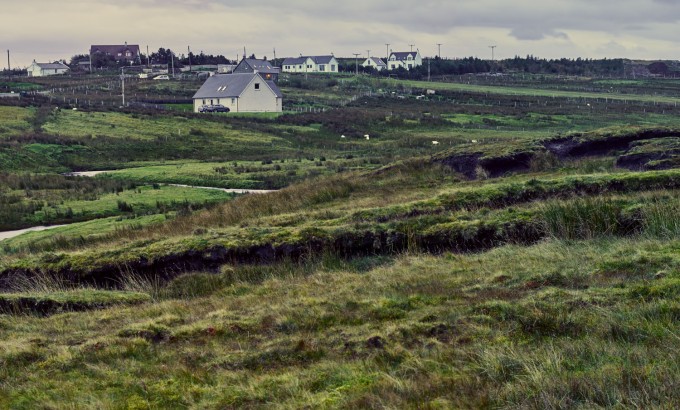 –
Figure 11 Maligar Phone Booth ISO 400, f/4, 1/6th
I had just finished telling Stuart about a shot I didn't get in Thailand—of a phone booth in the middle of nowhere—when we ran into this phone booth in the middle of nowhere. Stuart was kind enough to be the model for this, using the reflected light of his pocket torch to illuminate his face.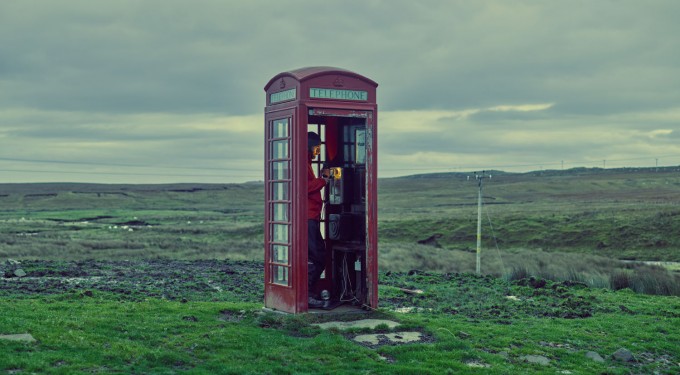 –
Figure 12 Portree Harbor, ISO 800, f/2.8, 1/3s
This is easily the most difficult shot I got on the trip. We were driving back to Maligar for a second look at the houses, when I thought it might do just as well to stop in the town of Portree and shoot a church I'd seen there when we stopped for lunch earlier in the day. After getting out of the car with the equipment, we discovered that we didn't have a good angle on the church. However, the harbour looked interesting, so we walked down there. As soon as I saw these boats, they reminded me of the watercolours of Paul Klee in the way they were arranged with very little overlap and simple colours. The boats were moving quite a lot as they bobbed on the water and there was very little light—less than it seems here because when we started the moon was not visible. We started by shooting at ISO 6400 to get the focus. The viewfinder was useless for this because it was almost pitch black, but the tethered computer allowed us to check focus there. Once we had the focus, we walked back the ISO until the graininess wasn't an issue. After that, we did the same thing with aperture and f-stop. Then, the moon came out and we had the picture, complete with rays of light.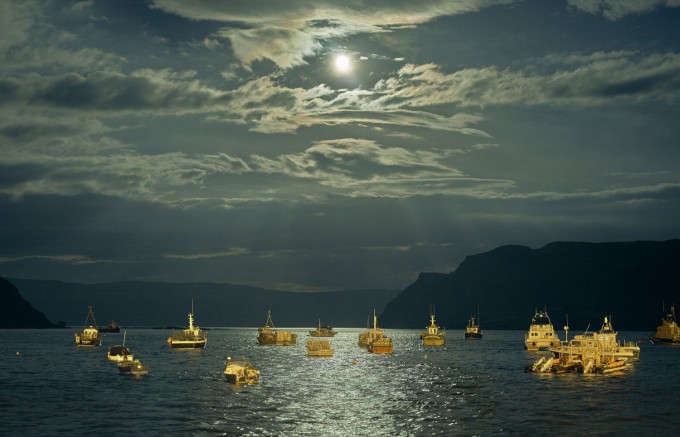 –
Figure 13 Sligachan Waterfall ISO 100, f/8, 1/3s
This is another of the Chinese compositions, near some of the most famous landmark rock formations on the Isle of Skye. Naturally, we didn't see those or photograph them. To get this, we mounted the camera looking down a steep rocky defile. The terrain was quite spongy—giving me the feeling that I'd slide over any moment, but we got the shot okay and then headed back toward Portree.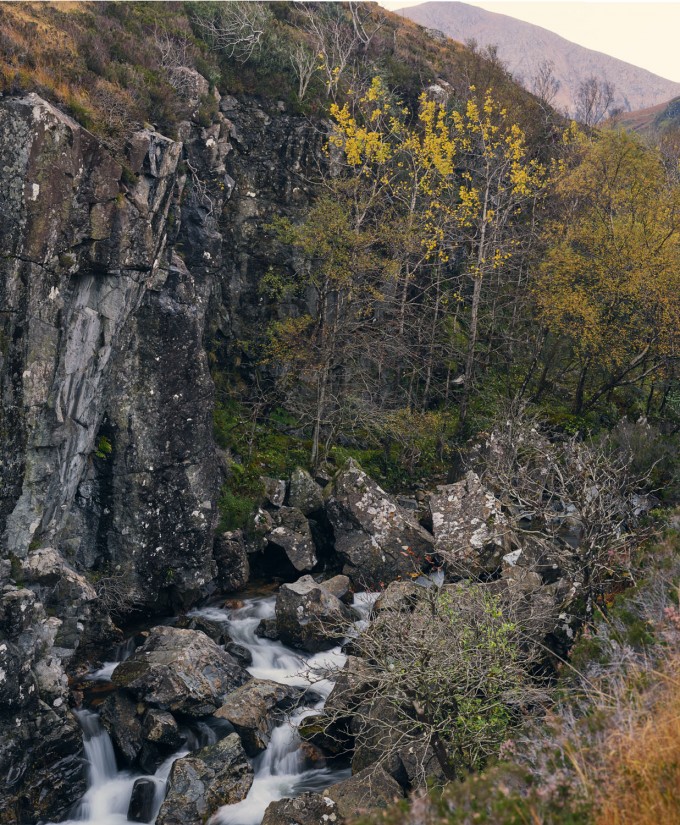 –
Figure 14 Upper Ollach ISO 100, f/18, 1/6s
The original vertical composition for this image had a very Chinese feel to it, but I thought it looked better as a horizontal composition and cropped it. Now, it reminds me a bit of a van Gogh painting of windswept rocks that I saw in a catalogue for a show of his work in New York City.