The start of my Photographic Journey. First year. Portraits.
By Roxanne Lai
(From Steve: I always love seeing posts from fresh, young, passionate individuals getting into photography. I feel Roxanne is on the right path and off to a great start and at only 15 years old, she has MANY years of photo adventures awaiting her. Awesome work Roxanne. See more of her work HERE)
Hello Brandon and Steve,
My name is Roxanne and I am a 15-year-old high school student living in the USA. I am an artist in a few different respects; I have been drawing and painting since I was a child, as well as singing and playing the flute. My father is a camera geek (he loves your website), and has taken many photos of me and my sister growing up. Ever since 7th grade I have been very conscious of aesthetics and the beauty of a wonderfully composed photograph. Last year I was really interested in taking a digital photography class, but my schedule would not allow it. This year however, I made sure that I could take it as a minor class.
My dad got me a camera over the summer, and I have had a lot of fun experimenting with photography. I love fashion and photography. I usually use my sister as a model, but I wanted some gender diversity so I asked one of my male friends if he would collaborate with me on some photos. In my photos I focus on human features such as eyes and lips, as well as hair. I also love the curves and sharp angles of the human body, and the shapes that our bodies can make and create. I like to play with light in my photos, and I use it to highlight certain aspects of the human body. I interact closely with my models on posing to create a joint effort and product, but I also like to take control of the photo or be spontaneous with shapes and light.
In the future I would like have more than one model in my photos and take photos professionally, but I am proud of the more portrait-like photos that I have taken after only a year on my journey as a photographer. I am excited to learn more about photography and myself in the process of artistic discovery.
First Photo: "Let's Get Lost" – click it for full res
This was one of the first photos I ever took. I remember that I wanted to make a photo of my sister like you might see in a fashion magazine, so I put blonde extensions in her hair to cover her brown hair and give her an alien-like look. I did her makeup and picked out a dress. We debated about where to take the photo, but we eventually agreed on the couch in our living room. I turned on a standing lamp and BAM! There was this beautiful light illuminating her face. With the light coming from what seemed like nowhere, my sister took on this ethereal but strong look. The framing of the hair, the half shadow on her face, and the lines of the blinds added to the composition.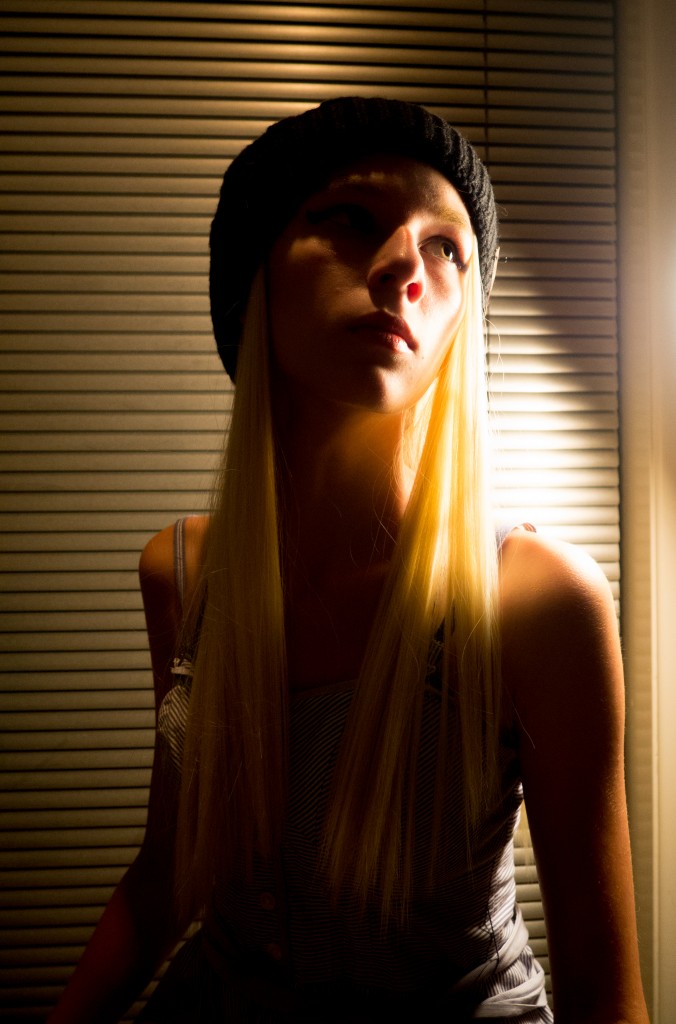 ——
Second Photo: "I Wear You"
This picture was for one of my photography assignments for my class. With this assignment depth of field was our main source of inspiration. I, however, took inspiration from my model. He and I went to middle school together and recently reconnected to collaborate on a set of photos. I wanted to highlight his beautiful facial structure, fine hair, and stunning blue eyes. Overall, it was a pleasure to work and reconnect with him through photography, as well as exploring male fashion and portraiture.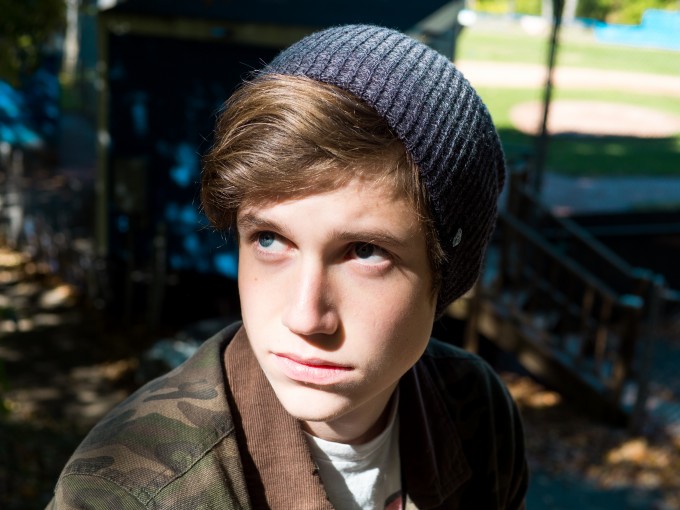 ——-
Third Photo: "Far Alone"
I'm very proud of this photo; I had sketched out many different poses I wanted to try; as well as different paint strokes, but this combination and composition was my favorite. I asked my friend (the same one from the second photo) if he was comfortable with posing shirtless and if I could paint him. After he said yes, we started to get to work. I used the same extension from the first picture, and we secured them under his beanie. I used a black paint and a thick brush to create the stroke on his back. The line and curve of his spine and the shape of his shoulders captured my focus. His hands are very striking, so I wanted to use them in the photo. To me, this photo conveys loneliness and inward focus. He is folding into himself and shutting the rest of the world out simultaneously, as well as conveying fragility and weakness. The shadows around him convey the world closing around him.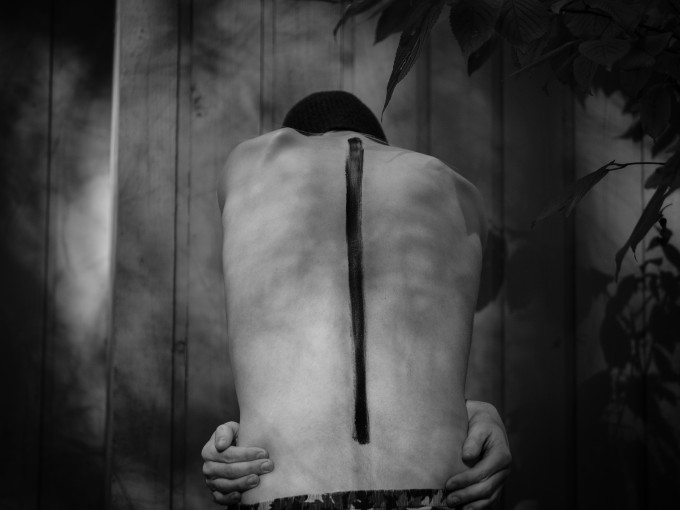 ——
Fourth Photo: "These Things Happen"
I love the Shadows and his expression in this photo. This photo was actually taken by accident, and he just happened to turn around and give me this expression. I had actually planned on taking a profile, but after I saw this shot I knew I didn't need to take the profile. Originally he reminded me of a young James Dean in this photo because of the pose and his jacket, but the combination of the look in his eye and his hair really added something extra to the photo. I love the extreme contrast between the blur of the trees in the background and the intense sharpness of even the microscopic hair on his face and his expressive eyes.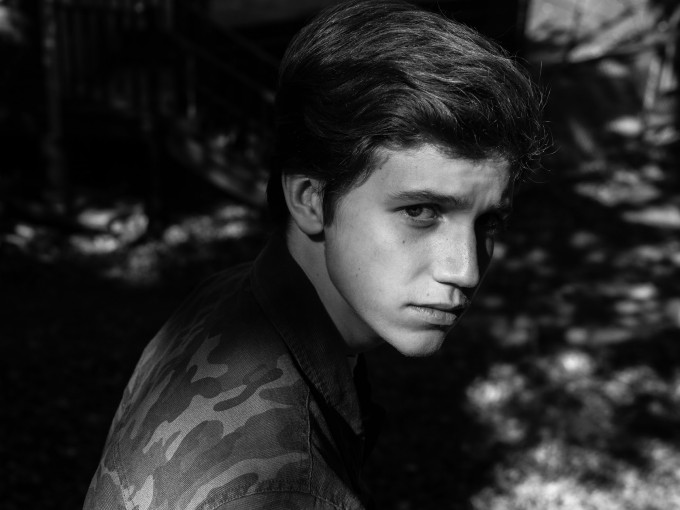 Thank you for reading, and letting me share my artistic journey with you. ☺
~Roxy
PS: I have an album with more of my pictures on Picasa here.