Nashville – Escape from Trade Conference with my A7RII
by Jim Idelson
Hello!
This image was captured during an afternoon escape from a convention I was attending in Nashville, Tennessee last week. Having never been to Nashville before, I really wanted to get a taste of the downtown area. From 2 to 4pm, I did a solo pub crawl, listening to some music, having a couple of beers and making a few new friends. As the sun was setting, I noticed it was just a bit over the horizon and in full view directly up the street. It was starting to bathe everything in gold and create some the beautiful long shadows. There were a few clouds in the sky. I had a feeling there would be something good to capture in this moment. I was also carrying a rented Zeiss Batis 85mm, and wanted to give it an opportunity, so I made sure that lens was in place.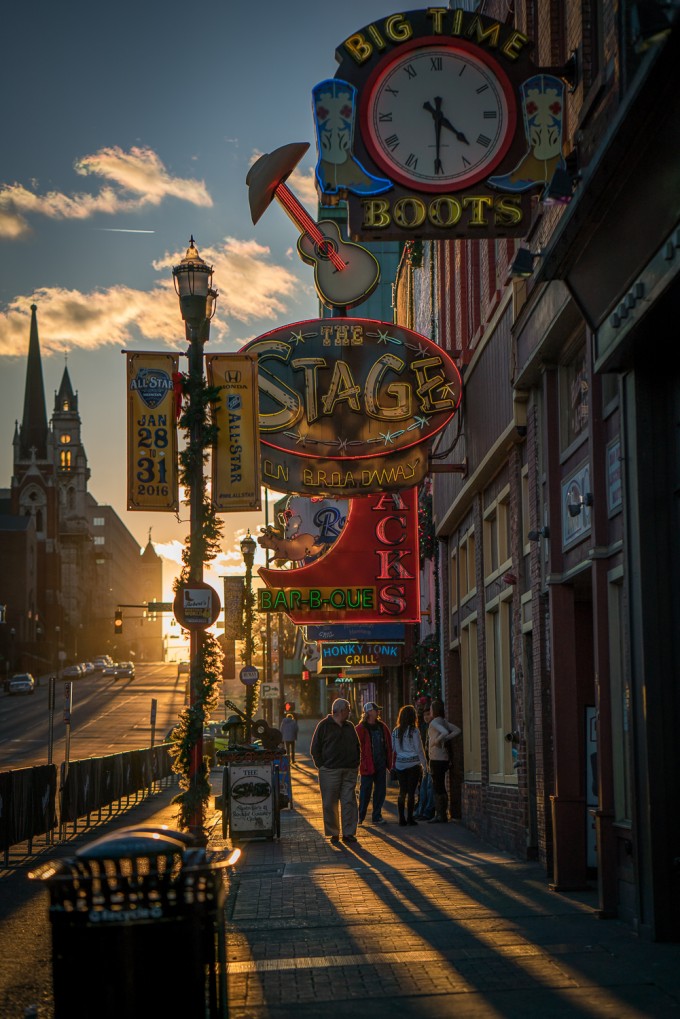 At first, I aimed the camera towards the sidewalk cafes, but facing away from the sun. That was an ok streetscape scene, but not very exciting . . . then I thought about shooting back into the sun. I got into a position on the sidewalk looking directly toward the sun. But, I really couldn't see much in this direction by eye due to the brilliance of the setting sun. But, I knew what I wanted. I wanted to capture the whole scene before me . . . the busy street and sidewalk, the setting sun, those long shadows, and the eclectic mix of honky tonk signs – all somewhat compressed with the 85mm tele. So, I exposed simply by minimizing zebra to just a ring around the sun, making everything else in the frame go very dark . .. and hoped there would be enough DR to be able to bring it back in LR.
Camera and settings were A7RII, Batis 85mm, 1/2500 f2.5, ISO100. Processed in LR5. The primary edits were crushing highlights (a lot) and enhancing shadows (a lot). I also applied some vignette, a sprinkle of Clarity and Vibrance, and little NR. It was a pleasant surprise to see the yellow traffic light and the gold light shining through the windows of the clock tower in the distance on the left.
I've attached the before-processing version of the image, plus a google map snap to show where the image was shot, and another snap of some great musicians whose music I got to experience that afternoon. A fun break from work. I can definitely recommend a visit to Nashville.