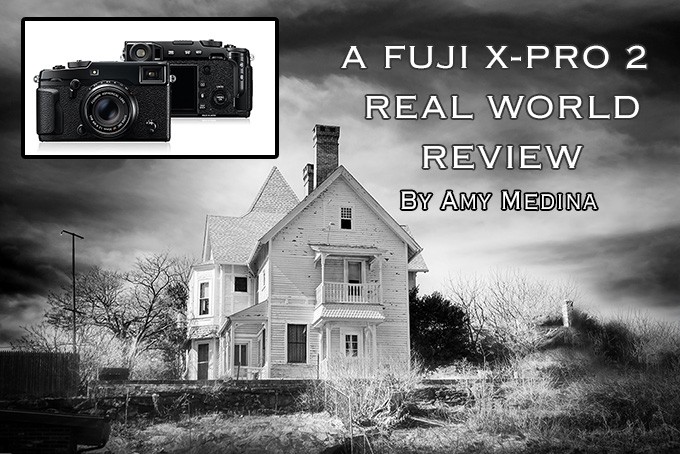 A Fuji X-Pro 2 Real World Review from a Fuji Fan
by Amy Medina
Since the purchase of my first Fuji back in 2012, I've been an enthusiastic user of their cameras. Having owned several of their bodies and being such a fan, there were a few new features the X-Pro2 promised that convinced me to jump in as an early adopter, and so far I haven't been disappointed.
First, let me start off by saying that this isn't going to be an overly technical review, since those aren't the type I like to write. These will just be some examples and practical thoughts about a camera I was excited to buy because of the specifications promised in their January announcement. There were three main things that excited me about the prospect of buying the X-Pro2 when Fuji announced it to the world: The new sensor, the weather-sealing and overall improved performance.
Fuji X-Pro 2 + Fuji 18mm f/2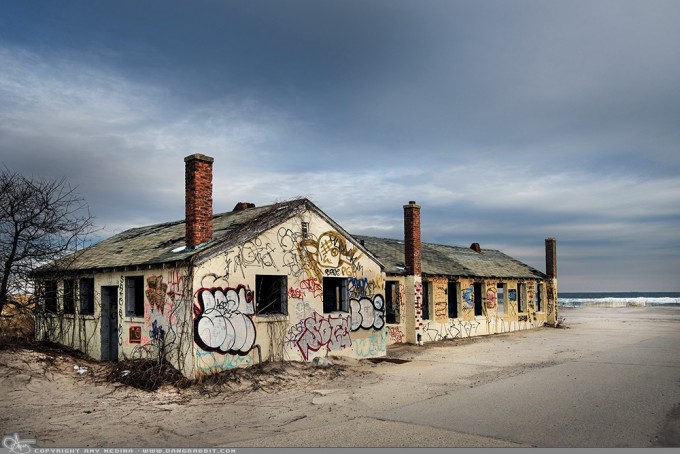 Should I start with my complaints? Let's get those out of the way first…
Let me just say that in today's day and age, there's absolutely no reason to make a camera that doesn't have an articulating LCD. In my travels around the internet, I've heard it said that Fuji insinuated that "professionals" don't need an LCD that rotates or pivots. If true, that's a ridiculous assertion. Anyone who puts their camera on a tripod or needs to get their camera up high or down low benefits from an articulating LCD. Here's one example of professional use that the X-Pro2 will not able to do for me: Quick, high-vantage point photography. I'm often on job sites where I need to take photos using an elevation pole, where the camera is a good 10-20 feet above me. I have to work quickly and can't fumble around with the phone app in one hand and the elevation pole in another… I need to set the camera on intervals of 8 second shots and walk around and take the photographs with the camera way out of reach… and the only way to frame the shot is with an LCD that can be pointed down at me. With the X-Pro2 I can't do that. Isn't it ridiculous that the inferior, inexpensive XA1 can accomplish something the more professional X-Pro2 cannot?
Like it or not, it's a poor decision Fuji made to not include an LCD that rotates in some fashion… and it really really irks me. I think it's my biggest complaint.
Fuji X-Pro 2 + Rokinon 12mm f/2 (and PS… being older and having joint issues, this shot would have been so much easier with a rotating LCD!)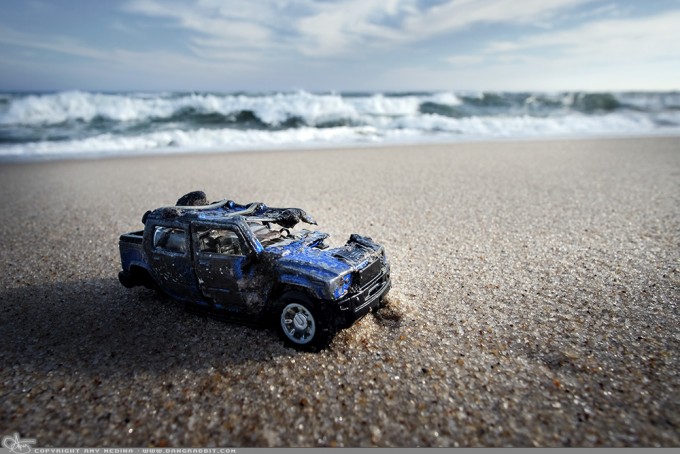 The EVF.
This isn't a big complaint, but it's one I seem to remember being an issue when the XE1 was released… that it had a better electronic viewfinder than the pro-level X-Pro1. That seems to be the case, at least in some regard, with the X-Pro2 vs. other Fujis. I haven't studied the spec sheet on all their bodies, but the EVF is smaller than some of the other Fuji cameras (like the XT1), though there are improvements like a much better frame rate and less blackout time after each photo. I've personally had a problem with the EVF's brightness, which was never an issue I remember with any of my previous Fuji bodies, at least that I noticed. I did end up turning off the auto brightness feature in the settings and that has helped, but I've still run into issues where I was straining more to see the image and I can't exactly explain why. Coming from the XT10 where I never thought the EVF was an issue, I don't understand why the X-Pro2 is giving me a harder time in this regard… but it is. Now correct me if I'm wrong, but Fuji's top-of-the-line, pro body, well it should have the very best-of-the-best and biggest EVF shouldn't it?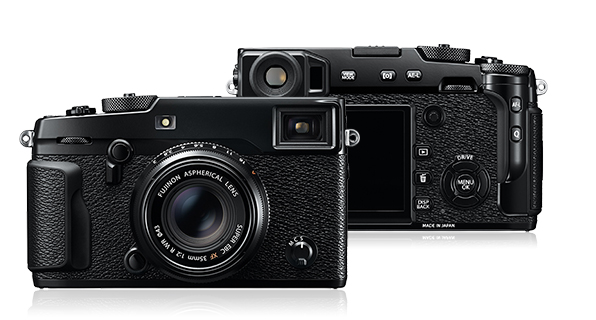 Another complaint I have is in regards to specific ergonomic choices. Fuji's placement of dials and buttons and the fact they are highly customizable is one of the reasons I think many of us enjoy using Fuji bodies more than others. I don't understand how buttons or dials can become "worse" in a new body.
The thing I noticed immediately as compared to my much smaller XT10 was that the thumb dial/button is way more recessed on the X-Pro2 — FOR NO REASON WHATSOEVER. I don't know why Fuji made a choice to do this, but it's much more flush with the body, making it much harder to use. This is the dial/button that also controls magnification when manually focusing, which I do a great deal of the time, so I noticed it immediately. I'm getting used to it, but honestly there was absolutely no reason to make this dial/button so much more recessed. I've heard similar complaints from other X-Pro2 users with regards to this and other buttons, like the AFL and Q buttons. I don't use the Q button a lot, but it is quite flush with the body and hard to detect by feel alone. I've noticed that there seems to be less customization options as well, and there are certainly a few that would be welcome, like the new joystick they added (which in general I love). It would be amazing to be able to customize the joystick's center click to activate magnification for us manual-focusers, or to let us customize the front-dial to ISO settings (like I had it on my XT10).
Fuji X-Pro 2 + Zeiss 35mm f/2 Biogon — Acros Film Simulation — No Grain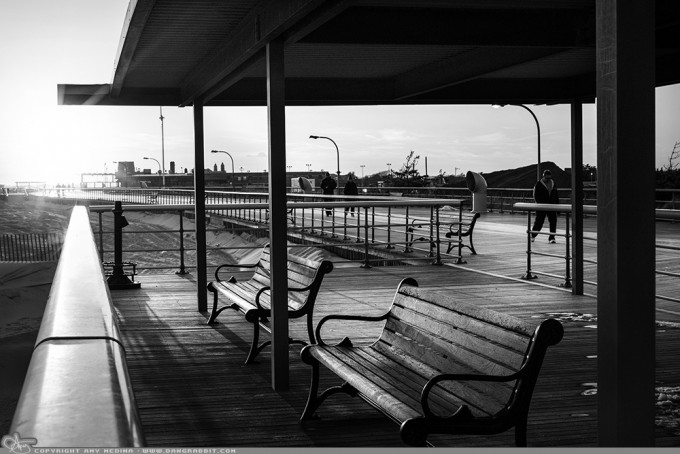 The old-style ISO dial as I mentioned above leaves a lot to be desired, partially because there's no other way to select a specific ISO. In theory, it seems like a neat idea and such a cool throwback to cameras of yesteryear. Look, I'm a big fan of the antique camera bodies Fuji uses as its inspiration, but sometimes there's a reason certain design details get replaced. The pull-and-turn ISO dial is one of them… it's not easy to change without taking your eye off the viewfinder and it feels a bit fiddly even when you're staring right at it making changes.
However, as I also mentioned above, this is much less of an issue in practice because of the three customizable auto ISO settings that can be assigned to a funtion button for easy changing. I've set up three distinct choices for myself from very wide to very narrow settings, and assigned one of the various function buttons to get to those settings quickly. It helps. It would, however, be a welcome change to have an ISO override setting so you don't need the dial at all. Not all Fuji bodies include an ISO dial and I know some love it on the XT1, but that's a dedicated ISO dial, not one combined with the shutter speed dial. I feel Fuji was trying to cram this feature in and I would have welcomed it being either more like the XT1 or XT10.
It Only Gets Better from Here! On with the gushing…
Fuji X-Pro 2 + Fuji 18mm f/2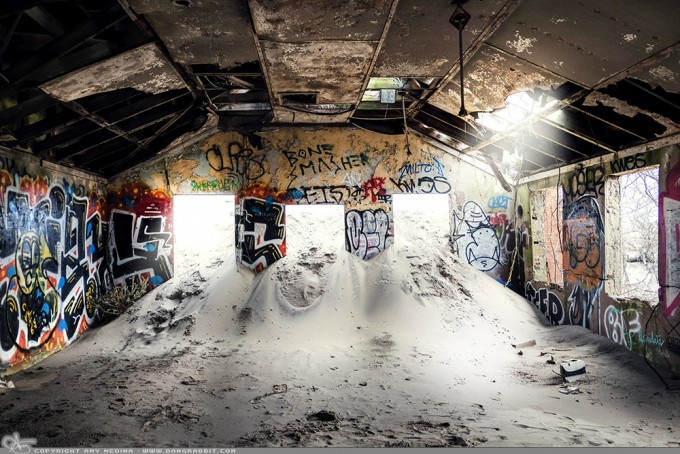 The Hybrid OVF/EVF viewfinder is one of the things Fuji fans will gush over because it's so unique. There's nothing quite like it out there in the digital camera world, and it's probably about as close to a true electronic rangefinder you're going to find that isn't actually a rangefinder.
With its bright frame-lines and electronic details overlay, plus the "ERF" (electronic rangefinder) mode, you're going to get a really cool modern-retro experience, and that wonderful optical viewfinder, outside-the-frame view. Your focusing patch can use two levels of magnification and can focus either by standard, peaking or split image assistance, and it's easy enough to toggle between them (though would be easier if that darn thumb dial wasn't so recessed). This Hybrid Viewfinder is something so completely unique to a handful of Fuji bodies, it's one of the reasons many will choose the X-Pro2 over others.
The body itself is physically the largest in the Fuji arsenal. It's weather-sealed, which was one of the items on my own personal checklist of necessities. Compared to my previous XT10 though, it feels massive… but of course it's all relative. I was in love with shooting with my Leica M8 for a long time, and I'd compare it in size to that body, so it certainly isn't what I would call "too big". If you put it side-by-side with something like the new Olympus Pen, the Fuji will look downright giant, but compared to a Nikon D500 it seems quite small. Having used it now for almost two weeks and generally being a big fan of small mirrorless bodies, I don't feel like the X-Pro2's size will be something that bothers me, either in weight or physical dimensions.
Fuji X-Pro 2 + Voigtlander 50mm f/1.5 Nokton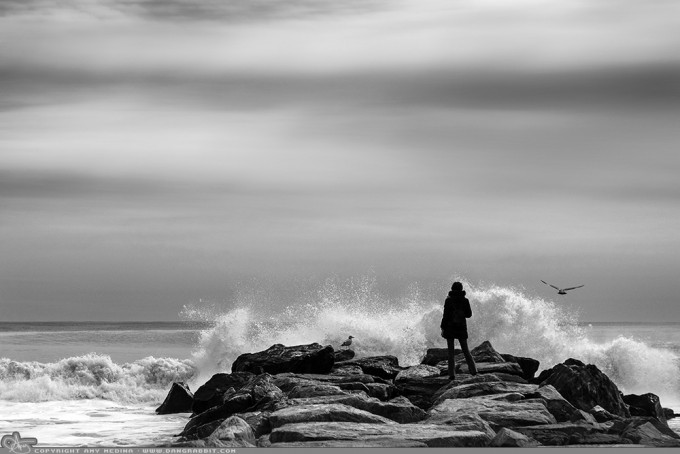 The X-Pro2 certainly seems to have a spotless build. It feels absolutely solid to hold and like it was machined in an impeccable manner. It claims 61 points of weather sealing against water, dust and cold. The two SD card slots are a welcome addition, and I'm glad they are separated from the battery compartment (a pet-peeve of mine with other bodies). However, we're still using the same Fuji batteries as with all other Fuji bodies, which is a plus and minus. It's great I didn't have to go out and replace all my extra batteries… however, I think this body could have seriously used a bigger, more powerful energy source. Not exclusively Fuji's issue… it's always a problem with the more compact mirrorless bodies: the batteries are smaller, the cameras use more power and ultimately don't last as long.
The new focal plane shutter with maximum shutter speed of 1/8000 is also part of what drew me to the X-Pro 2. That and the electronic shutter option allows for more flexibility in a variety of shooting situations, including shooting wider apertures in brighter weather conditions. The electronic shutter option is also great as someone who does timelapse as part of my job — I feel more at ease with using the camera for extended timelapse shoots without fear of putting tons of mileage on the shutter.
Fuji X-Pro 2 + Fuji 18mm f/2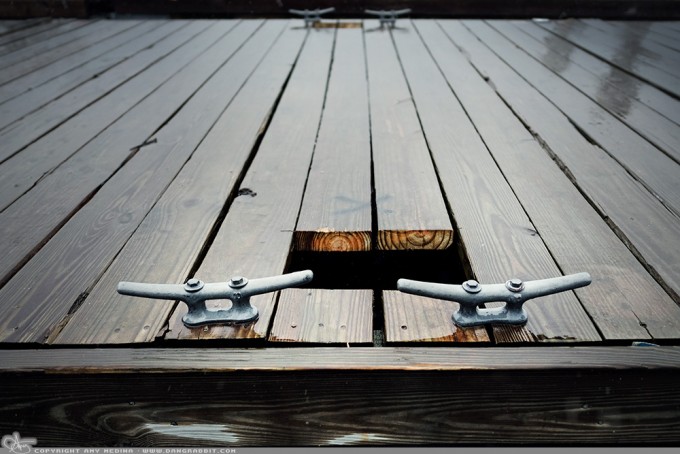 Overall performance is so much better with the X-Pro2 than with any other Fuji camera I've used to date. One of my gripes with my XT10 (and the XE2, XA1, XE1) was the "wake up" time when it was sleeping… I often found it a little frustrating. With the X-Pro2 it's not an issue. Everything is just faster… startup time is fast, there is virtually no shutter lag, autofocus is much quicker, continuous shooting speeds are improved, even the speed in which the camera writes to the SD card is faster. With previous Fuji bodies I sometimes felt like operational speed occasionally got in the way of getting the shot I wanted, but I haven't run into that feeling with the X-Pro2. The camera performs so fast that I've been shooting a bit in film-simulation bracketing mode because there's almost no lag in the camera taking/processing the three shots at once.
Ergonomics are a mixed bag. It's still a Fuji, and there's no doubt that Fuji knows how to make a camera suited to a photographer's needs when it comes to style and function, but like mentioned the push-pull ISO dial is a bit wonky, and that recessed rear dial annoying. Of course the Q "quick" menu is great for a fast settings change, and I like that it's customizable. The dedicated photometry/metering button is a nice addition, and it's great to have all the customization options Fuji offers for the others buttons, but they need to expand some of this to include the front and rear dials, and the Joystick center button.
And lets talk about the new Focus-Point Joystick.
This is an absolute pleasure to use and such a welcome addition! I use manual focus lenses a great deal of the time and I like to move the focus point around to the appropriate spot, but lets face it, sometimes that can be a hassle and we end up doing the focus-recompose thing. Well not anymore! The joystick makes it so incredibly easy to move that point around that there's no reason not to use it. I cannot go on enough about how cool this feature is other than to say all cameras should have it… it's genius, whether for autofocusing or manual focusing. My only gripe with it is what I said above… I wish I could customize the center click to be magnification (and then a different button to be the "re-center" option, or maybe click and hold to re-center).
Fuji X-Pro 2 + Voigtlander 50mm f/1.5 Nokton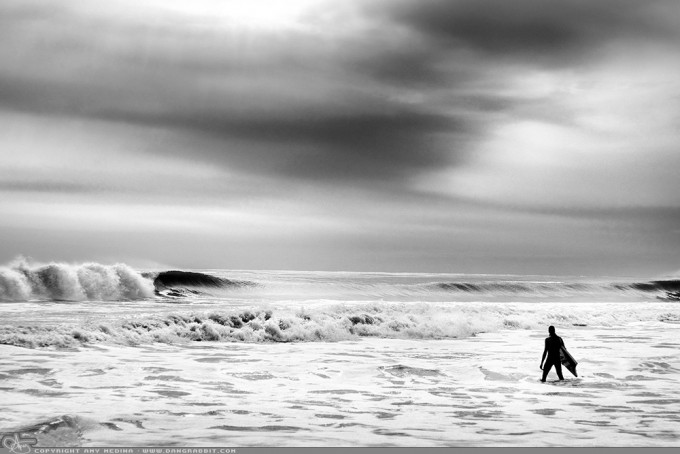 Now, getting down to it, the real reason I jumped on buying the X-Pro2 for it's fairly substantial price-tag is the new sensor, and I suspect this will be the reason for many. Fuji seems to have been "stuck" at 16mp for a long time, so finally jumping up to 24.3mp with their new X-Trans CMOS III sensor was very welcomed, especially for someone like me who shoots a lot of landscapes, seascapes and architectural stuff. I never was, nor am I a megapixel chaser, but the increased detail is absolutely welcome.
Now, mind you, I'm a huge fan of the Fuji's X-Trans way of doing things. I find I prefer their color and sharpness over other bodies, and I'm a big fan of their film simulations as a starting point for my own creativity. For the short time I gave up my Fuji gear in favor of Sony, I ended up missing it and going back, and though Sony makes some very nice cameras, I just prefer what Fuji is doing so much more — from their bodies and lenses to the image file quality. I wish it was something I could easily quantify and put into words, but it just isn't. To me, in additional to just having really high quality files with great tone, Fuji also has a little bit of magic going on that others are missing. Of course, some of that is just personal taste and quite subjective.
The Fuji X-Pro2 produces more of what Fuji fans have come to love… excellent files, and now with a little more resolution. I suspect if you weren't a fan of the X-Trans files before, you might not be a fan now, though some of the "waxy" skin features people complained about (that I never ran into) seems to have been resolved. I can't answer your questions about RAW files since on my Fuji cameras I shoot JPG exclusively. I love what I'm getting out of the XPro 2 so far.
Fuji X-Pro 2 + 18mm f/2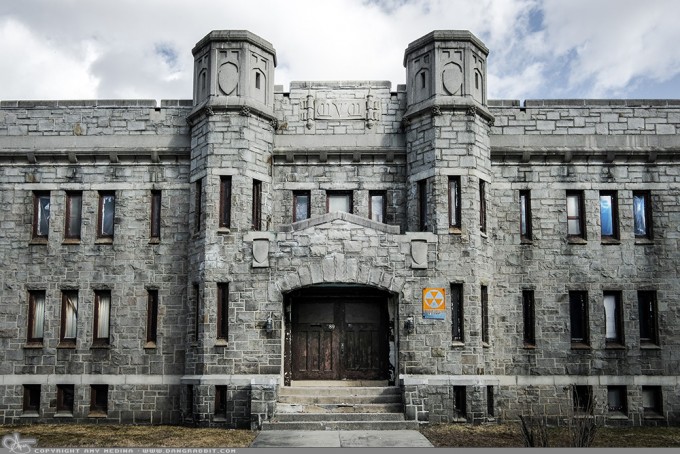 Noise performance seems on par with what the XT10 and other Fuji bodies was doing, maybe slightly better, so if you like shooting things in low light, you won't be disappointed.
With expanded sensitivity turned on, you have the option to shoot from ISO 100 to 51,200. I've had absolutely no issues with shooting up to ISO 6400 and keep my primary auto ISO settings with that set as my maximum, and even ISO 12,800 is usable. I've always found that I liked the way Fuji balances its handling of noise with less detail smearing that other cameras, and the noise it does produce is a very fine "grain-type" of noise. You'll hear similar proclamations from other Fuji users, the general consensus being that Fuji does a great job when it comes to reducing noise in low-light-high-iso situations, and doing it in a pleasing way. It's really more of the same with the X-Pro2. I don't think there's any big jump in low-light performance from previous bodies, but there's no step backwards because of the increased resolution either.
Fuji X-Pro 2 + Fuji 18mm f/2 — ISO 5000 (starring my granddaughter!)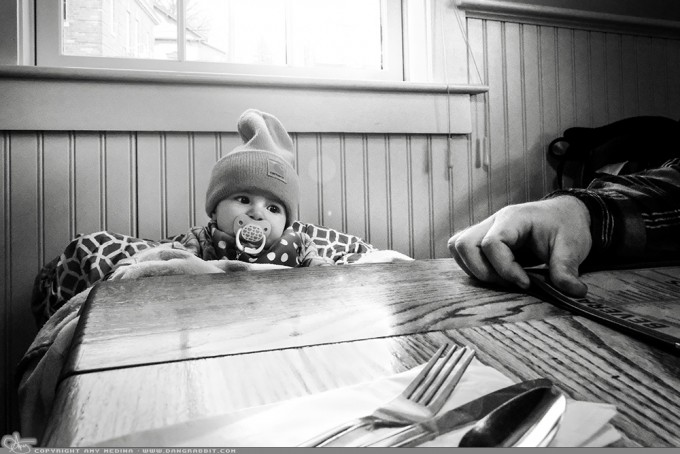 I've also had a lot of fun shooting with the new Acros film simulation Fuji has included in the X-Pro2. You can shoot it straight or choose a Red, Yellow or Green filter and you can use no grain or add weak or strong grain. I enjoy sometimes shooting B&W right in the camera and this new film mode is done really well. It has really nice contrast without being overdone (and you can always add more in post processing to taste), and the tones are just so good. It's probably one of the nicest black and white film modes I've seen in a digital camera.
The grain itself has an interesting, artistic quality to it. As someone who actually still shoots film, I'm not sure I'm convinced it really mimics that look … though when combined with high ISOs the noise and grain mix really well and give a VERY good film-like grainy look. At lower ISOs, it reminds me more of a pen-and-ink drawing in it's perfection, but I find the overall texture really pleasing.
Fuji X-Pro 2 + Fuji 18mm f/2 — Acros Film Simulation — No Grain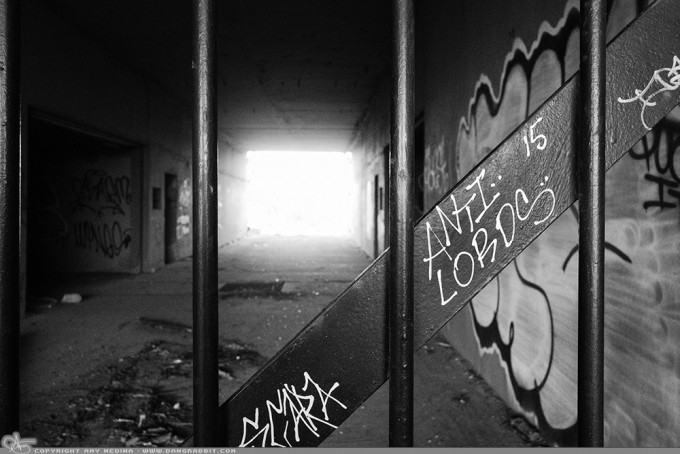 –
Fuji X-Pro 2 + Zeiss 35mm f/2 Biogon — Acros Film Simulation — Grain: Weak and ISO 6400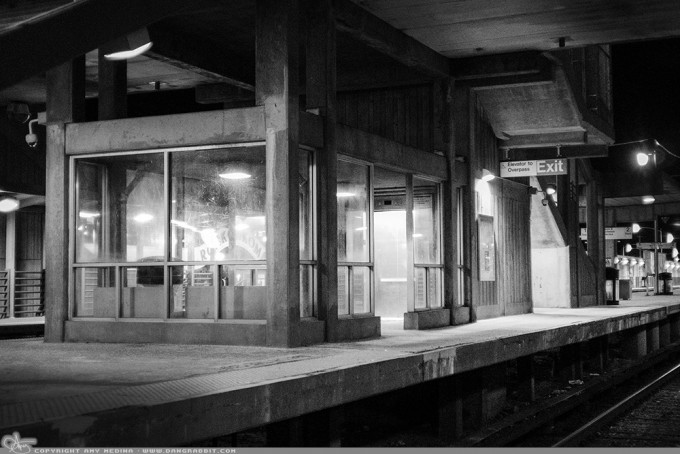 –
Fuji X-Pro 2 + Fuji 18mm f/2 — Acros Film Simulation Red Filter — Grain Weak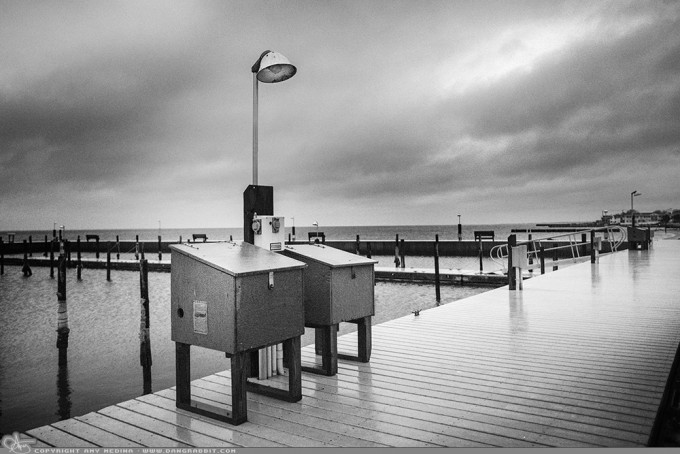 100% Crops of Acros with Grain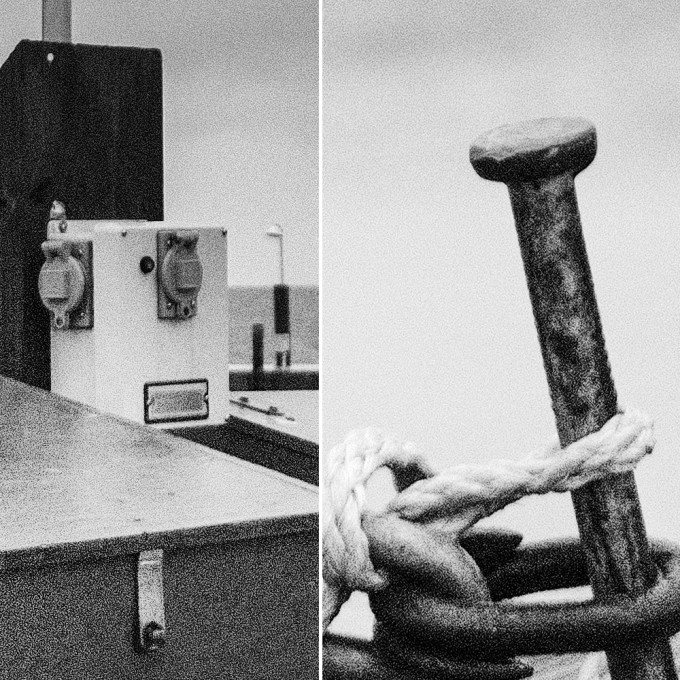 In Conclusion…
In reality, in today's day and age most modern cameras are capable of excellent results. We aren't going to be limited by equipment, at least not in 2016. A lot of what we decide to buy when we pick our camera-of-choice comes down to a subjective opinion on the photo-files, the way we will use the camera day-to-day, the style and ergonomics of the camera itself, and what we feel inspires us most to pick it up and take it with us. At least those are the things that matter to me. I picked Fuji because of the rich and smooth colors with outstanding detail sharpness and because I can customize the settings in-camera to exactly what I want… like picking the film I'm going to use. I enjoy the way the camera feels in my hand and hanging on my shoulder. I love the ability to use that fantastic Fuji glass and also my Leica, Voigtlander, Zeiss and even Minolta lenses. For me, Fuji strikes the right balance of flexibility, fun, form and function.
The X-Pro2 continues to give me all these things with some new added advantages. I've been incredibly happy with the results I'm getting, and the improved performance overall is a pleasure. As someone who takes photos every single day without fail, I'm glad the X-Pro 2 is quickly becoming my go-to camera.
You can purchase the Fuji X-Pro 2 at: Amazon – B&H Photo – PopFlash.com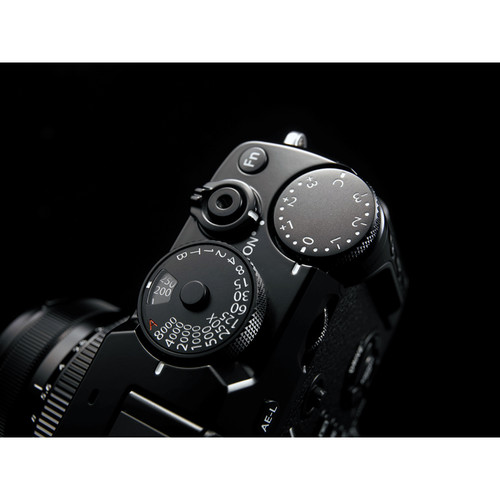 More from Amy
Website: www.DangRabbit.com
Facebook: www.Facebook.com/DangRabbitPhotography
Twitter: www.Twitter.com/DangRabbit
Instagram: www.instagram.com/DangRabbit.Photography
More Fuji X-Pro 2 Samples:
Fuji X-Pro 2 + Zeiss 35mm f/2 Biogon — Acros Film Simulation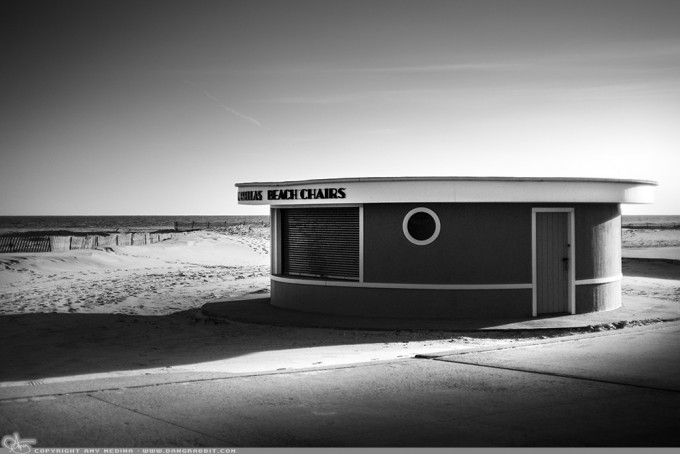 –
Fuji X-Pro 2 + 18mm f/2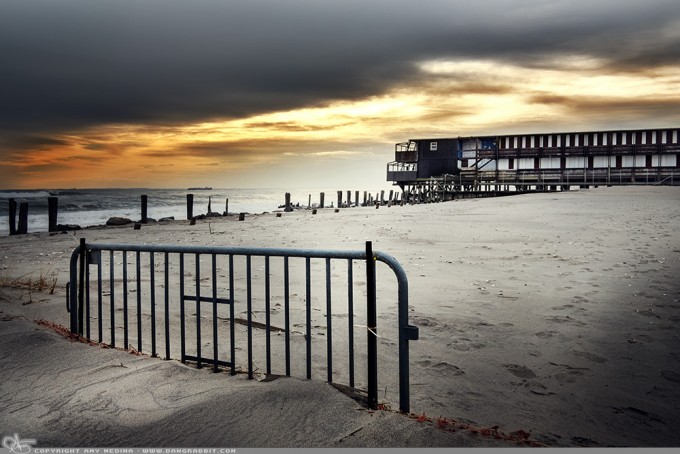 –
Fuji X-Pro 2 + Fuji 18mm f/2 — Acros Film Simulation Red Filter — Grain Weak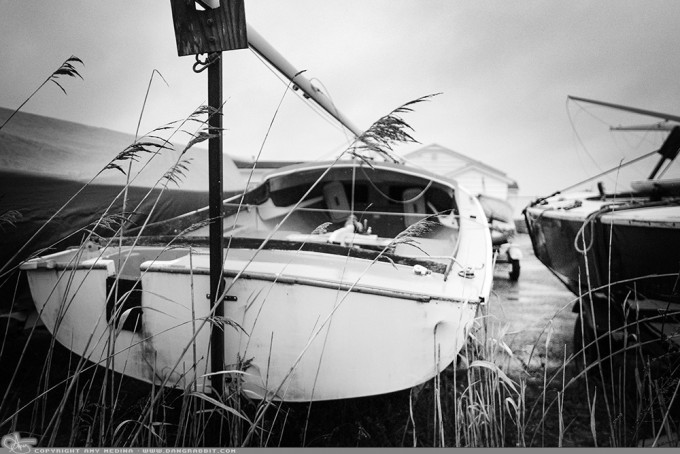 –
Fuji X-Pro 2 + Fuji 18mm f/2 — Acros Film Simulation Red Filter — Grain Weak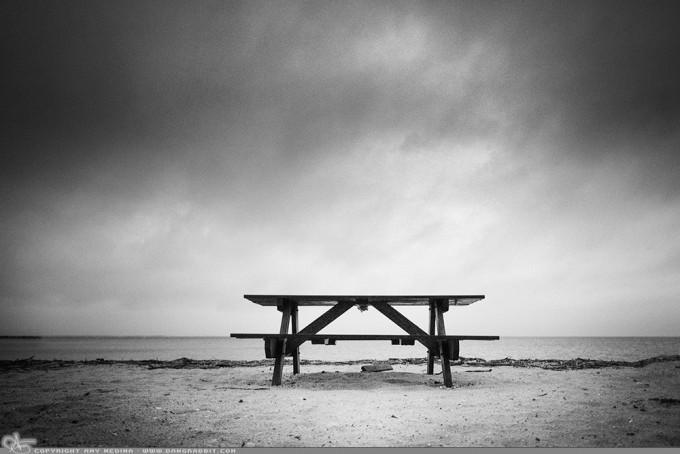 –
Fuji X-Pro 2 + Voigtlander 75mm f/2.5 Heliar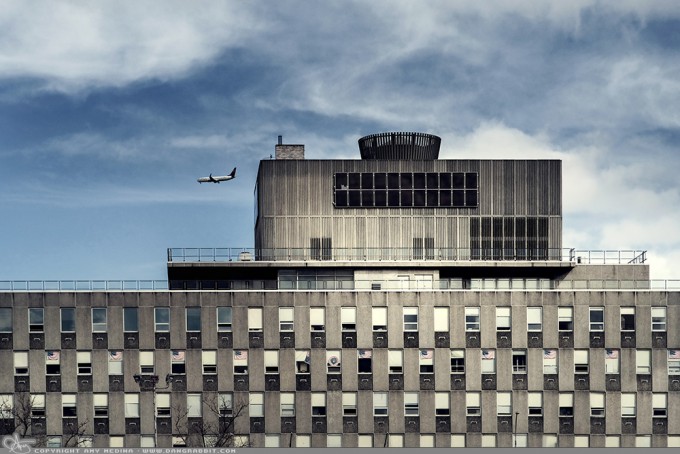 –
Fuji X-Pro 2 + Zeiss 35mm f/2 Biogon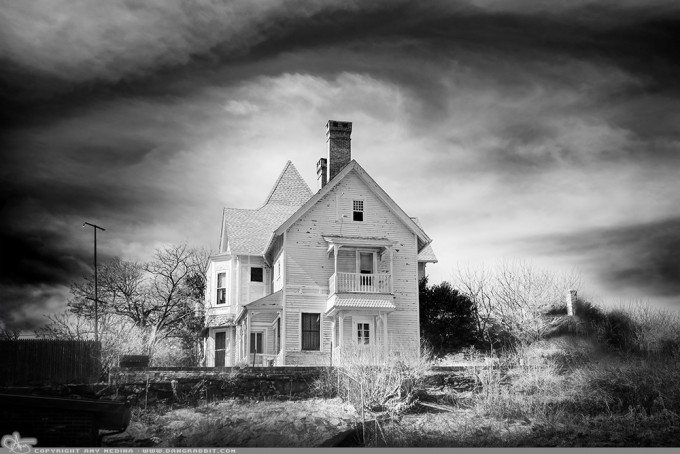 –
Fuji X-Pro 2 + Fuji 18mm f/2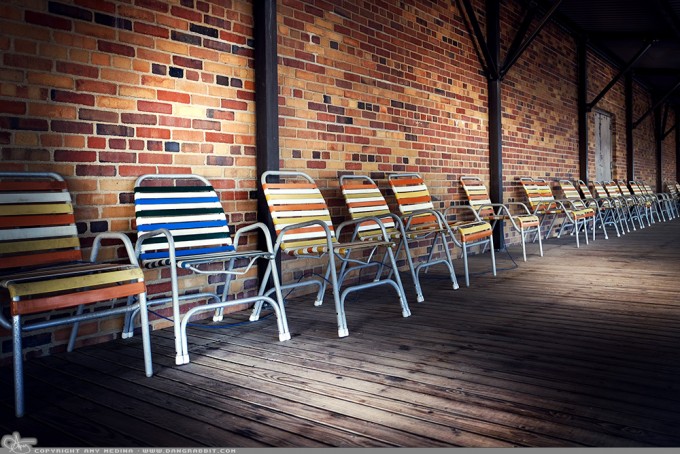 –
Fuji X-Pro 2 + Fuji 18mm f/2 — Acros Film Simulation Red Filter — Grain Weak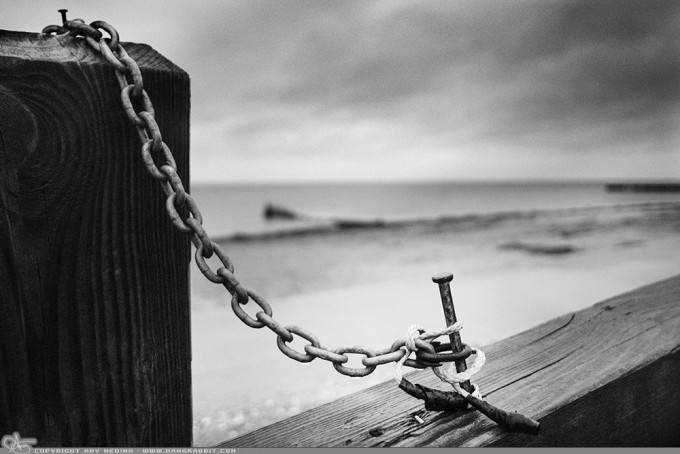 –
Fuji X-Pro 2 + Rokinon 12mm f/2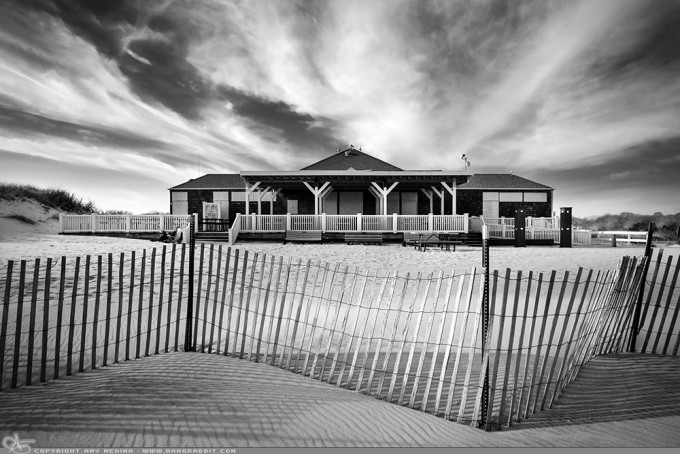 –
Fuji X-Pro 2 + Fuji 18mm f/2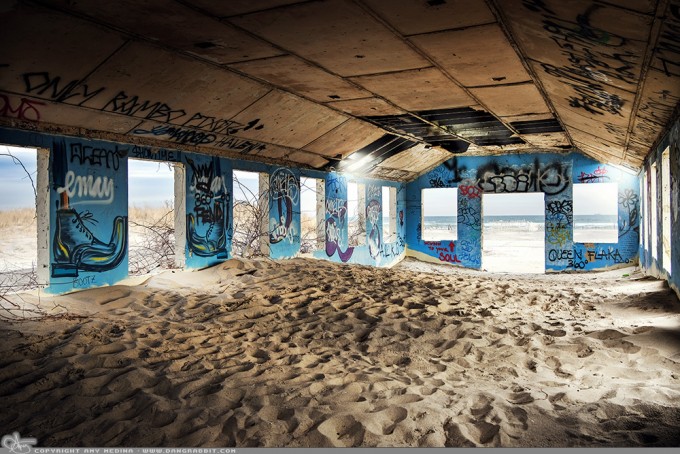 –
Fuji X-Pro 2 + Voigtlander 50mm f/1.5 Nokton