The "Lost" Homeless Project Photos…and continuing the project in 2016
By Steve Huff
HOMELESS in America. 
Most of you have seen this one of Rodney. A man who was injured from a beating, lost and trying to find his assisted living facility.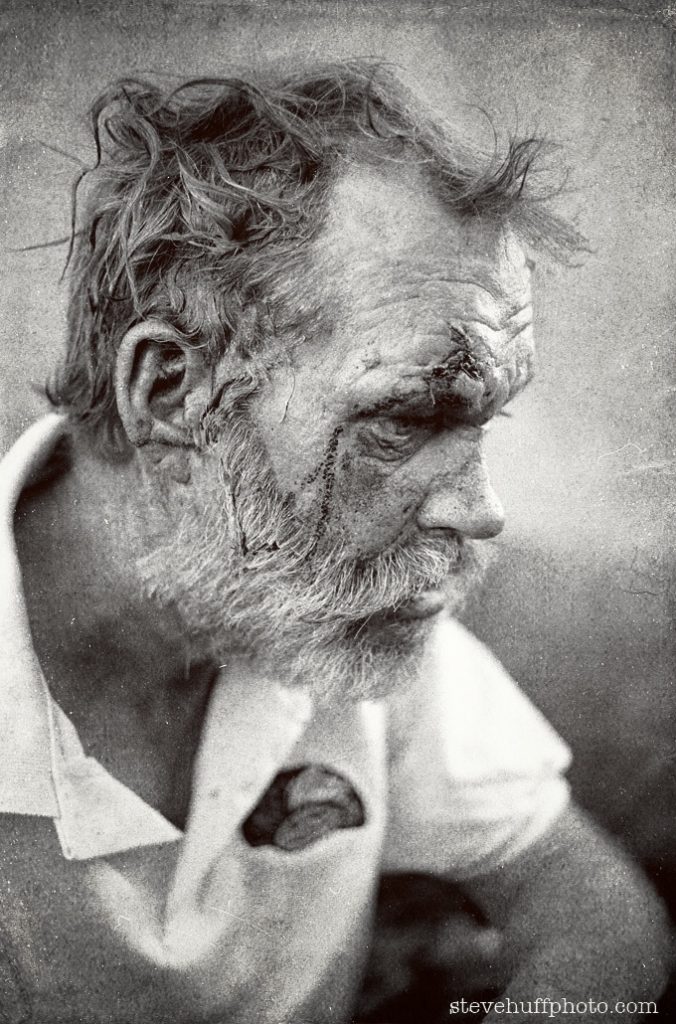 Sep 1st 2016
As I was going through old Hard Drives yesterday (that I found while doing some end of summer cleaning) I found some old shots I took with an original Canon 5D when I was continuing my Homeless Project that was started with a Leica MP film camera. I have not seen them since the year I shot them, which was 2008. Shooting with a digital DSLR was such a different experience than using the MP. It was larger, more noticeable, louder and made me much more noticed as a photographer.
I remember shooting these photos like it was yesterday though. Approaching the homeless as I went on walks throughout my then neighborhood in central Phoenix. I would chat with them, some for an hour or more. I would buy them food, give them water or soft drinks and even blankets or a jacket in the winter time. It was a great year personally for me as I was able to break out of my shell, dropping my fear of approaching people. I can say that the year I was doing this project I never once had a negative experience. Everyone was nice, welcoming and happy that I was paying attention to them, helping them and all were thrilled to have their photo taken, like this guy…
As I walked in the morning I saw this guy at a red light ready to cross the street. He was full of energy and started conversation with me. We crossed the street and ended up in a parking lot talking. He was proud of the fact that he learned how to pop a wheelie with his wheelchair and wanted to show me. After a lengthy chat I moved on but it was a great day meeting him. Today, I can not recall his name (it was 8 years ago) but it was shot with a Canon 5D. I know I owned the 24, 50 and 85 L at the time. 
–
Giving me the thumbs up. He seems so happy considering his life situation.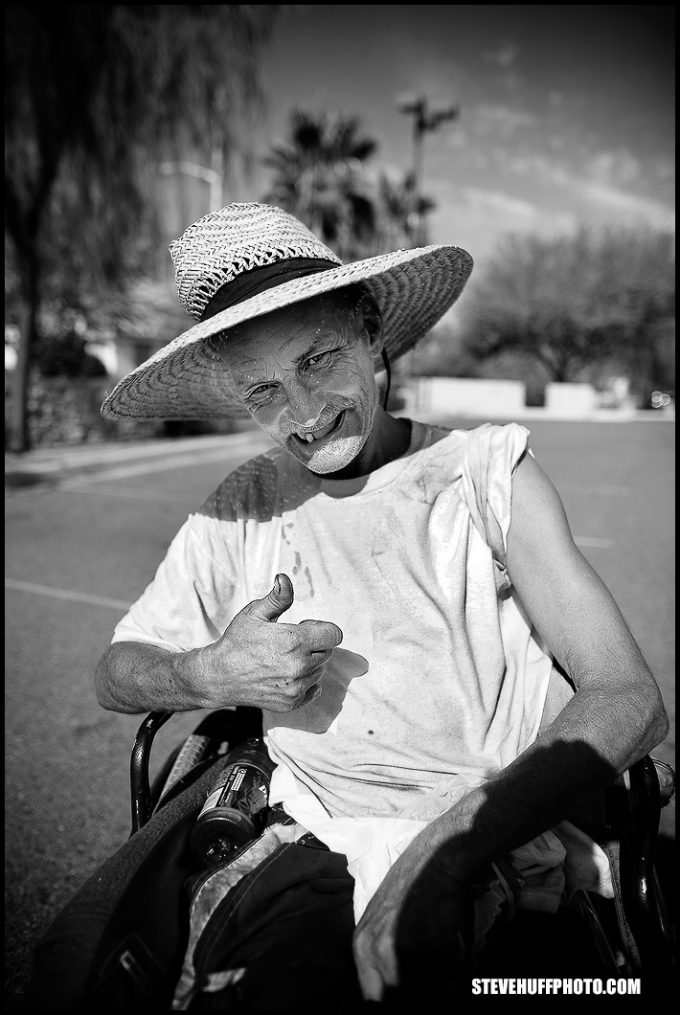 –
He wanted me to take a photo with his hat off as well…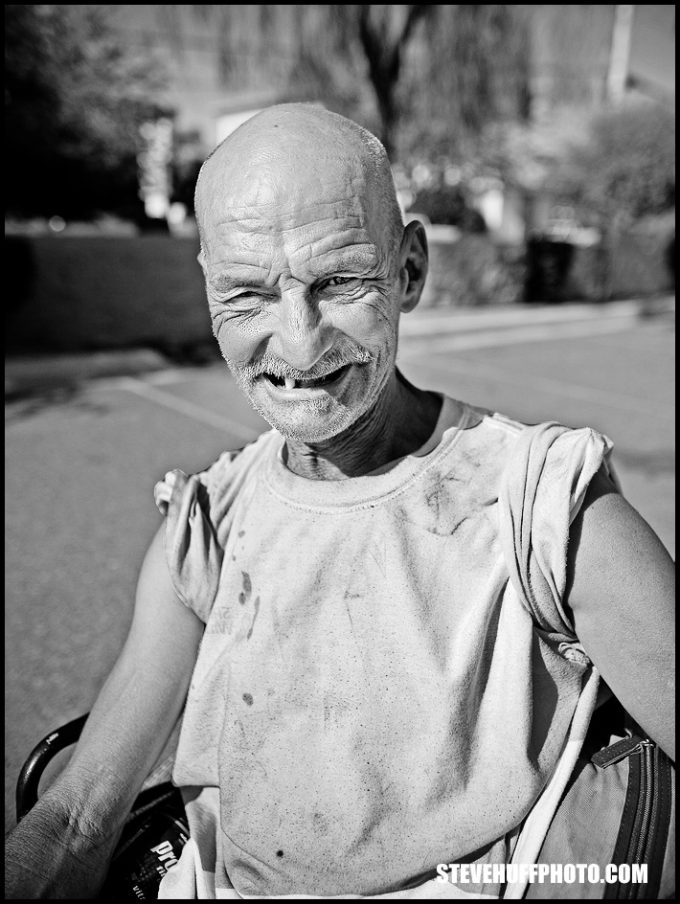 –
As I continued my walk I ended up near a McDonalds where I saw this man outside looking for some food. I went in, grabbed him a meal and we chatted for only a few moments. Ricky was shy, and one moment he wanted me to snap his photo and the next he became very shy of the camera. After these shots he started digging into his meal, and I shook his hand and went on my way…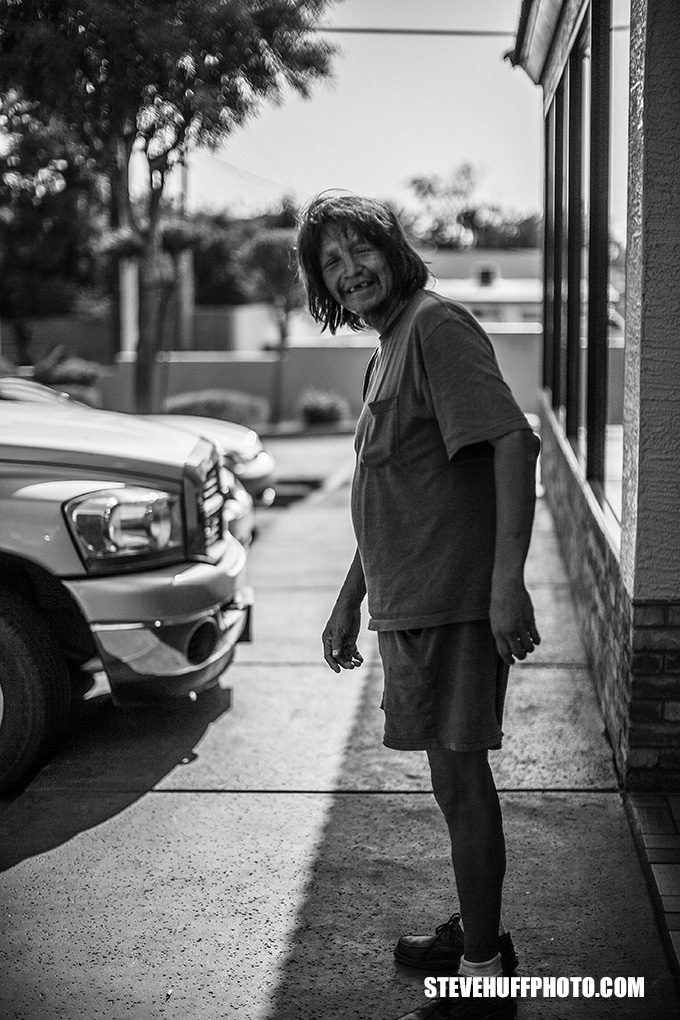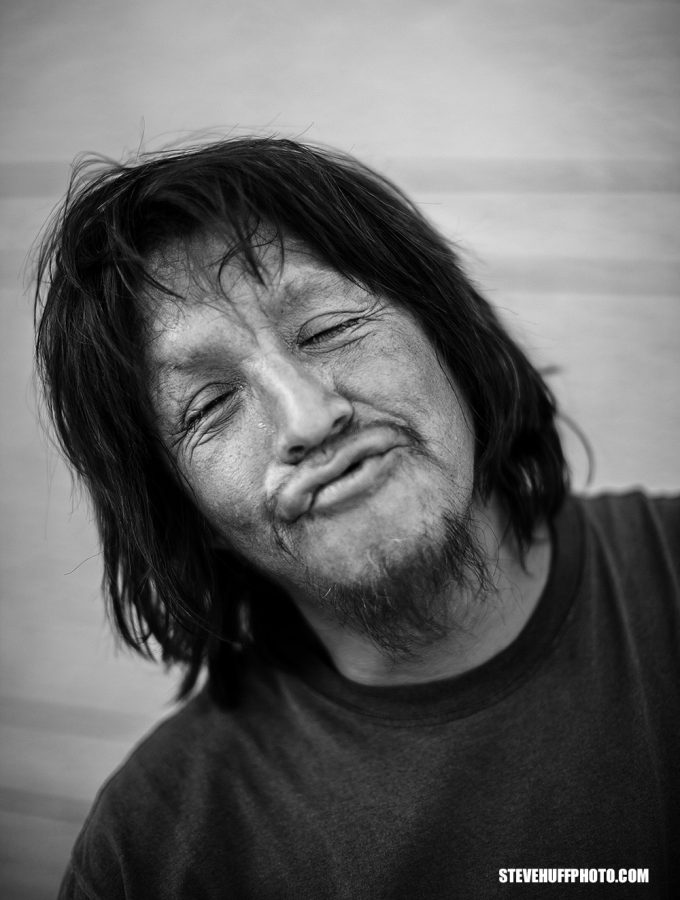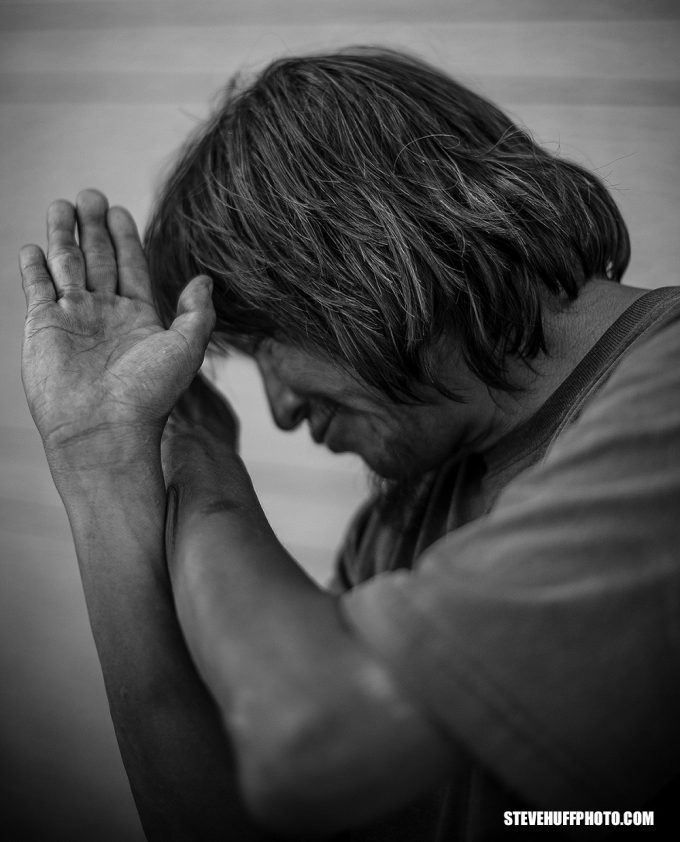 Since moving out of the city many years ago I see much less of the homeless who roam the streets but Debby and I are planning on putting together food baskets and handing them out to the homeless we see in Phoenix in the next few weeks. Not only is it a feel good thing to do for us, it truly helps those on the street who have NOTHING. No home, no money, and most are out of chances in life. Any help we can give them gives them some peace for a few moments, and that is only a positive IMO. Most walk by them, without looking at them. Some give them a dollar or two. Some fear these people who roam the streets. I see them as human beings who need help, and all were so kind to me, a guy walking up to them with camera in hand. I look forward to continuing this project this year.