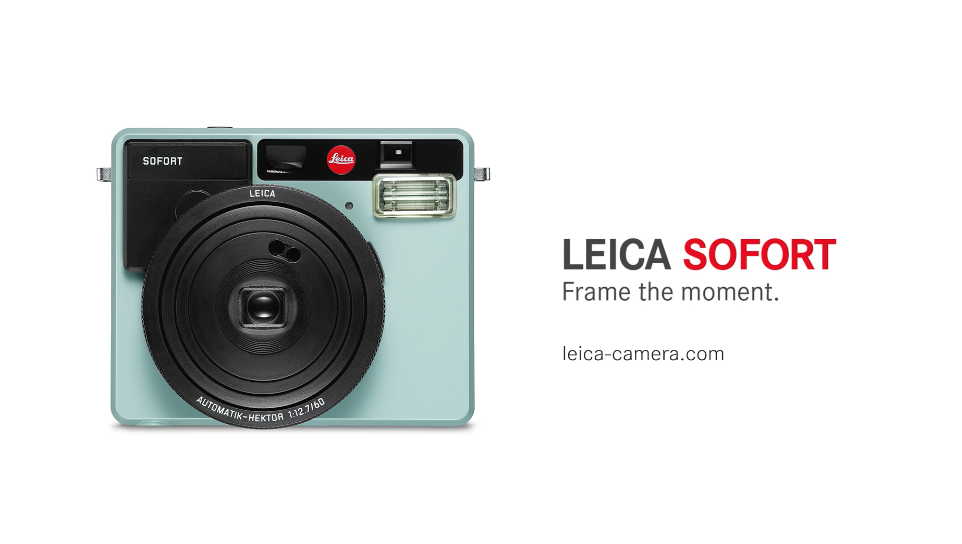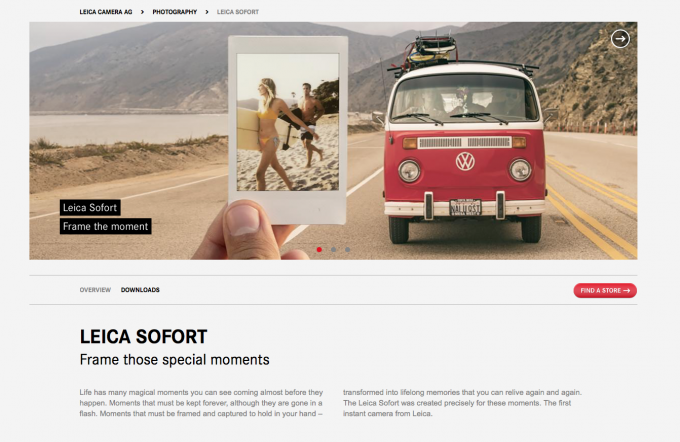 The new Leica Instant Camera confirmed..meet the SOFORT
Earlier in the week I posted a leak about the new Leica instant camera. Some thought it was a fake, but nope, here it is. The new Leica SOFORT. Basically not much to say about it other than it appears to be very Fuji Instax like, and instead of a cheap crap lens it will have a HEKTOR lens on the front. The design and colors are also pretty attractive and nice. I would say in the world of instants, this one is the most beautiful. Price to be around $300 for the USA (but not 100% on that yet)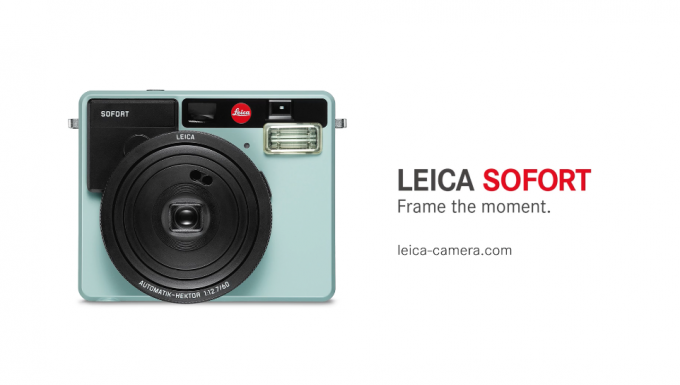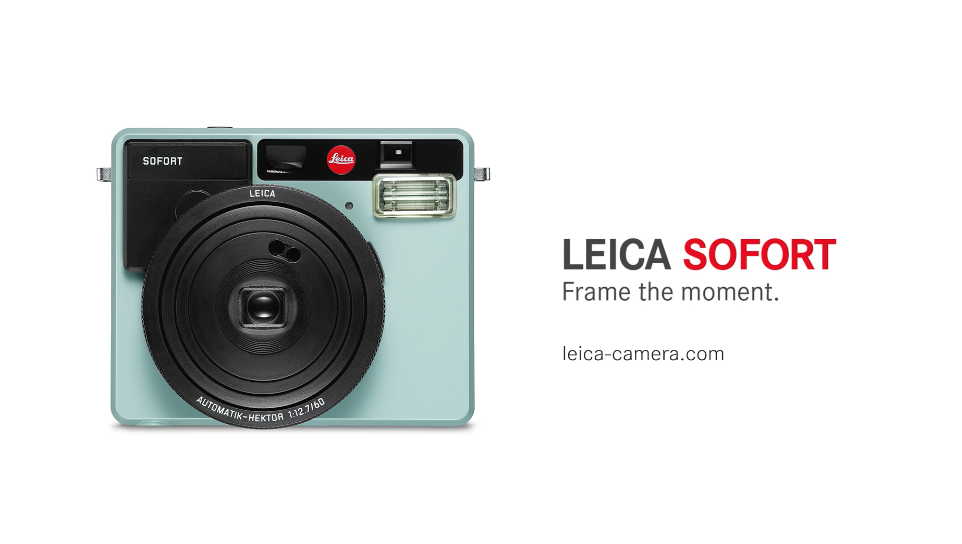 FROM LEICA:
"The Leica design team has developed the SOFORT to differ from other instant cameras in a number of essential aspects. SOFORT users will be equipped with a camera that not only comes in stylish choices of orange, white and mint colors that reflect the light-hearted fun of instant photography, but also an easy-to-use creative tool that can handle more dynamic situations than a traditional instant camera. In automatic mode, the SOFORT utilizes available light as much as possible before triggering the flash, creating pictures with a more authentic, natural look that are one-of-a-kind and cannot be replaced or reproduced.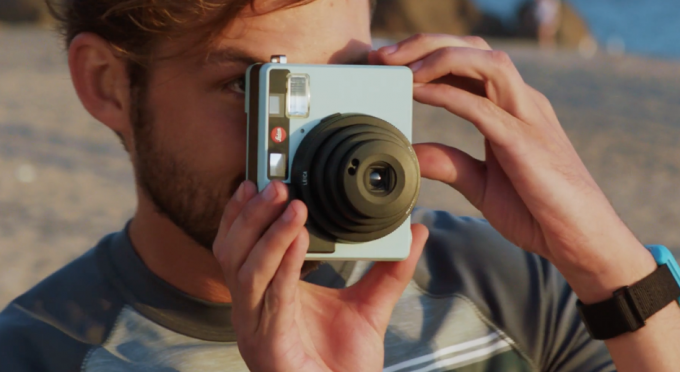 In addition to preset modes for Automatic, Party & People, Sports & Action, Macro and the creative possibilities of multiple exposures and time exposures, the SOFORT also has self-portrait and self-timer modes. The camera automatically adapts exposure time and aperture to the mode the user selects. The SOFORT even offers options for manual control overrides: focusing distance can be changed independently of the presets, the flash can be turned off entirely and image brightness can be set higher or lower. And, to make it easier for those fond of self-portraits, the SOFORT has a rectangular mirror on the front for easier framing.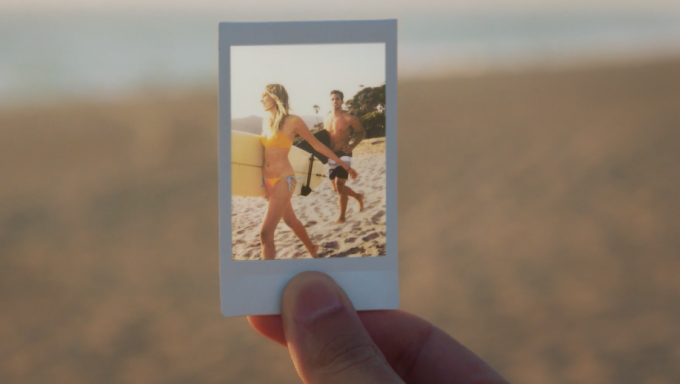 The SOFORT works with both color and black-and-white film. In a nod to the nostalgic character of instant photography, the border frames of instant film offered by Leica for the SOFORT are a warm cream color. All Leica SOFORT film packs come with 10 exposures. Color film is also available in double packs of 20 exposures.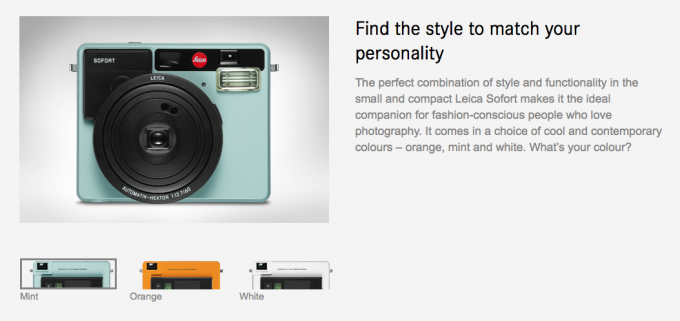 Easy to use and fun to accessorize, Leica SOFORT will see a comprehensive range of accessories for both the camera and its unique pictures. Carrying straps are available in mint, orange, and black & white to perfectly match the colors of the camera and keep it secure, while stylish Leica SOFORT cases for protecting the camera come in black or brown. SOFORT owners who'd like to display their work can purchase SOFORT Postcards offered in sets of three with different designs integrating the instant picture, a SOFORT Photo Presenter which can be filled with photos and put on display, or a classic SOFORT Photo Album for storing even more of life's tangible instant memories. SOFORT Storage Boxes round off the selection of accessories for conveniently storing your favorite pictures, available in sets of three with each set including mint/black, white/black and orange/black boxes.
The Leica SOFORT will begin shipping to Leica Stores, Boutiques and Dealers in November."
Film (available November 2016)
Color film (pack with 10 exposures)
Color film (double pack with 20 exposures)
Black and White film (pack with 10 exposures)