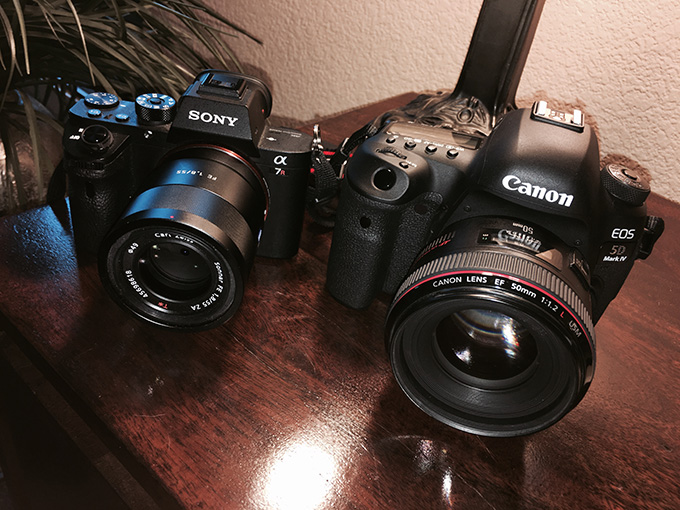 Canon 5D MkIV in hand…1st thoughts and an A7RII Comparison
By Steve Huff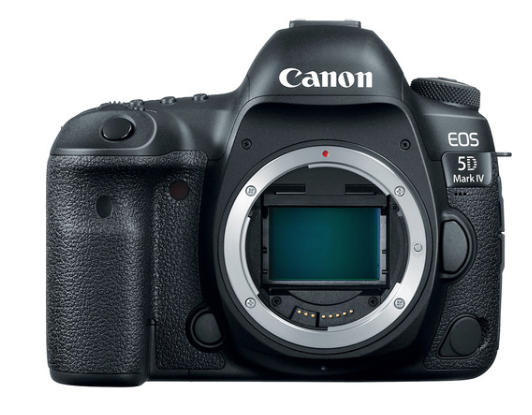 It's been a long while since I have shot with a Canon 5D. Long ago I owned the 1st one and LOVED IT at the time, but back in the 5D days all we had for serious cameras in the digital realm were DSLR's. There were no full frame mirrorless or even capable mirrorless cameras yet. I was happy as a clam shooting that 5D and created many memories with that camera.
When the 5D Mark II came out, I reviewed it back in the early days of my site (Version 1) and even made a corny video for my YouTube channel back then about it where I played and sang a song all about it 😉
A much younger me from 2009 where I sang about the then newly introduced Canon 5D MKII 😉 Hahahah.
When the 5D Mark III came around I skipped it as I was on a mirrorless high. Small cameras that were mighty, powerful, and while many lacked in speed and response, they were getting better and better, and of course at the time of the 5D MKIII I was a happy as can be Leica M shooter (and still am today actually).
Now we have the 5D Mark IV and it looks pretty much the same as the original from my memory. It's chunky, it's fat, it's large and it has the same 5D feel and controls which is a good thing. I love when companies do NOT make drastic changes to menus and controls over a lifespan of a popular camera model. It keeps it all easy and seamless to switch to the new model from the old when controls remain mostly the same.
With the new MKIV I am seeing a new 30MP sensor, new Reticular AF and Dual Pixel Af systems, 4K video, and Dual Pixel RAW which sounds very interesting. But at its core, it is still a Canon 5D DSLR. I see nothing earth shattering in the specs that make me say "WOW"!
To me, the MKIV still has that Canon color and vibe going on that I remember from the Mark 1 original. This was with the 50L 1.2 at f/1.2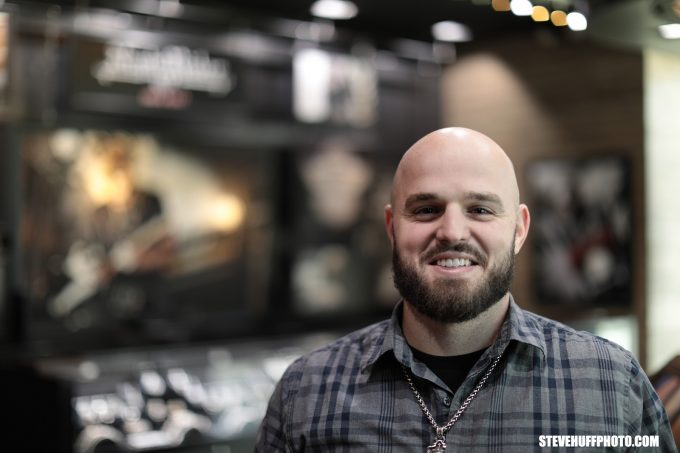 What I am curious about is how it compares to my Sony A7RII, which has been used and used and used by me ever since it was launched. I love the A7rII and it has never let me down, and it has offered me so much versatility from video to photo to good light to almost no light. It allows me to mount almost any lens from any manufacturer and while not the last word in speed and build, it is still made to a high standard and my A7RII has not given me one issue, ever.  It also is quite a bit smaller than this 5DMKIV, and much thinner and lighter. There is no question about that. So I am wondering to myself why I would choose a 5D MKIV over one of the full frame mirrorless offerings like the Sony A7RII or A7SII or A7II.
Before I get into my brief thoughts about my 1 day experience with the Canon 5D Mark IV let's take a look at what the 5D MKIV has under the hood…
Side by side A7RII and Canon 5d MKIV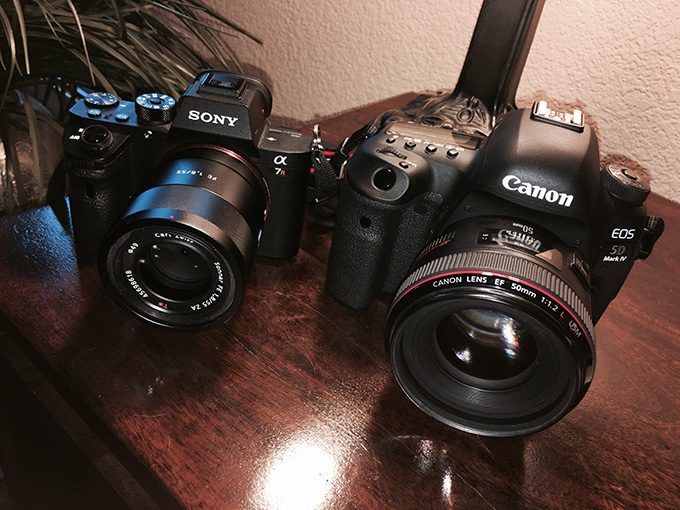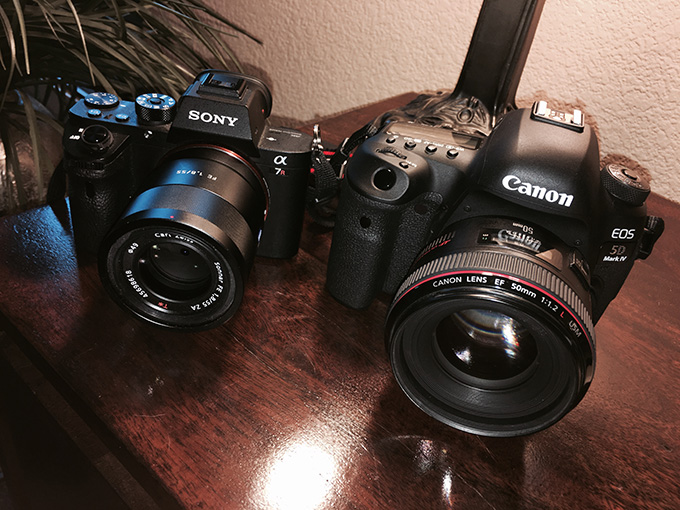 With the MKIV we have some pretty nice tech inside, here are the details…
30.4MP Full-Frame CMOS Sensor and DIGIC 6+ Image Processor
In line with previous members of the main 5D series, the Mark IV attempts to balance high resolution with low-light performance with a newly developed 30.4MP full-frame CMOS sensor. This provides a beneficial increase in overall resolution without compromising on sensitivity. Additionally, thanks to the DIGIC 6+ image processor it is paired with, it offers impressive performance within a native range of ISO 100-32000, which can be expanded to ISO 50-102400.
Versatility is key with the 5D, as it needs to be able to tackle landscapes and weddings with equal ease. By using a 150,000-pixel RGB+IR metering sensor shooters will be able to more comfortably rely on the camera to capture difficult scenes. This sensor also has face detection as well as flicker detection which can ensure proper exposure in less-than-ideal lighting situations. Along with this, the camera offers an improved continuous shooting rate of 7 fps, making it a great option for events and action.
High Density Reticular AF and Dual Pixel CMOS AF Systems
Ensuring your subject is tack sharp, the 5D Mark IV incorporates an enhanced High Density Reticular AF system, which offers 61 phase-detect points, with all points sensitive to f/8 and 41 of which are cross-type. The center point can function down to -3 EV for working in extremely dim lighting. Compared to previous versions, this sensor has expanded vertical coverage of 24% on the peripherals and 8% in the center in order to better track and locate subjects in the frame.
In addition to advanced tracking and focusing while using the optical finder for stills, Live View and video can now use Dual Pixel CMOS AF on the actual imaging sensor. This offers about 80% coverage of phase-detection autofocus for faster and more accurate focusing in these modes. It is ideal for video as users will enjoy smoother rack focusing without the downsides normally encountered with contrast-based systems. Also, this works well with the touchscreen functions, allowing shooters to just tap to adjust focus.
DCI 4K Video Recording
Designed for both professional stills shooting and video recording, the 5D Mark IV supports DCI 4K (4096 x 2160) resolution recording at up to 30 fps at 500 Mbps, along with Full HD 1080p shooting at 60 fps and HD 720p at 120 fps for slow motion playback. When recording in-camera, 4K video has 4:2:2 sampling and 8-bit color depth, while Full HD 1080p footage has 4:2:0 sampling. Uncompressed Full HD 1080p video can also be saved via HDMI to an optional external recorder with 4:2:2 color sampling. 4K video is recorded using a central 4096 x 2160 area of the sensor at a 1.74x crop in order to record video with an ideal 1:1 pixel sampling ratio, while Full HD recording makes use of the entire full frame.
Audio can be recorded using the on-board stereo microphone or an optional external mic can also be used via the 3.5mm mic jack. Real time audio monitoring is possible, too, via the 3.5mm headphone jack. The 4K video recording also avails the ability to take 8.8MP still frame grabs during playback on the rear touchscreen and save them as single images.
Dual Pixel RAW
First implemented here on the 5D Mark IV, Dual Pixel RAW allows photographers to record all the information the sensor's unique pixel architecture can deliver, providing a way for fine adjustments to be made after the image is taken. These adjustments include focus fine tuning that can help you ever-so-slightly adjust the focus point to bring out extra details, shift bokeh around for improved composition, and reduce the impact of ghosting on your photos. This requires the use of Canon's Digital Photo Professional 4.5 software.
Body Design
A large 3.2″ 1.62m-dot Clear View II LCD monitor is available and features an anti-reflective design for bright, vivid image playback and live view shooting, and its touchscreen interface can be used for intuitive touch-to-focus control and adjusting settings in the menus.
A dedicated AF mode selection button located beneath the rear joystick offers another avenue for accessing settings, allowing for fast, intuitive access to commonly changed options.
Dual CompactFlash and SD memory card slots allow you to extend your file saving capabilities by permitting overflow recording or in-camera file type separation while shooting.
An Intelligent Viewfinder II uses a pentaprism design and offers a bright means for viewing. When using the viewfinder, AF points are highlighted in red for greater visibility in low-light conditions, and the finder can also be configured to display a range of other shooting aids, such as an electronic level, grid, flicker detection, white balance, metering mode, AF information, and other settings.
A Mirror Vibration Control System helps to minimize mechanical vibrations in order to better ensure sharpness during long exposures or fast continuous shooting bursts.
A robust magnesium alloy body design is both dust- and weather-sealed to permit working in harsh environments.
The 50 L again, at f/1.2 indoors. Click it for larger! Love the way the 5D sensor renders in a gentle non offensive way. Same character as the 5D has always had.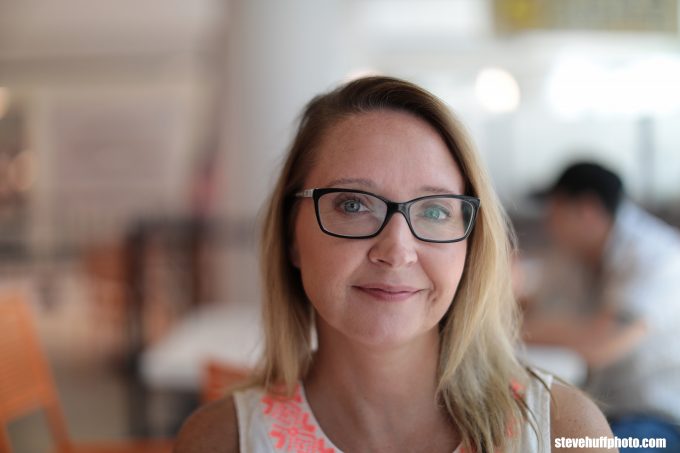 So what did I think of the 5D MKIV after a day of hauling it around and using it?
These are just my 100% honest 1st thoughts…
I thought it felt VERY well made, it felt like a very well thought out camera and one that could indeed inspire confidence to anyone. It feels like a pro tool even though it's under the 1D series. Compared to the Sony A7RII, it "feels" more impressive but at the same time, it is heavier, larger, and fatter so not as easy to carry around your shoulder.
As for results of OOC JPEG's? The color to me is very similar to what I remember coming from the original 5D and the AF was quick and locked on with ease no matter what I was shooting, even in lower light. But even with the quick lock, were my images 100% in focus using the 50L? Not quite.
BUT, when I tested this same exact 50L 1.2 on my Sony A7RII with the latest Metabones Adapter, I had no out of focus shots using the lens wide open. With the Mark IV 5D? Some of my shots with this lens seem a tad off focus wise. Sometimes they are not as sharp which leads me to believe I am seeing the flaw of this lens once again when used on a Canon DSLR. With my old original 5D years ago I had to sell the 50L I owned as it was constantly giving me images that were out of focus. So I have to test this a tad more and do a side by side with my Sony to see the reality.
Also, it has been a long while since I have used a DSLR and an optical VF. I am so spoiled by my EVF's these days that using the "NOT WYSISYG" OVF of a DSLR was not as fun for me as it used to be. While some EVF's need improvement, most of them actually…there are a couple amazing EVF's out there today (Leica SL) that for me, go above and beyond any OVF of a DSLR. But even so I enjoyed the large and bright REAL view instead of a video view. It was REALLY nice yet I still prefer a good/great EVF for my own reasons. (I feel that these new breed of cameras that will be announced next week at Photokina will have some impressive EVF specs.) BUT again, the OVF of the 5D was gorgeous and huge and bright. Less "grungy" than my A7RII EVF. No grunge at all in fact!
This camera is bulky. In a world of thin mirrorless cameras, some even full frame monsters, this Canon truly felt like a beast. It was fat and chunky, just as I had remembered. This had me wishing Canon pushed some efforts into using this tech and sensor into a pro mirrorless solution. I feel the photo world is ready for something killer from Canon and Nikon in the mirrorless world. The new Canon M5 has just hit but for me, while a step in the right direction…too little too late. Canon and Nikon need to deliver something that will knock the socks off of Sony, Olympus and Fuji in the Mirrorless world. As of yet, not happening. I feel the future of imaging is actually with smart phones (because the smart phone is indeed the #1 camera in use today) and smaller, lighter, more powerful pro level cameras. Sony, Oly and Fuji are heading that way. Canon or Nikon has not committed yet.
While I ADORE the 50L lens for its rendering, size, and handling. I think I would prefer to use it on my A7RII  for the smaller size, less weight and just about as wonderful results (though with some faults as shown below).
But let's look asa very high ISO side by side with the 50L on each camera. The A7RII and 5D IV 😉
Noise Reduction was turned OFF on both cameras. This is an ISO 25,600 ISO shot, so at the upper end of the ISO range for most. The Canon seems softer and gentler but is also putting out a less contrasty file. Both cams were set to "Neutral" for the Sony and "Faithful" for the Canon. Both cameras chose the same exposure as well.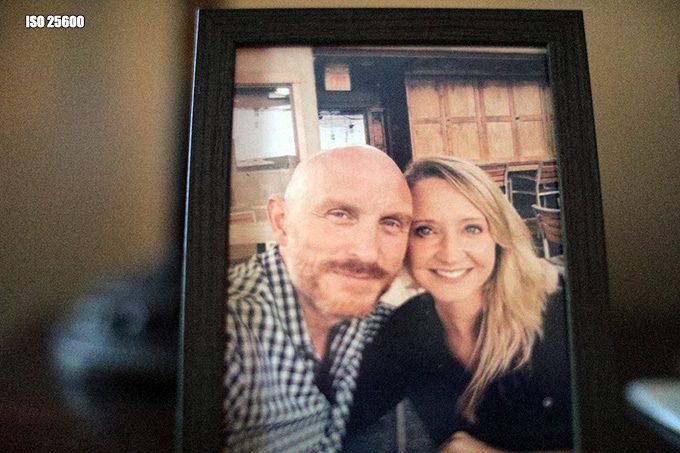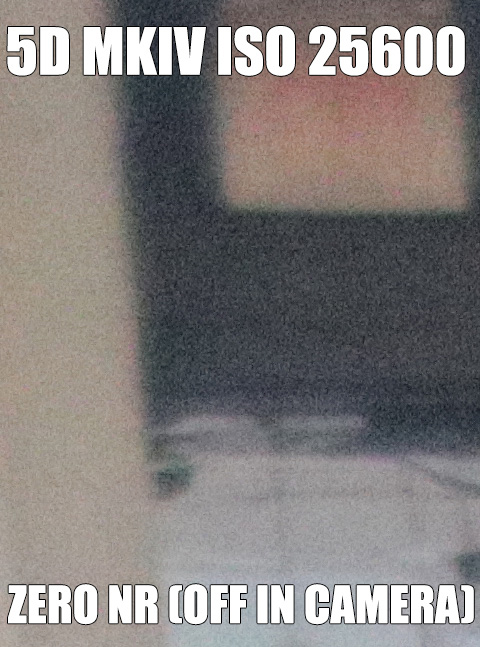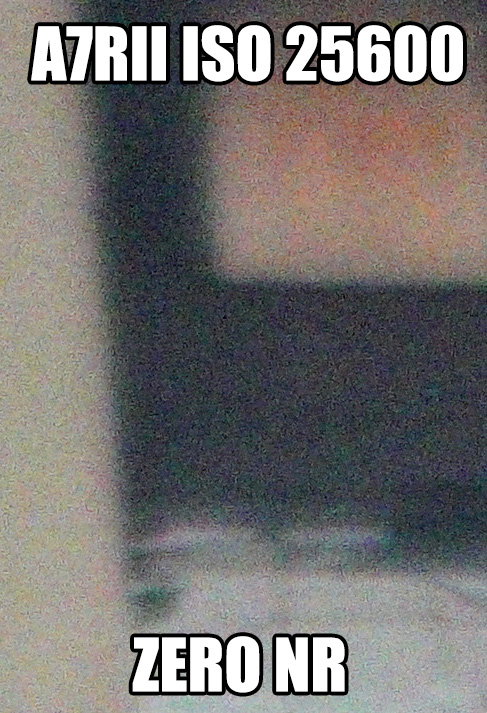 –
A normal test shot, same lens, same aperture, different cameras:
For this simple towel shot I prefer the Canon color out of camera. Also, the Sony has some vignetting going on that is quite obvious.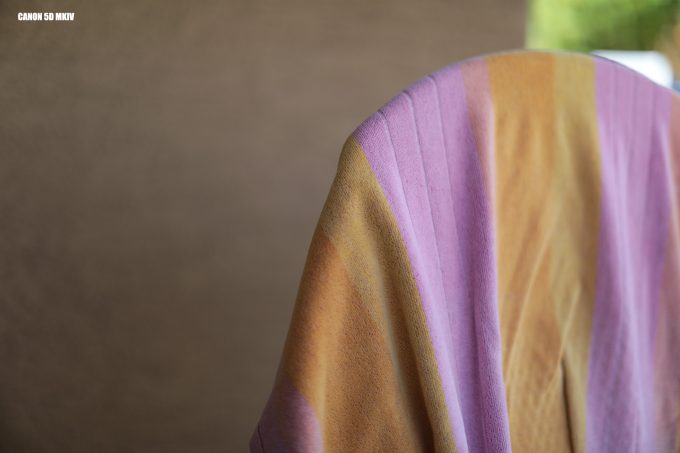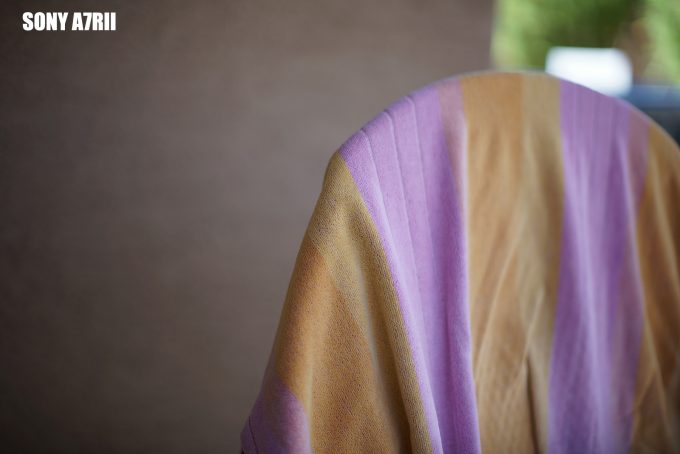 –
The Canon Shot and the Sony shot with the 50L, 100% crop when you click the images to see the larger size.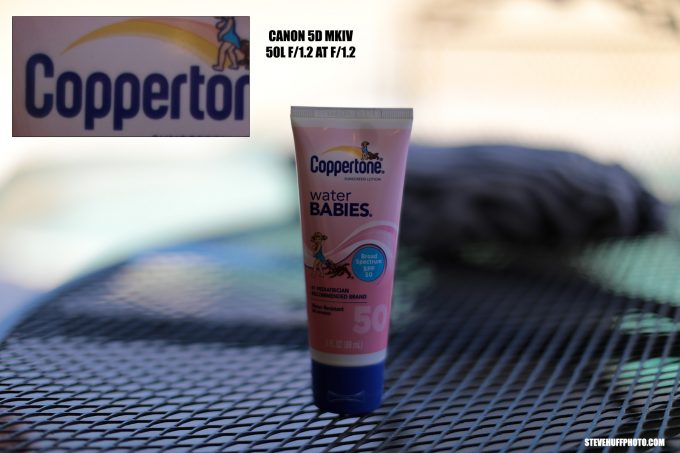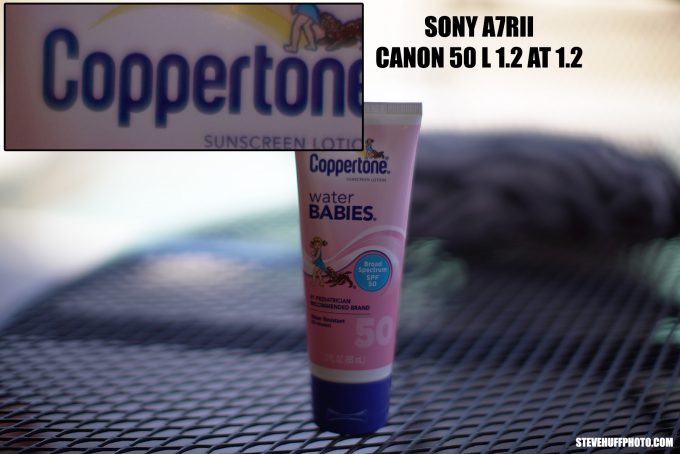 So after these two quick shots, I realized the best camera to use the Canon 50L on is indeed a Canon body. With the Sony the color is cooler, with the Canon the color is warmer. With the Sony, there is some vignetting going on that I do not see on the same level with the Canon 5DIV.
I did have to focus a couple of times with the 5D though, as it did miss the AF on the 1st one.
So after these shots, and the high ISO shots the winner for ISO, may be the Canon, just by a hair. For using Canon glass? There is no substitute for using Canon glass on a Canon body but the Sony does VERY well in real world use as you can see HERE. 
So would I buy a Canon 5D MKIV to replace my Sony? No, and here is why…
My Sony can mount Leica M glass. It can mount Canon or Nikon glass. It can mount 80 year old Rangefinder lenses and all kinds of unique lenses. It's slimmer, smaller, and even with a Canon lens attached, it is still smaller and while the 5DIV is not a giant, it is big, and the thickness is what gets me. When using both side by side, I prefer the Sony feel. As for  the OVF, it's huge, bright and lovely. It's not WYSIWYG but it is so nice to look through, and makes the EVF in my Sony look ragged by comparison (but I still prefer a GREAT EVF like the one in the Leica SL). Even with the more ragged EVF of the Sony, I am so used to seeing what I am getting with an EVF, and it would be tough to go back. Yea, I use a Leica M as well, and that has an OVF/RF but the RF experience, for me, makes it OK as it's part of the process of using the camera.
Auto focus with the 50L was sometimes hit or miss with the Canon body as well but I feel that is a lens issue, not the camera. The 50L has a rep for focus issues.
While the uber high ISO may be better on the Canon by a hair, the Sony is no slouch. But still, the Canon is slightly better, or so it seems (when NR is off on both cameras).
I prefer the Color coming from the Canon over my Sony as well but for me, I prefer the versatility of the Sony and mirrorless in general. The Canon is technically the better camera. Newer tech, double card slots, solid build, and nice and fast AF with a gorgeous OOC quality. So if size does not matter to you, the 5D IV rocks, and if you are already shooting Canon and want an upgrade it is a no brainer.
Canons best 5D yet, without question. You can see more about it HERE at B&H Photo 😉 UNFORTUNATELY I only have the 5D for 3 days, and this is day 3. I hope  to use it a bit more later on today but I scratched the itch I had to try it. Guess I am still a mirrorless guy at heart after all. 😉
Steve