Crazy Comparison! Sony A7RII and 55 1.8 vs Olympus PEN-F and 25 f/1.2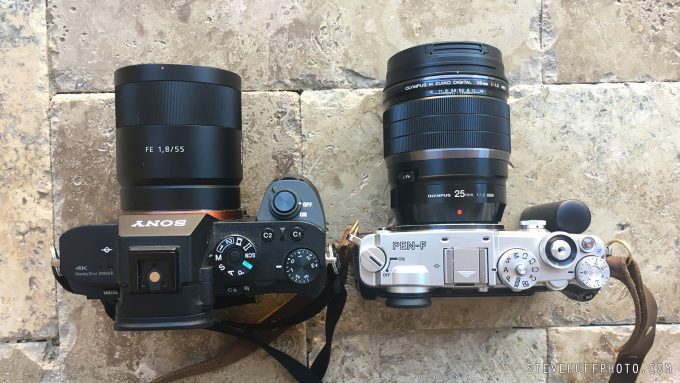 Man, I have been doing these crazy comparisons for years and years now, and every time I do there are many comments and many who like to be outspoken about this or that..but remember, these are all in fun and while they are real world side by side tests that show real world differences, they are not meant to be scientific tests, as that is not what this site has ever been about. It's about WYSIWYG from each camera and what you can expect out of a specific combo of body and lens. This time, we have a full frame vs a micro 4/3 body and are looking at Depth of Field  and light gathering.
This morning as I sit at my desk I was looking at my Sony A7RII and 55 1.8 Zeiss sitting next to my silver Olympus PEN-F with Olympus 25 f1.2 attached. I remember someone asking me to do this comparison, and figured it could be fun. I immediately thought "well, the Olympus will lose on ISO noise, will lose at shallow DOF and will lose on detail". But hey, I love my PEN-F and 25 1.2. So I wanted to see how it would go.
Now, it is true that using the 25 f/1.2 on the PEN-F would give me a Depth of Field like that of a 50mm lens at f/2.4 on full frame. Light gathering is the same, so ISO was set to 1000 for two of these shots, and wide open on the Olympus at f/1.2 vs f/2.4 on the Sony, as these are equivalent apertures.
You must click each image to see the larger image. ISO 1000 for both.
Top one is from the PEN-F and 25 f/1.2 at 1.2. You will see more noise in the Micro 4/3 shot at ISO 1000.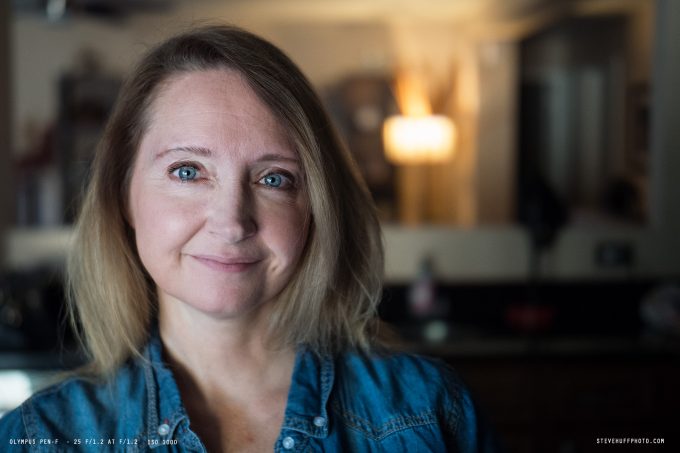 …and below is the Sony A7RII with 55 1.8 at f/2.5 to match the DOF of the Olympus. ISO 1000, less noise than the Micro 4/3 shot as we expect.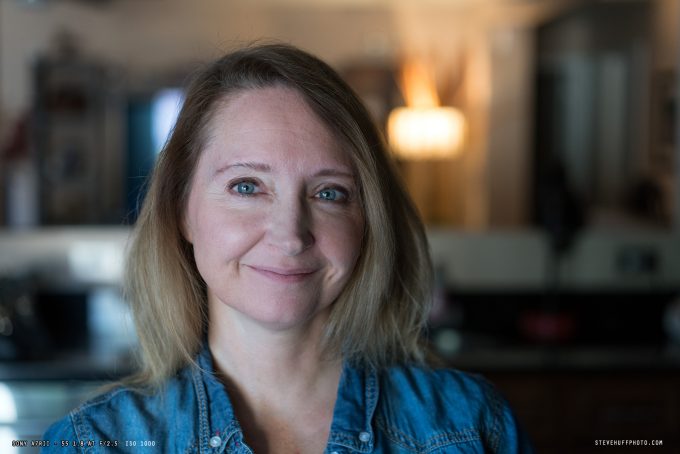 In the image above I prefer the Olympus rendering but I do because it is warmer (a trait of the Olympus color signature), it seems more inviting due to this warmth. The Sony renders cooler out of camera and always has and will, but it could have been warmed up in post to match the Olympus, so technically, the Sony will give you better IQ due to more MP, more DR, and the ability to go even more shallow with the DOF. But what about detail? This is a spot where Micro 4/3 can indeed do well in some cases…
The Olympus PEN-F with the 25 f/1.2 at 1.2. This lens is stunning wide open, and delivers sharpness and pop that rivals most high end f/2 50mm lenses.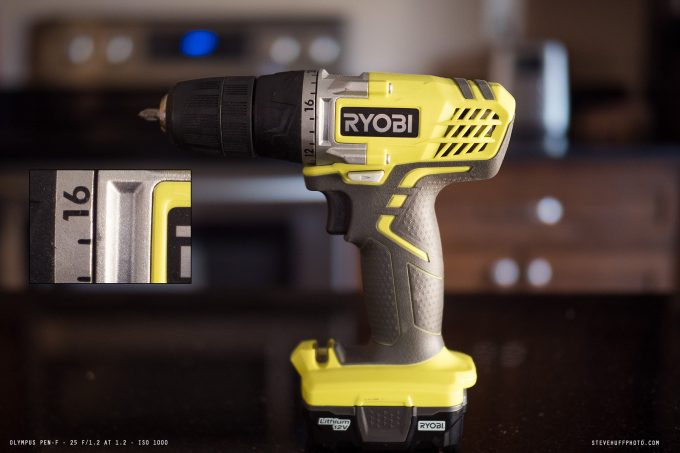 –
Wide open with the Sony A7RII and 55 1.8, this time wide open at f/1.8 which allows us to see the depth of field difference. The Olympus is at an f/1.2 aperure but it is technically a 25mm lens, not a 55mm. So we will get the DOF or Bokeh from a 25mm lens (less) compared to the 55 (more) as the longer in focal length you go, the more shallow DOF that is possible.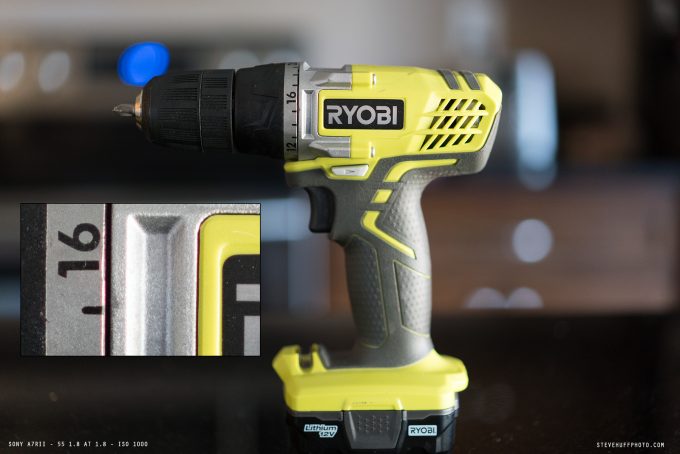 To me, both shots above from the Olympus win me over in regards to the color signature. Some will prefer the Sony here as some prefer cooler and some will not care as we know each photo could be made to look the same with some color tweaks. What this test tells me though is that Micro 4/3 owners have a lens here that IMO is a must own if you like fast aperture and a 50mm equiv. focal length! It truly is a joy to use and the PEN-F focused about 2X as fast as the Sony for these two shots. It was instant with the 25 f/1.2. The Sony hunted for a second or two for these shots in the same light. The Olympus PEN-f is for sure the faster and most fun camera to shoot of the two but in the end, when shooting RAW the Sony will eek out more power and more depth to the iQ.
With full frame, we use real 50mm lenses to get 50mm. With a crop sensor like on M 4/3 we are using wider angle glass in the 25mm, so this is going to always produce a wider DOF. Light gathering though, is another story. The Olympus f/1.2 is an f/1.2 in light gathering terms.
Do not believe me? TAKE A LOOK BELOW:
Both cameras, one full frame, one micro 4/3. Same ISO, same aperture, and same exposure. They look the same in exposure as both were shot at f/2, same ISO of 200, and same shutter speed of 1.6s. This proves that both lenses, on these different systems, full frame and micro 4/3 give us the same light gathering capabilities. The weakness in Micro 4/3 due to the smaller sensor is that it will have higher noise levels once we crank the ISO up.
Click to see larger. The Olympus with 25 f/1.2 at f/2 ISO 200, 1/6s, tripod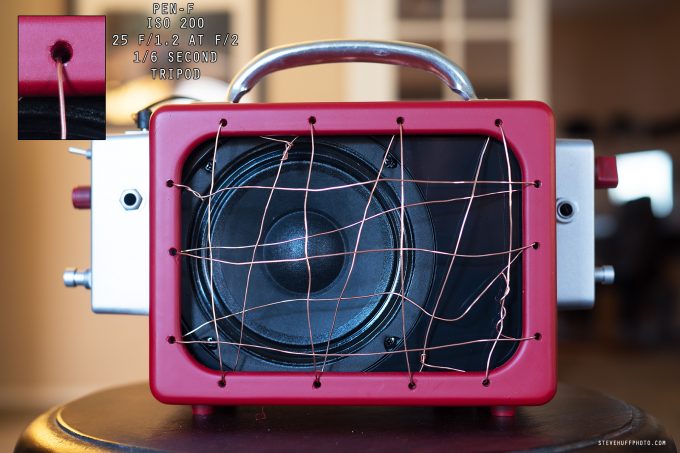 –
Now the Sony and 55 at f/2, ISO 200 and 1/6 second, tripod. The Sony will give us a more shallow DOF which is why the crop is blurred. The camera focused on the copper wire and therefore, due to the razor thin DOF, what is behind the copper is slightly out of focus. Some call this a weakness of larger sensors and fast glass. 
But as for exposure? Just about the same. The Sony added in +3 exposure comp even though I was in all manual. Therefore it is a shade lighter.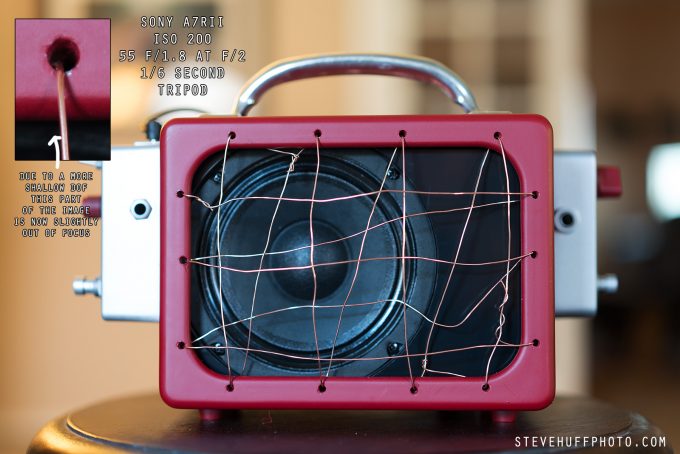 Me, I love both systems. I use them both and have a ton of shots and time on my Sony A7RII. The PEN-F is getting much more time lately though, with the 25 1.2 and my 7-14 pro. My full review of the 25 f/1.2 should be up by the end of the week. Then after that, I will do my review of the Fuji X-T2 😉
Have a great day everyone!