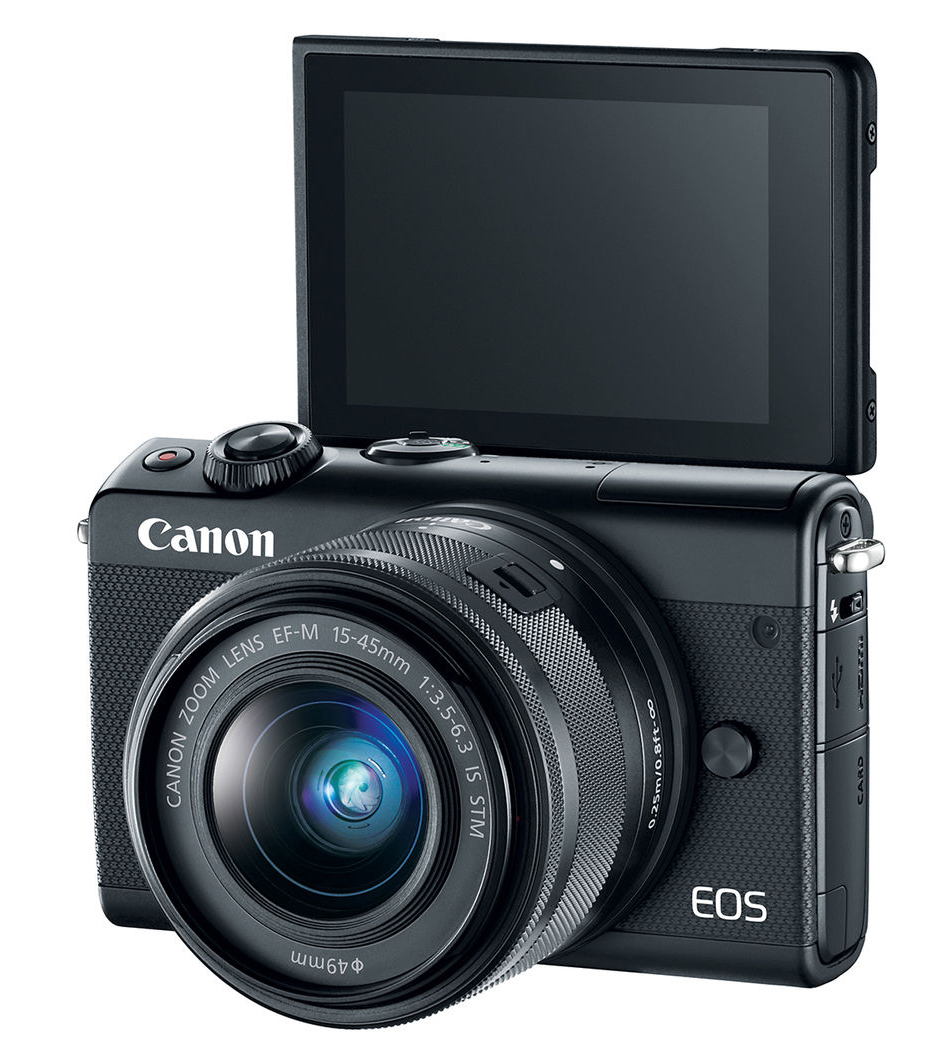 New Canon EOS M100 Announced! Looks like a winner to me!
The new Canon EOS M100 has been announced and honestly, it is the 1st EOS M camera that interests me. I will tell you why.
It's small. It will have blazing fast AF with its Dual Pixel CMOS AF. It will be great with photos, and superb for video. Has a nice 3″ 1.04M dot touchscreen LCD. Can be used with EF and EF-S lenses via adapter. The new sensor for me, is perfect at 24MP. IN this day and age of $2,3,4,5 and even $10k digital cameras, this one comes in at $949 with a lens. Sure, you can buy a Micro 4/3 setup for that or less, and a starter Fuji but this system seems to have finally matured with dual pixel AF which is quite amazing IMO. It's APS-C so no 1″ sensors here.
So small size combined with speed, refinement and the ability to use some of the best L Glass via adapter along with shooting video for personal use, or vlogging, this EOS M seems mature, finally ; ) I also love the flip up screen, Ala the Sony RX100. For those who love selfies, this camera will be a great selfie machine. I will be reviewing this camera soon, so stay tuned! BTW, I am still waiting for a kick ass Canon and Nikon mirrorless that will compete against Sony and Leica and Fuji and Olympus!
Features are below…but you can PRE ORDER it HERE at B&H Photo.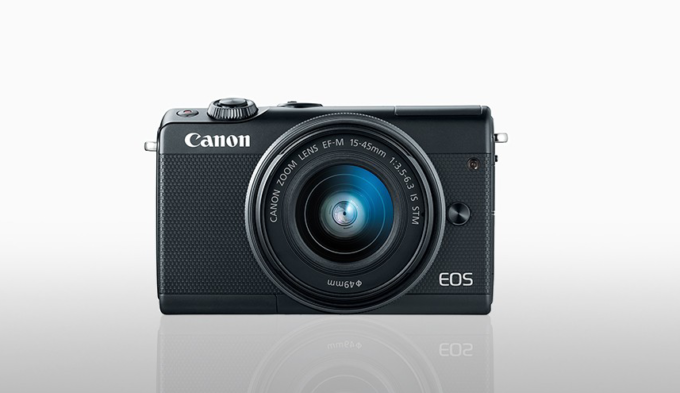 24.2MP APS-C CMOS Sensor and DIGIC 7 Image Processor

Both a 24.2MP APS-C CMOS sensor and DIGIC 7 image processor are used to deliver high sensitivity and fast camera performance to suit both stills and video applications. A flexible ISO 100-25600 range suits working in a variety of lighting conditions, and the processing capabilities minimize noise for notable clarity. The processor also contributes to a fast 4 fps continuous shooting rate, which can be quickened to 6.1 fps with AF lock, for photographing fast-moving subjects. Full HD 1080p video recording is also supported at up to a 60 fps frame rate. Additionally, the processor affords a fast camera startup time and short interval times between each frame for a more intuitive and efficient shooting process.
Dual Pixel CMOS AF

Dual Pixel CMOS AF offers smooth and fast focusing performance in a similar manner to how a camcorder acquires focus. This system integrates two separate photodiodes within each pixel to provide a broad and dense network of phase-detection gathering elements across a majority of the image sensor to reduce focus hunting for faster, more direct control of focus placement. When working with still imagery, this focusing system works to acquire focus quickly and accurately, making it ideally suited to shooting and tracking moving subjects so that critical focus is attained with each shot. When shooting video, a Movie Servo AF mode offers smooth and natural focusing when changing from different subjects or different distances within the scene, as well as the ability to specify tracking sensitivity, AF speed, and Face Tracking priority. Benefited by the Touch AF system, rack focus is possible simply by touching elements within the scene on the touchscreen in order to change focus in an intuitive manner. Subject tracking in movies is also heightened due to the Dual Pixel CMOS AF system's ability to recognize subjects and maintain focus when working within changing or cluttered scenery.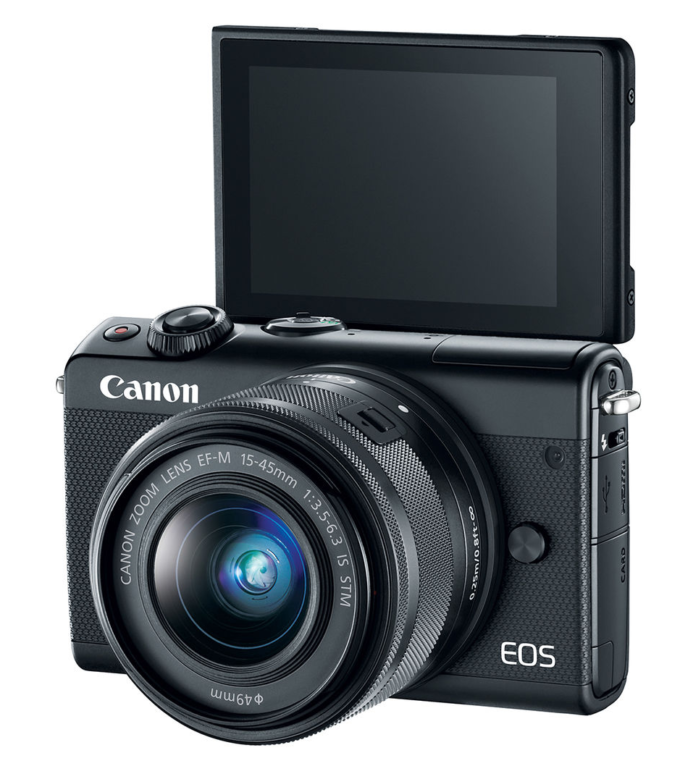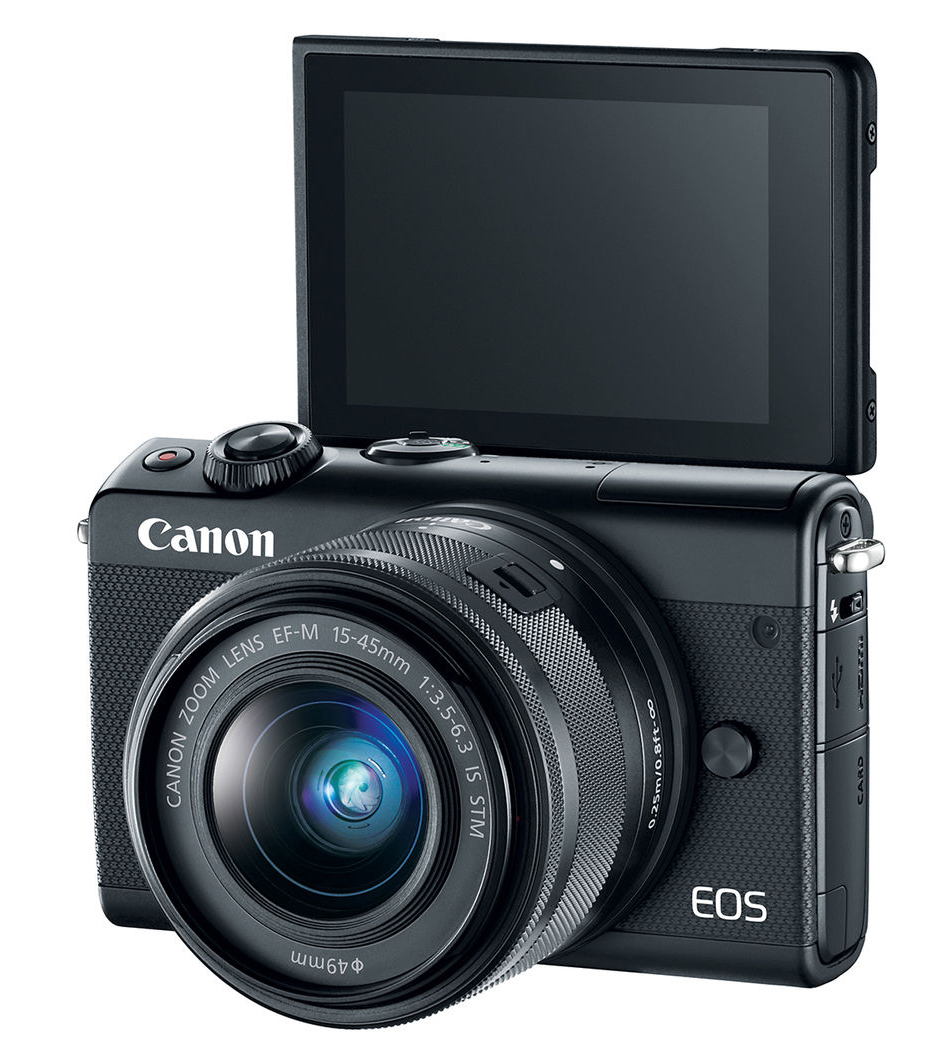 Body Design and Built-In Wi-Fi

Large 3.0″ 1.04m-dot touchscreen LCD provides an intuitive method for controlling focusing points, navigating menus, and reviewing imagery. This screen also features a tilting design (180° upward, 45° downward) to better enable working from high and low angles.
Built-in Wi-Fi with NFC allows for easy wireless sharing of both photos and movies to a linked mobile device.
Bluetooth permits linking a smartphone or tablet for quick image sharing between devices as well as remote control capabilities.
Through the use of an optional adapter, the M100 is able to work with EF and EF-S mount lenses.
Other Features

Creative Assist lets you adjust settings and preview the effects in real time. Personalized settings can be stored for quickly replicating a look, and imagery from other photographers can be imported into the M100 and have the specific exposure settings displayed in order for you to replicate the look and learn how different settings affect the results.
Benefitting from the 180° tilting touchscreen LCD, a Self-Portrait Mode allows you to make in-camera enhancements to your selfies. Adjustments include smoothing skin tones, blurring the background, and modifying the overall brightness of the scene. A customizable self-timer can also be set in this mode to give you the right amount of time to prepare for your shot.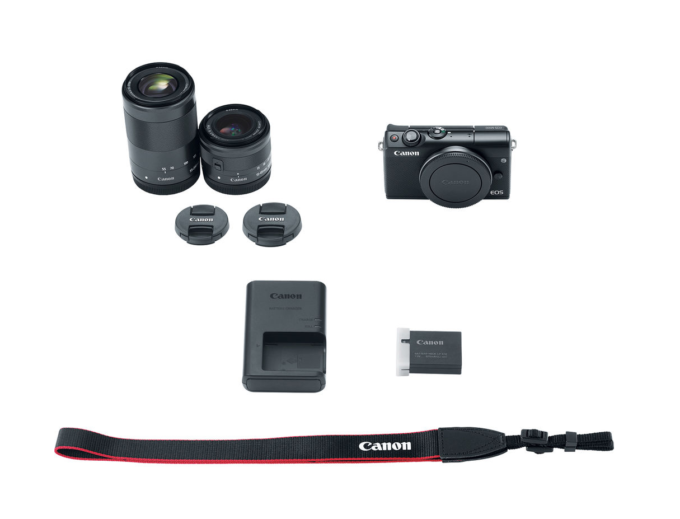 EF-M 15-45mm f/3.5-6.3 IS STM Lens

Included with the camera body is the versatile standard zoom EF-M 15-45mm f/3.5-6.3 IS STM lens, which provides a 24-72mm equivalent focal length range. Three aspherical elements help to control chromatic aberrations and distortions throughout the zoom range and an optimized lens placement works to reduce flare and ghosting. An Optical Image Stabilizer works to minimize the appearance of camera shake by up to 3.5 stops for sharper handheld shooting and an STM stepping motor provides fast, smooth, and near-silent autofocus performance.
EF-M 55-200mm f/4.5-6.3 IS STM Lens

Also included in the kit is the telephoto zoom EF-M 55-200mm f/4.5-6.3 IS STM lens, which provides an 88-320mm equivalent focal length range. One aspherical element and one Ultra Low Dispersion (UD) element help to reduce aberrations throughout the long zoom range and an Optical Image Stabilizer minimizes the appearance of camera shake by 3.5 stops to benefit working with slower shutter speeds. Additionally, an STM stepping motor delivers quick, quiet, and smooth autofocus to suit both stills shooting and video recording applications.