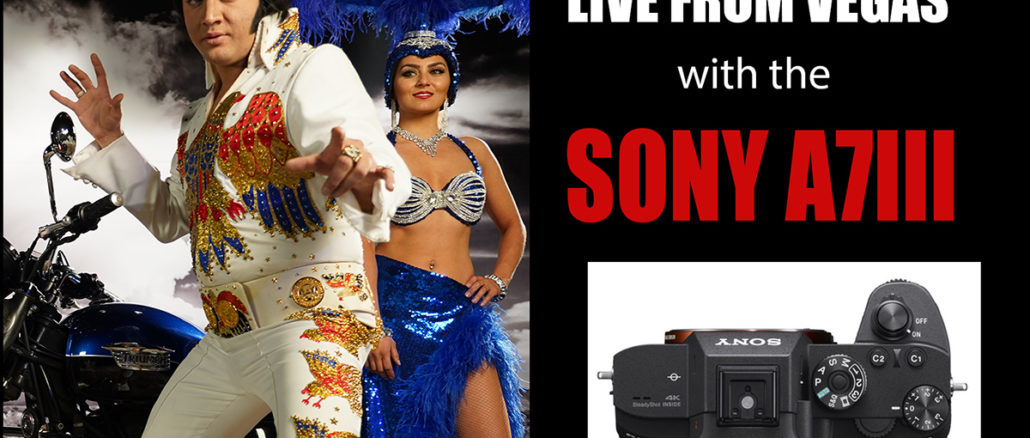 FIRST LOOK at the NEW SONY a7III! In Hand! Samples!
By Steve Huff
Pre Order the new A7III STARTING WEDNSEDAY AT 11AM ET at B&H Photo HERE. Ships APRIL 2018
Hey everyone! Yep, I am here in Las Vegas for the new Sony Camera announcement and what a release it is! Yes indeed, to me, even with the a9 (review) and a7RIII (wrap up here) out there this may just be the biggest deal in 35mm full frame mirrorless..well..ever.
1st look QUICK video with some thoughts on the new a7III!
Sony has created a baby or "mini" A9 in the
new a7III
and the good news is that we get most of the a9 speed, as well as features from both the a9 and a7RIII, trickled down in to this body
which comes in at $1999 US. 
Out of Camera JPEG – Vegas Baby. A7III at ISO 200 with the new 24-105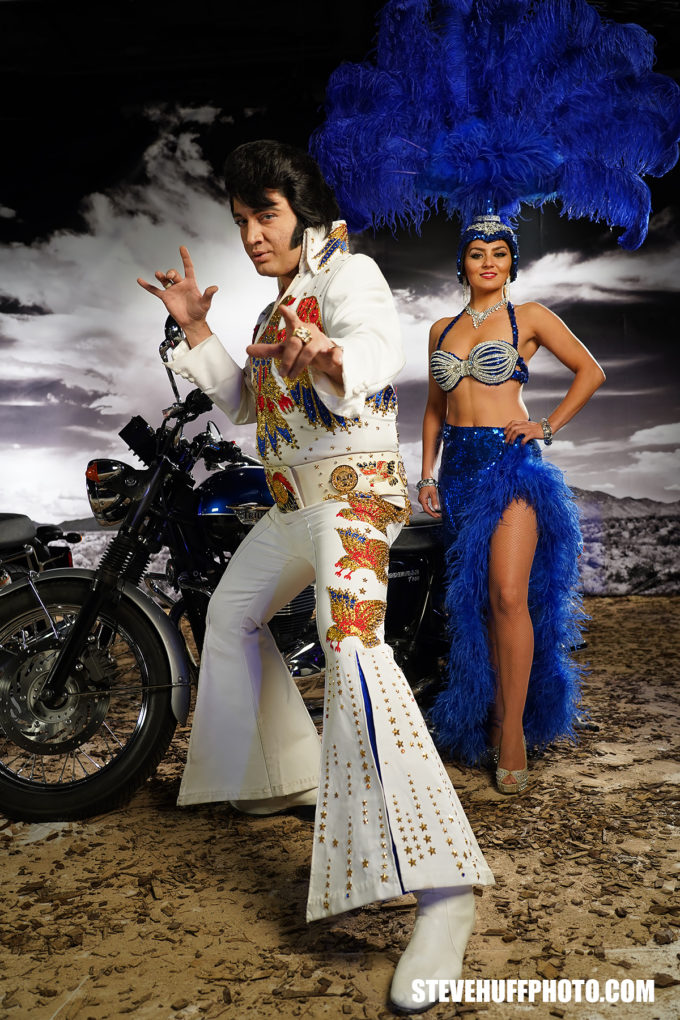 Yep, under $2k and you get a killer speed demon full frame 24 MP camera with an all new advanced sensor (from the kings of sensor technology) that also does amazingly well in low light AND is about as versatile as it gets in this price range. In fact, this may be Sonys new low light king. ISO up to 204k and my guess is that it will be usable at pretty high ISO.
Wouldn't you love to own a Sony that gives you 90% of the A9 performance and almost all of the RIII performance (minus some resolution) for thousands less? THIS IS HUGE IMO!
The price point is fantastic.
At the extremes…Not ISO 10k, but ISO 128K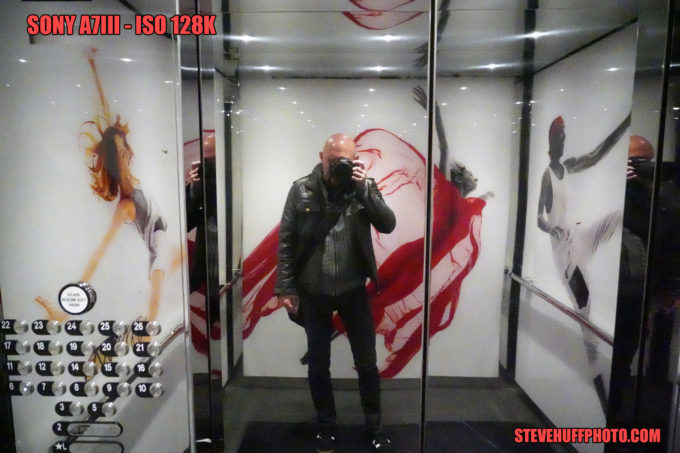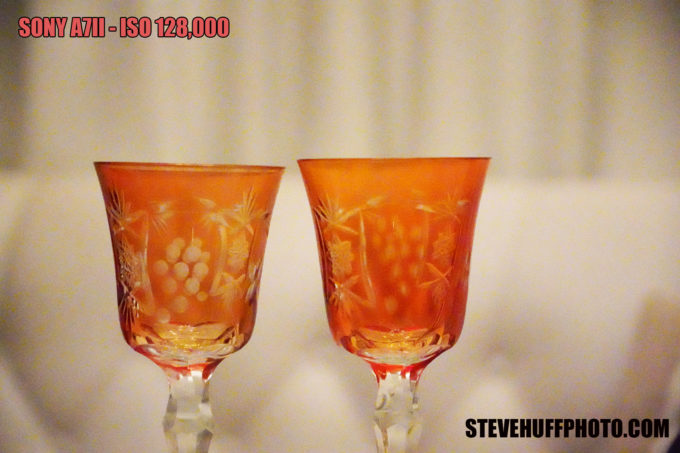 I will admit that when I first saw the new camera announced, those 1st few moments, I was a little disappointed as It thought it was just another rehash but then it hit me and I realized why this will be such a hot seller for Sony, and appreciated by so many photographers. (The Price for what you get). The specs are incredible for photographers or videographers.
Bottom line: This is giving much of the performance of the a9, has an ALL NEW sensor for enhanced color and IQ and low light capabilities, gives us the dual card slots, 4K video, close to a9 AF speed and all for under $2k! Yes, I feel that this will be the biggest seller between the newer cameras just due to price alone. What's even better is one can now get the older A7II for a STEAL. See that amazing deal HERE. 
Yes the A9 has that last 5-10% of performance but it will cost you an extra $2500. Hmmm. Diminishing returns have never been so clear.
A7III out of camera JPEG with the lovely 85 1.8 Lens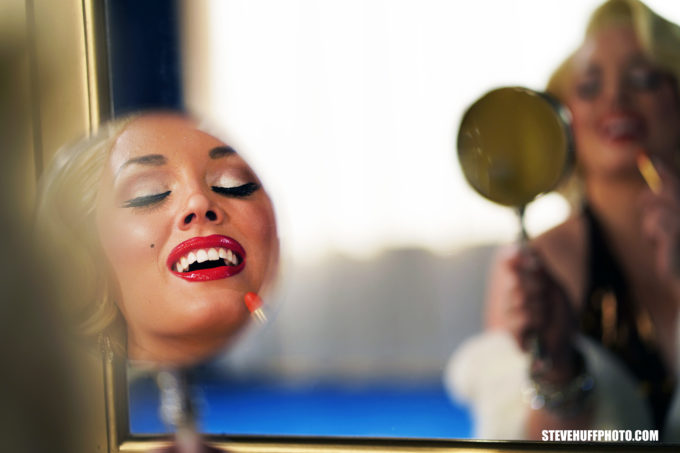 Yes indeed, it seems we are always swarmed with new camera releases. Sony, Fuji, Olympus, Panasonic and other are releasing cameras at a blistering pace as always but man they do somehow manage to improve them all of the time. In this case, I have never seen a more powerful mirrorless for under $2k.
You MUST click these images to see them correctly and much sharper and better! out of camera JPEGS on all images here.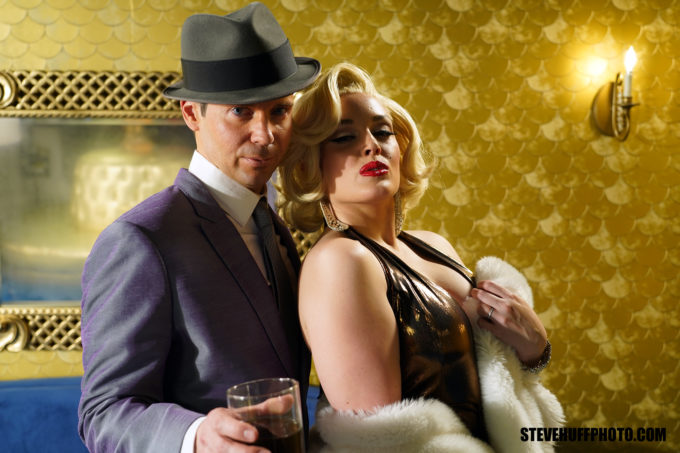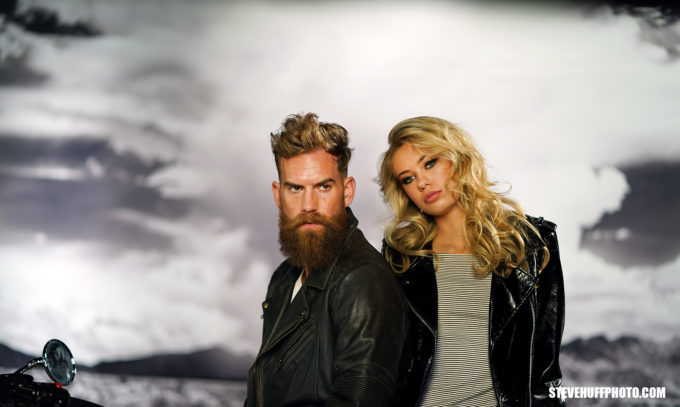 Honestly, it appears that this a7III kind of blows past the new Fuji in specs for just a little more money, and it is full frame which to some is a pro, and to some a con (some prefer APS-C for DOF reasons). No, you do not get the Fuji color vibe but you will get a fast, responsive and well-built solid camera that can do anything one needs. This camera can be used for sports, this can be used for portraits, this can be used for street, weddings, and yes, it would be the perfect companion for those of you who shoot M lenses with this new sensor hitting that 24MP sweet spot. Low light, whatever you need it seems this one can deliver.
Of course full testing is required as I have just been handed the camera just a couple of hours ago and shot off a few JPEG's. I will be using it heavily this week so will have reports as I can find the time to write them. I will also try the Voigtlander 40 1.2 M mount on this camera just because I have it and an adapter with me.
Elvis taking a snap of Marilyn with the new A7III! Lol.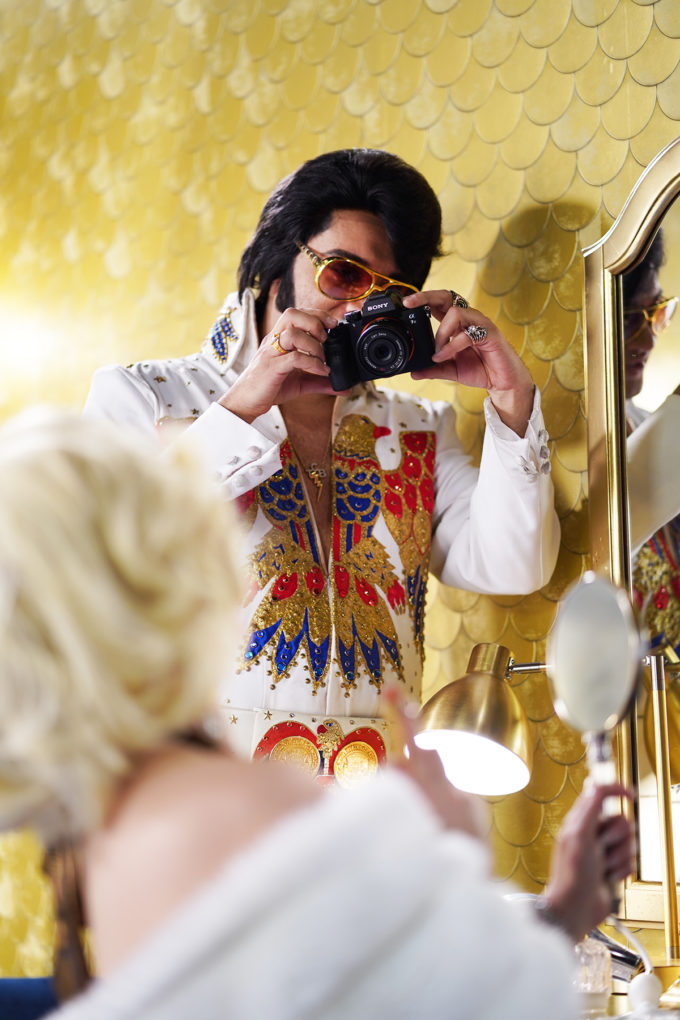 I am still shooting and evaluating the a7RIII and now I have this one to shoot, crazy times for camera releases but as I have said for years now…Sony is going after mirrorless full frame domination and they have it. I will be shooting with this camera for the next two days in Las Vegas. Models, Grand Canyon, and who knows what else. Be sure to come back as my A7III coverage has just begun. Video coming as well.
As for build and feel? It feels just like the A7RIII in hand. It looks like an a7RIII. But yes, it is $1200 less in cost while sacrificing 18 MP of resolution. I have always thought 24MP was the sweet spot, so for those who do not need 42MP, this one can save some cash which means more cash for a great lens.
PRE ORDER THE NEW a7III STARTING WEDNESDAY at 11AM ET!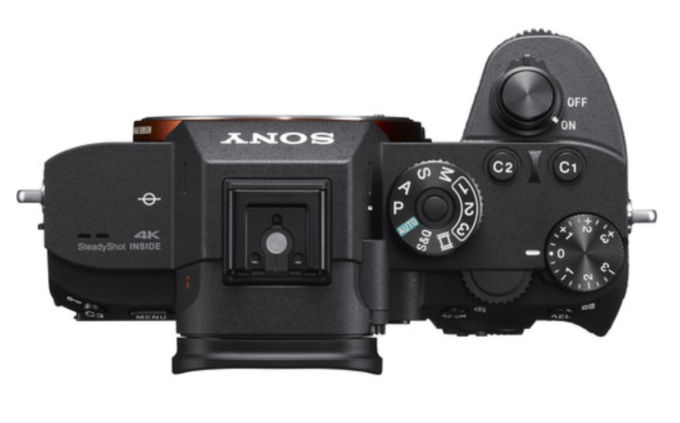 Here are some details and features of this new incredible under $2k camera:
AUTO FOCUS: 
The new camera has 425 contrast AF points that work with a 693-point focal-plane phase-detection AF system inherited from the acclaimed α9 model.  This innovative AF system covers approximately 93% of the frame, ensuring reliable focusing and tracking for even the most difficult to capture subjects. 
AF response and tracking has also been greatly improved in the new camera, with almost 2xii the focusing speed in low-light condition and 2xii the tracking speed compared to the previous model as a result of the faster image sensor readout.  This allows complex and unpredictable motion to be captured with far greater precision and accuracy. 
The acclaimed Eye AF feature is also available in the new camera, even in AF-C mode, which is extremely useful for situations where the subject is turning around, looking down or otherwise obstructed.  It also works when the α7 III is being used with Sony's  A-mount lenses with an optional LA-EA3 adaptor[x].  Additional improvements in focusing flexibility include the addition of a multi-selector or 'joystick' for moving focusing points quickly, the addition of touch focusing capability, AF availability in Focus Magnifier mode, an 'AF On' button and much more. 
NEW SENSOR:
The newly developed 24.2MPi back-illuminated Exmor R CMOS image sensor is paired with a front-end LSI that effectively doubles the readout speed of the image sensor, as well as an updated BIONZ X™ processing-engine that boosts processing speed by approximately 1.8 times compared to the α7 II.  These powerful components work together to allow the camera to shoot at faster speeds while also enabling its impressive ISO range of 100 – 51200 (expandable to ISO 50 – 204800 for still images) and an overall 1.5 stopix improvement in image quality.  The camera also features a massive 15-stopii dynamic range at low sensitivity settings, ensuring outstanding overall performance at all settings and in all shooting conditions, with significant advancements in accurate color reproductions of skin tones and the vibrant colors of nature. 
This new full-frame model can also output 14 bit RAW format even in silent and continuous shooting modes, and is equipped with a 5-axis optical image stabilization system that results in a 5.0 stepv shutter speed advantage.
AND MORE SPEED…
The new α7 III is equipped with an updated image processing system that allows it to shoot full resolution images at up to 10 fps with continuous, accurate AF/AE tracking for up to 177 Standard JPEG images, 89 compressed RAW images or 40 uncompressed RAW images. This high speed mode is available with either a mechanical shutter or a completely silentshooting, adding to the immense flexibility of the camera.  The camera can also shoot continuously at up to 8 fps in live view mode with minimal lag in the viewfinder or LCD screen. 
For added convenience, while large groups of burst images are being written to the memory card, many of the cameras key functions are operable, including access to the 'Fn' (Function) and 'Menu' buttons, image playback and several other menus and parameters including image rating and other functions that facilitate on-location image sorting. 
Additionally, if there is fluorescent or artificial lighting present in a shooting environment, users can activate the Anti-flicker function to allow the α7 III to automatically detect frequency of the lighting and time the shutter to minimize its effect on images being captured.  This minimizes any exposure or color anomalies that can sometimes occur at the top and bottom of images shot at high shutter speeds. 
VIDEO AND 4K:
The new α7 III is an outstanding video camera as well, offering 4K (3840×2160 pixels) video recording across the full width of the full-frame image sensor.  In video mode, the camera uses full pixel readout without pixel binning to collect about 2.4x the amount of data required for 4K movies, and then oversamples it to produce high quality 4K footage with exceptional detail and depth. 
An HLG (Hybrid Log-Gamma)  picture profile is available on the α7 III as well, which supports an Instant HDR workflow, allowing HDR (HLG) compatible TV's to playback beautiful, true-to-life 4K HDR imagery.  Further, both S-Log2 and S-Log3 are available for increased color grading flexibility, as well as Zebra functionality, Gamma Display assist and proxy recording.  The camera can also record Full HD at 120 fps at up to 100 Mbps, allowing footage to be reviewed and eventually edited into 4x or 5x slow motion video files in Full HD resolution with AF tracking.
BUILD: 
Sony's newest full-frame camera is equipped with a variety of enhanced capabilities that were first implemented in the α9 and then again in the α7R III.  These include dual media slots, with support in one slot for UHS-II type SD memory cards.  Users have a variety of options for storing their content in each of the cards, including separate JPEG / RAW recording, separate still image / movie recording, relay recording and more.  Battery life has been greatly extended as well – with a CIPA measurement of up to 710 shots per charge,  it offers the world's longest battery life of any Mirrorless camera, as the new camera utilizes Sony's Z series battery NP-FZ100 that have approximately 2.2 times the capacity of the W series battery NP-FW50 utilized in the α7 II.
EVF…
The α7 III features high-resolution, high-contrast, fast-start XGA OLED Tru-Finder™ with approximately 2.3 million dots for extremely accurate, true-to-life detail reproduction.  "Standard" or "High" display quality settings are also available for both the viewfinder and monitor as well.  It also is capable of seamlessly transferring files to a smartphone, tablet, computer or FTP server via Wi-Fi, while also offering a SuperSpeed USB (USB 3.1 Gen 1) USB Type-C Terminal for increased flexibility in power supply and faster image transfer speed during tethered shooting.
The α7 III model also comes with Sony's new software suite "Imaging Edge", which extends the creative capabilities of the entire shooting process – from pre-processing to post-processing.   "Imaging Edge" provides three PC applications called 'Remote', 'Viewer' and 'Edit', available for free download, which support live-view PC remote shooting and RAW development.    In the latest Version 1.1, several improvements have been implemented including about 10% faster data transfer speed for remote shooting from PC (PC tether shooting) and about 65% improvement in the response speed for RAW image editing.
PRICE: 
The Sony α7 III Full-frame Interchangeable Lens Camera will ship this April for about $2000 US for the body and $2200 in a kit with the FE 28‑70 mm F3.5‑5.6 kit lens.  In Canada, it will be sold for $2600 CA for the body and $2800 in a kit with the FE 28‑70 mm F3.5‑5.6 lens.  The camera and kits will be sold at a variety of Sony authorized dealers throughout North America.