EXCLUSIVE: Sony A7 and A7r images with the Leica M, E-M1 and RX1!
As I stated last night, just yesterday I had a full hands on with the brand spanking new Sony A7 and A7r ! How could I not put a Leica 50 Summilux on the A7r..a 36 Megapixel monster with the latest sensor tech out there?
When I did..let me tell you..what I saw in the EVF was amazingly good. I have not seen any images on my screen yet..but will be in about a week or so when I go to Nashville, TN for a week to test out these new cameras. I CAN NOT WAIT and my PRE-ORDER IS IN for the A7R, Battery Grip and 35 2.8 and 55 1.8.
Hope that the quality stands up when viewed on my computer 🙂 Either way, I will let you know soon.
[ad#Adsense Blog Sq Embed Image]
Some have been asking me questions about the shutter. Yes it is loud and clunky. Does not bother me but for those who want a quiet shutter it may be an issue. Also, this camera DOES NOT have the NEX Menu System and no, you can not switch between NEX and Alpha menus. There was an Australian video posted by Sony misrepresenting this fact.
There is a simple one page graphical menu where each choice takes you to the main menu, which is Alpha based. Same menu as RX1, A99, etc. You will NOT see or be able to access a NEX menu. Also, this camera is not a NEX or CyberShot camera, it is an Alpha camera. Some have been confused thinking it is a NEX, it is not and from what I was told, all future cameras will now be "A" cameras and the NEX Menu is now history.
So hope  that clears it up! Again, I will be posting live updates at the end of the month all week-long with image samples, video samples, Leica lens samples, and much more.
For now, how about some new images?
Take a look at the images below to see the camera in my hands and with the Leica lens attached as well as sitting next to a Leica M and Olympus E-M1 for size reference.
All I would need is the A7r and a 50 Lux. I would be happy with this.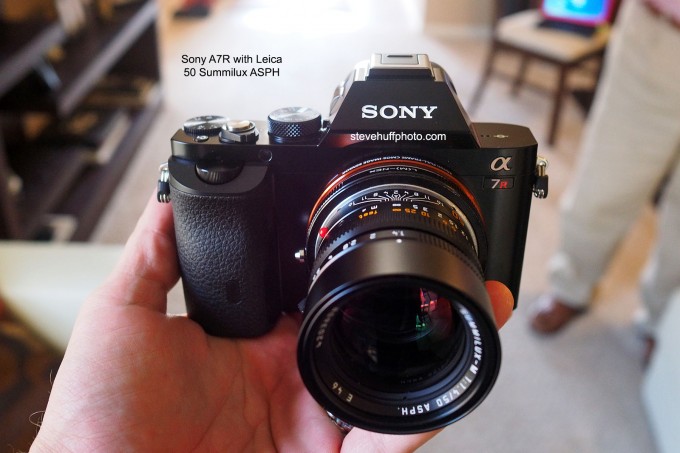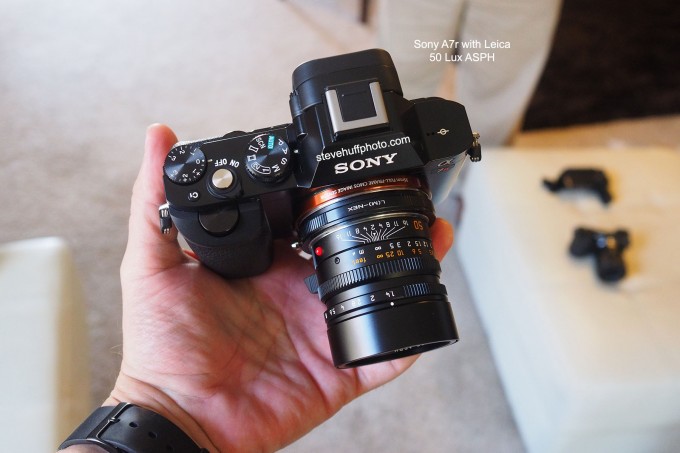 –
Hard to see here but the D800 was MUCH larger and much HEAVIER than the tiny A7r. The A7r has the Zeiss 24-70 attached.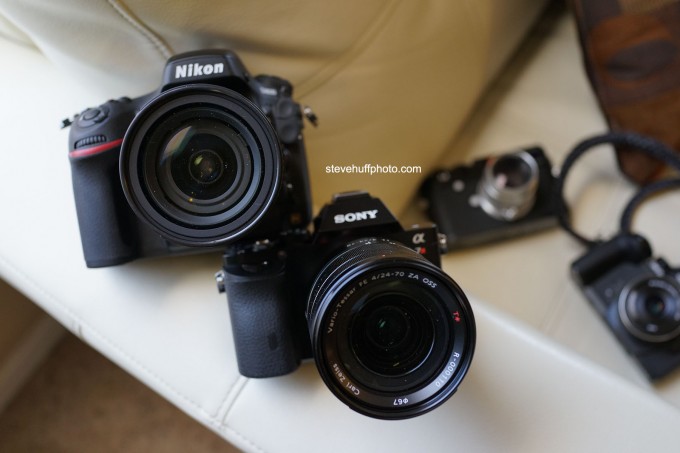 –
Two tech marvels:  E-M1 next to the A 7r..they look like cousins. I will own both.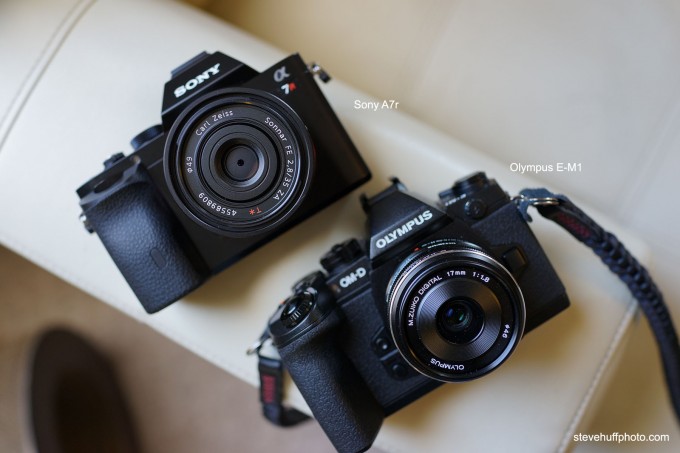 –
The Leica M and Sony A7r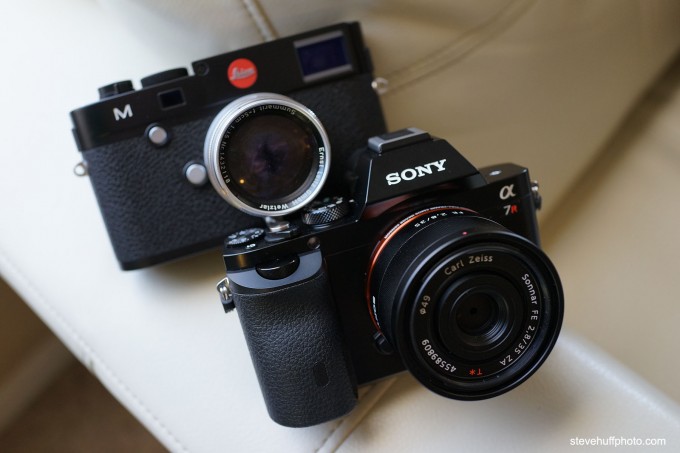 –
Three full frame and all AMAZING cameras..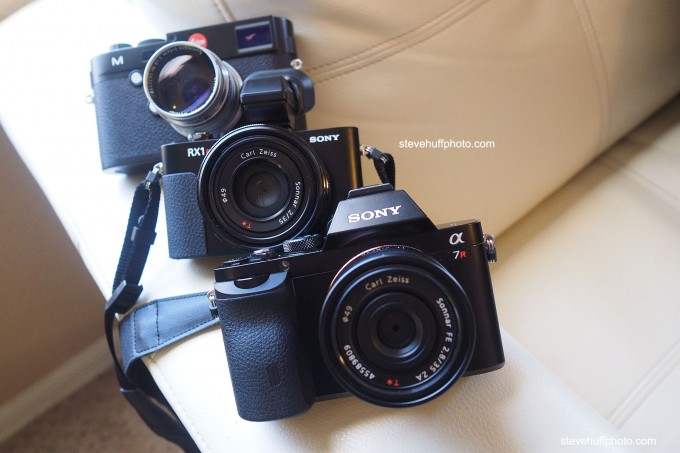 –
One more of a sweet configuration for the A7r.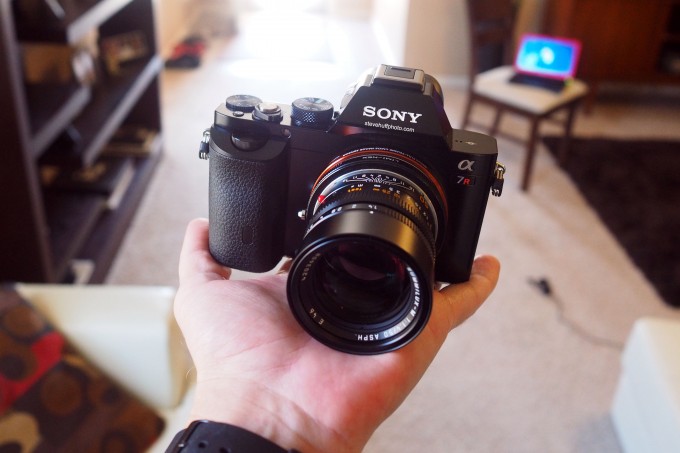 To those wanting to buy the A7r, the 50 Lux should be pretty magical with it. You can buy the camera or the lens at the pre-order links below!
Buy the Sony A7r body and all new Sony at B&H Photo
Buy the Sony A7r body at Amazon
Buy the Leica 50 Summilux through Ken Hansen (khpny19@aol.com, Pro Shop, PopFlash or B&H Photo.
FULL list of pre-order links to ALL things Sony A7 and A7r!
BTW, I will be renting some Leica glass to test with the A7r in a couple of weeks. To all Leica users, what would be the top 3-4 lenses you would want to see tested and shot on the new Sony A7 and A7r? Let me know in the comments!