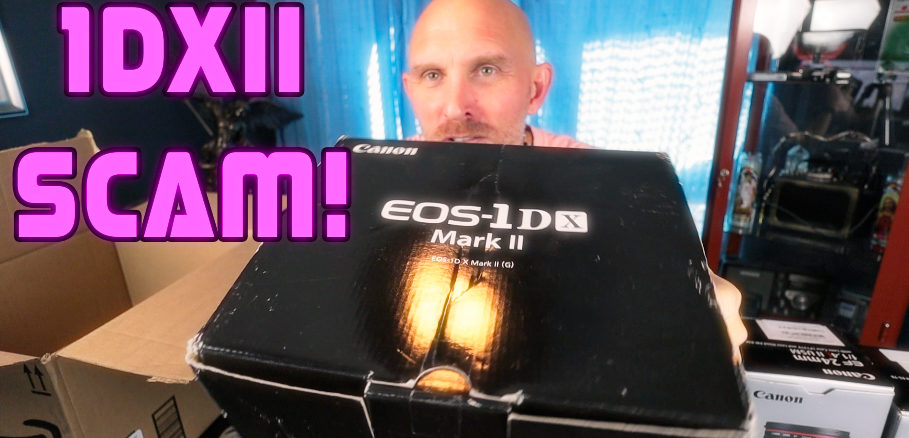 I Was Scammed! Canon 1dX II Amazon Order!
By Steve Huff
CRAZY!!! So a few days ago I ordered a Canon 1DX MKII and three L Primes. YEP! Not only did I, Steve Huff, the Mirrorless Camera Guy buy a DSLR, I bought the biggest and heaviest one there is. Now, I am not going into all the details about why I did this, but let's just say the little M50 inspired me and helped me along with the decision. I have been looking for a video solution for other things I do and need my footage for these projects to look great, have nice color and most of all, I need GREAT AF for this work. No, I did not buy the 1dX II to vlog with as some big YouTubers seem to do but I will be using it at locations, in extreme heat, in wet conditions, dusty conditions and will need it for the next 2-3 years to perform well for shooting VIDEO. I need fast primes with it for low light video, and since it is a stills camera through and through, I will also use it for low light stills at times. With that said, I still have my other cameras on the shelf as they all offer something different, unique and depending on my mood, the situation or whatever, I have a lot to choose from.
But bottom line is, after weeks of research, trial and error, testing others (GH5, Sony A7RIII, Olympus EM1 MKII, and even the Canon M50) I settled on and decided on the older Canon 1dX MKII with a trio of lenses. The 16-35 L II, the 24 1.4 and just for the hell of it, because it's always been a fave of mine, the 50 L 1.2. I used to shoot that lens on the streets of Phoenix with a 5D MKII many years ago and always had a soft spot for the lens. I've even done updates with it as used on a Sony not too long ago. In any case, I made up my mind and was sticking to it.
Canon colors for video and photo are always lovely. I've always thought so but I never wanted a big DSLR to carry around for every day or street photos. But for video, I am willing to use what I need to get the results I want. So away I went to find the camera and lenses.
Seeing that I buy from Amazon often, and have a prime account, I found the camera tax free along with the lenses tax free from 3rd party sellers but with the products being shipped (fulfilled) by Amazon. Seeing that I ave rarely EVER had an issue with Amazon, and these were all Prime I had confidence all would be fine. The box arrive today, and I was excited to give this beast a try, to learn it and set it up for my video needs.
But when I took it out of the shipping box, I knew something was wrong. My heart fell into my stomach as I felt the weight, looked at the worn box and heard loose items inside. You can see what was inside I the video below but it was NOT the 1dX MKII. Luckily, since it was fulfilled by Amazon they gave me a return slip as I immediately contacted them. This was a scam that someone pulled on the seller or Amazon. It was clearly a returned beat up box sent to me that was NEVER checked. No one ever checked what was inside the box, and it was a used beat up box! I paid for a NEW sealed USA 1dXII and got what you see in the video below. So be careful and if shopping for a high dollar item from Amazon always make sure it is fulfilled by Amazon as they will take care of you if this happens to you. So I shipped back the box to Amazon within an hour of receiving it, after taking this video and then I ordered the camera from B&H Photo. It will arrive tomorrow.
You have never seen a Canon 1dX II unboxing like this one! GUARANTEED!