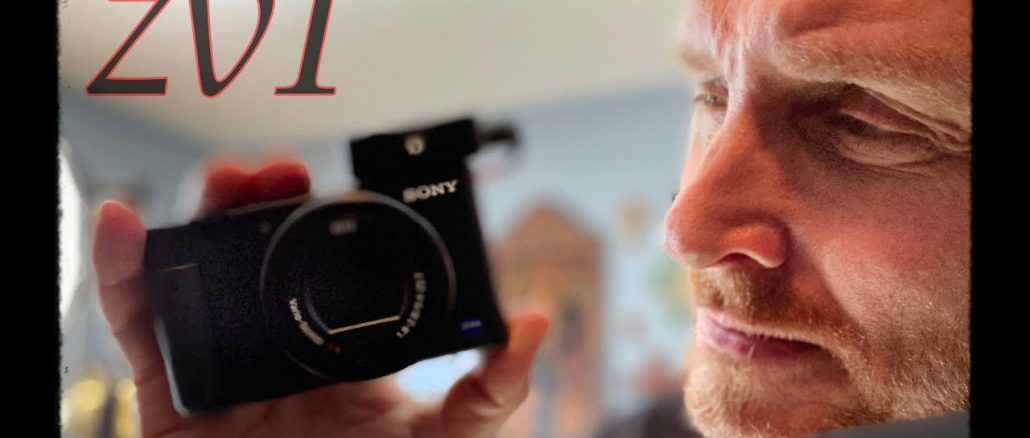 Is the Sony Z-V1 the PERFECT Video/Vlog/YouTube Camera? I bought one to find out. 
So I bought the new Sony Z-V1!
A couple of weeks before it was launched I got the word from Sony about signing an NDA. I did, and the announcement was about the Z-V1, the new video-centric camera from Sony. I was pretty excited by what I saw (besides for the 24-70mm lens). Other than that it appeared to be a truly fantastic way for anyone to get into vlogging or making YouTube videos. With tech such as skin smoothing, full time eye detect AF, product showcase, 4K, built in ND filters and an all new color science for better skin tones the Z-V1 had me curious.
I asked Sony for a review unit… but no response even though Sony has been sending me review units for years. Strange, but no biggie! I decided to buy one to see for myself if it was something I would prefer to my GoPro 8 setup that I have spent some time perfecting. I'm glad I did as it appeared 101 popular YouTubers all got their hands on one to hype it up all at the same time, so I was more than happy to wait until the hype train settled down. I had to I guess, as it just shipped on the 11th of June, lol.
I will say this now. NO this is not the perfect vlog camera, and Sony did not get it quite right, but they almost did. Even so, I am not returning my Z-V1 for several other reasons that make this a fantastic video creation machine as I feel it is much more than a vlogging camera. It's right at home for interviews, for daily life and youtube, and even for mini cinematic masterpieces in the right hands.
I love my little GoPro 8 vlog setup so was curious to see how the Sony would compare. Honestly, I expected to dislike this little camera due to the widest field of view being 24mm (or in reality, 30mm with active stabilization enabled) but after using this camera I started to understand why Sony may have chosen the 24mm focal length for the widest field of view. My Gopro renders my face in a different way. It thins it out somewhat and makes it appear a little taller than it is, even in linear mode. The Sony renders my face correctly and in a rounder way, how it is in real life. This is because the wider you go with a lens, the more of this effect you will see. It is in reality, distortion. With the Z-V1 at 24mm, you will not have these distortions when recording faces like you see in the much wider GoPro lens.
It's awesome that Sony included a swivel out LCD this time as if you want to vlog with this camera you will enjoy making sure you are framed up correctly. This camera makes it easy and easy is the name of the game with this little guy. Sony made it impossible to screw anything up with this camera. It just works, and works well. Great for those getting started with video as well as those with experience. You can set this to fully auto or go all manual and did I mention how TINY this thing is? Think RX100 series, it's the same size body.
There are so many great things to say about the Z-V1 but one of them is not the image stabilization. The camera is pretty shaky when it is turned on, so you will need to use the more powerful "active" mode to smooth out your footage. Only problem is this will add a crop, even in 1080, so your view now becomes more like a 30mm. Much too narrow for vlogging if you ask me, but not a dealbreaker for me by any means.
The camera also has an impressive built in 3 capsule microphone and it sounds damn good for a built in. I always find Sony's built in mics to be better than the competition. They are beefy yet crisp and the one in the Z-V1 is great. Sony even includes a nifty windscreen that attaches via the accessory shoe.
Bottom line? This is not a perfect vlog camera but it is about as perfect of a camera as you can find right now for starting up a YouTube channel or recording daily life itself. It would be fantastic for vacations, travel, family or even your first video camera. The speed of this little guy is astonishing and I can not stress that enough. No more focus issues, ever again with this camera doing vlog duties.  When you see my demo of the product showcase mode in the video below you may just be as wowed as I am. Check out my review below.
You can buy a Sony Z-V1 at Amazon HERE. 
My full video review, tests and comparisons below
and a video on the grip!