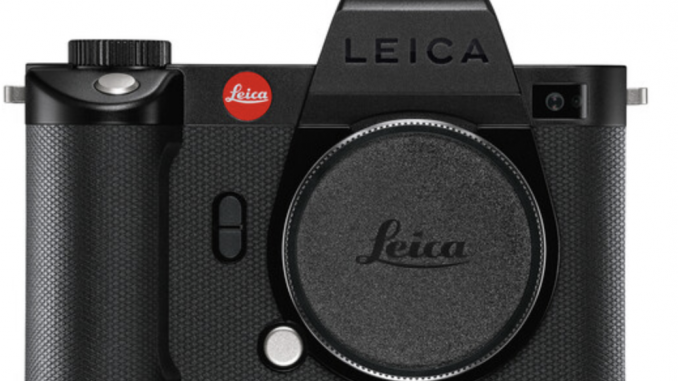 Leica SL2-S! You're the one that I WANT!
By Steve Huff
My written and video review are now up! SEE THEM HERE. 
The Leica SL (original) was and is one of my fave cameras of all time. Even today at the end of 2020, the SL for me is one of the best still cameras on the market. For it's color, it's design, it's build quality, it's mount and just the way it makes you feel when you open up the images you capture with it. When the SL2 was released, I praised it for the improvements in grip, EVF, video functionality and overall beautiful design, yet again. I did not care so much for the sensor, because I am of the belief that we do not need 47 MP stuffed on to a full frame sensor to take a gorgeous image I felt that sensor degraded the overall performance of the SL, when in lower light. Just my opinion, but I did not like seeing image noise show up at ISO 800. I did not buy an SL2 as I longed for the SL2 but with a 24MP sensor. That is all I wanted, and I said back then if Leica released this camera with a new improved 24MP sensor and kept the EVF, IBIS, VIDEO SPECS, NEW GRIP, etc then I would buy one.
The Leica Logo is even blacked out on the SL2-S!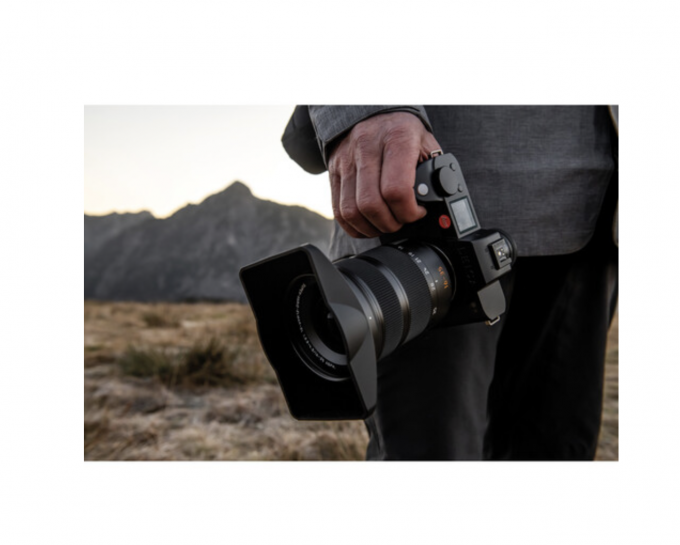 The beauty of all of this is that the SL2-S will cost us less, under $5000 and for that price, yes it is very worth it for some who enjoy quality in build, feel, design, menus, etc. For those who want a mount that is so versatile. Yes, the L mount means you can mount a ton of lenses either from Leica, 3rd party or even adapt lenses to the camera. I love shooting these SL's with M lenses. My dream fantasy would be the SL2-S with the Leica 75 Summilux. Whew! What a dream!
I am a tad excited by this release after being underwhelmed by the last couple of Leica releases. I also feel this new SL2-S exceeds something like the M10 series, for so many reasons. Heresy for sure to some but hey, for me I will take a gorgeous EVF these days over a mechanical RF. 
This is a camera with a super high quality 5.7 MP EVF. Same as the SL2. It has the same build, body and style as the SL2. It has the same video specs. Sadly, it has the same contrast detect AF which is the only thing keeping it from being a perfect camera in my eyes. When you add these brilliant video specs and offer AF lenses, you really should have AF equally as good as Sony and Canon for video. Sadly the SL2 does not and the SL2-S keeps the same focus capabilities. It may be a bit faster though, than the SL2, as the megapixel count is smaller which does help AF speed.
You can pre order the SL2-S at B&H Photo by clicking the image below. It is shipping now actually.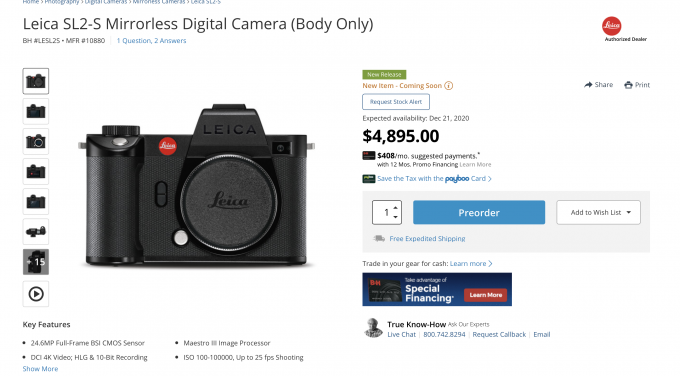 So obviously Leica did not offer to send me a review unit of the SL2-S, nor brief me on it. They recently sent me an M10R and M10M to review along with the 90 Summilux and 50 APO (that may or may not happen, the M camera reviews…). But there was no mention of the SL2-S. I would have loved to check it out but if they can not sent me one I will try to either rent or (gulp) buy one to review. It is after all the SL I have been asking for forever! Lol. 
I feel this will be the best version of the SL created to date, even surpassing my original fave. But again, these are just my opinions based on my likes, and experience using so many cameras. I know what I like, which is different from what many others like. It's why the Hasselblad 907X made my camera of the year for 2020. It's beautiful in all ways yet nothing like the SL2-S which is beautiful in ways the Hasselblad is not. The Hasselblad for me is a functional piece of art, a piece of history really with the throwback to the old 500 series. It's amazing to have this in digital form but the 907x is also lacking with weather sealing, speed and that rolling shutter issue when the electronic shutter is used. 
The SL2-S will be more like a traditional camera, and have the speed, the feel of an SLR and that beautiful EVF along with what I believe will be much improved low light capability. It has IBIS, it has Cinema 4K video, it has a beauty and simplicity to the menu. If it gets close to the Panasonic S1 in low light, it will be a low light champ. ALL that is missing is phase detect AF.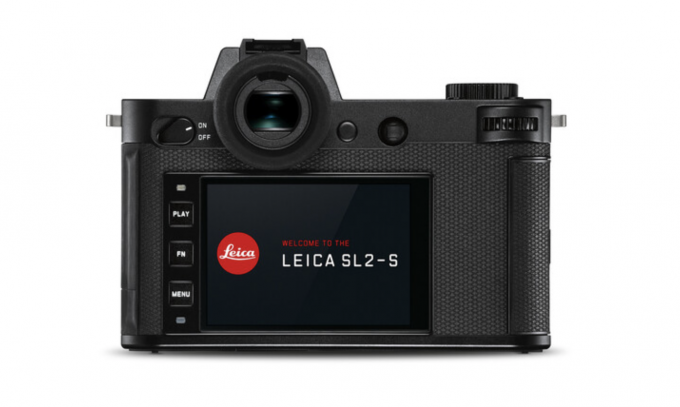 For me this was a nice surprise to end out the 2020 camera release year. So many amazing cameras were released this year, during a crazy time for our world and especially here in the USA. With Covid killing one person every 30 seconds as of right now, and losing more Americans each and every day that go far beyond 9/11 each and every day, well, we are in a strange place. People have lost their jobs, food lines are longer than ever in some states and we live with a level of political disinformation that I have never experienced in my lifetime. Yet here we are with luxury cameras still being released and sold, and yes, some are buying them, quite a few. While the camera industry as a whole has taken a beating over the last two years, things are changing just as I predicted a long time ago here and luxury cameras still have an audience, maybe more than ever.
I mentioned long ago that I feel cameras will move more into a luxury niche. Also more of a video niche. For the most part this is happening. This SL2-S at just under $5k. The 907x for $6400. The Sony A7SIII for $3500. The Canon R5 for a bit more. Camera prices are going up but I can say it is nice to see this SL2-S come in at $4895 when the original was $7500 when it was released. So as strange as it is during these times, I do see people buying these luxury items (those who are in the stock market have made a killing and are spending).
Heck, I bought the 907x but not because I am rich, because I sold a house and made a great return on my investment of 10 years so I spoiled myself a little for something I truly enjoyed. Not sure I can swing it for the SL2-S but I can not lie. It IS, the ONE THAT I WANT! : )
The SL2-S seems be shipping NOW. You can pre-order it HERE at BH Photo for $4895.