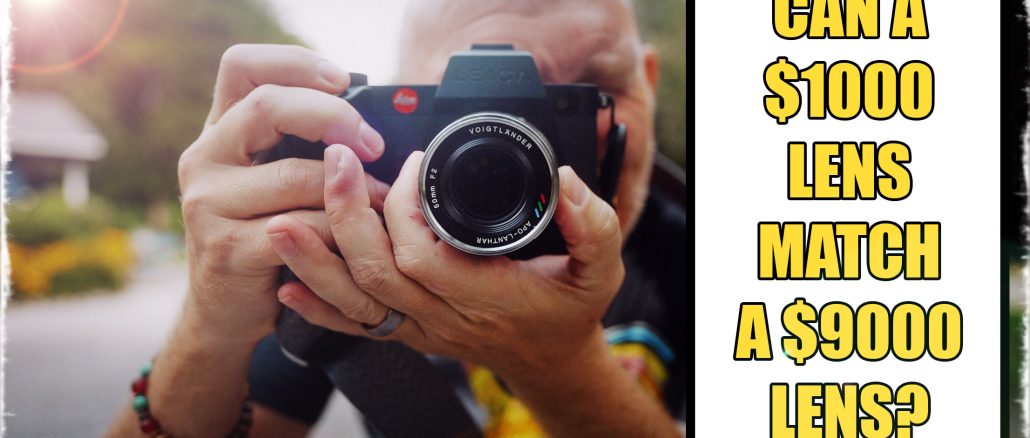 CRAZY COMPARISON! Leica 50 APO vs Voigtlander 50 APO. A $9k vs $1k Lens.
By Steve Huff
So I just posted a video to my YouTube comparing the Leica 50 APO against the Voigtlander 50 APO. Both in M mount. The Leica is a lens that is considered to be one of, if not THE best 50mm in the world. I think that rang true when it was released but today with so many amazing 50mm lenses out there it may not be the case today. Even so, it is a gorgeous 50mm lens and while a small f/2 design it comes in at $8995.00 retail.
See the video comparison below!
The Voigtlander is also a 50 APO f/2 lens design
and while a bit larger than the Leica it is still tiny in comparison to todays big auto focus 50mm's. To have this kind of quality in such a small inexpensive lens is pretty remarkable. This lens is $999, and if you want the metal hood add an extra $100. You can see the size difference in the video above.
One would think that a lens that costs $8,000 less than the Leica would never be able to compete with the lovely little magical summicron. After my tests over the last week I can say that it not only competes but gets 95% there (or more). In fact, some may even prefer the rendering of the Voigtlander over the Leica. There is no better here just oh so slightly different.
I shot both of these lenses on the SL2-S and the results surprised me. I knew the Voigtlander was a great lens (see my first video from last winter) and could get close to the Leica but for the cost difference, this is kind of ridiculous.
Let's get started.
I shot with the Leica M adapter this time, setting aside my old fave Novoflex adapter. The Leica adapter allows you to set the lens profile, even with uncoded 3rd party lenses. This is what allows the camera to correct the 50 APO vignetting. By applying a lens profile to the Voigtlander it will also do the same for it. I tried out several profiles with the Voigtlander and found the one for the Leica 50 Summilux ASPH worked the best, so that is what I used.
 Two lenses. Same camera. CLICK THEM for larger and better versions. 
SAMPLE 1: Portrait & Bokeh
The top image was shot with the Leica at f/2. The Bottom with the Voigtlander at f/2. The Leica's bokeh is just a hair smoother but to untrained eyes they will look exactly the same. In fact, Debby could not tell a difference in these images. Neither could family members. I asked which one they though was from the $9k lens and which from the $1k lens and they thought it was a trick and I used the same lens! This shows just how close the Voigtlander is to the Leica. Do you see $8,000 worth of difference here?
SAMPLE 2 – Sharpness and Bokeh
Below you can see another example that shows the same as above. There is a teeny bit more "puffiness" to the Leica's Bokeh but again these two lenses are doing the same thing for color, detail, sharpness and the only slight difference is in the Bokeh. So so slight. Click them for larger and below you can see crops from each. 
SAMPLE 3 – Casual Candid Portrait
After 7 hours of working in the yard cutting down trees and hauling and burning the wood we sat down and had a beer. I shot this one of Debby with each lens and in the one I prefer the Voigtlander ever so slightly but they are so close it is pretty remarkable.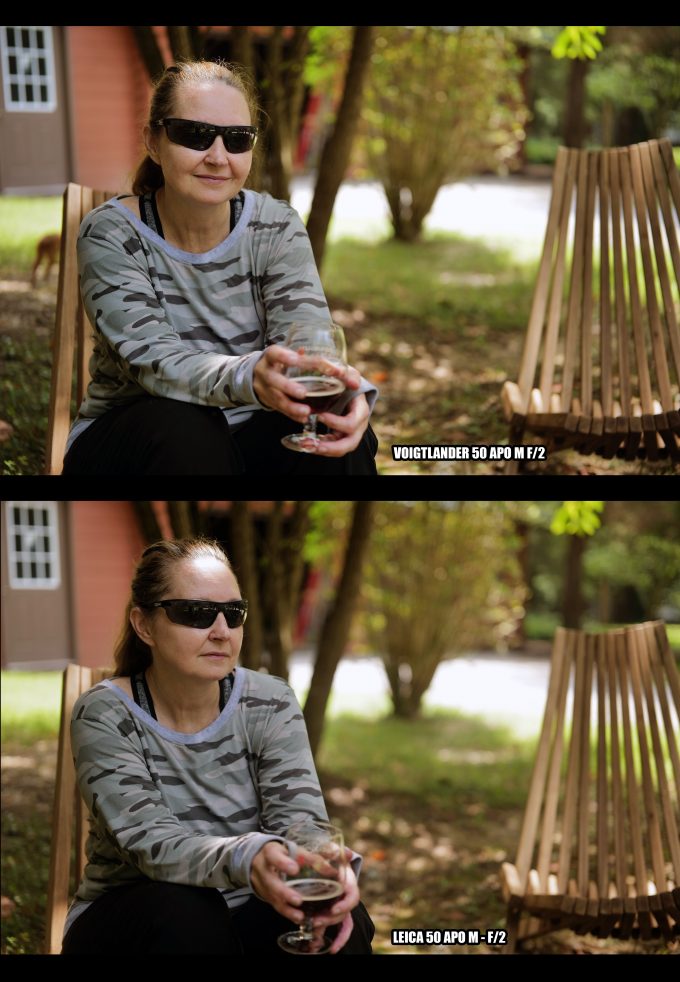 SAMPLE 4 – CLOSE UP
Two more with the same vibe again. Click them for larger.
SAMPLE 5 – MID DISTANCE
Click it for a larger version. Leica up top, Voigt down under it.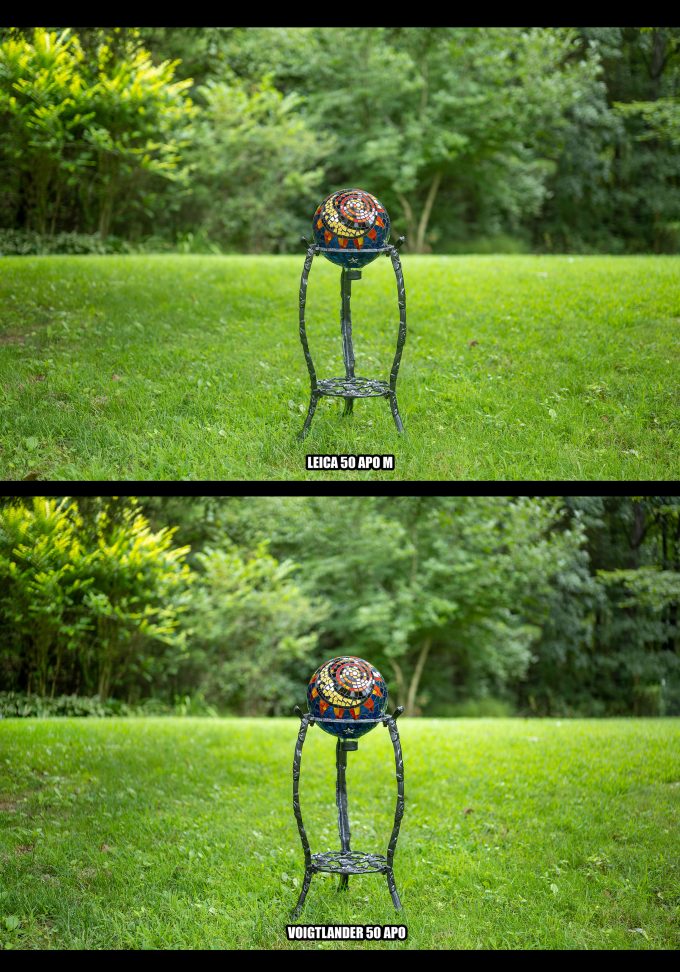 At the end of the day this comparison showed me that we do not have to spend $9,000 to get this kind of performance from an M lens. We can get 95-98% there for $1k. This $8,000 savings could be used for a trip, for 7 more Voigtlander lenses or just to keep in the bank. Yes the bokeh  with the Leica is a hair smoother and provides an overall slightly smoother looking image but it is oh so slight. You can see this effect in the image above, of the gazing ball. The Voigtlander has a bit more pop and the ball is separated from the background with more definition. The Leica also has a slightly smoother bokeh and subject. 
As for build, Leica's are known for their immaculate build quality but the Voigtlander is built to a high standard as well. All I will say on that is in my lifetime I have had three Leica have issues and need repair. I have had one Zeiss break and need repair. I have never had a Voigtlander lens break on me. So build on both of these lenses is good and I do not see the Leica as having a better build.
I have not experienced flare, or any nasties with the Voigtlander either and as for resale, buying NEW Leica will always have you losing thousands if you decide to resell within 10 years. Buying a new Voigtlander? You can sell anytime and lose around $300 on a lens like this vs $2500+ on the Leica.
Sure the Leica is made in Germany. The Voigtlander in Japan. Both amazing places for lenses to be made ; )
I can highly recommend the Voigtlander today even more than when I first talked about it. I have seen just how close it is to a lens that sells for $8,000 more and it's pretty incredible.
Voigtlander has come a LONG way in improving their lenses over the last few years. Today they offer some pretty amazing lenses and many that can and do compete with Leica. I will be taking a look at the 35 APO from Voigtlander soon ; ) Maybe compare against the Leica 35 Summicron APO M?
You can buy it from CameraQuest.com HERE for $999 and they also have the HOOD!