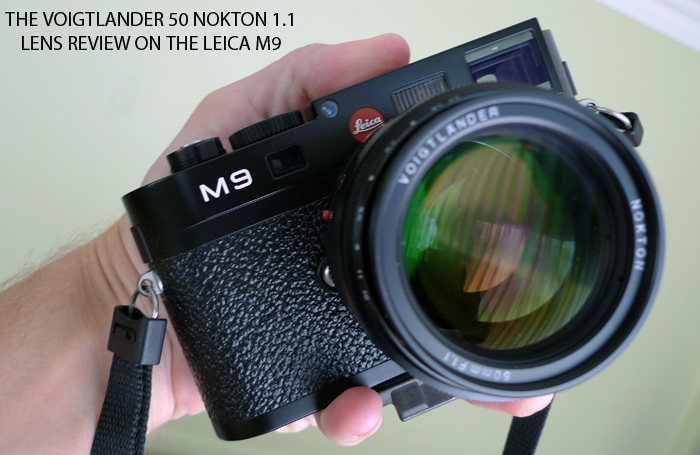 I love FAST 50's!
Voigtlander 50 Nokton 1.1 Review – Out of all the lens reviews I have posted to date for the Leica M, none have created the amount of e-mails to my inbox as this Voigtlander 50 Nokton 1.1. Ever since mentioning on this blog that I received it, and was testing it on the M9 I have had no less than 40 e-mails asking me when this review would be posted. I guess there can be a few reasons for the excitement. First, this is a Leica M mount Voigtlander. It is not a screw mount and you do NOT need an adapter to use it with your Leica M. Oh, and its a F1.1 lens for about $1100!
Leica M users including MP, M7, M8 or M9 owners can shoot this lens right out of the box! This was a very smart move by Voigtlander in my opinion. Why? Well I was never a fan of having to buy the M adapters, and having one for each Voigtlander lens I shot with. In the past I have shot with and reviewed the very sweet Voigtlander 15 Heliar as well as the so-so ho-hum average 28 Ultron F2. This Nokton is taking aim at those who lust after a super fast lens like the Leica Noctilux but do not want to mortgage their home to buy one. That would be me 🙂
Even buying a used classic Leica Noctilux these days will set you back anywhere from $4000-$6000, and the new Noctilux will set you back about $10,000! Way too rich for my blood so when this lens was announced I told my wife "I WANT THIS LENS and I NEED THIS LENS" but after it came out I realized I was happy and content with my 50 Lux pre-asph so I passed on the Nokton. I knew it could not compare to the old Noctilux and I am usually not that big on Voigtlander lenses (though I love that 15) so I decided to keep my Summilux.
But deep inside I had that voice that lurked…"you know you want it" and yes, I really do want a lens like this. I used to own the classic Leica Noctilux and it was magical. It was and still is an artists tool that renders a scene in a painterly way with swirly colors, bokeh, and a soft but detailed look at F1. But stupid me… I sold it years ago and have regretted that decision ever since so when B&H Photo sent me this Nokton 1.1 lens to try out, I jumped at the chance. Being able to test it on FF was the icing on the cake.
Many of you who are readers of my site know that I LOVE fast glass. When I have a lens like a Leica Summilux I shoot it wide open 98% of the time becuase Leica lenses have incredible performance, even at 1.4. That is one of the reasons they are so expensive. They are usually perfection in a small well made package. I love lenses with character and I knew that this Voigtlander just HAD to have some kind of magic with that fast 1.1 aperture. I wanted sharpness but not too sharp, and I wanted super shallow depth of field. Could the Nokton deliver what I was after? If so, I had my plans laid out. I would sell my 50 Lux Pre-Asph and buy the Nokton for my fast 50. I would also have a spare $1000 to help pay for my website hosting (which is now up to 600GB per month of usage)!
So how did it go? Read on to find out! But before I get into the actual review I will show you a picture I really like. I took this shot of my Nephew John wide open in an old abandoned factory. All I did to this was resize it and convert it to B&W with Nik Silver Efex Pro. The lens sucked in the light and gave me a great image as it did with most of my test shots. Due to that, these images in this review have little or NO post processing. Just some B&W conversions here and there using Nik Silver Efex Pro.
Nokton 1.1, M9, converted to B&W with Nik Silver Efex Pro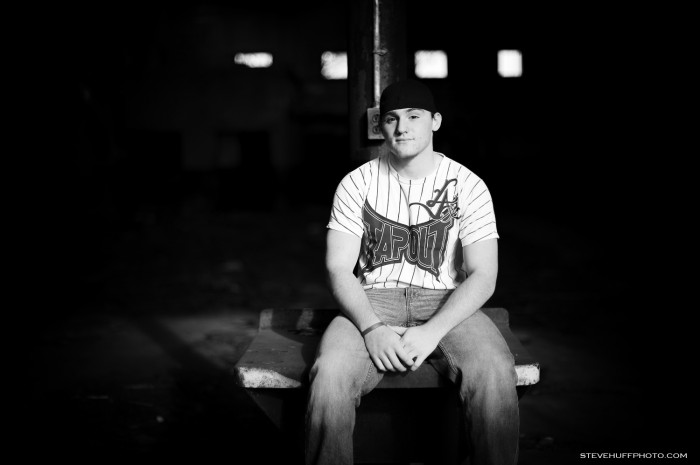 The Lens Arrives
When the lens arrived I opened the box and noticed it was quite a bit larger than my Leica 50 Summilux but it was really not that much heavier, if at all. BUT, I was curious about that as I was not sure so I pulled out my handy dandy food scale and weighed each lens.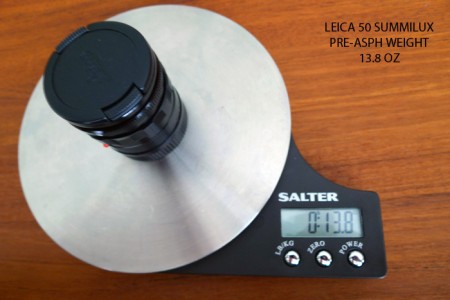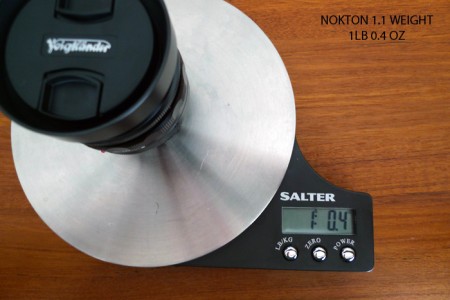 The Lux weighed in at 13.8 oz and the Nokton was a whopping 1lb 0.4oz. So yea, the Nokton was indeed a heavier lens! Wow. Still, at that weight it is small compared to a Nikon 24-70 or Canon 24-105. One of the benefits of rangefinder shooting 🙂
The lens felt good in the hand for being a larger lens and its focus ring was smooth and silky. The build was nice and matched the M9's black paint nicely. But It was large, and it was blocking some of the viewfinder so if that bugs you then look at the images below to see just how much it blocks, and if it is acceptable for you.
This is on a Leica M9.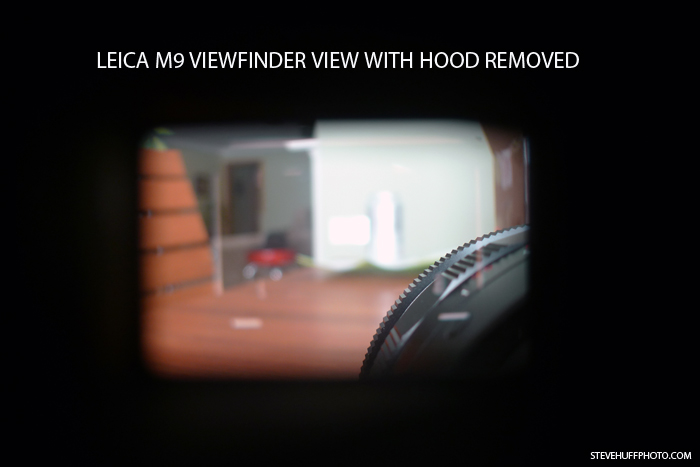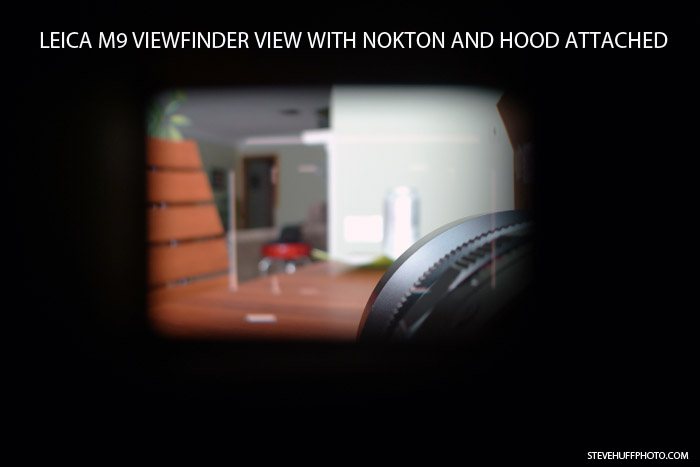 So while it is best without the lens hood, even with the hood it does not block too much of the VF. I could live with that.
After fondling and checking out the lens I twisted it on to my M9 and being excited to try it out I asked my wife if she wanted to take a walk. It was already getting dark outside so I set my M9 to ISO 1600 and the lens to 1.1 to see how the lens would handle the low light.
The Nokton 1.1 on the M9 (side view)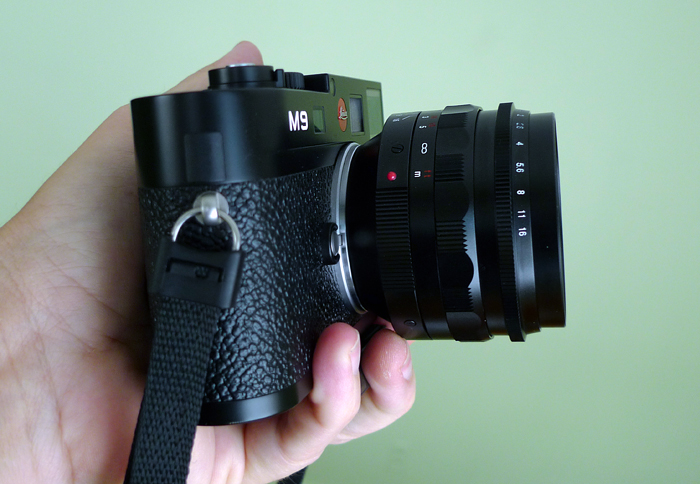 My first shots with the Nokton 1.1 – Low light darrkness
If you are new to reading my reviews let me just say that I am not a technical guy. I like to write about my experience with the gear I shoot with and do not get technical with charts, graphs and BS. I write my genuine feelings on each lens or camera I test out and back it up with my images that were shot with that gear. I do not think shooting newspaper text will tell me if a lens will work out for me in the real world, so I go out and shoot, shoot, SHOOT!
So back to the walk…once we started the walk I snapped this one of my wife with the Nokton set wide open to 1.1 and the M9 at ISO 1600. When I shot this image it was DARK outside!! When I looked at the preview on the back of the M9 it was BRIGHT. This was good as it told me the Nokton was sucking in all of the available light just like the old Noctilux used to do.
M9, ISO 1600, Nokton at 1.1
As we walked I snapped a few scenes and it kept getting darker and darker. Mid way through the walk, it was as dark as it could get and I knew this would be a challenge for the lens. I was excited to see what would come of it. You can see a couple of images below from that walk and you can click on any image for a larger view.
ISO 1600, 1/10th of a second at 1.1.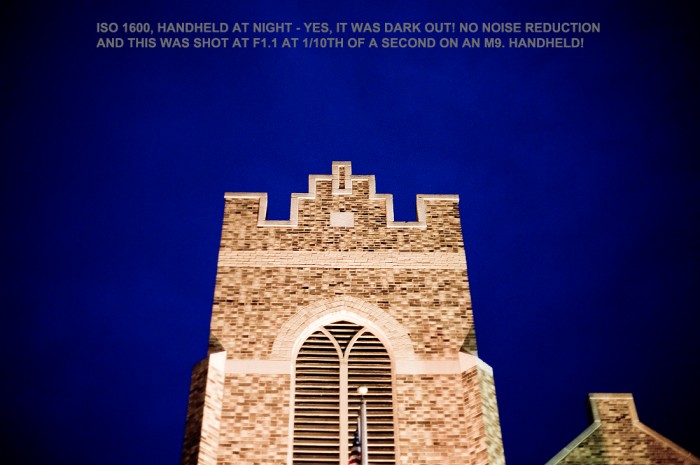 Here is a night shot at 1.1 showing some bokeh and color.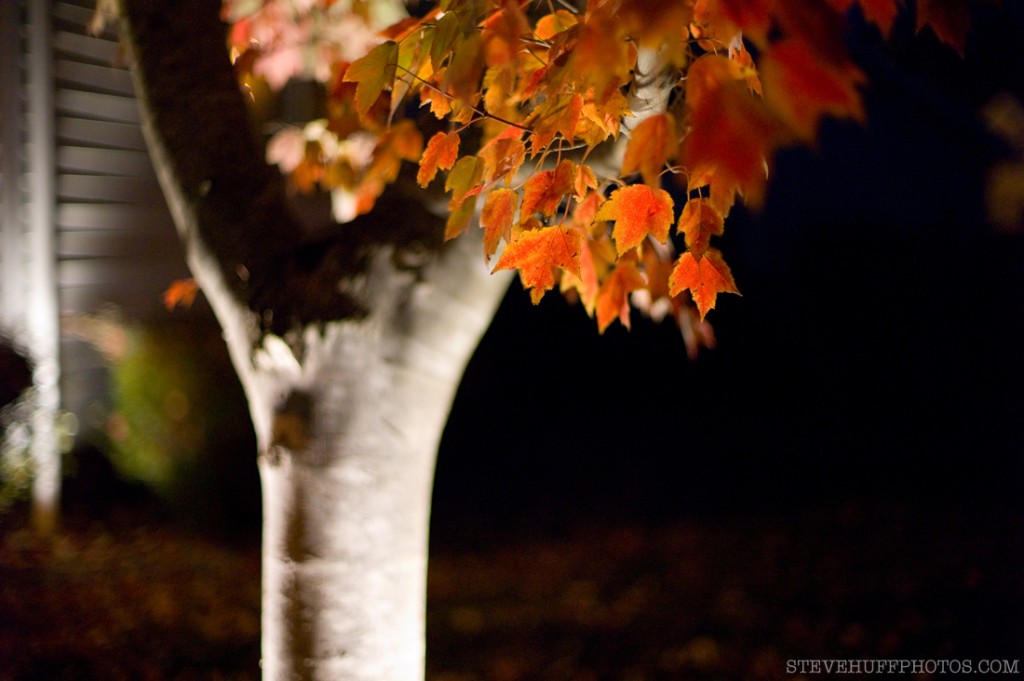 The image below was taken wide open from outside of a laundrymat. I inserted a 100% crop so you can see how sharp the lens is at 1.1, even in low light.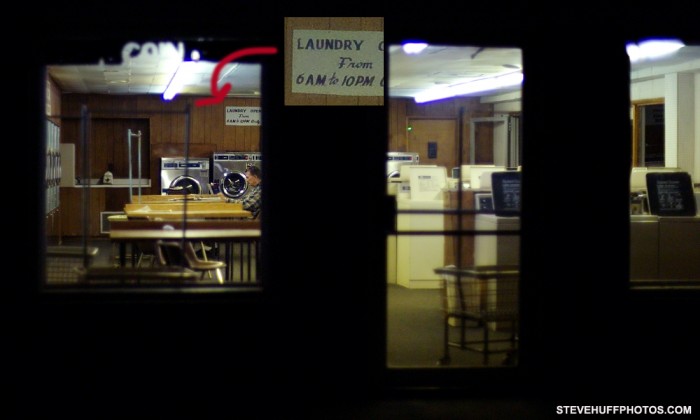 So after one hour with the lens I knew that it was a capable low light shooter with great sharpness and color. One thing that I noticed though is that I was not getting that "WOW" look like I remembered with my old Noctilux. It did not seem to have that crazy shallow depth of field, or "swirly" look and the color was nice, but different than the Noct. But, this was only after one hour with the lens, in darkness, and I had the lens for another week so I did not want to judge it just yet. But I did like it and started to think about how I could buy one for myself.
Shooting in normal light
I kept the Nokton on my M9 for 3 days straight and when my little Nephew Jack came to visit I had to go get some shots. One thing that was bugging me a bit with this lens is the minimum focus distance. With my Leica Lux, I can focus to .7 meters, about as close as ANY M lens will focus. The Nokton focuses to 1m, so you have to stand farther back from your subject. The Leica Noctilux is also 1m, so it is equal to the lens it is going up against I guess. I was just so used to closer focus so it kind of through me off a bit. No biggie, just wanted to mention that.
"Jack"  – M9 with Nokton at 1.1 – ISO 160  – straight from camera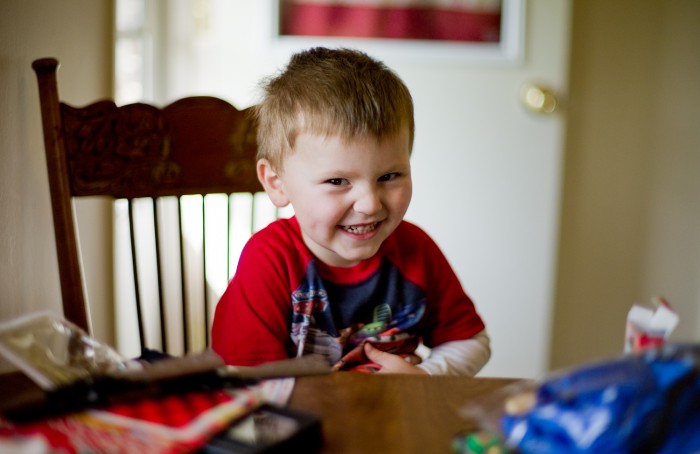 As you can see, at 1.1 the Nokton is plenty sharp. It may not be Leica Lux ASPH sharp but remember, this is 1.1, it is NOT a Leica, and did I mention that shot of Jack was at 1.1? Looks great to me but still I do not feel the Bokeh is anywhere near as magical as the old Leica Noctilux. To me, the Nokton was looking VERY close to my 50 Lux PRE-ASPH at 1.4 so I took some side by side shots of my wife with both lenses to see how much difference there was. First the Nokton at 1.1, then the Nokton at 1.4 and finally the 50 Lux Pre at 1.4. None of these have been processed. They are straight from camera files.
Nokton at 1.1 – click for larger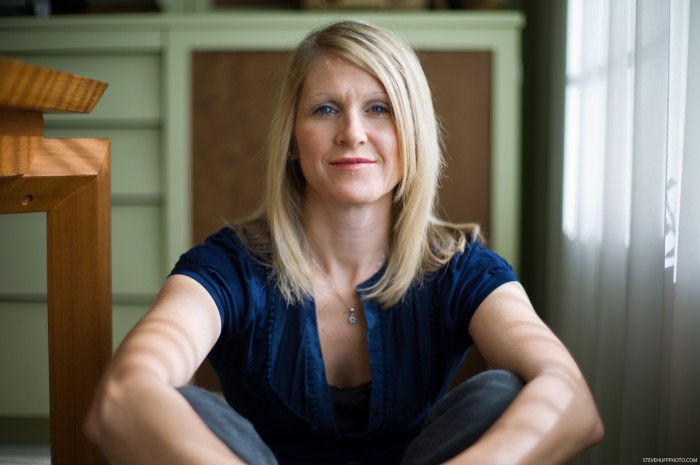 Nokton at 1.4 – Click for larger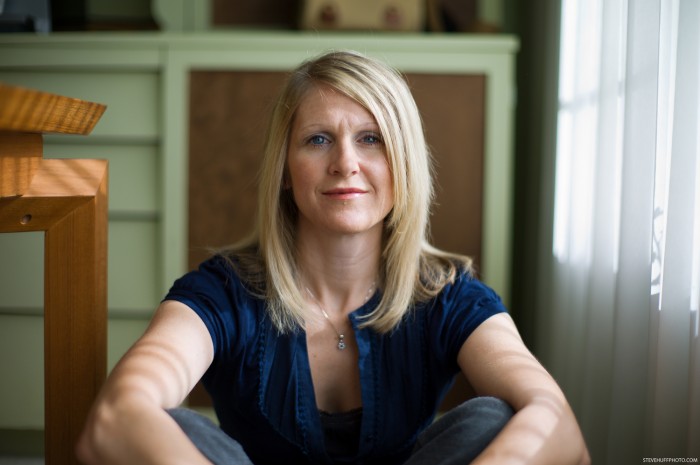 50 Summilux Pre-Asph at 1.4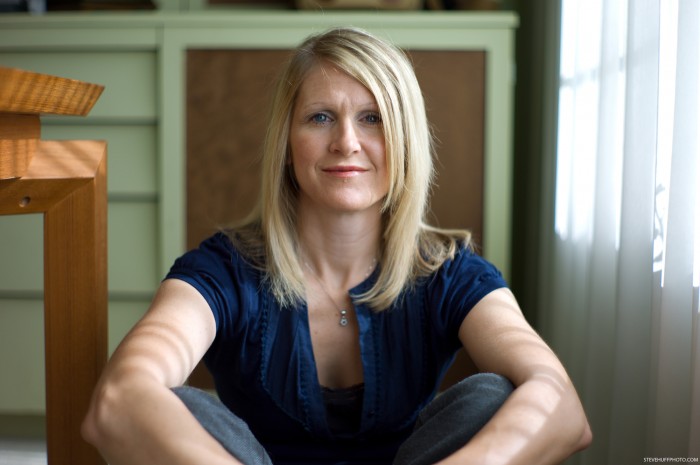 To my eyes, I prefer the Summilux shot overall but others may prefer the Nokton. What do you think? Remember, click on any image above to see a larger version.
Sharpness & Crops
The old Leica Noctilux was not the sharpest lens in the world at F1, but it had a beautiful glow and even today is a favorite for portraits with many shooters. The Nokton 1.1 is actually a sharper lens than the old Noctilux if sharpness is your thing. I do not have a Noct here to test against but from what I remember, these crops are sharper than what the Noctilux put put at F1. (UPDATE: Comparison with the Leica Noctilux F1 now up HERE)
Here are some crops: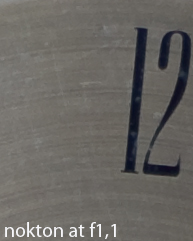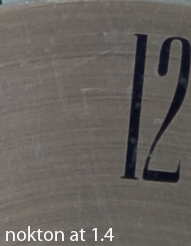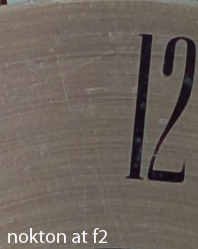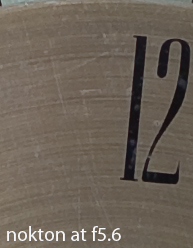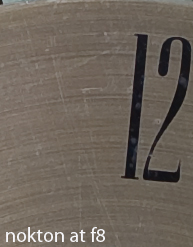 As you can see the lens is decently sharp at 1.1 and hits its peak at F8. I detected no focus shift with this lens and found it to be sharp as I could need for a lens like this (portraits). Below is a quick test shot I took just to test focus (on the chain) and sharpness wide open at 1.1.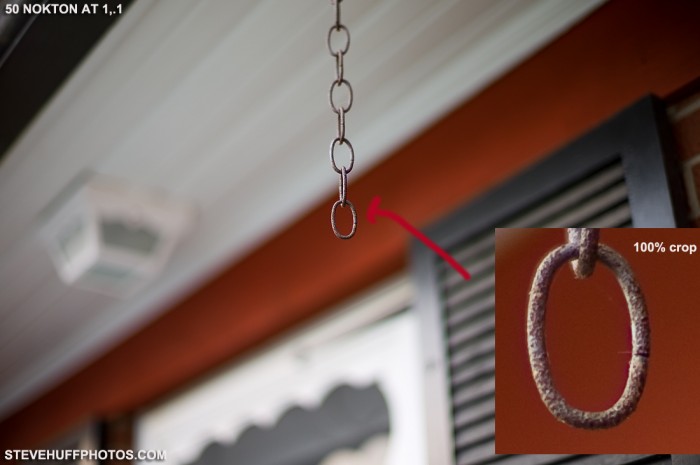 Holy chain link Batman! That is sharp for a "budget" 1.1 lens! To me, this is pretty damn sharp for being F1.1 and the focus is spot on. This lens IS sharper than the old Noctilux but to me, its Bokeh is nice but not as nice as that old Noctilux! Still, we are talking $1100 vs $5000 for a used Noctilux F1. I have to repeat that because that is what makes this lens so special. It is affordable and not so out of reach to so many photographers, UNLIKE that Noctilux.
Here is one more shot at 1.1 to show sharpness. Pretty impressive!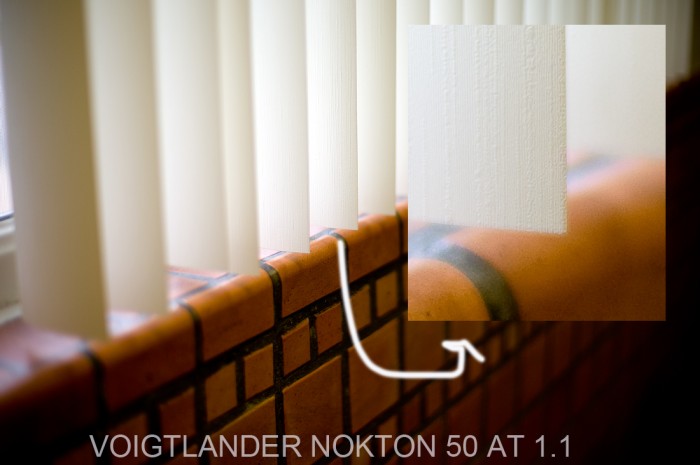 The bottom line
After a week with this lens and my M9 I had a few different reactions. When it arrived I was excited! When I took those first shots I wanted the lens and was trying to find a way to fund one. I missed having an F1 lens and even though this lens is an F1.1 lens, its close enough. BUT the more I shot with it, the more I realized that my little 50 Summilux Pre Asph could do everything this Nokton could do, and in some cases a little better. It's smaller, its lighter, and its amazingly good at 1.4. While the Nokton is a bit faster, it does not really give me that "feel" of a 1.1 lens. It feels like a 1.4 lens to me though others will disagree. It also lacks in the micro contrast dept. which is one area where Leica rules. Still, you get about 80% of a Noctilux for 1/5th of the price of a used one.
Here are some pros and cons of the lens:
PROS
Fast aperture at 1.1.
Well made, smooth focus and aperture ring feels solid.
M mount! No adapter needed.
Sharp and gives great image quality.
Warm color (I like warmer colors)
Price is right!
CONS
It is large and over 1lb, just like the old Noctilux.
Lens hood intrudes into the VF.
Micro contrast not up to Leica standards, images can seem flat at times.
Vignettes at 1.1 on the M9, but so did the old Noctilux.
Close focus is only 1 meter, not 0.7.
With that said, for $1100 I do not think you can find a better fast 50. I would take this lens over any F2 lens for sure and if you crave speed and bokeh, then this lens is one you should really try out. It is a GREAT lens and if I did not already have my Lux I would probably buy this Nokton. It gave me some beautiful images while I had it. So no, I did not buy the nokton. My black paint special edition 50 Lux Pre-Asph is a beautiful lens, and to me, the Nokton beat it for speed but not for size, weight, looks and micro contrast. Still, that is not to say this Nokton is not one hell of a lens. It really is well worth the cost and will give you great quality for your money.
Another very nice "artsy" lens that you may want to consider in this price range is the Zeiss Sonnar 1.5. It is one heck of a lens and seems to give even more interesting bokeh. I love the little Zeiss and hope to try it soon on the M9. You can also rent the Nokton or Zeiss now at lensrentals.com! This way you can try them out before you buy one!
This particular lens came to me from B&H Photo. They are, IMO, the best Photo store in the world and they have a huge selection of just about ANYTHING photographic with a great return policy as well. They sell this lens and you can check out their page for it here. If you decide to buy one and use my links then you will be helping me continue this site, so I thank you! If it is not in stock, check back every few days as they get this lens in on a regular basis as its pretty popular.
The condensed bottom line: The Voigtlander 50 Nokton 1.1 is a terrific lens. Not quite as magical as the old Leica Noctilux, and not nearly as nice as the new $10,000 Leica 0.95 Noctilux. but it is $1100!! It would be hard to beat this if you want an ultra fast lens under $1100 that can give you some creative looking images. It does have some magic and is well worth the cost. It is built well, focuses smooth and easy and balances well on an M camera. If you crave an F1.1 lens, this is as close as you can get to the classic Leica Noctilux for $1100. Buy it, I think you will like it 🙂
UPDATE 11/25/09 – Posted a comparison between this Nokton 1.1 and a  Leica Noctilux Classic F1 – click here to check it out!
Leica M9, Nokton at 1.1 – No processing
Leica M9, ISO 160, Nokton at F1.1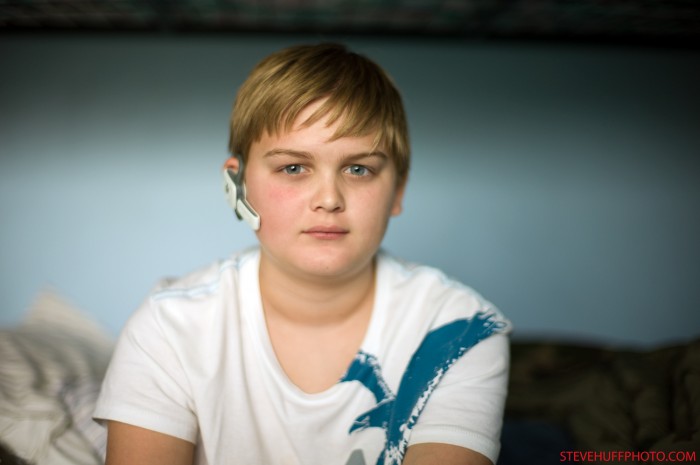 Leica M9, Nokton at 1.1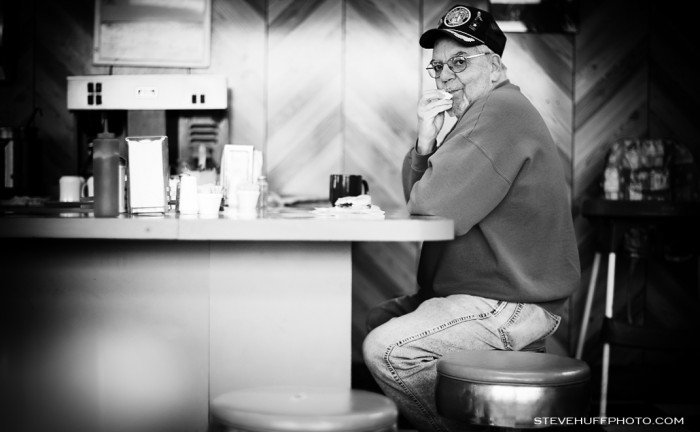 Leica M9, ISO 1250, Nokton at F1.1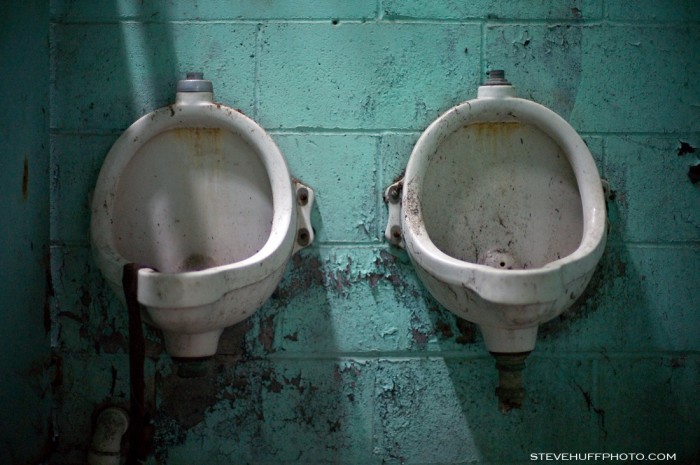 Leica M9, Nokton at 1.1, ISO 160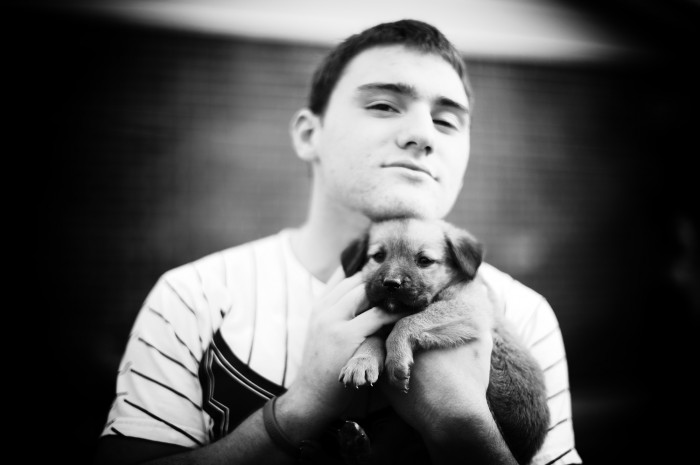 Nokton at 1.1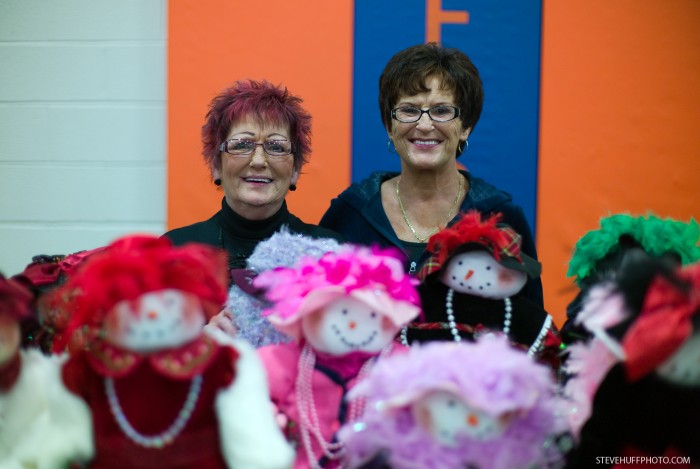 Nokton at 1.1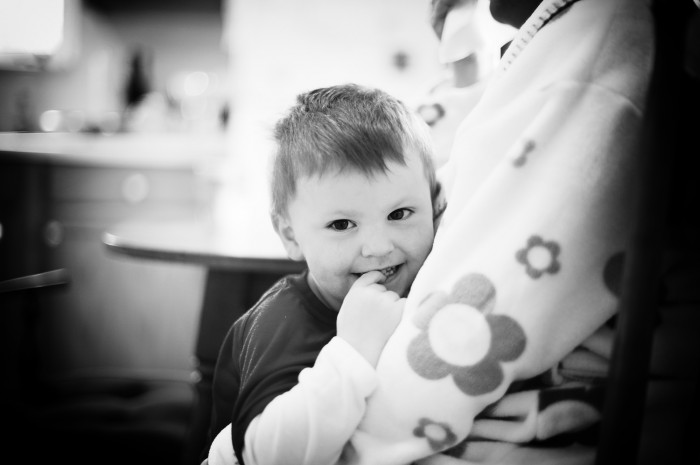 Nokton at 1.1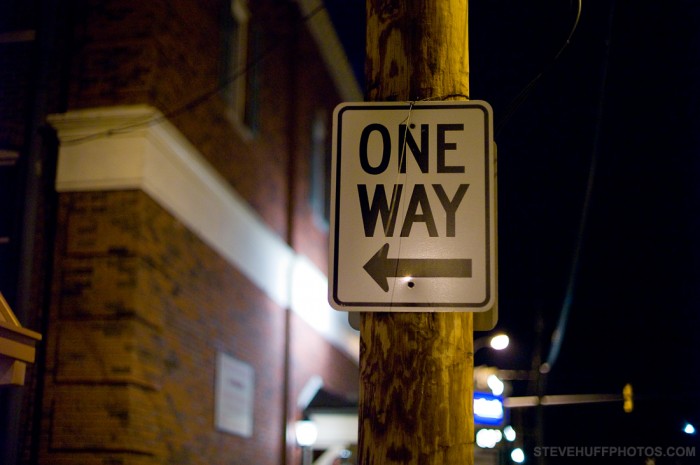 HELP SUPPORT THIS SITE TO KEEP IT GOING AND GROWING!
Remember, anytime you follow my links here and buy from B&H or AMAZON,
this helps to keep my site going. If it was not for these links, there would be no way to fund this site, so I thank you in advance if you visit these links. I thank you more if you make a purchase! I have nifty search bars at the upper right of each page so you easily search for something at either store! I currently spend 14 hours a day working on this site and the only way that I can pay for it is with your help, so thank you!
If you enjoyed this article/review, feel free to leave a comment at the bottom of this page and also be sure to join me on twitter or facebook! Also, you can subscribe to my feed at my subscribe page HERE and read these posts in your browser or news reader!  Thanks so much for visiting my site!