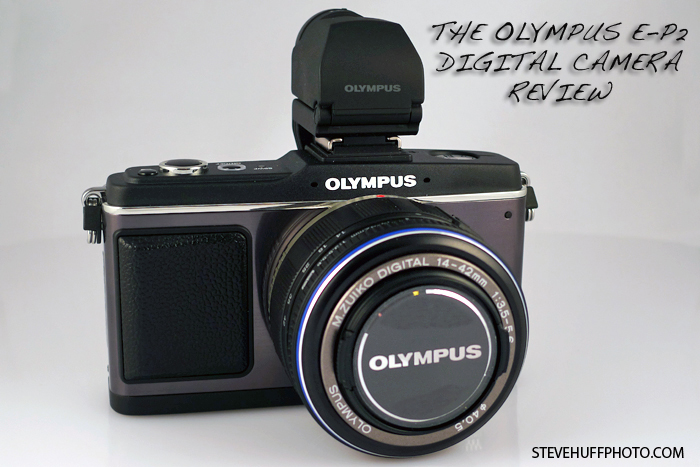 OLYMPUS E-P2 Review – Hey there, hi there, ho there! It's 6 am and I am once again sitting down at my stoop with my cup of joe and the snuggy I got for Christmas wrapped around my body. Yes, it's that time again and today I am writing about the Olympus E-P2
and will show you my tests, images, and everything else a real world review should show. I am preparing to spend the next ten hours at my gorgeous new Imac 27″ Quad Core computer that my wife bought me for Christmas. Man OH freaking man, this computer is so nice for photo editing, video editing, and well, pretty much everything you can throw at it! I just can not imagine going back to my laptop to work on photos. I hope to have my review of the IMac up soon and will even show how fast it is in Photoshop when applying those color efex filters I sometimes use.
Anyway, I am not sitting here today to go on and on about the Imac, but rather I am here to write about the hot new Olympus E-P2 camera. As many of you know, I reviewed the Olympus E-P1 a few months back (see review here at my old site) and I loved the camera but I did eventually sell it to help fund a Leica lens. I ended up missing the camera because it was one of the funnest cameras I have ever used (next to my Leica M9). Isn't that the case with us photo enthusiasts? We buy, then sell, then miss the item, then buy it again. Ha ha… This time I purchased the E-P2 for a Christmas gift for my son, which turned into a gift for my wife. (My son ended up with a Nikon D3000) So once again I have an digital PEN in the Huff household.
DISCLAIMER: Since the E-P2 only has a few improvements over the E-P1 this review will not go over every detail of the camera. Be sure to read my Olympus E-P1 review to get more info on what this camera can do including high ISO samples, crops and more. In this review I will talk about the new additions and improvements in the E-P2 as well as share some new image samples.
Olympus E-P2 – 14-42 Kit Zoom at 14mm, F3.5, 1/125s and ISO 200 – converted to B&W using Silver Efex Pro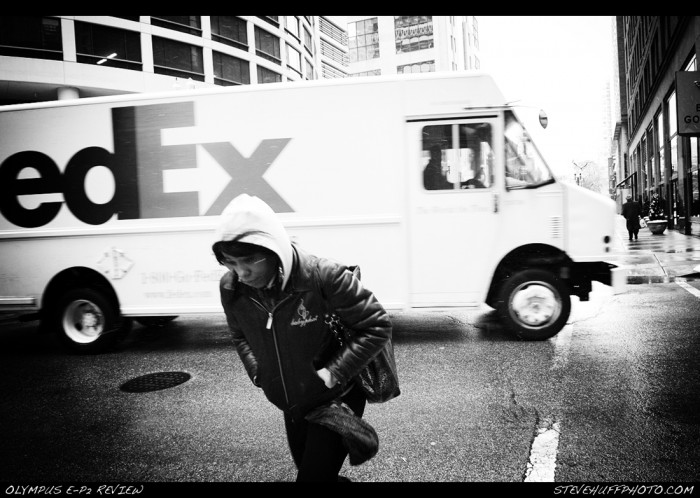 With the E-P1 and E-P2, Olympus has been very smart. They know that there are quite a few people out there who want a small-ish compact-ish camera body that is light, sleek, sexy, and yes…fun to use! When they released the E-P1, nicknamed the "Digital Pen" they presented it as a throwback to the old days of the Olympus PEN F film camera. The PEN was a half frame film camera that was smaller than the average SLR and many loved it for its take anywhere size.
The E-P1 was sold in silver and white colors and the retro vibe was indeed in full effect. The E-P1 became a hit with so many people who were tired of lugging around 3lb DSLR's with lenses that weighed even more. For under $1000 you could get an E-P1 with a lens, a cool retro looking flash (Currently, the E-P1 is at a great price at B&H) and optical viewfinder. WOW! I was sold on the looks alone, but the E-P1 was more than just a small interchangeable lens camera. The E-P1 also recorded HD video. Something very cool to have during those occasions where you may want to shoot video as well as take photos.
Most of the reviews and some users of the E-P1 complained about its auto focus being somewhat slow.  While it was a little slower than a DSLR, it was fine. I had no complaints about it as I never missed a shot due to its AF. The E-P1 was/is a GREAT digital camera that I can easily recommend. So what about the E-P2? What improvements did Olympus make? Well, I can say right now that the E-P2 is virtually the same camera as the E-P1 with a few new additions. It has the same AF speed, the same body, and the same features but there have been a few new ones added to make it just a bit more pleasurable. Since that is the case, this review will not be a re-hash of the E-P1 review. Instead, look at this as sort of an "addition" to the E-P1 review. So if you have not done so already, I recommend you read my E-P1 review at my  old site first then come back here to see what is new with the E-P2.
Here is a video overview in my  new "ugly ass red room" that the wife designated as my camera room/office. The room was not being used and she was tired of all of this camera gear littering the rest of the house 🙂 I go over the menu features, the new continuous AF tracking, the EVF with a peek IN it during use as well as some sample images.
M4/3 LENSES AND WHAT'S NEW WITH THE E-P2…
Well, many thought an E-P2 would surface and have blazing AF, more megapixels and a viewfinder. Olympus took a lot of heat from users for not having a viewfinder or even an Electronic Viewfinder (EVF). Public enemy #1 to the E-P1 and now E-P2 is the superb Panasonic GF-1 (In stock at B&H or AMAZON
). The GF-1 got just about everything right from the get go. You can see my GF1 review here but the bottom line is the GF-1 beat the E-P1 with AF speed, and in my opinion, the included kit zoom with the Panasonic is a bit better than the Olympus kit zoom. Also, Panny came out with the beautiful 20 1.7 lens (see my review here) which is not only fast and can provide you with shallow depth of field but it is SMALL! This is a lens I could recommend for the GF-1, E-P1 and E-P2! Yes, most of you know you can use the Panasonic M4/3 lenses on the E-P2 as they are the same mount, but some of you do not realize this. I have found that the Panasonic M4/3 lenses are just superb and they are coming out with some beauties like the 7-14 , 45 Macro and as I have already mentioned the 20 1.7. Man, that damn GF-1 even had me thinking of selling my Leica M9 due to the cost involved with an M system these days! But of course I did not sell my M9 🙂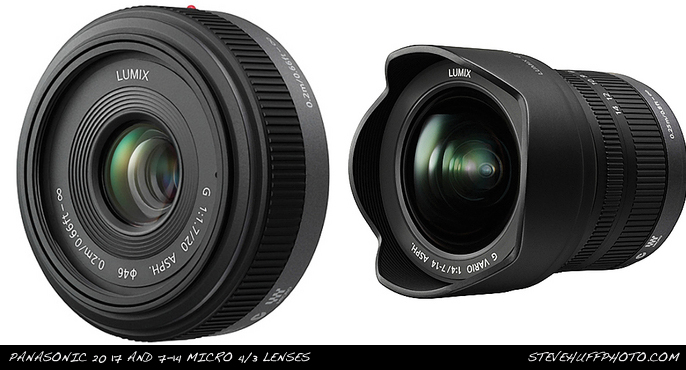 The major addition to the new E-P2 is the EVF which attaches to the new accessory port and addresses the issue of not having a viewfinder. Also, the black paint job is new. Below is the full feature list of the camera:
• Compact Design with Pro-system Capabilities
The Olympus E-P2 combines the casual, easy-to-use persona of a pocket-size point-and-shoot camera with the imaging capabilities of a pro-level DSLR. As an extension of Olympus' proven 4/3 imaging system, the E-P2 can shoot casual stills and video as well as complex imagery with equal ease and precision
• High-Definition Stills and Video
The Olympus E-P2 enables high-definition capture of still and video images while maintaining full auto-focus functionality and image stabilization with all 4/3-format optics. And unlike video-enabled DSLRs, the Olympus E-P2 maintains full AF in video mode.
NEW!!! • Manual Movie Mode – NEW!!!
Manual movie mode allows for independent control of aperture and shutter for expanded exposure and creative control when shooting HD movies
NEW!!! • C-AF Tracking and AF Target Registration – NEW!!!
The E-P2's C-AF Tracking and AF Target Registration locks your subject into focus, and constantly adjusts focus and brightness whether you or your subject is moving.
• iAuto mode
This intelligent-auto mode uses advanced automatic detection technology to allow the camera to recognize the six most commonly used scenes automatically.
NEW!!! • iEnhance for Radiant Colors – NEW!!!
iEnhance analyzes colors and brightness and mimics what the naked eye sees. For example, a beautiful sunset looks awesome in person and generally seems to fade when captured in an image. With iEnhance, the warm yellow and orange colors are heightened to be brilliant and closer to the actual scene.
NEW!!! • HDMI Control from Your HDTV Remote – NEW!!!
Connect the E-P2 to your HDTV with an optional HDMI cable and use your HDTV's remote to control playback functions and navigate the camera's menus from the comfort of your favorite couch or chair
• In-Body Image Stabilization
An in-camera stabilization system allows for up to 4-stops EV of movement compensation with all 4/3 and Micro-4/3 format lenses
• Dust Reduction
Olympus' Dust Reduction, which runs an ultrasonic cleaning cycle each time you power up the camera, helps keep dust particles out of the image path
• Multiple Exposure
The multiple exposure function allows you to shoot one shot, then another and combine them in real time, or capture both shots separately and combine them in the camera later.
• Multi-Aspect Shooting
The E-P2 provides four aspect ratios that serve as masks to frame your image to the desired proportions, including: the standard 4:3 aspect ratio that is suited to an 8 x 10″ enlargement; the 16:9 aspect ratio that will display your images beautifully on a widescreen television; and other popular aspect ratios such as 3:2 and 6:6. The Multi-Aspect Shooting further expresses your creative vision when combined with Art Filters and multiple exposures.
• Stereo Audio Sound
The E-P2 features uncompressed CD-quality 16 bit/44.1kHz Linear PCM stereo recording capability to capture the rich sound quality of your scene. It has the versatility to record and play back in the WAV format and can record with its built-in stereo microphone or the optional EMA-1 external microphone. Whether recording audio while shooting a video or adding audio by recording a narration to your still images, the E-P2's audio sounds great.
• Digital Leveler
The E-P2 is equipped with an internal digital level sensor that detects the camera's pitch and roll and indicates it on the control panel. This Digital Leveler is a tremendous benefit when capturing architecture and landscapes.
• Magnified Focus Assist
The E-P2 provides two optional methods to help the user focus: a Magnified Focus (MF) Assist Function and Magnification Display. When using manual focus, the MF Assist feature aids with critical focus by allowing you to zoom in on part of the image by simply turning the focusing ring on the front of the lens. The Magnification Display enables you to selectively enlarge the image on the LCD at the touch of a button. This mode works for both autofocus and manual focus.
• 18 x 18 Metering Modes
This mode divides the image area into an 18 x 18 grid, metering each of the 324 separate cells to obtain optimum exposure. In addition to 324-division ESP metering, center-weighted metering and spot metering modes are also available.
• Scene-Select Modes
The E-P2 is equipped with 19 scene-select modes for effortless picture taking. Standard scene modes like Night-Scene, Portrait and Landscape are easy-to-use solutions for everyday shooting. Capturing beautiful portraits is easy with the new ePortrait Mode. It enables you to smooth your subject's skin – all in the camera and before capture.
NEW!!! • Art Filters – NEW!!!
NEW! – Diorama: Enhances a composition's depth of field to give the image an unreal touch and model-like structure.
NEW! – Cross Process: Returns depictions with striking color and contrast shifts akin to those achieved through the cross processing technique in silver halide film development.
Pop Art: Enhances colors, making them stronger and more vivid to create high-impact pictures that express the happy, light-hearted feeling of the pop art style.
Soft Focus: Creates a soft tone which gives pictures an ethereal, otherworldly atmosphere. It renders pictures as though they were veiled in heavenly light, without obscuring details.
Pale & Light Color: The foreground is enclosed in flat, gentle light – similar to a flashback scene in a film
Light Tone: Creates a picture with a gentle feel to it, similar to one taken under artificial lighting. Both the shade and highlight areas are rendered very softly.
Grainy Film: This effect recreates the feeling of reality evoked by grainy, high-contrast monochrome pictures.
Pin Hole: Reduces the peripheral brightness like an image seen through a pinhole. Added to this is a unique color tone that results in a style that has an air of secrecy.
Olympus E-P2 with 14-42 kit zoom at 18mm, F4, 1/80 and iso 250 – Straight from camera, no PP
DO THESE NEW ADDITIONS MAKE IT A BETTER BUY THAN AN E-P1 or G-F1?
So while the E-P2 is still the same 12Mp camera with the same performance as the E-P1, the new additions are welcome and are an improvement to the "fun factor" of shooting with it. For example, one of the things that I thought was really cool with the E-P1 were the addition of the "ART" filters. This is something that the G-F1 does not have and now the E-P2 has two more of these filters. This makes it easy to get photo effects without having to mess around with photoshop.
DIORAMA: To me it looks like a tilt/shift effect and a way to add artificial "bokeh". It is gimmicky, but may be cool depending on the subject matter. I sort of like the effect but be careful not to shoot everything with this filter as it can get old real quick. But, if you want some cool shallow DOF effects, Diorama mode will give it to you!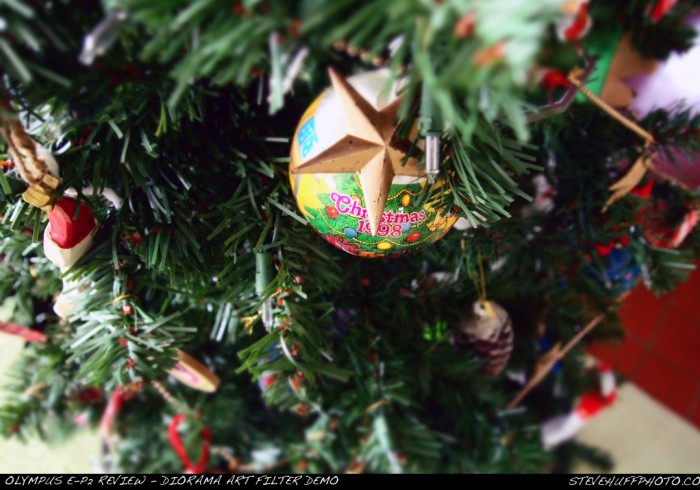 You can also get the miniaturization effect using the Diorama mode. Pretty interesting indeed!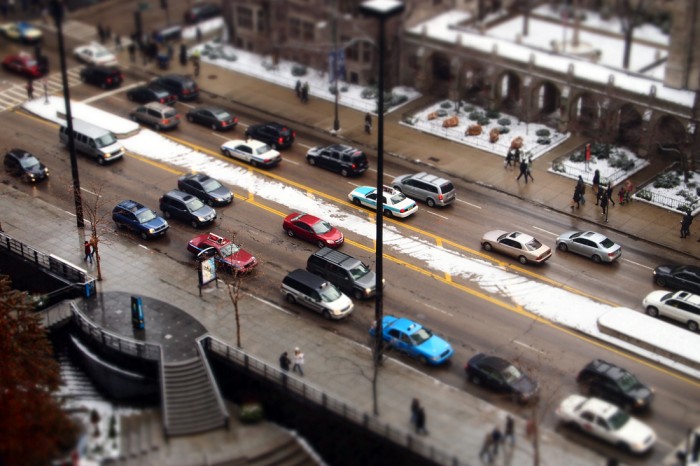 CROSS PROCESS: This one can be kind of cool and also can be kind of ugly depending on the light and the subject. If you want that sort of cool film cross processed look, this filter will turn your ordinary images into funky colored goodness.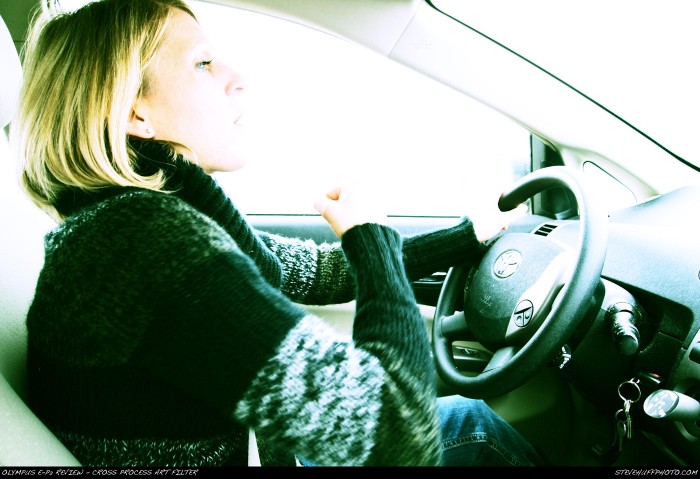 So I really like these two new filters and also my two old faves are still there, grainy "B&W film" and "pinhole".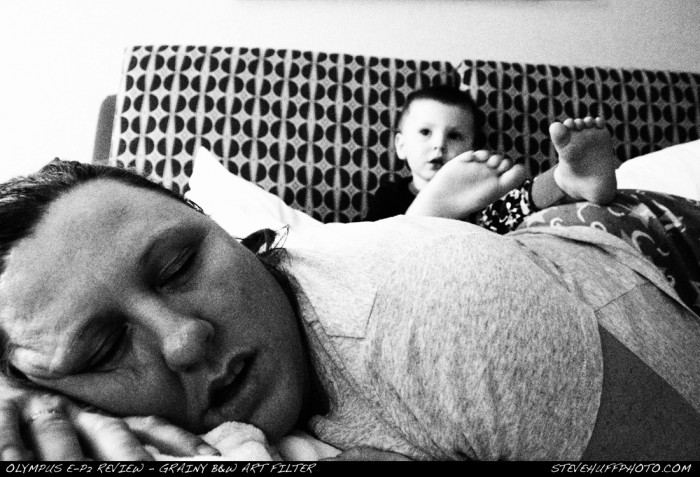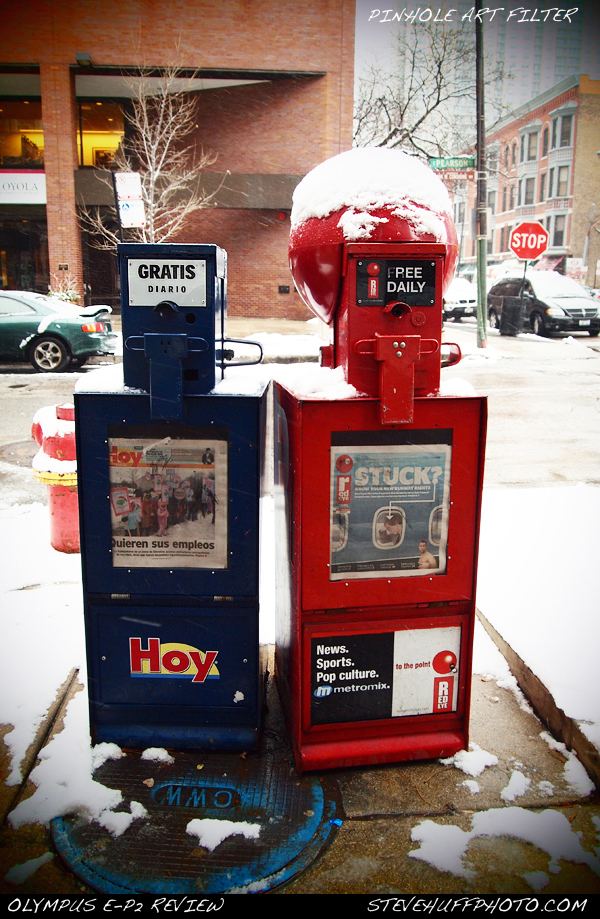 The ART filters are not available on the Panasonic GF-1 and honestly, the only thing I feel the GF1 has over the E-P2 is its super fast AF speed and I do like the GF-1 kit zoom slightly better, but remember, the E-P2 has in-body image stabilization and the G-F1 does not! This means your lens has to have it in order for you to have IS with the G-F1. If I were buying today, right now…I would choose an E-P2 and Panny 20 1.7 lens as I really enjoy the E-P2's styling, viewfinder, and ART filters. But, with that said, the G-F1 is a super camera and you really can not go wrong with either. I do have to applaud Panasonic for bringing out some kick ass lenses for the m4/3 system and I can not wait to review some of then on this E-P2. Also, do not forget that if you have Leica M lenses, they can be used on the E-P2 or G-F1 using this premium adapter, or this less expensive one.
HOW ABOUT A COMPARISON WITH A LEICA X1?
Since I have about 8 cameras here to test and the X1 is one of them, I thought I would post two images. The X1 is also a compact camera but it has a larger APS-C sensor. It is also $900 more than an E-P2 kit and does not have a movie mode or any bells and whistles. What it has going for it is pure image quality. It is a Leica after all 🙂
Onto the images. One was shot with the E-P2 and one with the Leica X1. Same  time, same place. The X1 was at ISO 1600 and F3.5 with its built in 24 Elmarit lens (35mm equiv) and the E-P2 was shot at F3.9 at 18mm (35mm equiv). I also included a 100% crop to show the details. You must click the image to see the large version with the full 100% crops. These were both out of camera files processed with default settings in ACR 5.6. No sharpening (ZERO) and no Noise Reduction. The X1 is a bit cleaner at ISO 1600 and shows more detail. (Look at the command key, you will see a red piece of fuzz in the X1 shot. In the E-P2 shot it is almost invisible. Still, the X1 is $900 more expensive, and the ONLY light here was from my computer display. The room was black besides the glow of my Imac.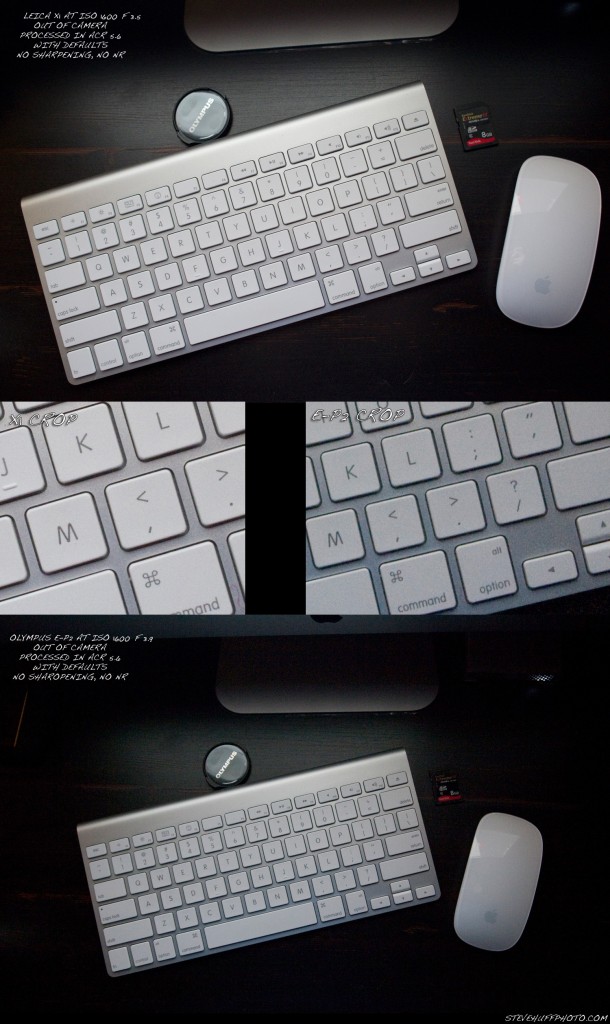 This tells me that both of these do fairly well at low light, high ISO shooting but after shooting both side by side I can say that the X1 pumps out incredible image quality that even surpasses some big leaguers. But it is a minimalist camera and cost $900 more than an E-P2 kit. My review on the X1 is coming soon but I can see it being used as a benchmark for small camera image quality. That is why I put up this side by side with the E-P2.
WHAT ABOUT THE NEW EVF? HOW GOOD IS IT?
The big deal about the E-P2 besides is cool new Black look is the addition of the new EVF. Since the Panny G-F1 had an EVF it did not take long for Olympus to realize that they needed one as well. The positive thing is that the one they provide with the E-P2 is great and enjoyable to use. I love that it tilts up and down allowing you to get shots while looking down into the finder. The quality of the EVF is very good and probably the best EVF I have shot with to date but I have NOT shot with the G-F1 EVF. All in all, its a great addition to the camera and even has a built in diopter for those who wear glasses.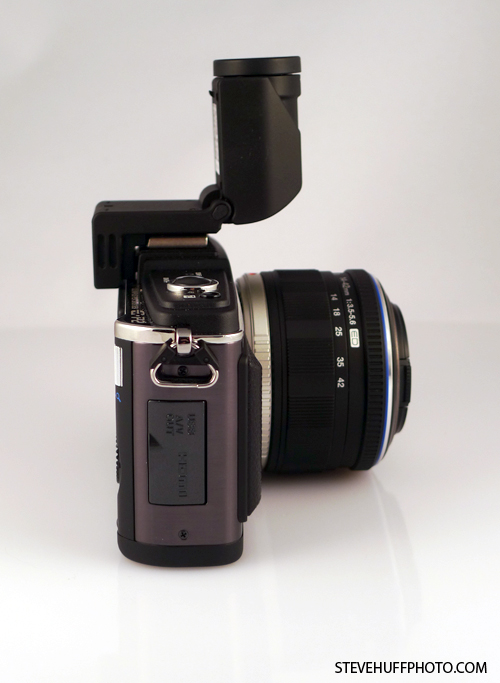 As for the continuous auto focus (which locks on  to your subject in live view and even if your subject moves the E-P2 stays locked on) this is a welcome addition and I show an example of this in the video near the top of this review. Ienhance, another new feature (although a gimmicky name) actually works quite well. If you are new to digital cameras just turn on Ienhance and you will get great images every time. The camera automatically adjusts contrast, exposure, and color depending on the scene. Yes, it seems the E-P2 has a brain. 🙂
"The Old Barn" – E-P2 – F4 – 18mm – ISO 100 – 1/30s – processed in CS4 using Nik Viveza Plug In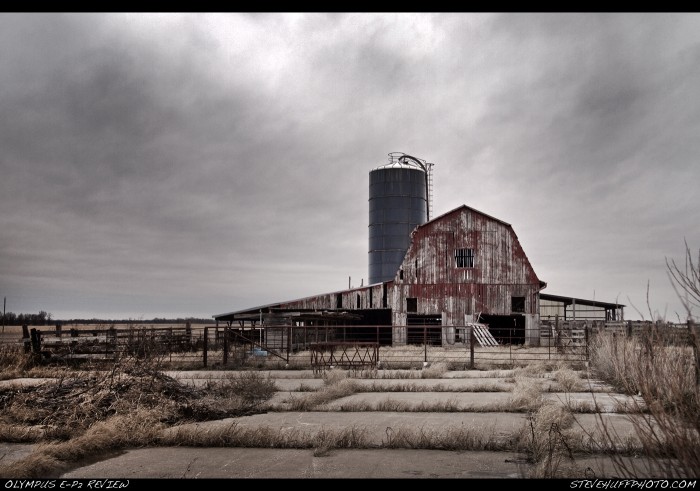 Video with the Art Filters?
Yep! You can shoot video using the built in ART filters of the E-P2. Here is a "just for fun" video I made showing some of the Art Filters in video use:
ISO 6400 on the E-P2.
Yes, the E-P2 has ISO 6400 and it is bad, but not really THAT bad. Here is a worst case scenario example. It was very dim in the room. Night time, 20 1.7 lens set to 1.7 and the ISO to 6400. Here is the result, and I feel this image has some feeling to it even though it has grain: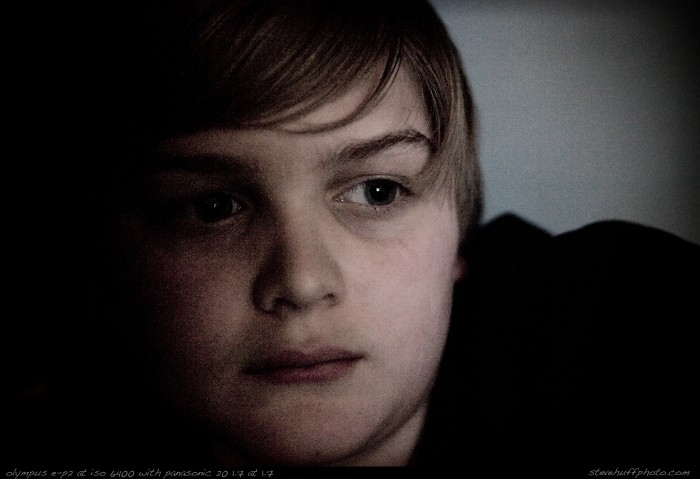 A Bug Discovered?
I received an e-mail from a reader who noticed his E-P2 EVF would freeze up when using an ART filter and manual focus mode. Low and behold when I went to try it out my EVF froze up as well! It does not seem possible to manual focus using an art filter with the EVF. The screen with just freeze.
I like the color which still appears somewhat rich instead of the funky washed out weirdness you get from something like a Nikon D300.
PRO's and CON's of the E-P2
PRO's:
Great size, great feel, great solid build all for under $1000.
Now standard with a removable and tilt able EVF.
Great HD video recording with manual aperture control for cool effects with fast lenses.
Great lenses available from Olympus and Panasonic with more on the way.
New black color is more stealthy and classic.
As with the E-P1, good high ISO performance up to ISO 1600.
In body image stabilization.
Cool and fun ART filters.
Great battery life (I charged only once during the review process)
Superb out of camera JPEG quality.
You can buy this adapter and shoot with Leica M lenses! Here is another.
Oh yea, you can swap lenses as it is not a fixed lens camera.
CONS:
Can not be bought as body only at the time of this writing.
Small DSLR's can be had for half the price these days (Nikon D3000 for example).
When shooting with an ART filter the live view is slow and sluggish and is tough to capture "the moment".
AF could be improved to Panasonic GF1 type speed.
Smaller sensor so the Dynamic Range and overall IQ is not as good as a DSLR, or even a Leica X1 which has a large APS-C sensor.
Details can start to get mush at ISO 1600+ so if massive detail is your thing, beware of the in camera NR at high ISO. (same with GF-1)
EVF may freeze/lock up when manual focusing and using an Art filter.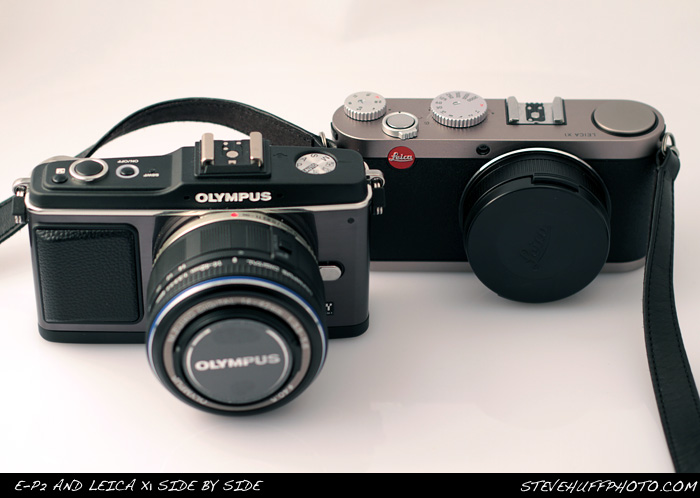 MY BOTTOM LINE CONCLUSION:
There is not much more I can say about the E-P2 as most of it has been said in my E-P1 review. Besides the new black color (which I love) and the Electronic View Finder, the E-P2 has only a few additions to warrant the "2" in its name. You can get an E-P1 for $300 less but I feel the new additions are worth it, especially if you are one who likes having an actual viewfinder. The image quality, high ISO and color is all the same as the E-P1 and neck and neck with the GF-1. If you like the E-P2's style and features then the best bet would be to buy an E-P2 with a kit zoom and then buy the Panasonic 20 1.7 lens to go with it for those times you want to shoot in low light. With it's video, great image quality, superb out of camera JPEGS, small form factor, and versatility the E-P2 is an easy recommend.
These days you can get a small DSLR like a Nikon D3000 for $450 with a kit lens. While not as thin and sleek as an E-P2, and without the video or live view, its a great buy for the money. It all depends on what you are looking for. The D3000 has no video, no live view, no art filters and is a "fatter" camera with bulkier lenses. On the other hand you have something like the new Leica X1. The X1 will give you better image quality at all ISO's but does not have video or any features. Its a simple camera whose focus is on image quality and that comes in at $2,000. So to me, I feel the E-P2 is priced right at its $1100 price point as you get more features and a slimmer body than a Nikon D3000. The IQ of the E-P2 is great but not as good as the premium Leica X1 which comes in at $900 more.
Yes, I am smitten with the Olympus E-P2. It's a combo of take anywhere fun and quality all in one compact package at a not so wallet busting price. If you want to buy one I highly recommend B&H Photo. That is where I bought mine as I feel they are the best photo store on the planet. AMAZON
also has it and they are my 2nd favorite shop EVER!
I hope you enjoyed my real world review of the Olympus E-P2 and I thank you for reading it!
HELP SUPPORT THIS SITE TO KEEP IT GOING AND GROWING!
Remember, anytime you follow my links here and buy from B&H or AMAZON,
this helps to keep my site going. If it was not for these links, there would be no way to fund this site, so I thank you in advance if you visit these links. I thank you more if you make a purchase! Ha ha..
If you enjoyed this review, feel free to leave a comment at the bottom of this page and also be sure to join me on twitter or facebook! Also, you can subscribe to my feed at the upper right of any page and be notified of when new reviews are posted! You can also subscribe via E-mail (also to the right). Thanks so much for reading!
Here are a few more images from the Olympus E-P2, enjoy!