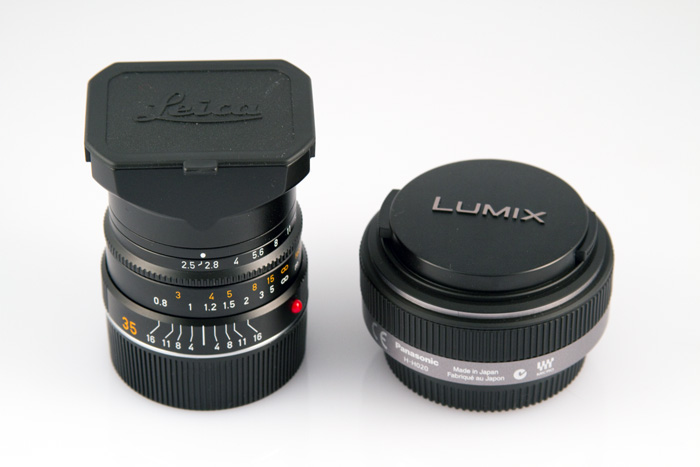 Was out today in the bitter cold and stopped by my Mother's house to see how she was doing. I had my M9 with one of Leicas most affordable lenses, the 35 Summarit 2.5 lens attached. This little lens may not be as fast as a 35 Summilux, or as perfect as a 35 Summicron but it has some special qualities and I have seen them in the few shots I snapped today with it. It is as sharp as you could want wide open and the size is tiny. With it's metal screw in hood (like the 24 summilux style) it makes for a perfect all around lens for the M9 if cost is a concern. About $1600 this is the lowest priced NEW 35 you can get from Leica for your M. From what I have seen it is well worth it. I'll have a review in a few weeks. BTW, I got this one from Ken Hansen.
My wife was with me today and she had her Olympus E-P2 with the new Panasonic 20 1.7 attached so I took a shot of my Mother with each one just to see how the $399 Panny would look next to the Leica. Wow, the Panny is a great lens for the money as well. For $400 you get a fast 1.7 20mm which translates to a 40mm on the Micro 4/3 cameras. So, between a 35 and 50 the 40 focal length is quite useful as an everyday lens. I think this lens will stay on her E-P2 as a lens cap. I will also have a review of this lens in a few weeks! I bought the Panasonic and it came from B&H Photo.
The photos? Oh yea, here they are. First the Leica M9/35 Summarit shot wide open at 2.5, NO PP:

Click Image For 1400 Pixel Wide Version or Click HERE to download full size OOC Image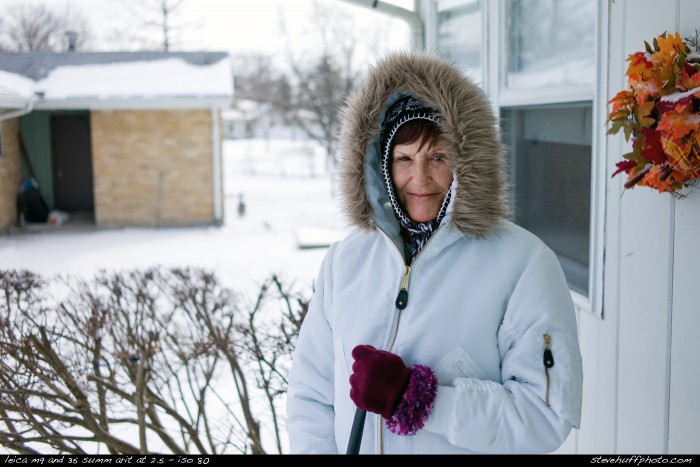 and here is the Olympus E-P2 with the 20 1.7, wide open at 1.7, NO PP:
Click Image for 1400 Pixel Wide Version or CLICK HERE to download the full size OOC image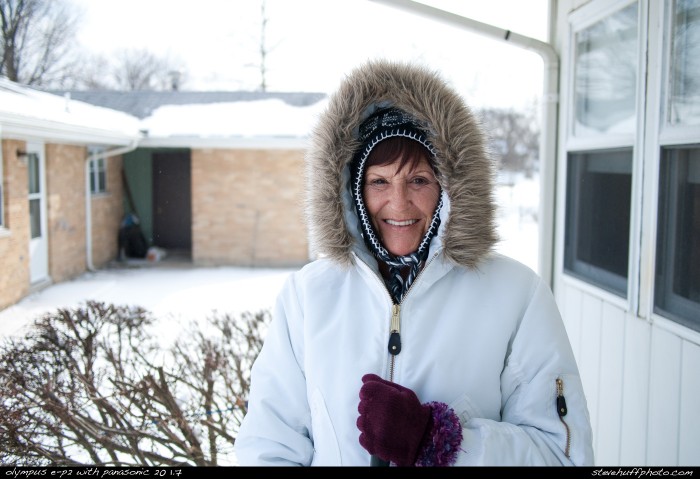 [ad#Blog Square Embed Image]
One thing I noticed is that the depth of field is shallower with the 35 Summarit at 2.5 on the M9 vs the Oly E-P2 at 1.7. This is due to the smaller M4/3 sensor. But, having a 1.7 lens of this size on a M4/3 camera is awesome. So, what do you think? Me, I prefer my M9 with the 35 Summarit as in other shots I have taken (will be in the review) I see the qualities that I love about Leica glass. Color, detail, smooth bokeh and a 3D pop when you have some good light.
On the other hand, the 20 1.7 seems to be a fabulous lens and while the m4/3 sensors do not have the dynamic range or detail capabilities of the M9, for the money it they are a force to be reckoned with. BTW, I think the 20 1.7 is a MUST OWN if you have a M4/3 camera.
I am still waiting for an adapter so I can shoot these Leica lenses on the E-P2. When that arrives I'll post samples!